October 17, 2019
6 abandoned cart email strategies that work
The average rate of shopping cart abandonment is more than 75% (SaleCycle). If you run an e-commerce business, this means that three-quarters of visitors to your website have commenced the check-out process by adding items in their shopping cart, intending to buy. Unfortunately, they've since navigated away from your website and not completed their purchase.
According to a study by SAP, Australian customers have a high tendency to abandon virtual shopping carts. It was found that 57% of shoppers discarded their carts either sometimes or all the time and that the most common product categories for cart abandonment were fashion (67%) and furniture (65%).
Now, that's a lot of potential revenue being thrown down the drain. The good news, however, is that you can minimize the likelihood of abandoned carts from becoming a permanent feature of your day-to-day by using abandoned cart emails.
What is an abandoned cart email?
An abandoned cart email is an email sent to customers who almost made a purchase, but decided not to go ahead with it for whatever reason. Reasons may include (but are not limited to) high shipping costs, products being priced too high, technical issues with the website, or low buying intentions (i.e., the customer was just browsing).
Abandoned cart emails are designed to encourage shoppers to complete their transaction. If the shopper has entered their email address during the check-out process (or has logged into their account as a known user), then there is ample opportunity for you to re-engage them by sending an abandoned cart email so they can continue with the check-out process.
In this article, we will take you through 6 effective abandoned cart email tips that will help your e-commerce business lower your cart abandonment and increase your revenue.
1. Be specific
Shoppers can sometimes forget that they've jumped online and selected a few items on their favorite online store — usually after they've had a few glasses of wine. For this reason, an effective recovery email is one that gently reminds the shopper what items they've left in their cart.
Showing shoppers the forgotten items works because it harnesses the power of personalization — and we know how effective personalized emails are. Not only are personalized emails 22.2% more likely to be opened than generic emails (Invesp), they're also more likely to deliver 5-8 times the ROI on marketing spend (McKinsey). Additionally, these emails remind people what they're potentially missing out on if they don't take action.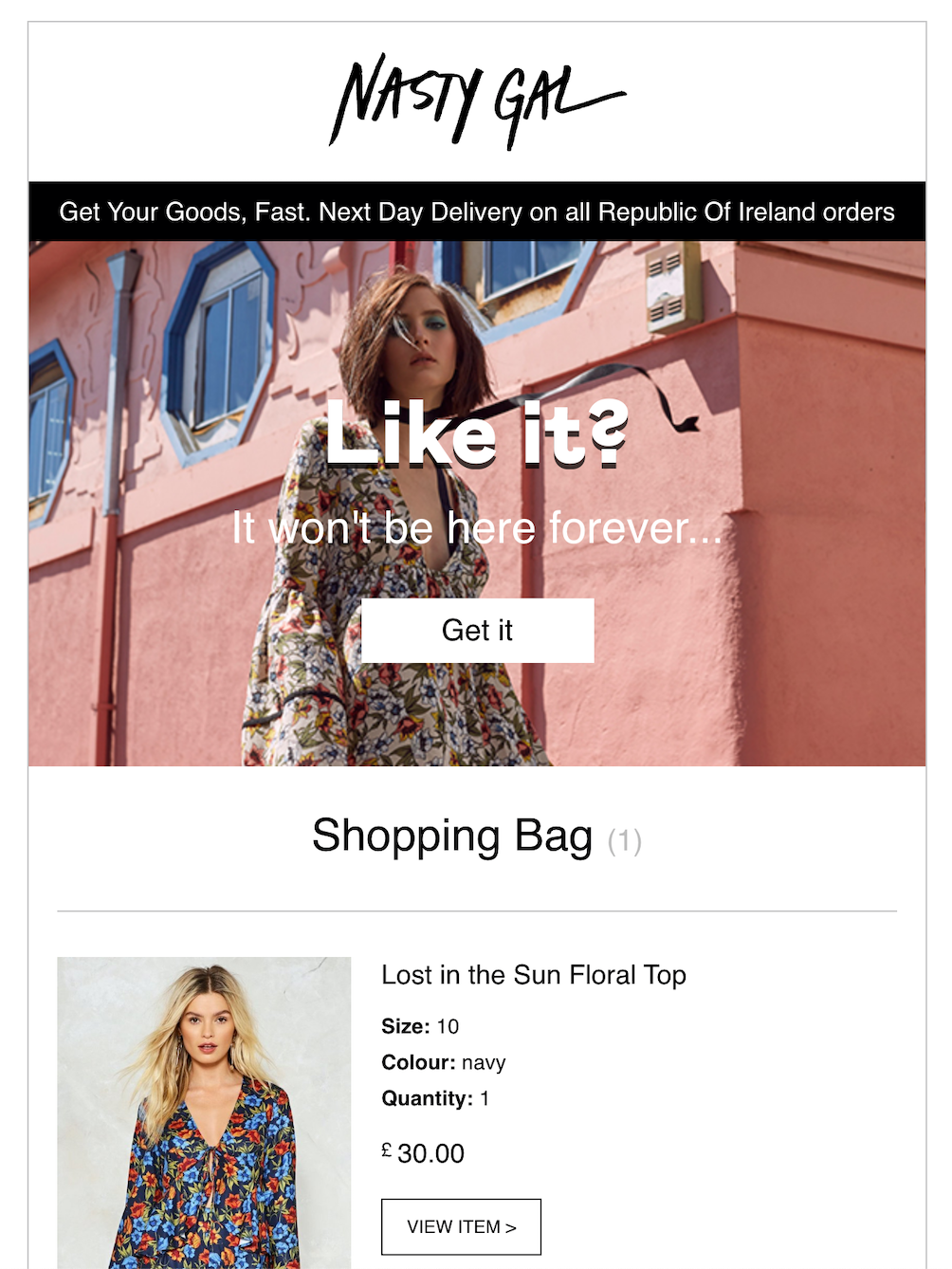 2. Experiment with low-commitment calls-to-action
The way you phrase your call-to-action (CTA) in your abandoned cart email will have a significant impact on its effectiveness to convert readers into buyers. Asking your reader to buy from you is probably the highest level of commitment that you can ask them for — and unfortunately, some readers ain't ready for that level of commitment just yet.
So, instead of using the words "buy" or "pay" in your CTA, it's a good idea to tone down the level of commitment by rephrasing your CTA to something like "Take another look," "Review the cart," or "I'm coming" as skincare brand Go-To has done below.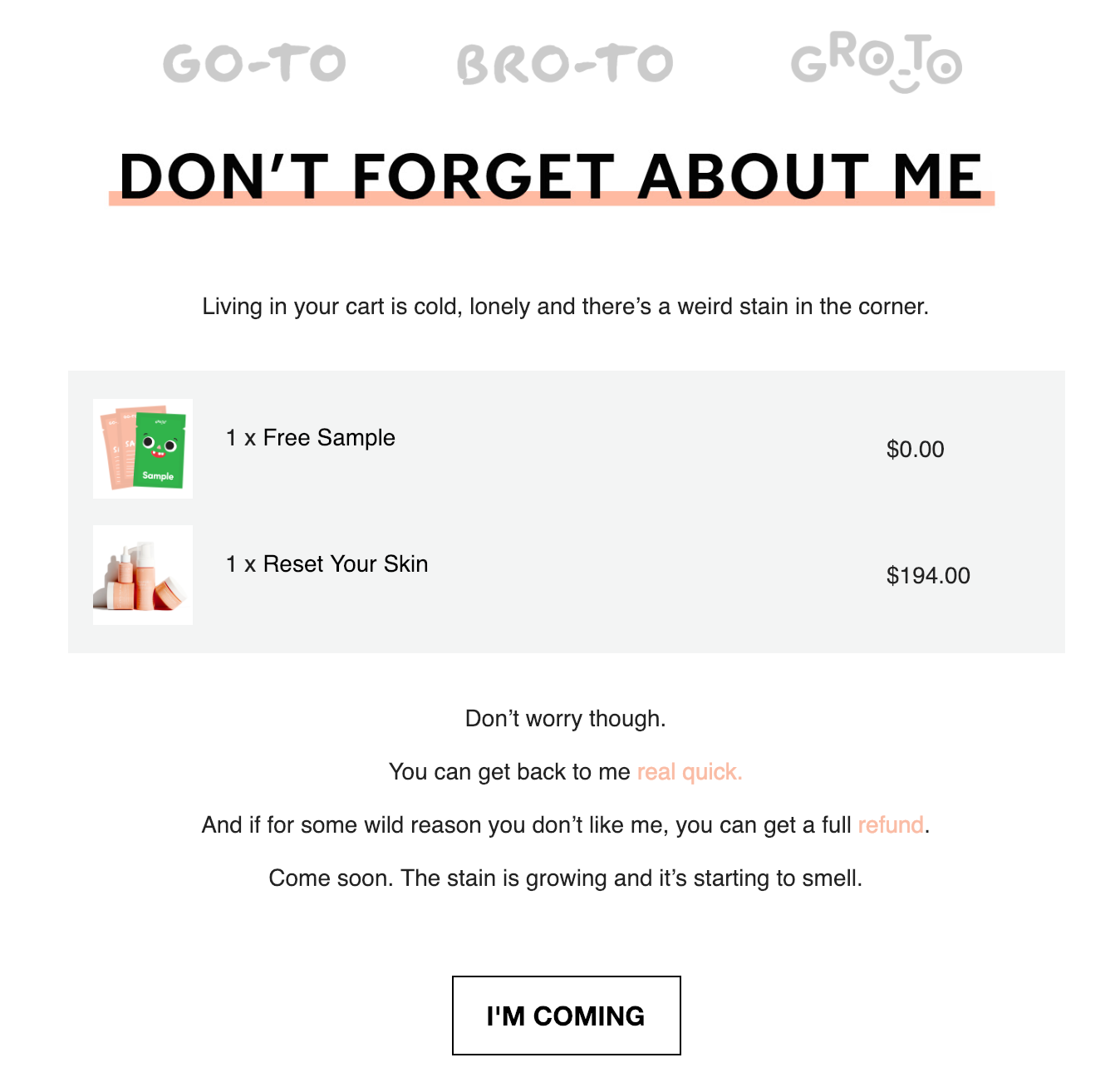 3. Use scarcity marketing
Urgency and scarcity are commonly used in marketing to drive engagement and boost conversion. Why is it so effective? Because urgent situations motivate customers to act fast while scarcity triggers anxiety, forcing them to act without delay.
When customers receive an abandoned cart email with a limited time offer, they begin to automatically evaluate if they're comfortable with letting this opportunity escape from their hot little hands… or if the FOMO factor is too much. And telling customers that they risk missing out on items in their cart, either due to low supply or price increases, compels them to complete the order.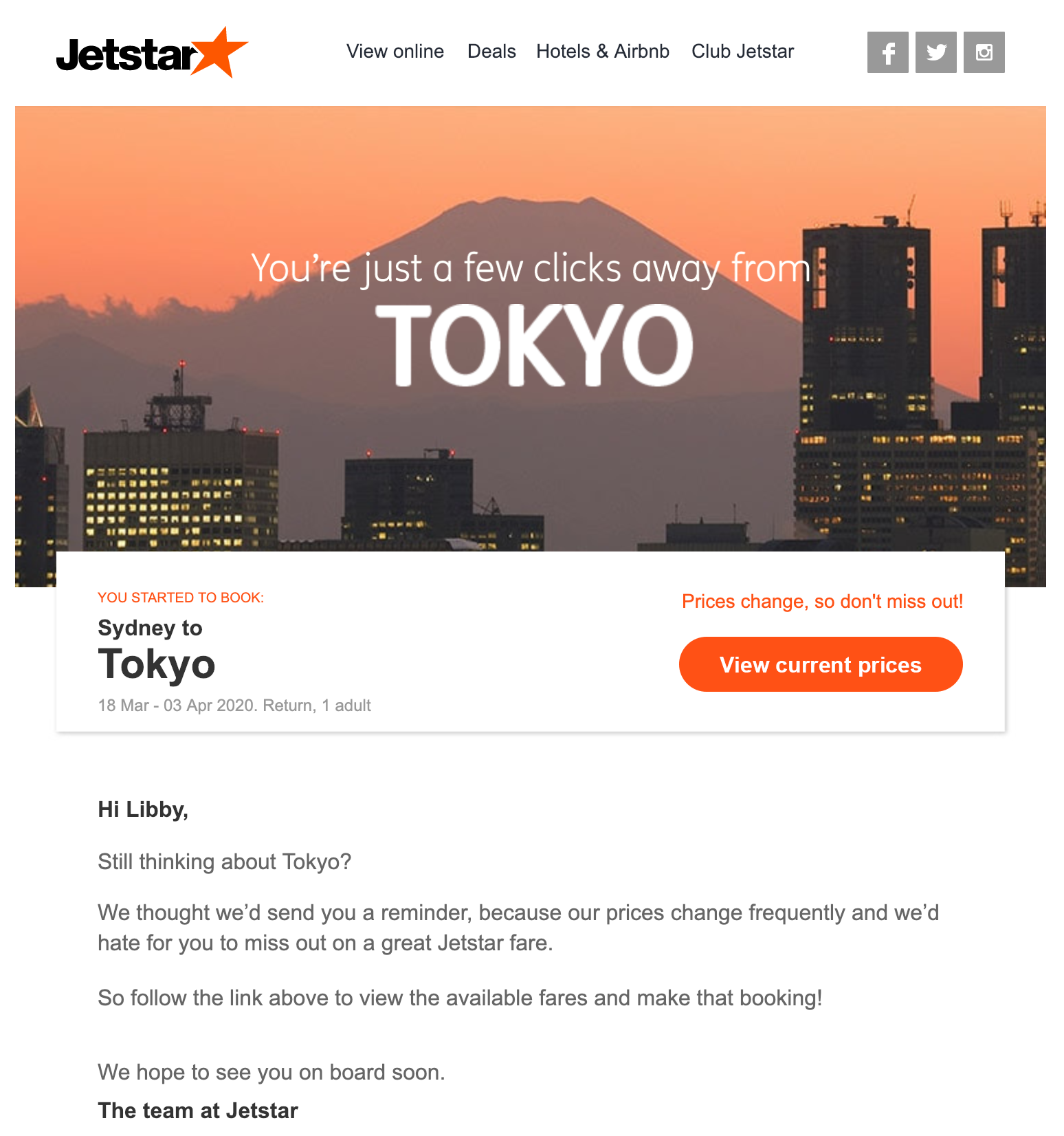 4. Offer support
According to the Baymard Institute, 28% of shoppers abandon their shopping carts because they thought the check-out process was too long or too complicated. We get it: long and confusing check-out processes are annoying. In particular, unnecessary forms contribute to this frustration and can lead to would-be shoppers tapping out just before they enter their credit card details.
The solution? In addition to minimizing form elements so that you only ask for necessary information, provide a way for customers to talk to you directly about issues they may face when using your website. Sometimes it doesn't matter how many times you view (and test) your pages yourself; you might miss something so obvious and live chat provides unprecedented access to see what's not quite working.
It's also a good idea to ensure that your abandoned cart email provides information on how customers can contact you beyond live chat if they have a question. Who knows, receiving a simple response to a question could be the key to getting your customer back to the shopping cart.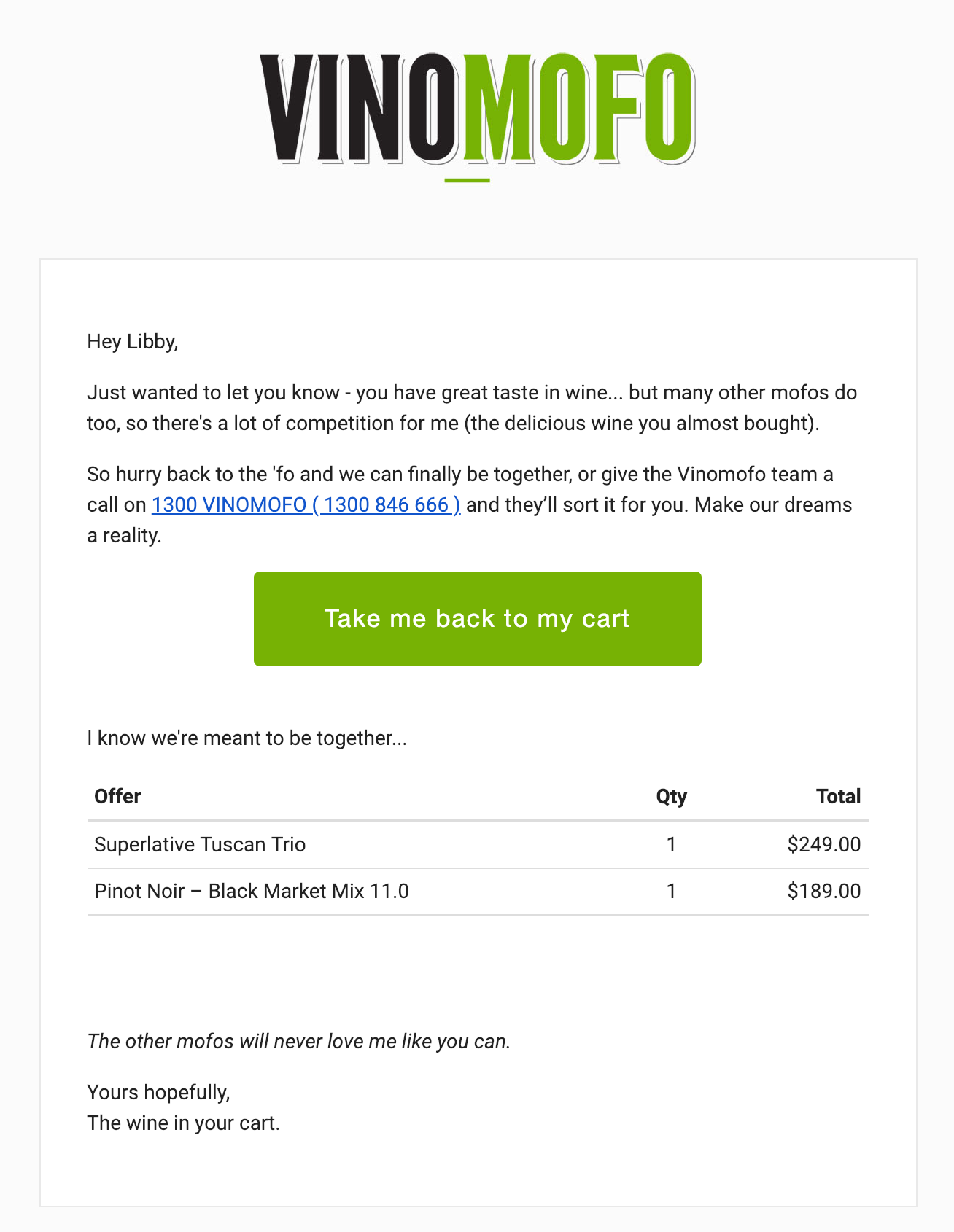 5. Provide a personalized discount or other incentives
We all love freebies and discounts. Now imagine, for a moment, that a visitor comes across your site, purchases a bunch of items — but abandons their cart once they saw how much they would then be expected to pay for all the goods. Perhaps your products were more expensive than they initially thought, or maybe they underestimated the costs of shipping to their destination. But if you were to offer your customer a discount or other incentive in your abandoned cart email, it may well be the final push they need to hit the "purchase" button.
With that in mind, consider offering a personalized incentive that is email-exclusive and not one that non-subscribers can get. In the following example, online wine retailer Vinomofo provides a $15 discount and free delivery to get first-time shoppers over the line.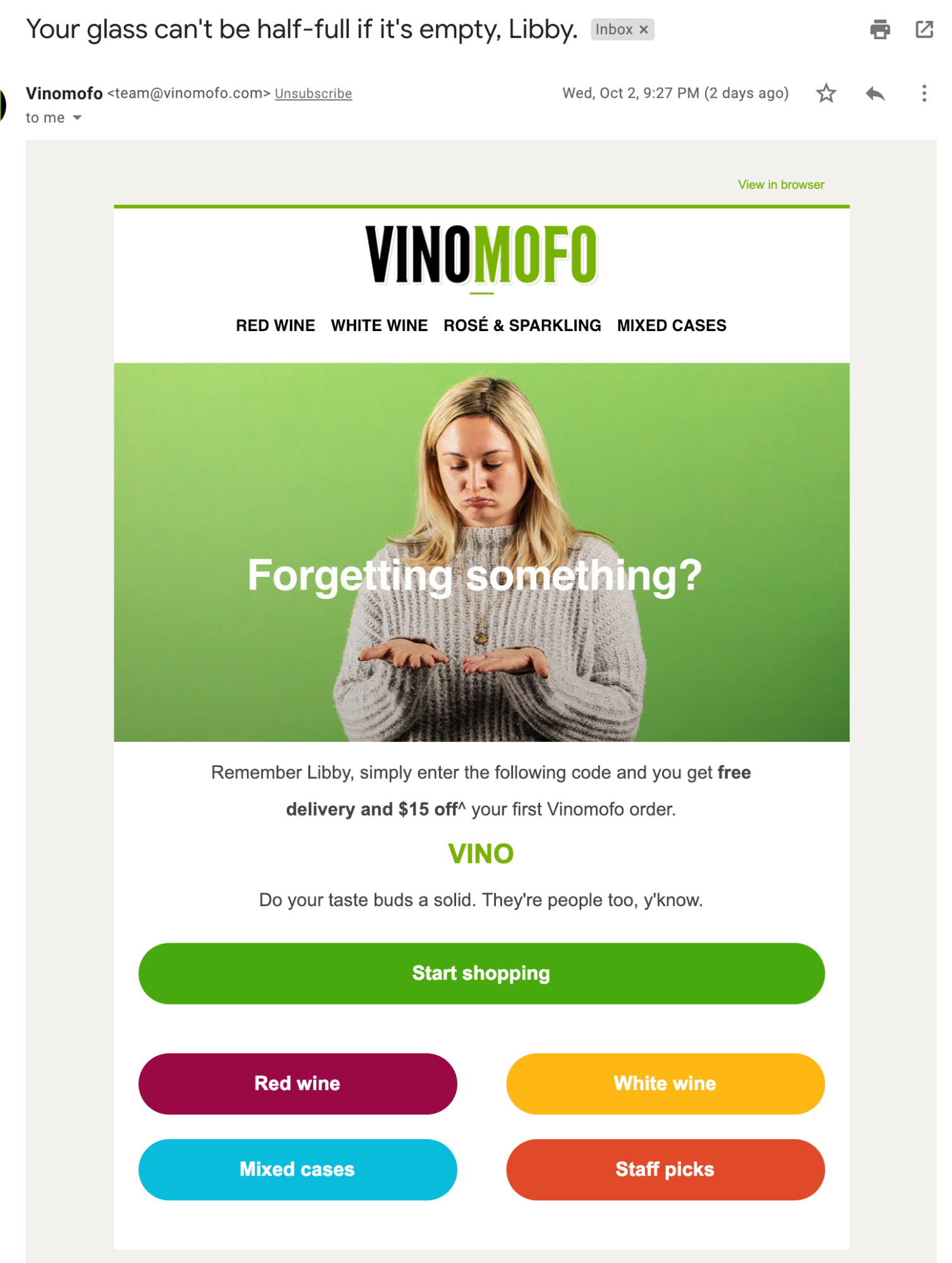 Similarly, Qantas uses the same tactic to entice a customer who has been browsing the website for fares to Jakarta. In this example, the lure of bonus status credits provides an extra incentive to close the sale.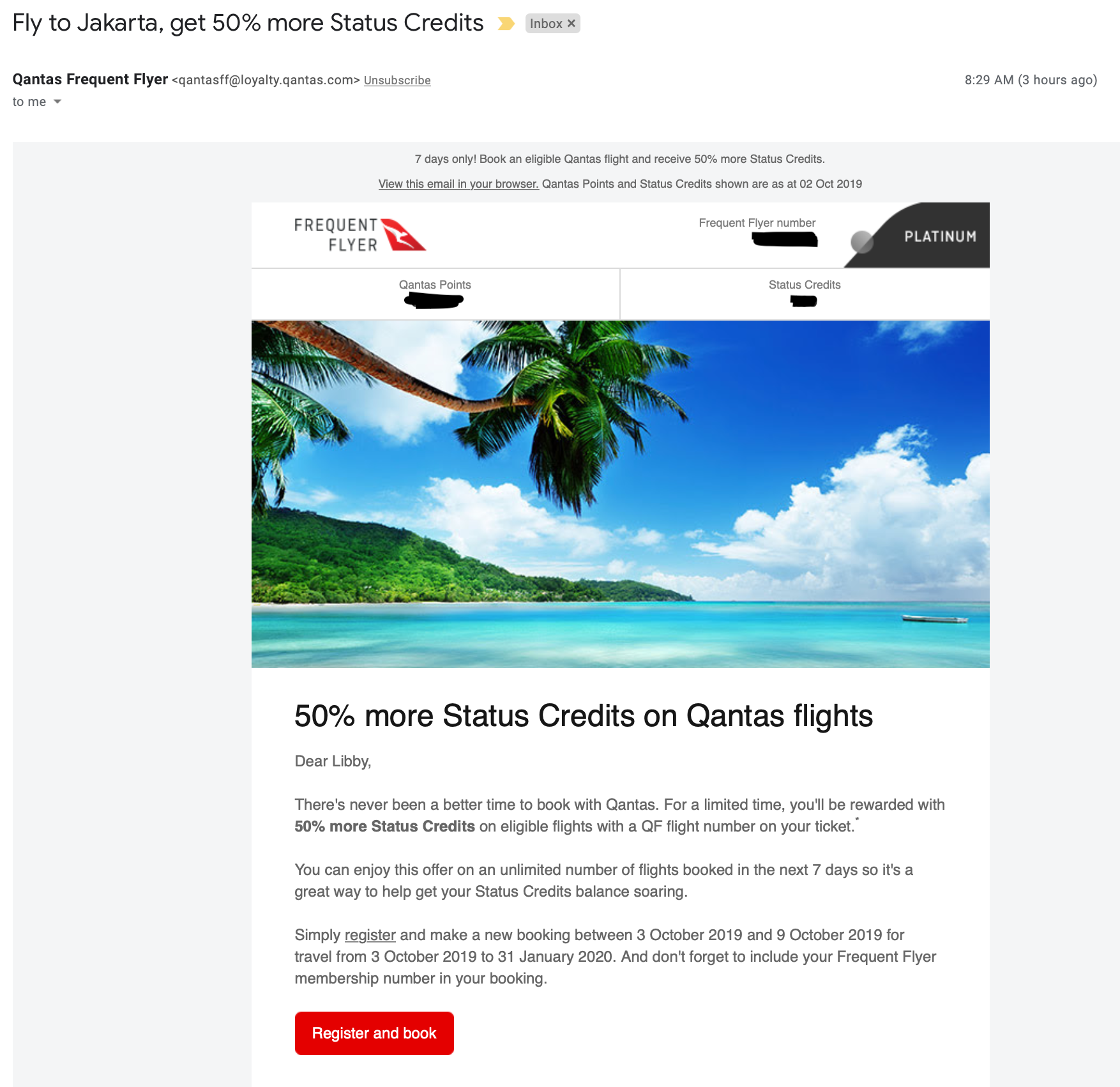 The above Qantas email also uses scarcity, telling the shopper they will miss out on those coveted extra status credits if they don't purchase before a specific date.
6. Suggest alternative payment (and delivery) options
According to independent survey firm YouGov, e-commerce businesses can expect to see an increase in conversions once multiple payment options are presented. Specifically, the same study found that more than half of shoppers will cancel their purchase if their preferred payment option wasn't available to them.
So whether you add PayPal as a payment option to your credit card-only website or give your customers a choice to pay for their purchases after receiving them (like Koala has done by offering AfterPay, below), you'll be making a significant move towards lower abandonment rates.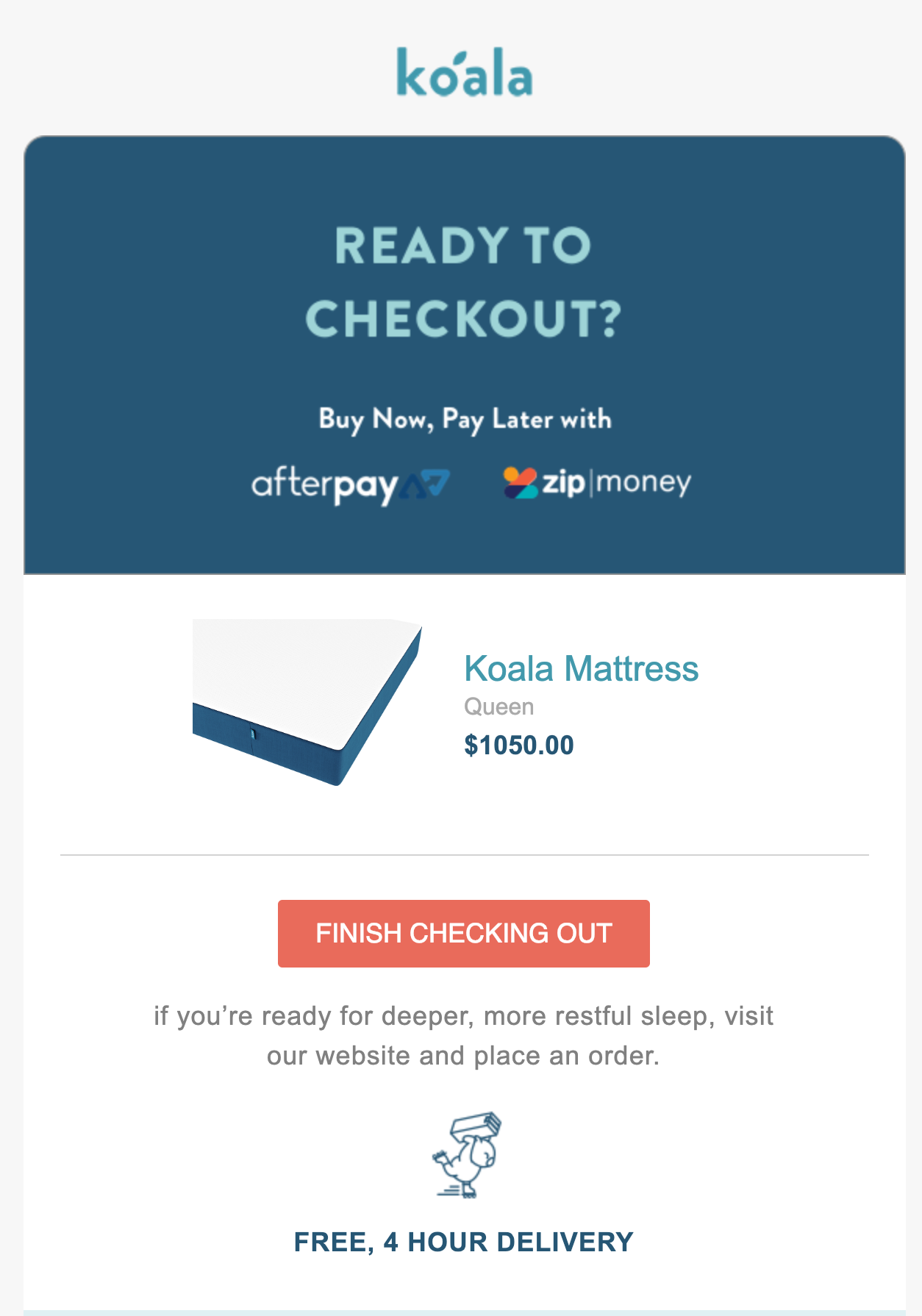 A similar strategy would be to provide alternative delivery methods. Why? Customers are time-poor and busy; quite often, they work long hours and aren't always in a position to be home to accept deliveries. Click and collect is a method that allows shoppers to purchase products online from the comfort of their own home. Once they've made the purchase, they can choose to pick up their goodies from a brick-and-mortar store. Liquor retailer Dan Murphy's provides this option in the following abandoned cart email, allowing shoppers to collect their purchases in-store at no extra charge.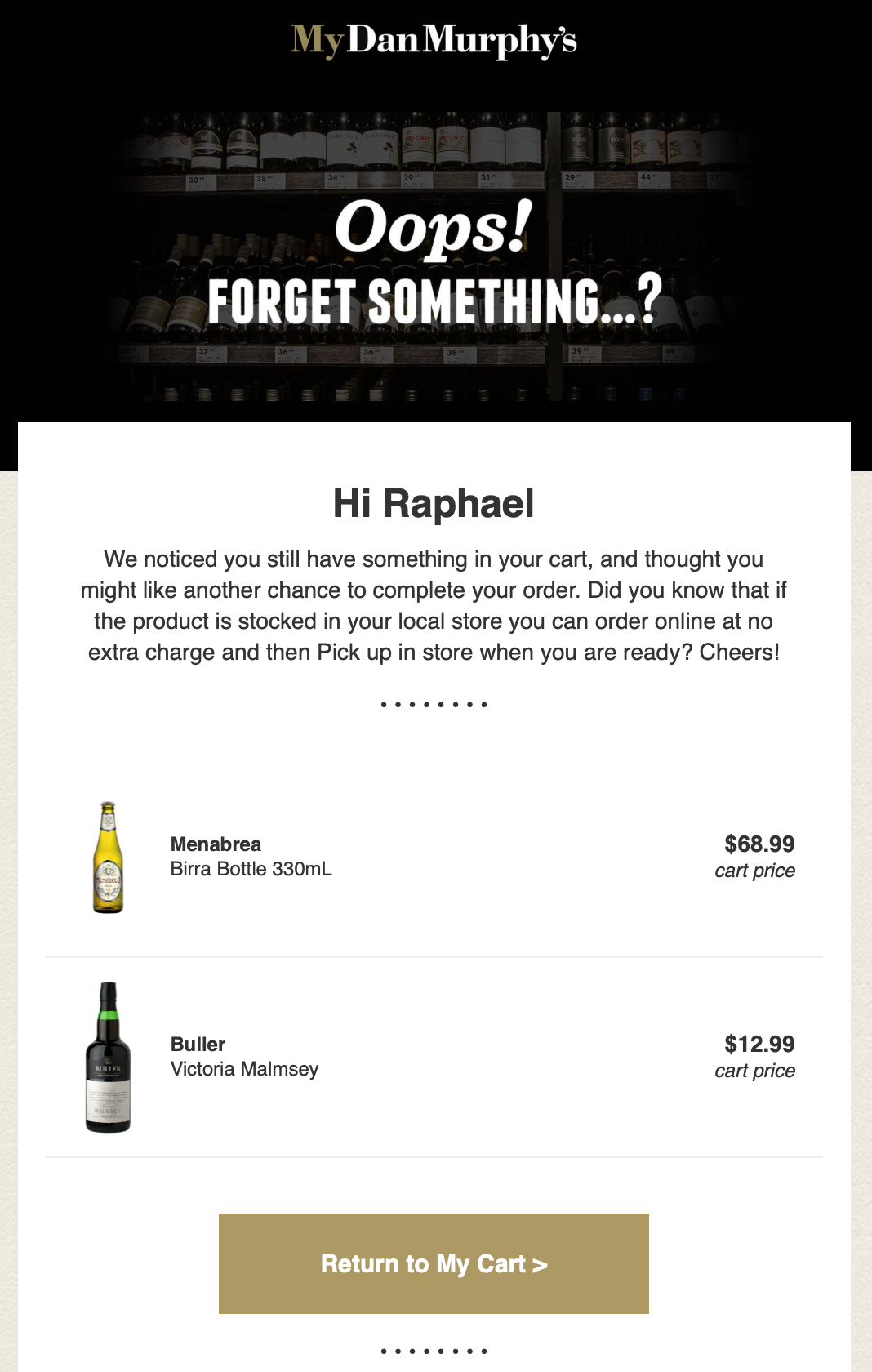 Say goodbye to abandoned carts!
Too many e-commerce businesses let potential revenue fly out the window simply because they don't send people a friendly reminder that they've left something behind. Having a killer abandoned cart email strategy is crucial if you want your customers to return to your website to complete their unfinished purchases and see your e-commerce sales grow.
To learn how you can automate your abandoned cart email sends and discover new ways to engage with your e-commerce shoppers, download our "Top-performing e-commerce emails you want to see you in your inbox" for free today.