May 15, 2019
Autopilot-Drift integration
If you run a business, you'll know just how important first impressions can be.
In a traditional brick and mortar set-up, you create positive first impressions by adding personal touches to make each shopper feel welcome: a warm greeting when they walk through the door, a pleasant chat about the weather, real-time product demonstrations, tailored advice, and so on.
In contrast, e-commerce transactions can be quite generic by nature, making it more difficult to engage with your leads — and nurture them to buy. In recent years, however, conversational marketing has become an increasingly popular way for businesses to communicate with their website visitors — just like a shop owner would chat with their customers. And conversational marketing tools such as Drift are not just being used as customer service channels for answering pre-purchase queries, they also provide that integral first point of contact for new visitors.
What does the Autopilot-Drift integration allow me to do?
Not every visitor to your website will be ready to buy immediately. Thanks to the Autopilot-Drift integration, you're no longer under pressure to convert these visitors straight away or risk losing them forever. By combining Drift's conversational chat widget with Autopilot's marketing automation canvas, this integration allows you to bring new contacts acquired through chat into multi-channel customer journeys, making it possible for you to qualify and nurture those leads beyond the first point of contact. After having a great initial conversation with a visitor on Drift, you can then use this integration to automatically:
Continue communicating with your visitor using multiple personalized touchpoints;
Nurture the visitor across many channels, including email and SMS, until they're ready to buy;
Route qualified leads straight to your favorite CRM platform; and
Trigger a Drift contact into an Autopilot journey when they achieve a specific Drift goal.
Introducing two new shapes to the Autopilot canvas
For this integration, we've introduced two new triggers to your Autopilot canvas. To use these shapes, you'll need to connect to Drift in your Autopilot settings.
Trigger: New Drift Contact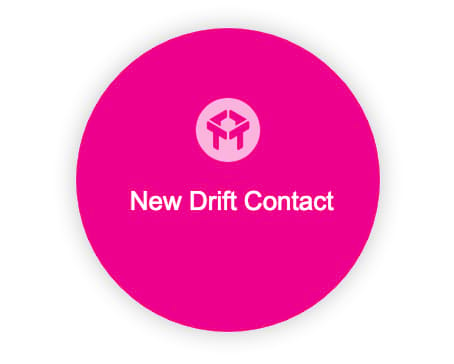 When a visitor starts a conversation with you via the Drift chat widget and provides their email address, they become a new Drift contact. This trigger allows you to add these contacts to an Autopilot journey so that you can continue the conversation away from the initial chat widget. This means that you can continue to communicate with your new Drift contacts on channels such as SMS or email. Here are some other ways you can use this trigger:
Assign new Drift contacts to your CRM for your sales team to follow up with
Create segments based on Drift conversation topics
Add new Drift contacts to a Facebook or Google Ads audience to connect with them on social media.
Learn more about the "New Drift Contact" trigger here.
Trigger: Drift Goal Reached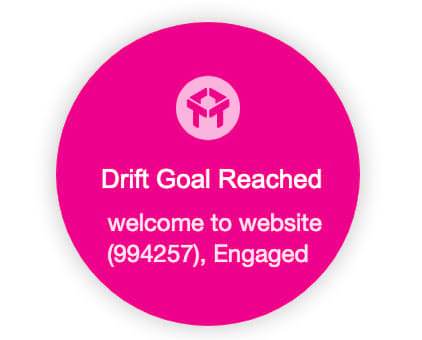 In Drift, Playbooks are pre-packaged automated message workflows that dictate how a chat widget will interact with visitors to your website. Within each Playbook, there is a specific goal which is triggered by certain criteria. For example, if you select the Get a Demo Playbook, the goal would be met when a visitor clicks on the "Get a Demo" button on Drift. Similarly, if you choose the Pricing Page Playbook, a goal would be achieved every time someone visits your pricing page.
The Drift Goal Reached trigger allows you to continue a Drift contact's journey in Autopilot after they've completed a goal within your Drift Playbooks. For example, let's say you're using Drift's Welcome Message Playbook and your goal is to engage a contact via a Drift conversation and obtain their email address. When a contact reaches that goal in a Drift conversation, use this trigger to automatically:
Increase the contact's engagement score for lead scoring purposes
Ask your sales team to follow up this lead using a Slack notification
Send the contact on an email nurture journey, to ensure regular contact is maintained
Add them to a list for future use.
Learn more about the "Drift Goal Reached" trigger here.
Do more than just chat with your Drift contacts
You've created a positive first impression with your new website visitor by having an amazing conversation with them on Drift. Don't risk wasting this lead by leaving them hanging; use the Autopilot-Drift integration to continue the conversation and create engaging and personalized experiences along the way — minus the time commitment.