December 5, 2018
Customer Journey Examples
So you've got your framework down and now you're ready to get into the fun stuff—what creative marketing journeys will grow your business faster?
While there are many avenues to growth, we've found 10 inspiring customer journeys that have been proven to drive results.
Welcome
Welcome journeys are often the first set of communications someone will receive from your brand after they have opted-in to receive your marketing. They are designed to create a strong first impression (i.e. look really good, but not sell) and warmly welcome your new contact into your community.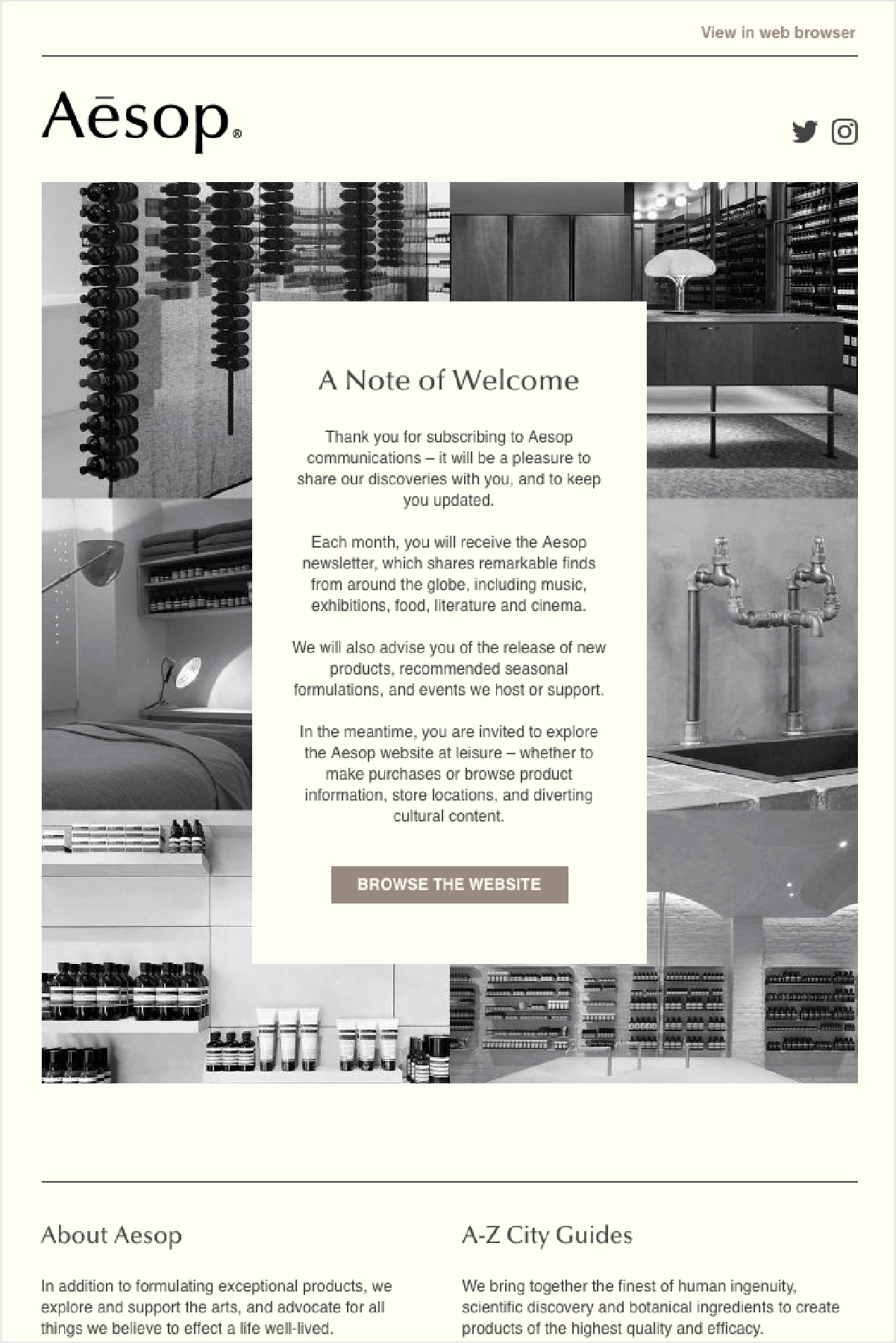 Tattly uses welcome emails to establish brand personality and draw users into their first purchase.
Generally a welcome journey is short and consists of one or two friendly emails. They encourage new members to engage with you and set the tone for your company or brand voice.
Because it's your first touch, people are more likely to click through on a welcome email. Here are a few ideas to make your welcome email content count:
Tell your founding story. Bonus points if you do this with a video!
Send it from your CEO or founder. This personal touch from an authoritative figure will increase response rates.
Link to popular content. Use this opportunity to provide immediate value and get your readers to back to your site or logging in to your product.
Reiterate the perks of being a part of your community. Remind your readers why they signed up and get them excited about receiving your future communications.
Showcase your products. Show images and highlight your unique features and benefits.
Give a special offer. This one is simple: people like free things.
Pro tip: instantly get liked by your readers, or just entice them to buy your products, by offering a deal or sending them something of value for free, like a t-shirt.
New customer onboarding
Onboarding is where your customer really gets to know you. New customer onboarding journeys are designed to orient new customers with a product or service after they buy, in doing so setting them up for long-term success.
Customer onboarding journeys may include a welcome aboard email sent from your customer success team, and curated links to getting started resources in your support portal. They may offer launch guidance or orientation programs that span from days to months, and include to-do lists, homework, and check-ins with account managers.
Mapping these processes into the onboarding nurture journey enable you to codify your best practices, help more customers get started on the right foot and enjoy improved user satisfaction and fewer support inquiries from new customers.
Use a template like the one below to onboard and welcome your customers smoothly and successfully.
Satisfied customers produce higher lifetime values, driven by repeat purchases, cross-selling, and their willingness to refer their friends and colleagues to the service. Here's a fantastic branded example of an onboarding message from Invision: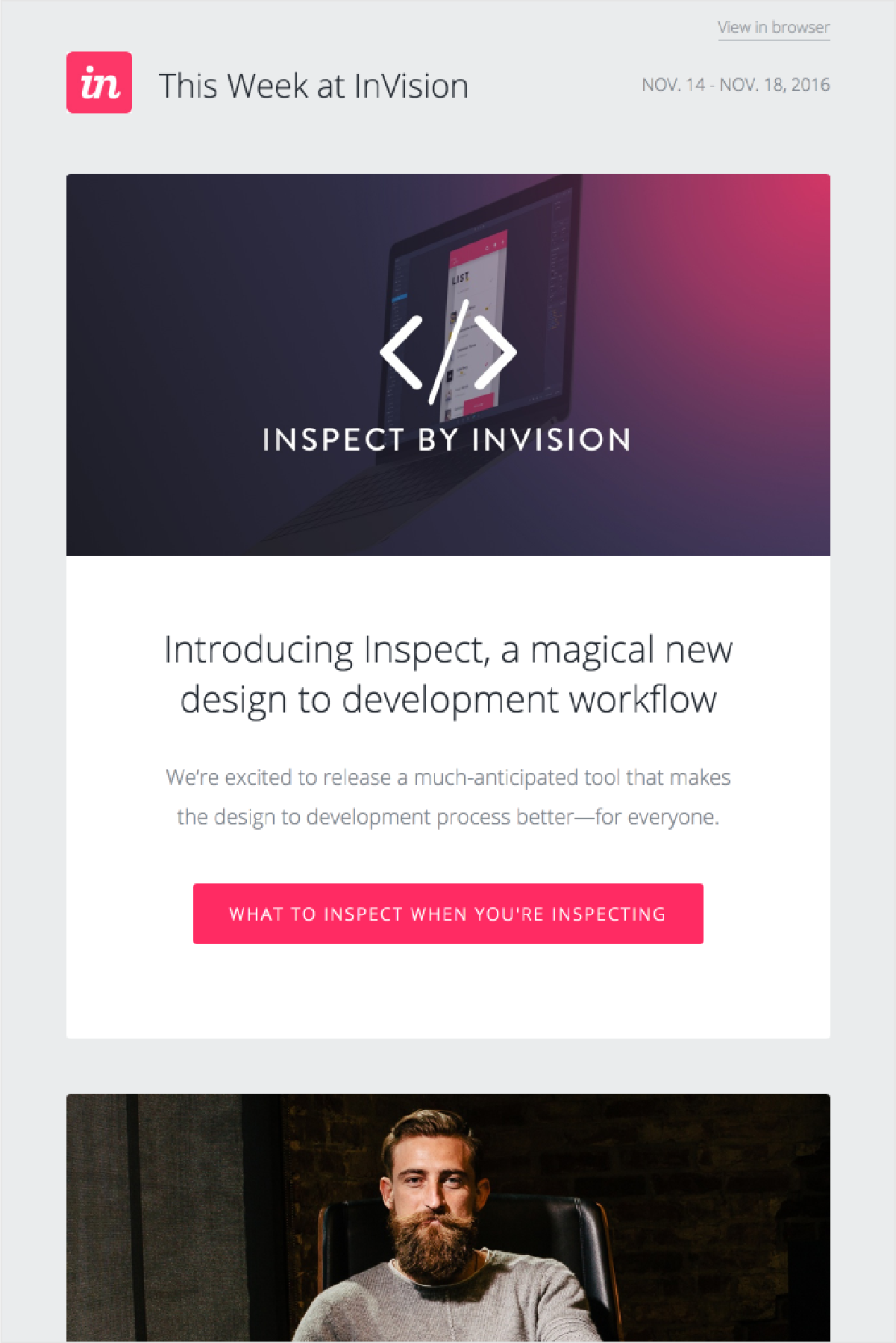 Invision gets their customers started right away with an informative onboarding message
Pro tip: schedule a monthly personalized account review email to share account usage metrics with your customers. These earn high open rates and drive self-service product adoption.
Customer engagement
Customer engagement journeys include those designed to applaud, alert, or recover your customers by proactively reaching out in response to a key behavior or event. Think about common signs of customer dissatisfaction for your business and the ways you can proactively combat them.
For example, proactively sending a specific "how to" guide to a SaaS customer who is struggling to activate a needed feature could be the missing link that helps get them up and running, then later purchase. This can be achieved by integrating your product into your marketing automation system programmatically via the API, or using an event data tracking system like Segment or Zapier.
The engagement template below will give you an idea of how to timestamp and record website email activities — so you can understand your customers more clearly. Use engagement tactics like this to deliver better experiences for your customers.
A similar use-case is to reach out to customers that have searched your knowledge base to ensure they've found what they're looking for. A well timed follow-up (we recommend about 30 minutes) will help avoid frustration and engage your customers with your brand.
Use the template below to engage your customers after they've searched your knowledge base. This will help improve your customer service, find content gaps and get your support teams helping out before an issue becomes a pain point.
Pro tip: seek regular customer feedback via the Net Promoter Score (NPS) survey by asking a single, direct question: "How likely is it that you would recommend our company/product to a friend or colleague?" This approach is surprisingly insightful and has been adopted by thousands of companies to measure customer loyalty and willingness to refer others to your business.
Lifecycle Nurture
Lifecycle nurture journeys are sometimes called the "heart of marketing," or simply "nurturing", and are arguably the most important of all automation journeys.
B2B research consistently shows that 50% of inbound lead inquiries are not sales-ready when initially received, but about three-quarters of these will eventually become sales ready. Typically the 50% of inquirers who are not initially sales-ready are just doing research, evaluating the landscape, and/or do not have a defined budget or evaluation project.
  
Lifecycle nurture journeys help companies stay on the mind of these early-stage researchers by providing valuable content, which can be repurposed from:
Popular blog posts or website content
Existing ebooks or infographics
Videos or archived webinar recordings
Industry news, insights, and roundups
Customer case studies
Lifecycle nurture communications are generally timed five days to four weeks apart, provide links to public or gated content, and offer ways to connect on social media or at upcoming events. The objective of the lifecycle nurture journey is to earn enough interest and engagement to qualify them into a call-to-action journey (bottom of the funnel).
The template below is a holistic example of a long-term lead nurturing journey that transforms leads into qualified customers.
Pro tip: keep nurture emails short, relevant and useful. Your goal here is to provide educational value to build trust with your audience, so when they are ready to buy, your name is top of mind.
Free trial
Trial journeys are designed to make customers successful during the course of their SaaS or software evaluation.
The concept is simple—if your customer doesn't enjoy their free trial experience, they won't come back. Improve the trialist experience by sending tips and insights designed to help users learn your product, overcome common obstacles and reach "aha" moments.
Nurture your customers as they use your product on a trail basis. The below journey is specifically designed for mission critical communications at key stages of the trial — not sales communications. But feel free to change it. It's optimized for a 30-day trail.
Trials typically range in length from seven to 90 days long, and optimally will include three to 10 interactions during that period. Successful trials offer an appropriate mix of "how to" and best practices resources, as well as competitive intelligence, pricing/buyer guide content and offers to engage with reps.
Before your trial ends, follow up with an NPS survey in a journey like the one below. The feedback will help you optimize your trail experience in future.
Pro tip: try personalizing your messaging based on a user's demographics or prior activity to boost engagement rates.
Qualification
Qualification journeys are the set of communications sent to people who have taken actions that demonstrate an active interest in you.
Following up on these buying signals with communications that qualify the prospect further gives them an opportunity to receive more information about you and for you to identify whether or not they are sales-ready.
Studies show that prospective buyers may complete 60% to 70% of their research prior to requesting to speak with sales. If you engage too early, you'll risk driving away a sensitive buyer, but engage too late and you'll miss the critical impressionable period.
There are several ways to determine what actions trigger qualification journeys. You can either use predictive lead scoring software like Infer to grade leads based on recent website activity, demographics, and content engagement, or trigger your qualification emails from inbound inquiry submissions, such as filling out a form to download a product one-pager or watching a gated customer story video.
A simple example is to score leads based on their activity on your website. In the template below, you can automatically reach out to qualified leads. Autopilot checks to see if leads have visited your pricing page multiple times in a short period, and connects sales teams with those (now hot) leads.
   Once you've qualified a lead, test your follow-up methodology. Here are some ideas: * Deliver call-to-action content, e.g. "Request a Demo" or "Sign up for a free trial" (see previous section) * Offer a free consultation, strategy session or audit * Automatically assign the person to a team member and give them a quick call * Send a simple email asking them what's driving their interest * Invite them to a product demo ## Newsletters Newsletters are the bread and butter of any company's communication strategy. They offer timely insights, stories, and news and when done right, can be the answer to many of your marketing challenges: * They are a regular touchpoint (e.g. weekly/monthly) to stay top of mind with your audience * They repurpose and distribute your best content in a digestible format * They give you an opportunity to pack multiple call-to-actions in a single punch * They boost your social media following * They increase website traffic * They drive sales If you aren't already sending out newsletters or are worried about not having enough content, don't be. Many have built their contact database and driven sales by simply curating links of content from around the web. Text-based emails or HTML newsletters offer certain advantages or disadvantages, but start simply with monthly updates, and iterate as you grow. **A simple newsletter journey like the one below a great way to stay engaged with your subscribers. It also resends your newsletter 48 hours after the initial send out (excluding recipients who opened the first email) to drive a second pulse of opens without impacting unsubscribe rates.**
Pro tip: use the double opt-in to ensure your newsletter is only being sent to customers who truly want them. This will improve your newsletter metrics, follows opt-in regulations and is easily executable with the template below.
One-time promotions
One-time promotions are a highly effective way to engage your audience quickly.
Similar to the newsletter, best practices for promotional and announcement journeys include a beautifully simple presentation, catchy content, clear messaging targeted to well-defined audiences, optimized subject lines, and compelling offers.
Using a time trigger (like in the template below) is the perfect way to automate communications for a one-time promotion. This way you can ensure you reach-out at the perfect time.
Examples of successful promotions could include offering upgrade discounts to power users of a SaaS product, offering service credits to relevant users (e.g. discounted seasonal access rates to online retailers as they approach the Christmas season), or offering discounts to early signups or beta-testers.
Headspace used a "end-of-year" theme to boost their subscribers with a one-time promotion: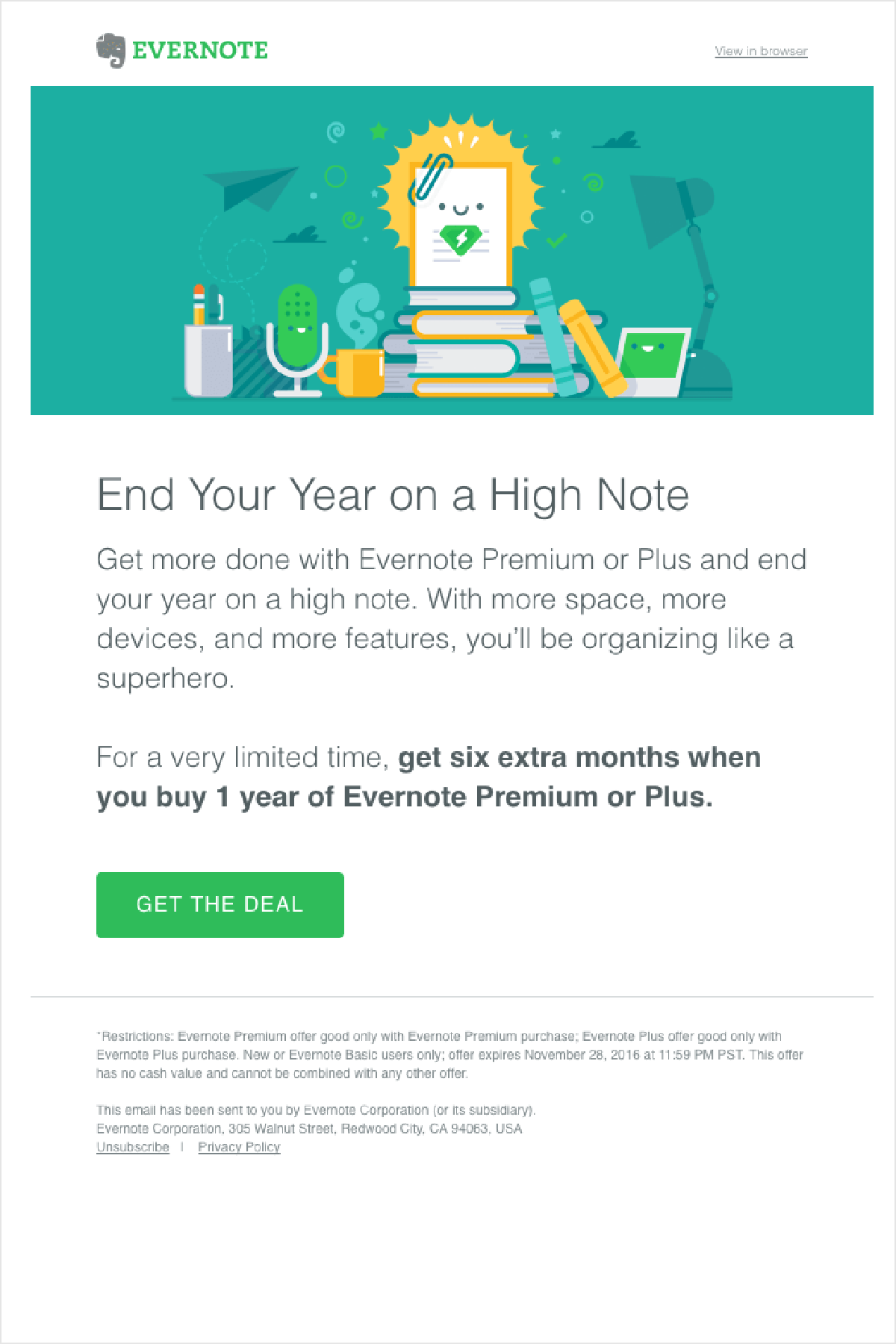 Headspace used a limited time promotion to boost subscriptions
Pro tip: while promo-to-lead conversion rates are typically 5 – 15% for a well-executed broad promo, conversion rates of 50%+ can be attained by targeting smaller, more homogenous audiences with personalized messaging.
Call to action
Call-to-action journeys are triggered in response to someone clicking or engaging your nurture emails or content. They are an opportunity to invite motivated evaluators to a demo with a sales rep, sign up for a trial, or buy.
Call-to-action journeys are typically comprised of two to four communications (e.g. emails and/or calls), spaced several days apart, and are simple, direct, and conversion-oriented.
Unlike leads that are automatically qualified and assigned to sales once they reach an arbitrary score via lead scoring, prospective buyers who respond to call-to-action journeys by responding to "schedule a demo" or "try free for 30 days" typically have a compelling event. They are hot.
Follow-up with a targeted email using a journey like the one below.
Leads that do not click or engage any of the call-to-action journey messages can be de-escalated and assigned back to your lifecycle nurture journey.
Pro tip: sending a text-based email from a real person and real email address drives higher open and click rates.
*Events and webinars
*Event and webinars remain a mainstay of engaging prospects and building customer relationships. Event and webinar journeys are designed to build anticipation, maximize attendance and follow up courteously.
These typically include weekly invitations starting four weeks in advance for webinars (earlier for live events) and final reminders in the days leading up. Follow-ups should thank attendees for attending the event, close the loop with non-attendees, and seek feedback on how to improve the experience in the future.
Build a journey like the one below (or just use the journey below) to automate your event or meetup registration.
Here are some best practices for your event emails:
Don't send the same invitation over and over again. Repeatedly saying, "It's not too late" sounds desperate, while a series of emails that address benefits and angles will nudge more people to sign up. For example, email one may list the key takeaways, email two can feature a speaker interview, email three be a sneak preview of the event, and so on.
Avoid spamming your database. Suppress people who have already signed up for your event.
Offer a recording to registrants who are unable to attend. While this may mean lower attendance numbers initially, you'll end up with more engaged viewers and contacts.
Once your event is finished, don't forget to follow-up! Use this template as a guide to your event follow-up journey.
Pro tip: add a human touch by mailing a beautifully designed thank you card or even a handwritten note from your CEO after the event. This can be automated—no need to actually bust out the pen and paper.
Are you inspired yet?
If you've made it this far, there's a good chance that one of these ideas struck a chord! One final pro tip: start simple by selecting just one of the above journeys that you think will generate the quickest win for your business. Focus on doing that really well, track your results, and by then you'll have a good understanding of where to go next.