June 1, 2016
Definition of Customer Acquisition
Here's a detailed breakdown of what customer acquisition is, how it works, and why it's important, along with a few common misconceptions along the way.
What is customer acquisition?
Customer acquisition is a broad term used to describe systematically bringing in new customers and clients to your business. The goal is to create a bridge from your initial brand awareness campaigns (like advertising or PR) through to generating leads, nurturing them over time, and building trust along the way, until you finally convert them into new customers or clients. The trick is to coordinate these various promotional techniques to provide visitors with a seamless experience that educates, interests, and persuades. These methods commonly include:
Content strategy: Content creation is the glue that binds everything else together. It guides everything from the creative in your ads, the offers in your emails, to the copywriting on your landing pages.
Advertising / media buying: Advertising is one of the most common customer acquisition methods, and when done right, can scale your startup faster than any of these other methods.
Conversion optimization: Using landing pages to generate leads or customers is another cornerstone in customer acquisition, presenting people with different value propositions to test and scale growth.
Marketing automation: Creating programmable, automated emails that send along critical points during the customer lifecycle that allow you to segment, target, and customize specific offers to the right people at the right time.
Search engine optimization: Search is the holy grail, and commonly among the top channels for new customers to all businesses. When done right, it's also one of the most profitable and cost effective channels too.
Social media: Social channels tend to be a little more hit-or-miss, depending on your type of business and customer preference.
Help Scout has an excellent roundup of top articles and blogs for most of those categories, while 500 Startups goes into more detail highlighting some of the most effective distribution methods.
How does customer acquisition work?
One name that instantly comes to mind when customer acquisition is mentioned is Noah Kagan. Noah was an early employee at both Facebook and Mint, before going on to successfully found Gambit, AppSumo and SumoMe. He's no stranger to growing successful brands. At Mint, where he led 'all things marketing', they reportedly had, "more traffic than all of our competitors combined"… before even launching. His total score? Over 20,000 people on a pre-beta list, waiting for them to tap when the moment was right. Access to this huge audience when the product first debuted played a key role in hitting critical mass so quickly and being acquired by Intuit for $170 million. But how did they do it?
Step 1. Quant-Based Marketing
Instead of passively waiting around for the press to swarm over how amazing Mint was, Noah used a more predictable approach with quant-based marketing. The idea was to pick specific targets or channels where they had unique in-roads to generating customers.

For example, they gave early VIP list members custom designed badges, encouraging them to show their support (and priority access) by displaying the badge on their website (which also provided Mint with high quality, relevant backlinks for SEO). Another example includes partnering with niche bloggers who have small, passionate readerships and sponsored ads on their sites.
Step 2. Email collection
Next, they funneled this new traffic to landing pages that tested different messaging around alternative value propositions, including savings, notification alerts, and more. For example, this one focused on putting money back in your pocket.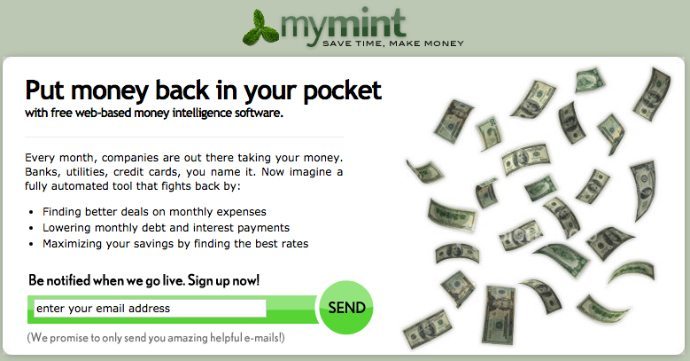 Compared with this one, which focuses more on managing new credit cards.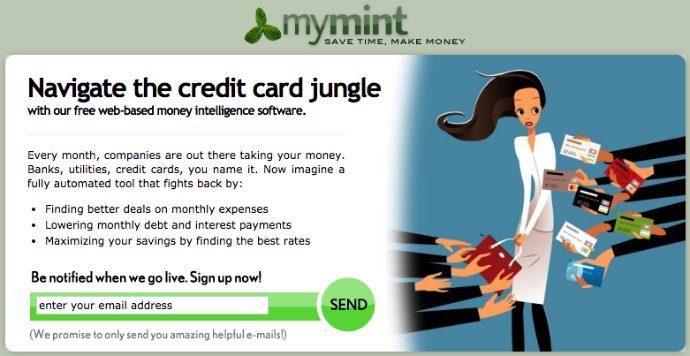 They kept detailed records during this process of the cost to generate each new lead, along with the conversion and performance of various campaigns and websites to continually reassess their efforts. Today this approach might not be as groundbreaking because it's firmly a part of the startup growth lexicon. However, at the time it was fairly ingenious, and this example perfectly shows how multiple disciplines need to cohesively work together towards the common goal of acquiring new customers.
Why is customer acquisition important?
Tell me if you've heard this story before. You spend months working on a great idea, pouring tons of money, time and energy into crafting the perfect final vision. With little to no fanfare, you launch, only to be met with crickets. Fortunately, this scenario isn't as common as it used to be, due in large part to the Lean Startup movement that has grown over the past decade or so. But it's also raised the bar, where traction is now everything because:
No paying customers means you don't have any revenue to meet overhead, reinvest in growth, or even pay yourself (and your co-founders)
No paying customers means you're not getting funded, either. 'Needing more traction' is one of the top reasons startups get rejected by VC's. Especially considering they only invest in the cream of the crop, constantly searching out the top 1%.
Customer acquisition is the underlying solution to both of these problems. It gives you the ability to reinvest, grow, and put food on the table, while also putting you at much better odds to successfully raising money in the future (if you want it or need it).
What are common customer acquisition misconceptions?
Despite its critical importance, there are a few common customer acquisition misconceptions that still persist. Here are three of the most common.
1. "Advertising is a waste of money."
When done properly, advertising is an investment - not an expense. The trick is determining the lifetime value of a customer (LTV), and then comparing that to the customer acquisition cost (CAC). For example, the aforementioned Noah spent $750 advertising in a newsletter, only to double his return two weeks later. He even bumped his initial investment up 4x, and the ROI still stayed the same. This is a simplistic example to illustrate the power of advertising when done correctly. We'll delve deeper into this complex topic soon in a following article, but the basic essence is that advertising scales if the lifetime value of each customer is greater than the cost to acquire each.
2. "SEO is free."
Contrary to popular belief, inbound marketing methods like content, SEO or social media are anything but free. It takes a tremendous amount of time, creativity, and labor to create things worth talking about or sharing. For example, executing even a simple campaign is going to require copywriting, design, and development skills, not to mention promoters who are great at getting the word out. You could be looking at a small team of contractors or employees before it's all said and done. The good news is that inbound methods almost always prove more profitable over time than outbound methods. It's just going to take a few months (and a few additional resources) to get there.
3. "That won't work for my business in [XYZ] industry."
Customer acquisition is simply a general framework of promotional strategies. The specific channels used, or tactical application will vary. But if an insurance company can generate hundreds of inbound links while also jumping from the 5th spot to 3rd spot on Google through blogging, you can probably find a use for it too. The overriding principles can still apply regardless of specific industry, helping even the most boring companies in the oldest industries grow their online awareness, leads, and customers. How exactly? In the next article, we'll take a deeper dive into customer acquisition best practices, revealing a step-by-step example of how you can apply these same strategies and tactics successfully.