May 6, 2016
Digging Into Lowes Personalized Marketing Campaign
Personalized marketing is what consumers want. An Autopilot study found that 72% of people are frustrated with generic marketing that doesn't relate to their interests or past purchases. Instead, consumers want timely, knowledgeable, and tailored content, which is why Lowe's Personalized Lawn Care Plan campaign caught my attention while I was zoning out on Hulu a few weekends ago. The campaign is the perfect blend of personalized marketing, great content, and selling without selling. I walked through every step to understand the flow, and to glean personalization tips marketers (even ones on a budget) can apply to their own campaigns. Here's what I found.
Lowe's drew people in with a clever video
The company made a 15-second TV commercial with a talking unicorn ohhhh-ing and ahhh-ing over Jim's new lawn. Check it out:
The unicorn doesn't pitch any products or push people to buy anything. That comes later. This is just step one in the process, created to drive traffic to the campaign's microsite at http://lowes.com/lawncare. Not every team has a huge budget to run TV ad campaigns (we sure don't), but the key strategy to borrow is a clear call to action directing traffic to a campaign-specific microsite or landing page. While big traffic drivers vary from brand to brand, you can expect significant volume by prioritizing:
Co-promotion efforts with another company that gets you in front of a relevant audience, like a webinar or guest blog post

Targeted paid advertising to valuable segments via AdWords, Facebook Ads, YouTube, etc.

**Optimizing for organic search **to naturally show up for keywords your audience is searching for. Use these SEO strategies to rank higher.
If you've already nailed the big wins, try implementing some of these little-known traffic drivers.
Lowe's created a targeted, action-focused microsite
The commercial drives traffic to the lawn care plan microsite. Here it is: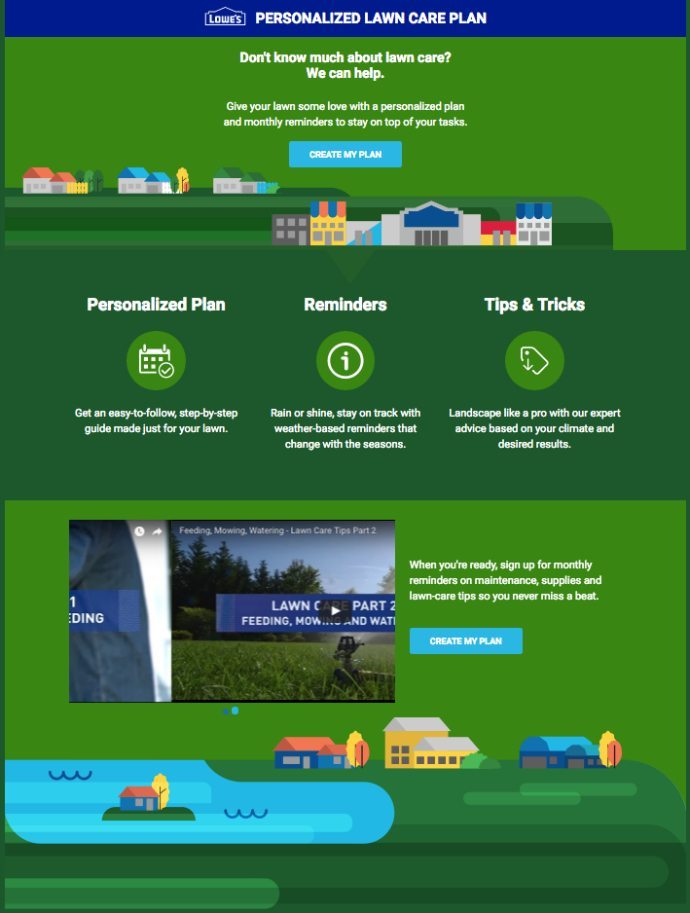 Do you notice that there's two buttons on the page and both say "Create My Plan"? That's the next important step in the campaign. The on-page copy supports the value of the call to action – you get reminders, tips & tricks, and it's all personalized. There's two lawn care tips videos cycling through on the page, but the visual emphasis is on the bright blue buttons. Again, there's no lawn care products being pitched yet. Lowe's is following the blueprint of a high-converting landing page:
A clearly defined goal - Encourage visitors to create a lawn care plan.

Message match - The copy, "Personalized Lawn Care Plan," is from the TV commercial and at the top of the microsite.

Clear call to action - One "create my plan" button is above the fold and one is below the fold. There are no distracting navigation links or other things to click on.
To follow suit on your own campaign, make sure your landing page has the three above components, along with trust indicators and an A/B split testing plan. Here's some other best practices to creating landing pages that convert if you'd like to learn more.
Lowe's captured the data to create personalized marketing
Once a visitor clicks the call to action, they fill out a four-question survey about their lawn. See it for yourself: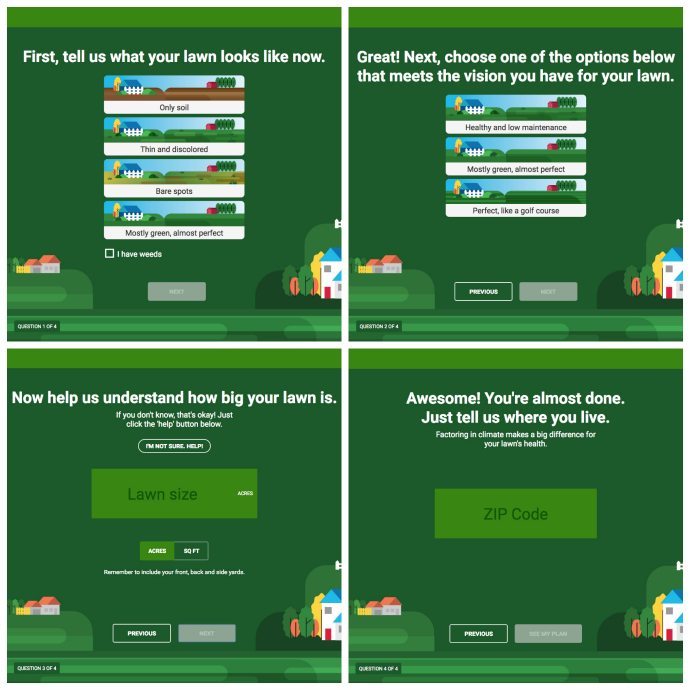 The survey helps Lowe's understand:
What the person's lawn looks like right now

Their vision for their lawn

How big the lawn is

Where the person lives
Mesh all these answers together in an algorithm, and out pops a personalized lawn care plan for every season of the year: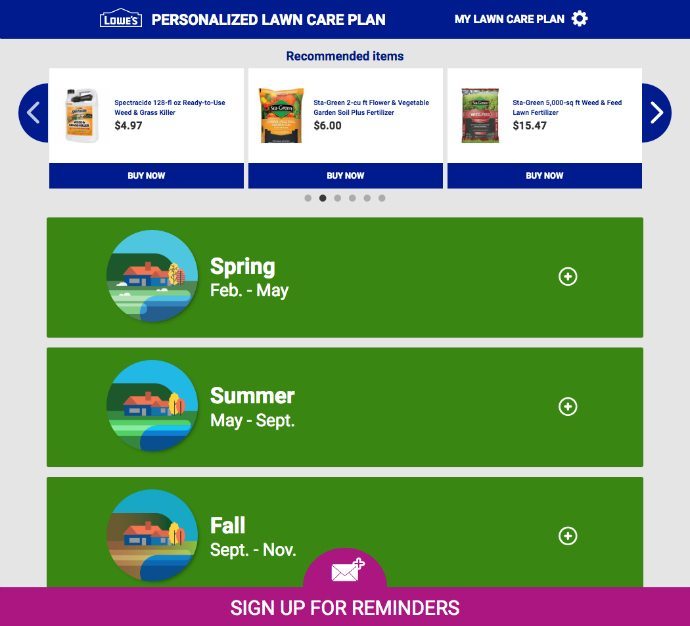 Along with my plan, Lowe's provides a scrolling queue of recommended lawn care items. This is genius timing and doesn't feel like a pushy sell at all. When I click on a season of the year, here's what I see: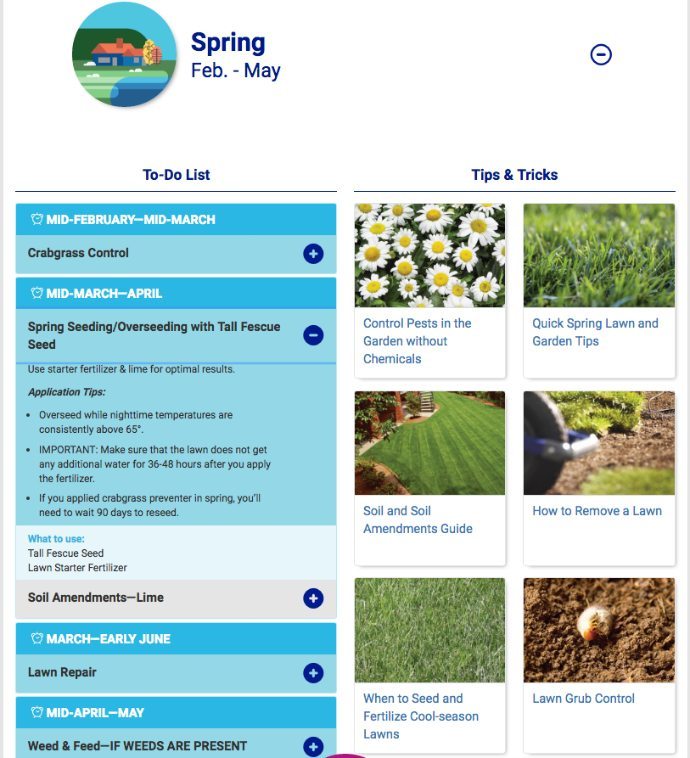 Lowe's gives the exact to do list needed to take care of my lawn, tons of helpful tips & tricks, and tells me what products I need to use. Now that I know what to do, these are the products that will help me do it. Capturing this data about my lawn goals made it easy to send me personalized marketing. You could also do the same by incorporating a survey. At Autopilot, for example, we could ask what part of the customer journey is most important for you right now? What are your growth goals? Biggest challenges? What do you wish you could do with automation? Then send relevant content or guides based on the survey results. The more you know about your audience, the more personalized marketing you'll be able to send.
Lowe's sent lawn care reminder emails to subscribers
Before exiting my personalized lawn care plan, Lowe's displayed the lead magnet below, ultimately sealing the deal by capturing my email address in exchange for more lawn care content.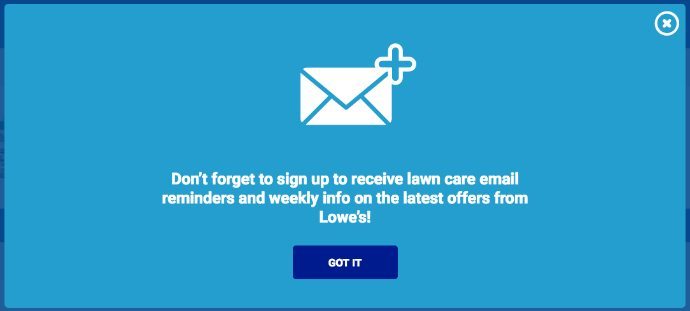 Here's the first email I received: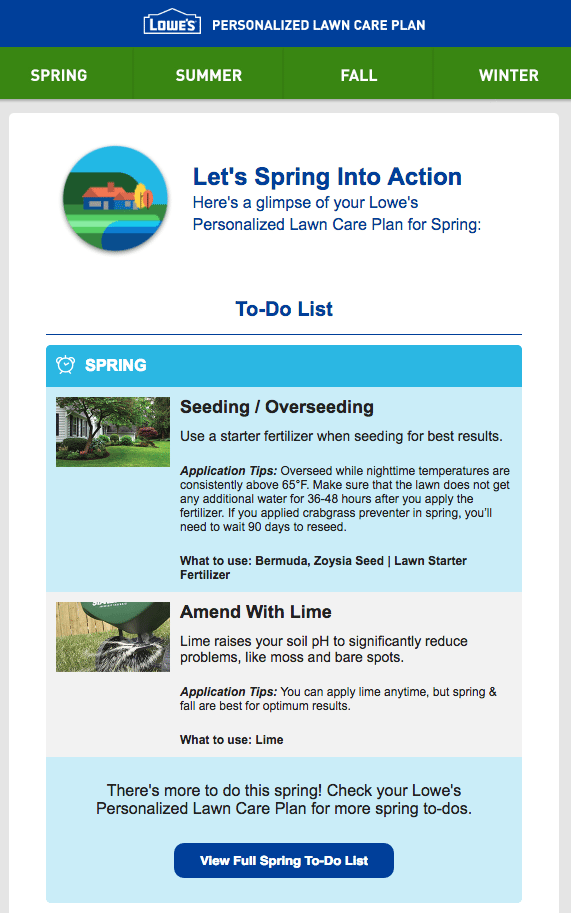 These reminders emails prevent the campaign from being a fun one-time survey, and turn it into a long-term buyer-seller relationship over email. Subscribers get tips & tricks, a to-do list, and personalized product recommendations all year round. It's like a machine that runs on Autopilot. For your business, make a plan for how you're going to stay in touch with customers until they're ready to buy. Are you going to send helpful articles via email every ten days? Ping your audience every month with a newsletter? Something else? There's a lot you can do to turn strangers into customers with lead nurturing.
Takeaways
Lowe's is a big brand, but the strategies from their personalized marketing campaign can be applied by startups on a small budget. Here are the major takeaways:
Create a microsite or landing page as your campaign's hub

Drive as much traffic to it as possible using ads, influencer marketing, organic search, and any other channel that attracts your target audience

Capture data to provide helpful and relevant content

Recommend products after you know what your audience needs

Make it easy to sign up for email reminders

Build a long-term buyer-seller relationship by staying in touch over time
Put these pieces together, and you'll be on your way to a successful personalized marketing campaign. Is there any elements of Lowe's strategy you think I missed? How will you apply these principles in your marketing? Let us know in the comments.