August 13, 2020
Digital trends in the COVID economy - what marketers need to know
The year of accelerated digital transformation
At the end of 2018, we released an article exploring the key digital marketing trends that we projected for the following year. The article included insights into the growth of vertical video for content distribution (a recent Instagram survey had discovered that over 75% of millennials watched videos vertically), as well as the continuing trend of businesses moving away from all-in-one solutions towards best-of-breed tech stacks (which had grown from 27% of marketers in 2016 to 34% in 2017 according to CMS Wire). These insights were based on observations of the market, and the latent trends in the digital marketing space.
In 2020, there has been no such thing as a "latent trend."
The coronavirus pandemic affected different businesses in different ways. From the imposition of travel bans on the tourism sector, to restaurants and cafes reeling from lockdown directives, to the rise of e-commerce as traditional businesses followed consumers online (Shopify reported new store creation jumped 71% in Q2 2020 from Q2 2019), and the adoption of digital meeting technology (Zoom in particular grew their Q1 2020 revenue of $22.2 million to $259 million in Q2, a staggering 1,100% increase). The only thing common across all businesses and industries worldwide was that they were (and continue to be) impacted not only by the virus itself, but by the unprecedented cascade of related crises that followed and continue to evolve.
In order to navigate through, businesses turned to technology, creating a rapid acceleration in the number of organisations undertaking a digital transformation.
In reality, they had to. Old school business practices that saw clients attend offices to sign documents, executives fly across the globe for face-to-face meetings, and even the cubicled workforce, were no longer an option. These organisations had to very quickly adopt what, until then, had been a type of workforce deployment usually associated with Silicon Valley tech companies, and the multi-app infrastructure of the robust startup scene.
The exponential growth of Zoom is testament to that fact. Video meetings were introduced to replace not only customer interactions, but every interaction. In fact, so popular was Zoom in April, that investors eager to buy up Zoom shares accidentally sent the stock price of Zoom Technologies (an unrelated company) up 1,800% before the SEC halted trading due to "investor confusion."
The impact on marketing strategies
Recently, LinkedIn conducted a survey of over 800 marketers to discuss the impact of COVID-19 on their businesses. The results found that marketers were being asked to focus on three main tasks:
Scrutinizing their spend to ensure they were making the most of reduced budgets and resources;
Communicating effectively by staying in front of the right audiences with relevant messaging that 'cuts through the noise'; and
Pivoting marketing strategy from physical to digital.
With this renewed focus, here are the 4 key trends we've identified in the current digital marketing landscape:
1) Advertising spend has dropped
Across the globe, total advertising spend has fallen dramatically as brands pull their budgets back to reduce expenditure. As a collective movement, this reduction in advertising spend has equalled around $50 billion, and is predicted to drop even further. From a 6.2% growth rate in 2019 to a decline of 11.9% in 2020 (Group M), most businesses are looking to conserve cash and improve the ROI of other channels.
On the flip side, with the COVID-era consumer doing more online, in particular spending more time and money on online shopping and entertainment, digital marketing is proving to have the superior ROI. According to Australia's broadband network, Australians increased their screen time by an average of 70% to 80% per day since the beginning of the pandemic. However, with businesses looking to conserve cash and the marketing budget one of the first to get cut, CPC prices dropped up to 47% due to the decreased competition (Match2One).
With more users spending more time on devices, and low costs, now is the best time for businesses to target audiences digitally. In fact, a recent survey indicates that over 75 percent of businesses that used digital channels for the first time as a result of COVID intend to incorporate digital as an essential part of their marketing strategy moving forward (McKinsey Digital).
2) Email has emerged as the 'trusted' channel of communication in times of crisis
Email marketing has become even more relevant, with a June 2020 report identifying that there has been a 44% increase in email sends since the beginning of COVID-19. As per the LinkedIn report, companies are seeking to communicate effectively to 'cut through the noise' and stay top of mind, as well as providing information with respect to how they are responding to the global pandemic.
There has been a corresponding increase in open rates, indicating that these audiences are indeed interested in hearing what brands have to say, and engaging with them through email as the 'trusted' channel for communications.
3) Online events and interactive content have gained traction
It's not only staff meetings and standups that have moved online. With the cancellation of live events ranging from sports matches and musical concerts to training and conferences, online events are currently the only way to communicate live at scale. According to 6Connex, a virtual event platform, virtual events have increased 1,000% since COVID, with the company adding an additional 52,000 events to their schedule in the last 6 months.
Whilst live webinars have become extremely popular across the last decade, organisers were reluctant to invest in larger scale online events due to a perception that audiences would be less engaged. However, online events do have two key benefits:
Lower cost - with online events run at a reduced cost (both to the organiser and those attending) this lowers the barrier to entry, making the event more accessible and enabling the organiser to invest more heavily in their speakers and content;
More targeted event focus - without the pressure of filling seats in an auditorium or similar, organisers can cater to the requests and wider interest areas of attendees, either through more content at a single event, or more events.
4) A shift and reliance on digital marketing tools
In addition to remote communication technologies such as Zoom, marketing automation has been one of the "top four investment priorities" being adopted by businesses globally as they undergo their digital transformation (Marketing Technology Insights on a report by Frost & Sullivan). In that report, research Analyst Melody Siefken, of the Digital Transformation Practice, noted that:
"Marketers are adopting [marketing automation] to try and make sense of the unlimited amount of online customer data and turn this data into actionable, intelligent leads and lead scoring sales enablement. Additionally, marketers are opting for an omnichannel approach to reach customers from all sides of engagement to create a seamless and consistent customer experience and journey."
This analysis underlines why marketing automation software is popular despite a perceived decrease in marketing activities and spend, namely, businesses will 'spend' on marketing but 'invest' in improving workflows. By using the downturn to build out automated processes that enable businesses to do more with fewer staff and a reduced budget, and that can scale in line with the anticipated business recovery, businesses are building out a growth engine rather than buying leads.
This has long been the pitch of marketing automation companies, particularly those that work in agile, best-of-breed tech stacks. Marketing automation software can:
Improve ROI on marketing and sales strategies via automated emails, campaigns and lead management;
Collect, analyse, and surface insights from customer data sets to enable customer journey and campaign optimizations;
Improve businesses efficiencies by automating repetitive tasks, and creating a workflow infrastructure that can scale as businesses grow.
Fundamentally, they tick all of the priorities identified in the LinkedIn survey. Interestingly, when asking marketers about the benefits of using marketing automation, they tend to add two other dynamics; professional and personal benefits. In 2019 we conducted a Marketing Automation survey of global marketers around the measurable impacts of adopting MA solutions, and found they identified three categories of benefits:
Organizational: increase resource and budget efficiency
Personal: increase time available to focus on higher-level strategic initiatives and investing in career development
Professional: deliver more measurable impact on sales and growth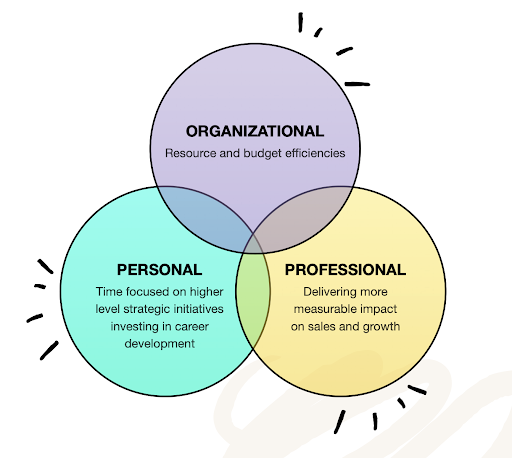 Source: Marketing Automation Survey eBook
Some of the key statistics drawn from that survey included:
81% of marketers believed that marketing automation saved them up to four hours a day;
Over 91% of survey respondents believed that marketing automation allowed them to facilitate a more streamlined focus on strategic work, thus freeing up resources and improving productivity across the board;
93% of marketers believe marketing automation software enhanced their value to their organization.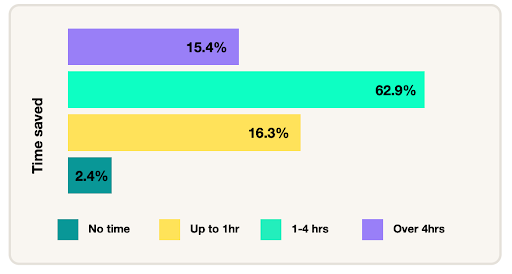 Source: Marketing Automation Survey eBook
When you consider that the saving of four hours a day equates to the work of one FTE for 130 work days each year, it becomes apparent why businesses are seeing the adoption of marketing automation technology as an investment, not an expense. In fact, one respondent noted that it enabled them to "save tens of thousands of dollars" and allowed their team to "use their time doing more valuable tasks." Similarly, another respondent said that one of the effects of marketing automation was that the "work productivity of their small team far exceeded the capacity of their limited number."
With each trend is an opportunity
As 2020 continues, we will undoubtedly witness innumerable shifts in how marketers are approaching their tasks, borne from both external influences and internal changes in strategy and resourcing. What is apparent is that with each trend comes an opportunity, and with the inevitable increased scrutiny on spending (by businesses and consumers) marketers need to adopt every efficiency available, invest in their growth infrastructure, and leverage digital channels with the highest ROI. Because, ultimately, when it comes down to marketing, it's all about the ROI. If you can't show the benefits of your marketing strategy, you may need to re-think your approach and shift toward software that has proven results.