January 19, 2020
The rise of the customer experience economy in 2020
Let's pretend you're sitting at work one afternoon and you start to feel a little peckish. You're in the mood for a donut to give you that much-needed sugar hit to get you through the rest of the day. You walk down the street, in search of that almighty donut, and find yourself standing in front of two donut stores, both of which are filled with waiting customers experiencing similar donut cravings.
The donut store on your left has a no-frills decor, with trays of freshly baked donuts neatly lined up behind the glass counter. In addition to warm sugar-dusted cinnamon donuts, there are jam-filled donuts, salted caramel donuts, matcha donuts, and many more enticing flavors. Customers are lining up, ordering their half a dozen donuts, paying, then leaving.
Meanwhile, the second store offers the same flavor range — yet its donuts are 30% more expensive. The store itself is painted in fun, pastel colors. Soft jazz music is playing, a barista is making coffee on the shiny La Marzocco machine, and there are small tables and chairs set up in and out of the store, just in case you're not particularly keen to go back to the office just yet.
Which donut store would you visit?
Many will instinctively point to the first store. The donuts are just as good as the donuts being sold next door, plus they're a lot cheaper. Yet research shows that more people will actually choose the second store. A survey conducted by British payment services provider Barclays found that 81% of shoppers believed that receiving value for money was important, but the experience a brand provides is just as important. Additionally, a PwC study found that 42% of customers would happily pay more for a friendly, welcoming experience. In contrast, 32% said they would walk away from a brand after just one bad experience.
Welcome to the experience economy.
What is the experience economy?
Twenty years ago, authors Joseph Pine and James Gilmore introduced a new way to think about connecting with customers and securing their loyalty. In their Harvard Business Review article, they argued that buying goods and services will no longer be enough for consumers — instead, their decision to purchase will be influenced by the experiences provided by the brand, not just the product itself. They coined this concept the "experience economy" and predicted that businesses would be forced to come up with new ways to transform their brand's value proposition by creating memorable experiences.
In 2020, we're already seeing the effects of this apparent shift in economics. In fact, CX consulting firm Walker predicts that 2020 will be the year customer experience surpasses price and product as the key competitive differentiator. And by 2030, projected spending on the experience economy is set to reach $8 trillion (Fast Company). While experiences have always been at the heart of some industries such as entertainment and sport, the notion that one should be promoting a positive, if not entertaining, experience has weaved its way into other business sectors such as retail.
Customers are no longer just making a purchase and walking away. They are now seeking a memorable experience to sweeten the deal — they are also expecting it, whether they realize it or not. And while the millennial segment may be a key driving force behind the experience economy, a recent McKinsey consumer survey found that the shift in spending from goods to experiences spanned all demographics.
Driven by this shift, global brands such as Apple and Domino's have changed the way they do business, engaging with their customers throughout the buying process. We've seen Airbnb expand its core service offering of accommodation with experiences such as cooking classes, guided tours, and sporting activities. Closer to home, we're seeing an increasing number of malls in our neighborhoods sparing space for experiential offerings such as pop-up stores, interactive games, and live events.
Because of the experience economy, billions of consumers are in control like never before. However, many businesses are missing the mark. According to Capgemini, 75% of businesses believe they're customer-centric, yet only 30% of customers agree — and this discrepancy creates an experience gap. To close this gap and succeed in the experience economy, businesses need to redefine how they understand their customers — not just as "personas" but as a people, to form deeper relationships and build closer bonds of trust.
Opportunities in the experience economy for your small business
Lower prices and loyalty discounts will continue to lure customers. However, it will be the brands offering memorable experiences that will gain loyal customers and greater returns. For small businesses, this involves looking beyond your basic functions and finding ways to provide an engaging experience that will distinguish your brand in the marketplace.
Here are some ideas to get you thinking about how your small business can take advantage of the opportunities available in this experience economy:
Gain a better understanding of your customers
By now, you'll know that your customers are yearning for better experiences. But what is your small business doing to design a better experience? How do you know what your customers' expectations are? What problems are they trying to solve? And how well is that going for them?
The best way you can begin to answer all those questions is by getting a better understanding of your customers and how they experience your brand. Customer journey mapping is an effective way of highlighting the typical interactions your customers will have with your brand. For an online travel company, it may begin with imagining a trip and ending when the customer returns home safely. For a restaurant, it could start when the customer makes an online reservation and includes the restaurant's ambiance, decor, mood, smell — not just the food and service. When done right, a customer journey map can help your business:
Align the organization by getting everyone on the same page about the importance of delivering a better experience while breaking down silos at the same time;
Highlight and diagnose existing issues and opportunities (while capturing what's working for your business, too);
Prioritize and rethink existing processes or assist with creating new ones; and
Obtain direction for the work required to improve and redesign the customer experience.
For example, Airbnb's initial purpose was to help travellers find cost-effective accommodation options while enabling home-owners to earn extra money by offering their homes to these travellers. After a while, however, Airbnb found that their traveller customer segment were also looking for more than just a roof over their heads. And in particular, travellers were seeking local and immersive activities beyond generic city guided tours. In 2017, Airbnb Experiences was launched, allowing Airbnb hosts to offer guests additional activities that reflect their true passion, be it sunrise beach yoga or southern Thai cooking classes. To date, Airbnb Experiences has allowed customers to have a more meaningful experience when travelling, thus effectively redesigning the entire Airbnb customer experience.
Have a (human) conversation with your customers
In this pursuit to "know your customer," businesses are gathering data from numerous data points such as demographics, location, past behaviors, and transactions. However, we think the best way to really get to know your customers is by talking to them.
Simultaneously, customers are also expecting businesses to be talking to them in today's conversation-based and hyper-connected society — and the recent rise of conversational interfaces and AI have made it easier for businesses to connect with customers, and vice versa. From chatbots to voice assistants and conversational marketing tools like Intercom and Drift, these channels are allowing customers to communicate with brands in the same personal and immediate way they interact with friends and family.
In this experience economy, the way you talk to your customers will have a massive impact on your brand — and nothing will deliver customer satisfaction like a consistently delightful conversation. World-class customer service begins with treating customers like humans. And when you really think about the way you convey information to (and receive feedback from) customers, your business is likely to yield better results than any 15% off voucher.
Sell an experience, not just your products or services
Your business can have the most amazing products on the market — and a stellar customer support team to boot. But if your customers aren't finding your products fun or easy to use, it's unlikely to become a commercial success. Just ask the guys at Sony. In the early 2000s, customers were flocking to Apple stores and buying their products in droves. Why? Because Apple was optimizing its products to ensure their customers were getting the best user experience. From the way each device is designed to be as simple and as intuitive to use, right down to the ability for customers to customize iPhone colors to suit their needs, Apple didn't have to fight with its competitors in the race to the bottom of the price curve. Instead, they targeted customers who valued the user experience enough to pay a premium for it. Meanwhile, Sony was still focused on the product itself and the technical specifications instead of how customers were using them.
The experience economy applies whether you're selling clothes online, run a busy pizza restaurant, or are looking to reach your customers at a trade show or event. And creating a remarkable stand-out experience requires a little bit of thinking outside the box.
E-commerce retailers: consider taking your business offline
If you run an e-commerce business, you may think that the act of making purchases online will eventually replace the need to ever visit a physical store again. However, a study conducted by Statista and eMarketer may make you think again — it predicts that 82.5% of all retail sales will still happen offline in 2021. Why? Thanks to the experience economy, physical retailers have the ability to provide a more immersive customer experience than online retailers. As a result, some online-only retailers have played around with having a physical presence.
For example, online mattress store Casper drove a 'nap mobile' across America as part of its brand awareness campaign in 2016. The nap mobile came fitted with built-in beds to solve a problem that many online shoppers have: not being able to try the product before buying.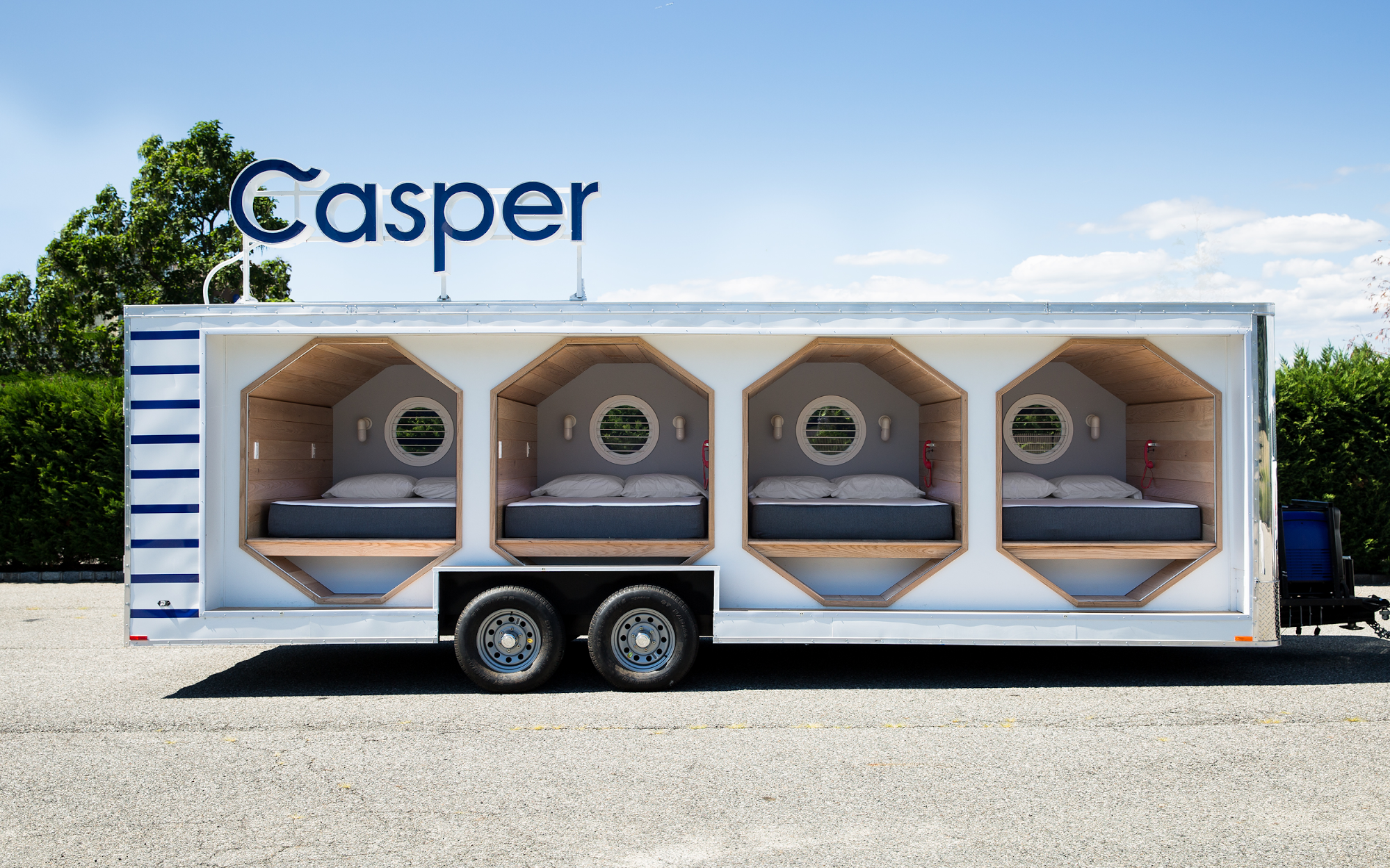 In a similar vein, Texas-based retailer Magnolia Market used an AR-powered app to allow customers to view and "place" products in their home to see what it would look like before they clicked on the "buy now" button.
The examples highlighted above show that brands are becoming aware of the importance of using online-to-offline (O2O) commerce to close the gap between online and offline shopping while creating a seamless experience before, during, and after the purchasing process.
Will your small business win big in the experience economy?
The experience economy has changed the way we consume, influencing us to prioritize experiences over the ownership of goods. If you want to build brand affinity, you'll need to give your customers what they want. And what they want is an experience — something memorable, and something that makes them feel like less of a number and more of a participant.
Your small business may be selling goods or services to your customers, but we encourage you to think about what else you can offer. For example, can you fulfill a need they didn't ask you to, or maybe even one they didn't know they had, somewhere within their interaction with your brand? If you succeed, you'll be rewarded with the loyalty of a happy customer base who can't wait to share their experience.