May 29, 2015
How to Write a Blog Post
So you've decided to start blogging even though you are insanely busy. Maybe you even have a couple of great content ideas running through your mind, but you often find yourself staring at a blank screen wondering…"how do I write a great blog post?" In this post, I'm going to zero in on five essential elements to writing a remarkable blog post readers love, search engines can find, and that has the potential to generate 126% more leads. Let's get started.
Write to your ideal reader
Similar to your ideal customer, your ideal reader is an individual person who represents your target audience. If you are writing about grills, keep Bob the T-Bone Lover in mind. Or if you are writing for recent college grads, speak to Tina who just graduated from Berkeley and can't stop thinking about her job interviews. In the words of Copyblogger's Chief Content Officer Sonia Simone: "If your ideal customer is a little formal, write to her like you'd send an email to your Great Aunt Susie. If he's casual, write like you'd write to an old college buddy." Voice and content flow more easily when you write to an individual person. It's like when you write a letter to your mom, best friend from college, or the customer support person at Sears. You know exactly how to talk to them and what to talk to them about.
Inform, educate, and inspire
The most important component of a remarkable blog post is helpful and relevant content. Even if your post is the "perfect length," has the right amount of quotes or scannable numbered lists, it means nothing if the content doesn't meet the needs of your ideal reader. Christopher Butler said it well: "Valuable content is material created for your prospects that engages their need and brings them into relationship with you." To spark your creativity, let's brainstorm post ideas for three different types of businesses: Marketing agency that serves small businesses. "How to 10x Your Email Open Rates" "5 Steps to Blogging for Busy Business Owners" "The Anatomy of the Perfect Email Newsletter" Phoenix-based real estate agent selling luxury properties. "What You Need to Know About Looking for a Phoenix Home" "8 Luxury Neighborhoods in Scottsdale" "How to Navigate Buying a Second Home" Napa winery offering reasonably priced wines. "3 Pinots that Sommeliers Love" "The Perfect Wine and Cheese Pairing for Dinner Tonight" "How to Impress Your Friends with Your Wine Expertise" The best blog content isn't salesy, but instead informs, educates, and inspires people on their journey from stranger to customer. To know if your posts are getting results, pay attention to these metrics:
Qualitative Feedback: How are people responding in your blog comments? What kind of feedback are you receiving from users who are emailing you? Reader responses are a good indicator if your posts are resonating with your audience.
Time Spent on Page: Access Google Analytics to check out the amount of time readers are spending on each of your posts. Short amount of time on page means they are leaving quickly whereas more time means they are taking time to digest the post.
Number of Social Media Shares: Use a tool like ShareThis to add social sharing to your blog. Which blog posts are getting the most total shares? Which social networks are sharing your content the most? For example, we recently discovered over 50% of our shares were happening on LinkedIn, so we tweaked our strategy to start re-posting certain posts on LinkedIn's Pulse network.
Structure for skimmers
A study by the Nielsen Norman Group found that less than 20% of the text content is read on every web page. This chart illustrates the results from the research: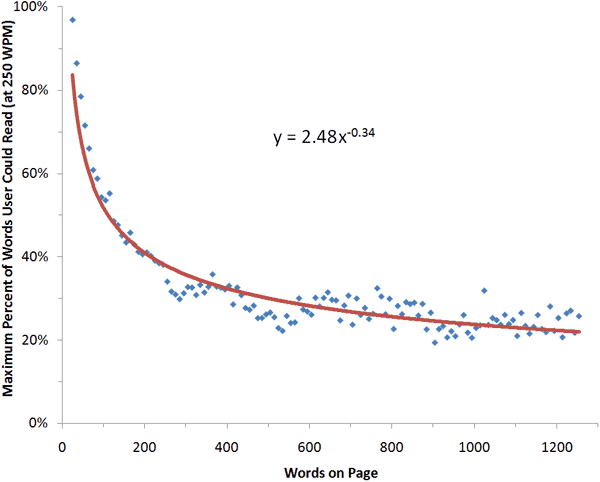 The truth is, the average reader is only skimming and scanning your blog post while they are texting, sending email, checking Facebook, and browsing other blogs. The solution? Structure your post for skimmers.
Use bullet point lists to break up the text (like I just did here!)
Use images, charts, and graphics to visually communicate and break up the text
Write clear headlines and subheadings that convey the main points of the post
Write short sentences and paragraphs. Basecamp CEO Jason Fried said it perfectly: "Short paragraphs get read, long paragraphs get skimmed, really long paragraphs get skipped"
Big blocks of text work well for a normal book, but not for writing on the web. See for yourself. Which story is easier to read, the block of text above or the structured text below?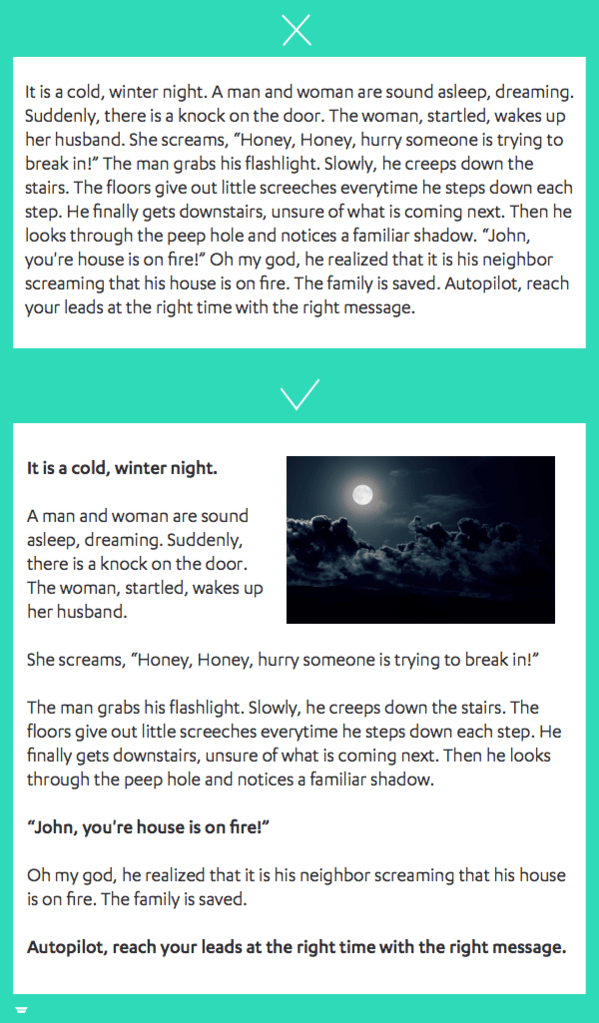 Make your post search engine friendly
Google's search ranking forum says "Webmasters can improve the rank of their sites by creating high-quality sites that users will want to use and share." Bottom line: The highest-ranking posts have the most relevant and helpful content for readers. With the foundation of high-quality content, there are still a handful of things you can do to improve your chances of ranking higher in search results.
Place your keywords in your headline and body content
Avoid keyword stuffing where you overload a post with keyword after keyword. Google uses this example of what not to do: "We sell custom cigar humidors. Our custom cigar humidors are handmade. If you're thinking of buying a custom cigar humidor, please contact our custom cigar humidor specialists at custom.cigar.humidors@example.com." Instead, naturally place your target keyword in your post along with mixed variations and synonyms of your keywords. There is not an "ideal number" of keyword mentions, but we recommend placing your keyword in your headline and at least once or twice in your body content. Here's an example: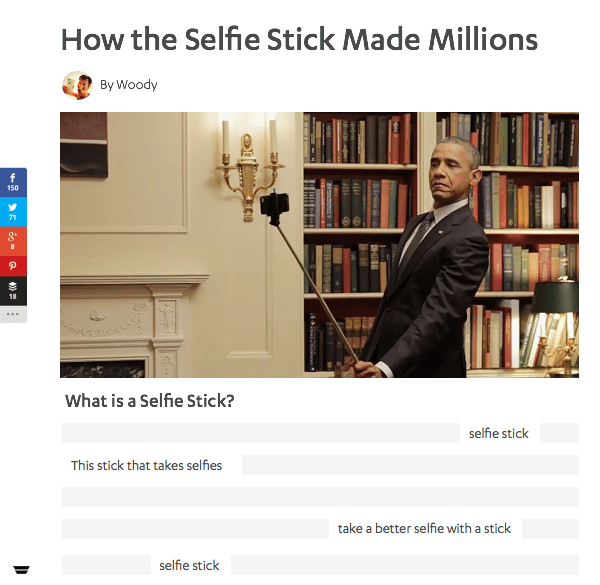 Notice the use of "selfie stick" in the headline and variations in the body content like "this stick that takes selfies" and "take a better selfie with a stick." Even Woody, the author, is taking a selfie!
Optimize your page title, URL, meta description
The Yoast Wordpress plugin makes it easy to mention your keyword in essential spots to make your post search engine friendly. Let's take a look at another example: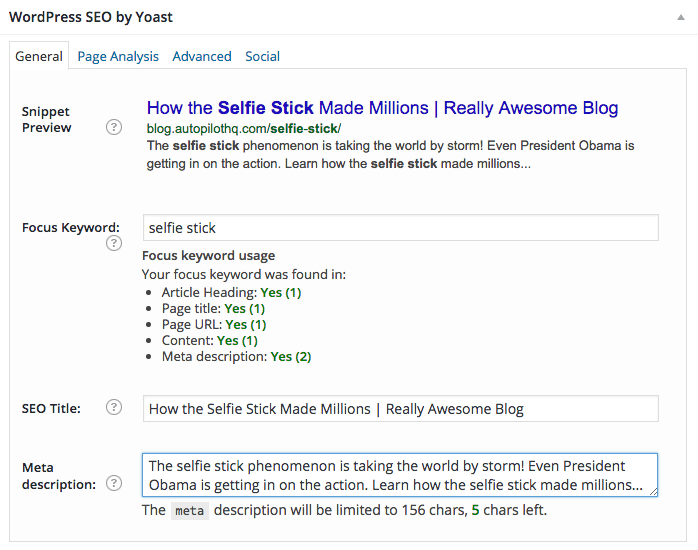 The keyword "selfie stick" is in the page title, URL, and meta description. Here's a little bit more about each and their importance:
Page Title: The page title is the link readers see in Google search results. The page title needs to be around 55 characters or less otherwise Google will cut it off. Use the Moz's Title Tag Preview Tool to make sure you are staying within the character limit.
URL: Best practice is to place your important keywords first and use three to five words in your URL. Any more than that can feel spammy or be weighed less by Google's algorithm. For example, instead of http://fakeblog.com/this-is-the-best-post-in-the-whole-world-and-the-psychology-to-back-it-up go with http://fakeblog.com/best-post-in-the-world
Meta Description: The meta description is the short paragraph of text in a Google search result. It is not crawled by Google's algorithm, but instead is an opportunity for you to entice readers to click through to your post.
Cross your t's and dot your i's
Your post could be chock full of relevant and helpful content but if it's fiLled wtih grmMr & gnellips m1stakes then your readers might think twice about your credibility. To avoid bad grammar negatively affecting your bottom line, try these safeguards before you post.
Get a second a pair of eyes to proofread your work
It's easy to glaze over spelling and grammar mistakes when you've spent so much time working on your blog post. Pass it off to another person with specific instructions of what to look for to make your post better. They will be able to see things you don't see…
Run through an editing checklist before publishing
Perfect for personal use or for your proofreader - utilize the checklist below or create one more suited to your business to make sure your post is something you'd be proud to put your name on.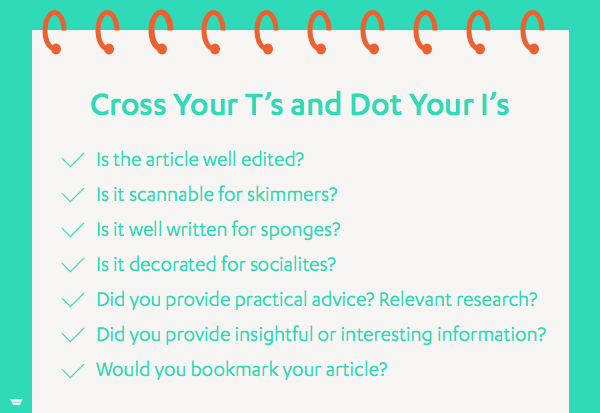 Go and do
Writing a remarkable blog post isn't a pie-in-the-sky idea. You can do it. By writing valuable content for your ideal reader, structuring for skimmers, making your post search engine friendly, and editing to craft the best post possible, you'll be well on your way to creating remarkable blog posts that win the hearts of strangers and turns them into customers. What's your approach for writing great blog posts? What insights have you gleaned from your own experience? Share in the comments.