December 8, 2020
10 Creative Ways to Use Headsup Messages
Proactive Headsup is a low-friction lead generation channel designed for marketers to convert anonymous website visitors into leads. We launched this feature in 2016, after extensive beta testing. Out of 500 beta testers, 46% reported seeing leads increase by more than 10%. A big win for less than 10 minutes of setup time. This channel, along with our original Headsup which we launched the previous year, is an entirely new way for marketers to connect with their customers.
As a refresher, Headsup comes in two flavors: a) Proactive Headsup is used to welcome and convert anonymous website visitors into known leads, and is configured in the Proactive toolbar menu item.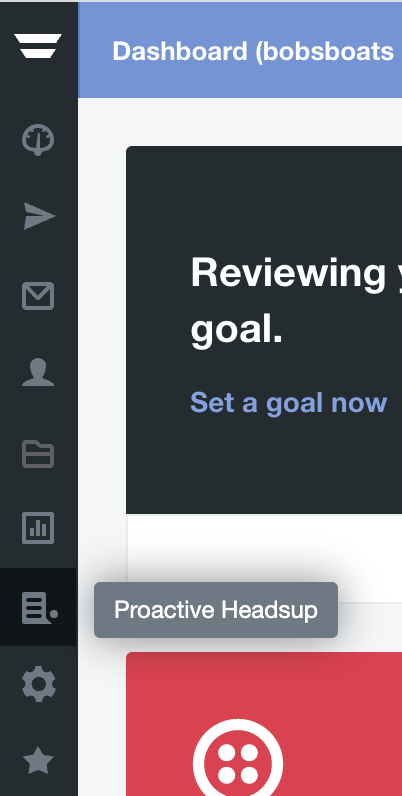 b) Headsup is used to engage known contacts in a personal onsite way, much like sending an email, and is set up as a shape in your journey.

There are a few types of messages you can send with both Proactive Headsup and Headsup:
Call to Action: Encourage visitors to click through to another relevant web page.
Subscribe: Add contacts to a list of your choosing with a single click.
Reply Back: Provide an outlet for visitors or users to engage in conversation with an expert on your team.
Phew! Now that we've covered our lingo, let's dig into some of the initial uses for each that we're seeing Autopiloters use, as well as some new ideas to try…
Call to action
As marketers, we're constantly trying to find new ways to optimize engagement on our site and increase time on page. This leads to weaving various calls-to-action throughout the site, and although effective at times, can be just plain distracting. Enter Call to Action Headsup. It allows you to dynamically change the CTA based on who the visitor is and what they're interested in. Unlike static CTAs (or even worse, pop ups) embedded in the page, Headsup allows you to target users based on their previous actions in your product, within your emails, or on your site.
1. Invite users to an upcoming webinar based on pages visited
Hosting a webinar later this month? You could keep it simple and invite all anonymous visitors. Or, if it's content that may not apply to all, you could get fancy and target those who land on particular pages. Try sending a tailored message to those who visit your customer page, events page and perhaps any high-intent pages (such as pricing, product-specific blog posts, or a contact request form).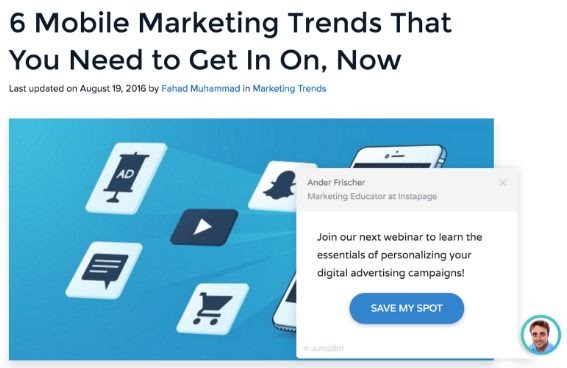 Instapage added this webinar invite the week before the event to drive additional targeted, qualified registrants. Since Headsup allows you to quickly and easily change your message across all pages it's live on, it's a great channel to promote timely CTAs like webinars.
2. Offer special discounts to targeted visitors by specific URL
Headsup allows for targeting based on specific URLs, so you can offer unique discounts based on which page a potential buyer lands on. This can be especially helpful if you're an e-commerce company offering 10% off individual products, a SaaS startup trying to woo new subscribers with a free month of service, or a pro blogger waiving the fee to join your membership site.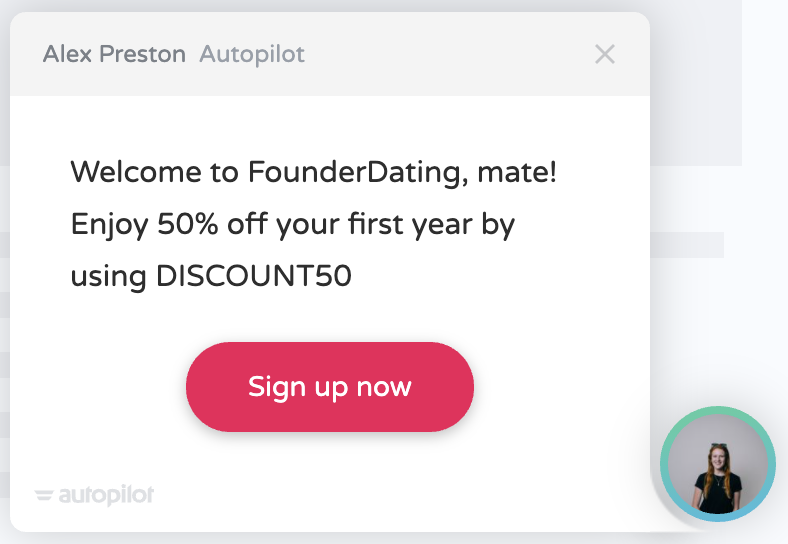 Since setting up a Headsup message takes minutes, you'll be able to quickly test which offers work and which ones don't.
3. Announce new features directly in your app
Try using Headsup for in-app messaging to help promote new product features. Email can be great for these sorts of messages (especially to get users logging back in), but communicating in-app means you're communicating in context where the user is already focused on your product. This way, you're not competing against their daily email from The Skimm or The Hustle.
Pro Tip: This may be a great time to use the "Advanced Settings" in the Headsup shape. There, you can manage exactly how long the message will display for and turn off "dismissing" so the user will be required to click.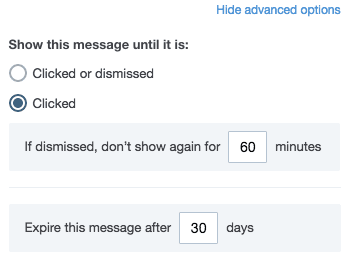 4. Create personalized, guided walkthroughs of your product
Although you can do this at many stages, one particular area we've seen in-app messaging be particularly helpful is during the onboarding process. Oftentimes, you need new users to complete certain actions before they can fully utilize their account. By using Headsup messages as breadcrumbs throughout, you can make sure they go through the complete setup process. You can add other helpful hints and links to particular knowledge base articles as well. Onboarding is often the time where customers require the most attention, and it often results in numerous support tickets and dedicated time from both the customer success and support teams. By being proactive during this time, you not only enable your customers, but you free up your team's time as well.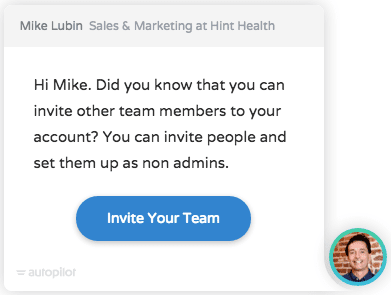 Hint Health is a customer of ours who has mastered this guided onboarding. They've since seen a 26% increase in slow-starting customers successfully onboarding themselves without needing to speak to customer support!
Subscribe
Looking for new ways to convert visitors and capture more leads? Aren't we all! Think of Subscribe Headsup as a new version of a form. Except, rather than taking the user to a new page and requiring them to fill out multiple fields, you can keep them engaging with the content they're already viewing and sign them up on the spot!
5. Schedule meetings for your sales team
This is one of our favorites, because it's such a unique approach to asking for a sales meeting. It makes scheduling an appointment personal and streamlined at the same time. Usually, you have to either reach out (most likely via email) which can come off as pushy and annoying and can easily be deleted without ever viewing. Or you put an always-visible call-to-action button on the website trying to grab a visitor's attention and hope they choose to take a demo on their own. Headsup allows you to ask a visitor for a meeting in a personalized way, when you're already top of mind. It calls out the requested action in a very obvious but non-intrusive way and begins building a relationship between the individual and the rep they'll be meeting with. Even better, it makes it super simple to complete.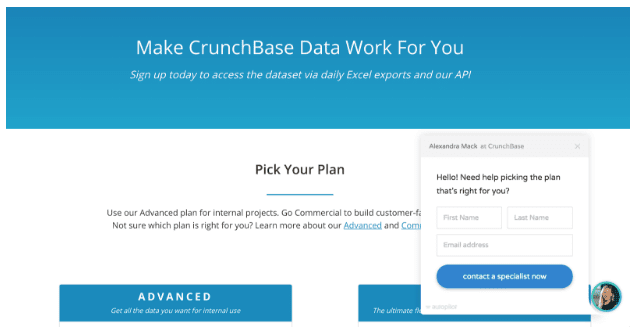 Crunchbase, the leading platform to discover the world's most innovative startups, uses Proactive Headsup to schedule meetings with their sales team. The company has seen leads increase up to 20% without having a team dedicated to answering messages around the clock.
6. Personally invite visitors to subscribe to your blog
This one may seem pretty obvious by the name of the Headsup type, but let's talk about why you should do it. It puts a face to the ask - it makes it more personal. Let's look at two possible scenarios.
Scenario #1. You're visiting a new site, and halfway through reading a post, a pop up comes across the screen, asking for your email to subscribe to the blog. We can't speak for everyone, but we immediately dismiss these. It interrupts one's train of thought, and it looks like just any average internet advertisement.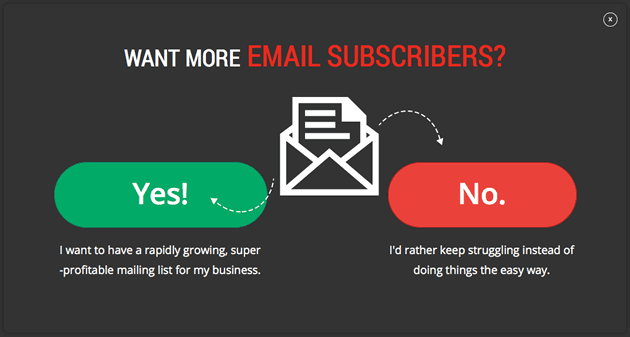 Scenario #2. You're visiting that same site, and halfway through reading the post, you see a Headsup in the bottom corner. Unlike the pop up, this allows me to finish digesting my content, and, since it's a friendly suggestion versus an impersonal ask, you're inclined to at least view the message and give it consideration.

7. Ask people to join your newsletter, events list, and additional ongoing subscriptions
Unlike an ebook download, subscribing to a list says that the individual would like to hear from you on an ongoing basis. With a commitment like that, marketers should be doing everything in their power to maximize subscriptions. This is exactly why subscribing should not be limited just to the blog. Send a monthly newsletter? Encourage individuals to sign up for that! Constantly hosting live and online events? Let people know where you'll be! Getting prospects to opt in is the hardest part, but once you have their email, you can begin the nurture process.
Videos, ebooks, blog posts…they're all valuable pieces of content, but sometimes, you just want to talk to a person. Sure, you could man a sales line or online chat. Both are effective channels, but with aggressive goals and targets to hit, we don't all have the time or resources to devote to them. Reply Back Headsup allows you to start that conversation when the prospect or customer wants, even if your whole team's in a meeting or buried in work.
8. Get direct, real-time feedback
Get valuable real-time feedback about who's visiting your site and learn more about why they're there. You could use responses to expand out your FAQs, modify your copy, or just simply learn more about your user base.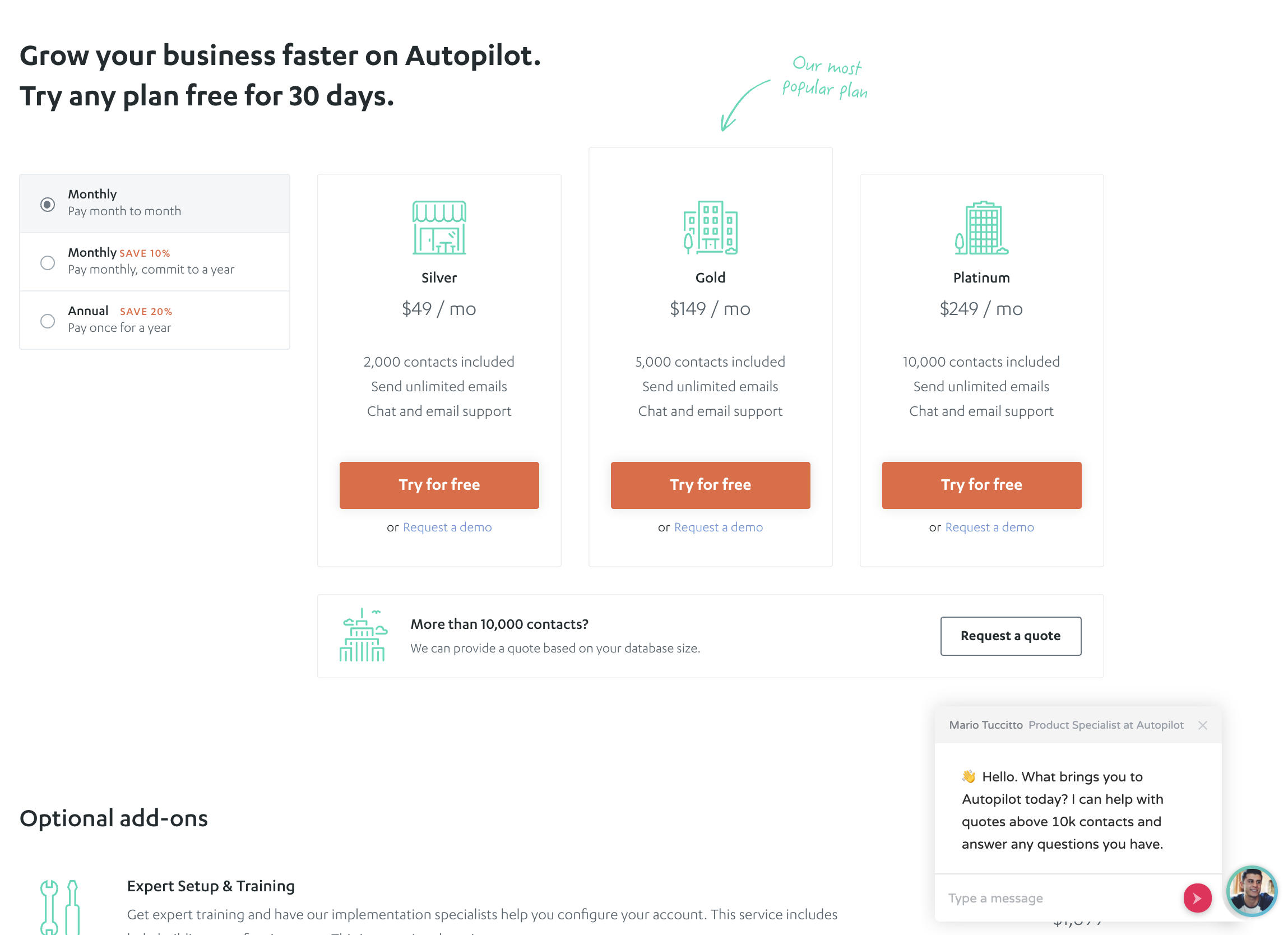 We added this Headsup message to our pricing page and have gotten in-depth answers from potential buyers about their needs. I think you'll be pleasantly surprised at how much people are willing to share about their situation, leading to the insight you need to create a wow customer experience.
9. Start the conversation early
Studies have been done on how likely sales is to talk to a lead as time progresses from when the lead was created. So try using Reply Back Headsup to start that conversation at moment zero. There's no better time to begin the sales conversation than when a prospect is on your site. If you wait to follow up later, it's likely you'll get forgotten about.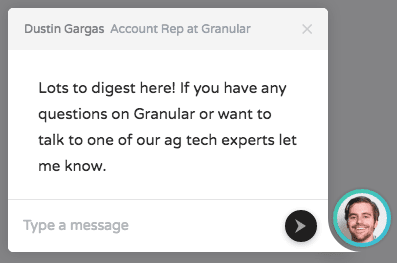 Granular, a powerful farm management software and Autopilot customer, uses Reply Back to start the conversation early with leads on its product page. I love the personal feel of Dustin's message and the "ag tech experts" language that speaks directly to the company's audience.
10. Enlist your visitors to help generate more content
Use Reply Back as a polling mechanism of sorts. Ask your visitors what content they'd like more of on the site, what they'd like to see from a product perspective, or about the struggles they're currently having.But make sure you monitor the responses. Use the feedback to help craft new blog posts, knowledge base articles, and Autopilot journeys!
Headsup opens a ton of possibilities because unlike email, it engages your users and visitors in real-time, when they're on your site or using your app. With a new channel, multiple types, and numerous ways to target, we're excited to see what you think up!
How have you been using Headsup? What challenges are you currently facing where Headsup could help? Let us know what you've tried in the comments below.
This article was originally published in August 2016 and has been updated with recent statistics and resources.