March 8, 2016
Increase Email Clickthrough Rates
So you've maximized email deliverability, minimized email unsubscribe rates, and improved opens with a killer subject line…now what? Increase email clickthrough rates with these actionable tactics below.
1. Trigger messages based on behavior
Sending messages at the right time isn't just based on time. Consider a contact's behavior when you're brainstorming your next email send. In this example from eyewear retailer Warby Parker, an abandoned cart email sends after a shopper leaves a hip set of glasses in their cart.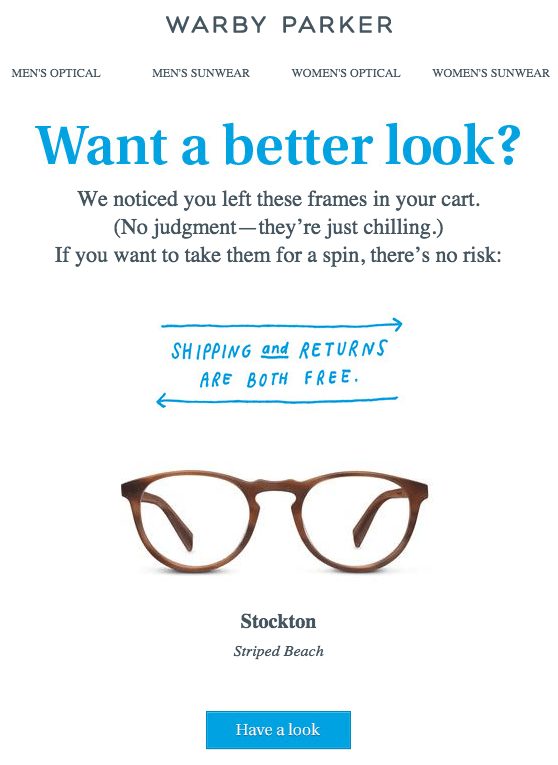 The copy highlights that the shopper left the frames behind without buying. "We noticed you left these frames in your cart. (No judgment – they're just chilling.)" This type of email could easily come off as creepy, but the way Warby Parker spins it comes off as natural and helpful. Triggering messages based on behavior also applies to other use cases:
Send an email nudge to SaaS trial users who don't complete the activation step in your app
Ask power users if they want some swag after their 100th login, like Hint Health does
Why does sending messages based on behavior increase clickthrough rates? Because the messages are timely, relevant, and personal for the recipient. Generic messages get ignored, targeted messages get clicked.
2. Add a sense of urgency
Deadlines push people to take action. It's like in college when you procrastinate writing a paper until the night before it's due. You get it done, and the impending deadline is the catalyst that moves you to act. The same is true for adding a sense of urgency to emails. Diamond Candles, an e-commerce retailer, uses a countdown timer in its email to entice its audience to click through and buy.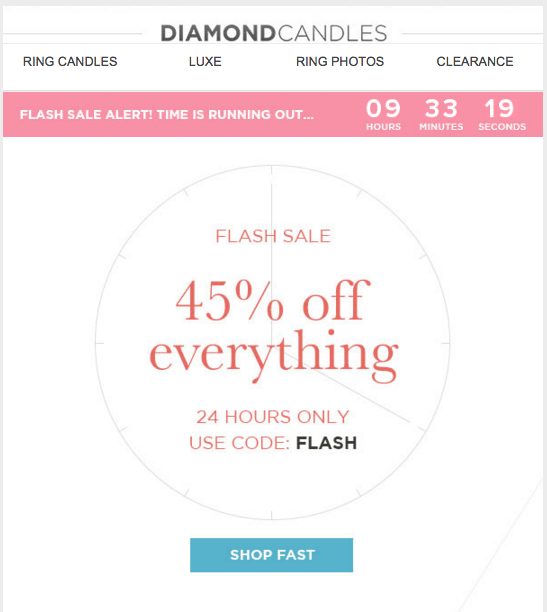 The email centers around taking action. "Flash sale alert!" "Shop fast." "Use code." "Time is running out…" This urgent copy encourages people to click through and act now, otherwise they'll miss their chance. It's FOMO but for buying stuff.
3. Remind recipients of "why you, why now"
Your readers are juggling a billion different things in life – work, family, inordinate amounts of Google Chrome tabs. When your email reaches their inbox, they may have forgotten about you already, or ask "Why is this company emailing me?" This is where "why you, why now" comes in. Remind users why you are emailing them and why you are emailing them right now. Here's an example from the folks at Unicornfree: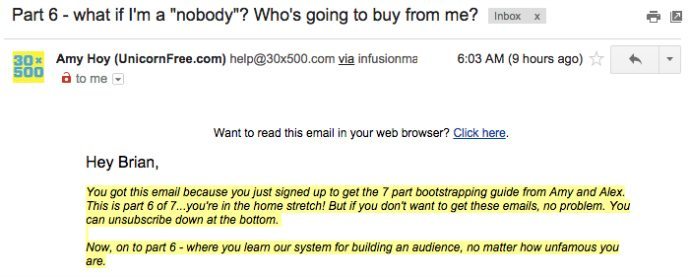 The emails gives a brief why you why now refresher. "You got this email because you just signed up…This is part 6 of 7." Readers remember signing up for Unicornfree, understand the context behind the send, and get a heads up of what's coming next. This helps readers click through instead of moving on to the next email in their inbox.
4. Make your header image clickable
Lead nurturing emails are the perfect candidate for this tactic. You can also add a button to your image that says something like "Read Now", or you can let readers figure out they can click through on their own. Check out this email from Help Scout that does the trick: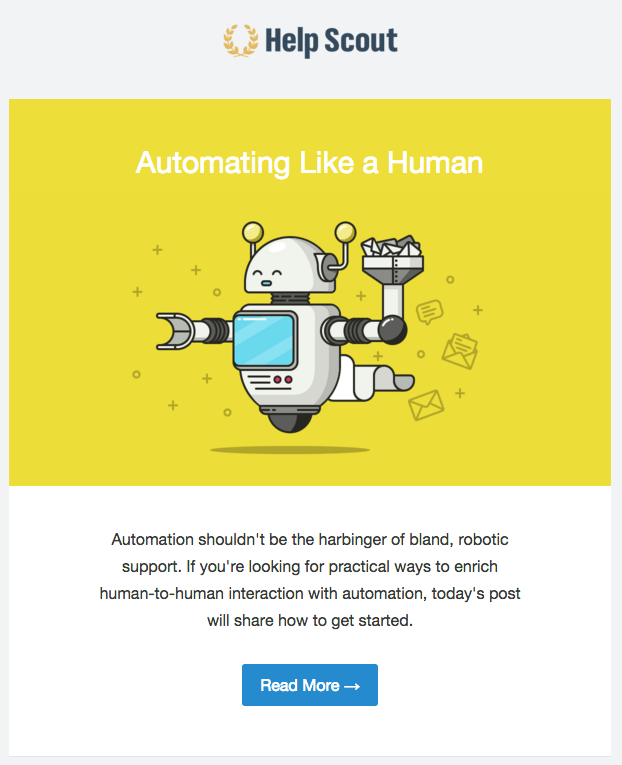 The email has two call to actions – the header image and the button. For the reader, it's easy access to Help Scout's article. This a simple tactic to increase clickthrough rates. But… Different audiences prefer text-based content. In our experience, design-centric audiences engage more with image-based emails like Help Scout while more technical audiences prefer text emails, like this one from LiveChat:

Both emails say "here's a helpful resource and here's how you can get it." The design is just different. Test both and see which your audience engages with more.
5. Send perfectly timed messages
A well-timed email increases email clickthrough rates because it responds to what the recipient is feeling, thinking, and doing. Here's an example to illustrate. We set up a smart segment in Autopilot for anyone who visits our help center search page. When they enter this segment, we then wait 30 minutes, and send a personalized email asking if they found what they were looking for.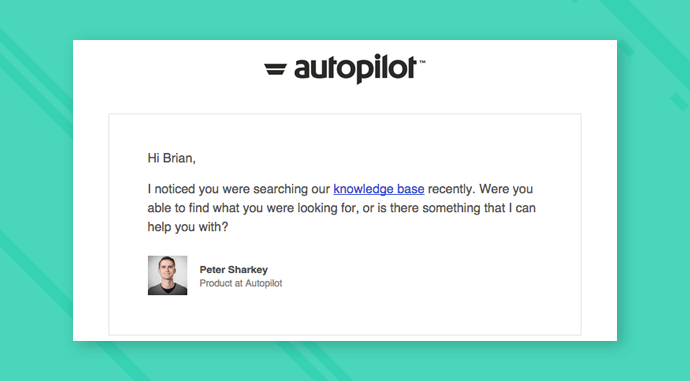 The 30 minute delay is to avoid emailing someone too quickly; it wouldn't be as effective if the person received the email the moment they performed their search. This is where good timing comes in. In less than two weeks, the email garnered a 63.5% open rate and 26% reply rate. The feedback we gathered resulted in us adding several new articles to our knowledge base, and making several other more clear. All it took to kick off this process was a well-timed, proactive, automated email send. Read the full post that walks through the journey.
6. Include one call to action (even if you mention it more than once)
Analysis paralysis is real. According to psychologist Barry Schwartz, too many choices makes a decision difficult and stressful. But how does this apply to email clickthrough rates? It's simple; the more call to actions you give readers, the harder it is to choose one to click on. Email newsletters include links to multiple things, which is great, but aim for one call to action in other types of emails. Joanna Wiebe from Copyhackers nails it in the sales email below.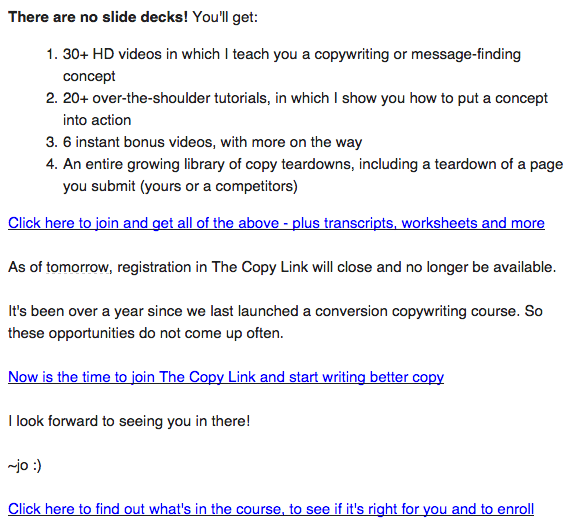 At first glance, it looks like there's three different call to actions. There is, technically, but the clever part is all three lead to the same destination. Joanna spins the same offer three different ways to round out the message and increase clicks.
7. Reduce the noise in your design
Cluttered email designs also leave readers with analysis paralysis. Subscribers scroll a little bit, don't click anything, then move on the rest of their inbox. Avoid this by using beautifully simple email templates, like this one…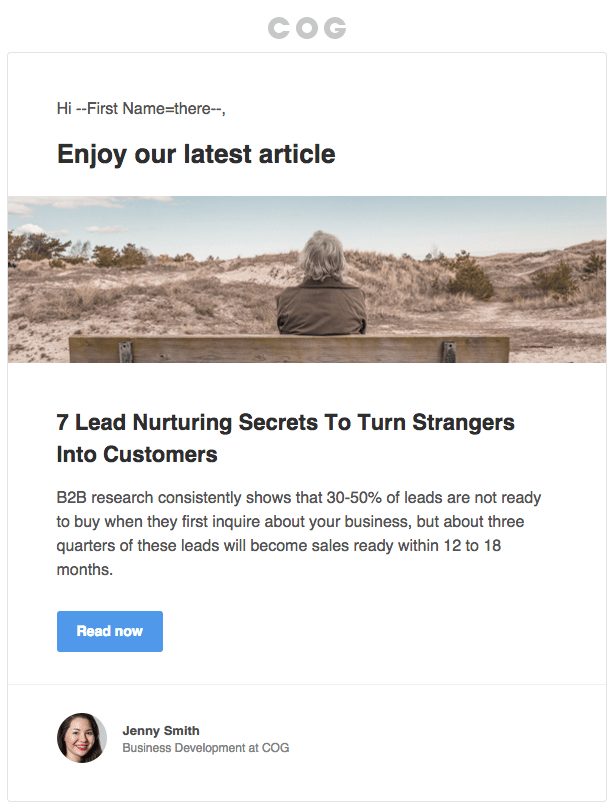 And by not using templates like this one…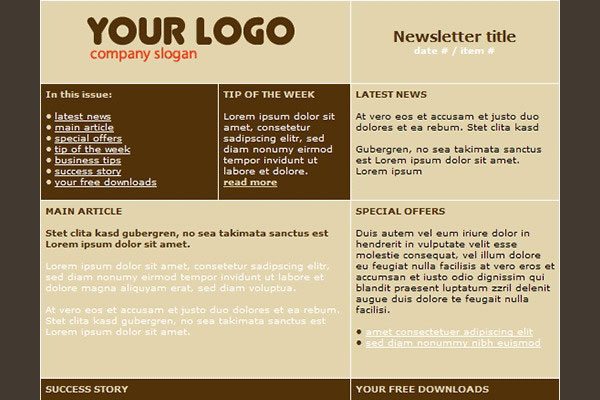 It's worth creating a new email template to improve the reader experience and increase clickthrough rates, especially if you've inherited an outdated one. Try these email templates to get started fast.
8. Hook readers with enticing copy
Great copy converts. Whether it's a headline, blurb, or a call to action, every word is an opportunity to persuade readers to click through. Nailing this part is more important than design or call to action placement. Hands down. Check out how Fizzle, an indie business talk show, tackles its copy.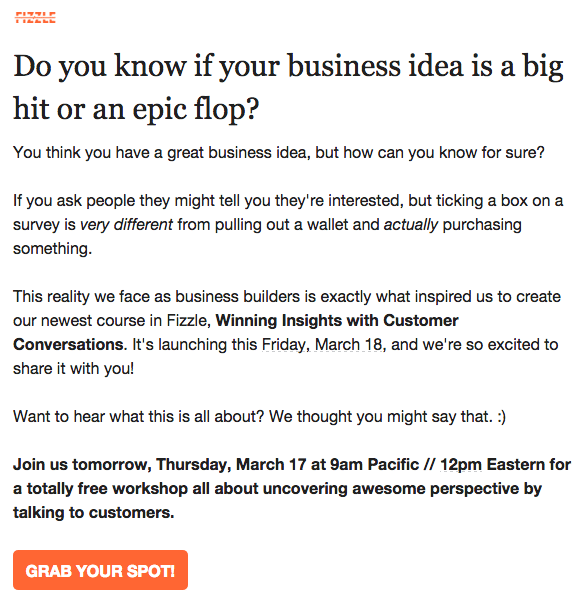 The company starts the email with a question, "Do you know if your business idea is a big hit or an epic flop?" – it's a juicy headline that touches on a question entrepreneurs secretly wonder about. The rest of the copy explains Fizzle's new course as the solution, with a personalized "Grab your spot!" call to action. It's a copy-driven, clickable email.
9. Optimize your call to action
Call to actions are typically buttons or text links. Which is better? It depends on your audience, so test your way to what works. In one recent Autopilot send, a text-based call to action outperformed a button call to action by 3x. Here are both emails:
The button CTA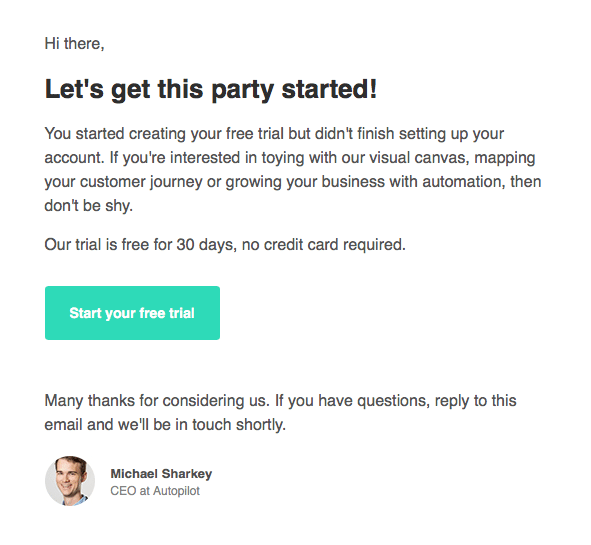 The call to action button stands out from the body text, making it easily clickable. It also passes the "squint test" – you squint, look at the email, and the CTA is still distinct from the rest of the content. This is a good option to test.
The text-based CTA (3x more clicks)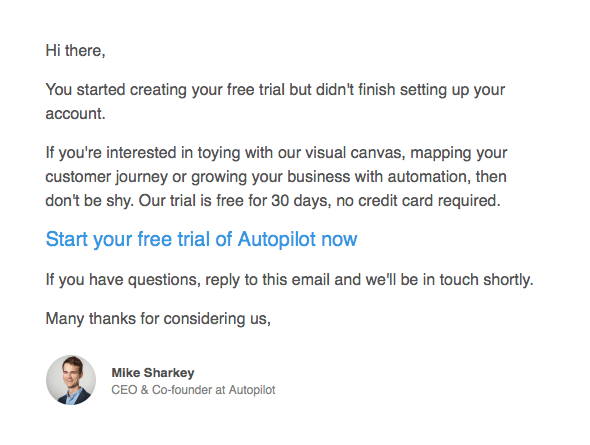 The call to action link stands out with a contrasting color and larger text. It's not as pretty as the button CTA, but it won more clicks. Performance always trumps the pretty factor. Try both and see what works best for your audience.
10. Put a call to action in your P.S.
Marketers love the P.S. section. It's the last chance to promote an offer, entice the reader, and win the click. It's also strategic. Copyblogger points out that readers are almost certainly going to read the P.S., no matter what else they read (or skip). Daniel DiPiazza, a professional blogger, always uses the P.S. section in his emails:

Daniel's P.S. section follows a problem-solution-action framework – "The problem is daunting, it doesn't have to be, and I'll show you how to fix it." He even includes a personal "I want to see you in there, Brian." It's a nice touch that compels the reader to click through and opt-in to the insider's list. Now it's your turn. What tips do you have any to increase email clickthrough rates? Any tips you'd add to this list? Let us know in the comments.