August 15, 2016
This post reviews popular best-of-breed landing page builders, including Instapage, KickoffLabs, LanderApp, Leadpages, PageWiz and Unbounce. First, let's define best-of-breed.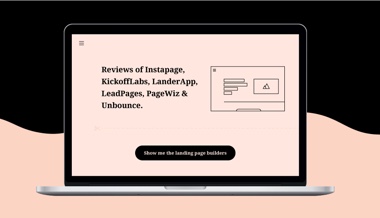 What the heck is a best-of-breed landing page builder anyway?
According to Techopedia, best-of-breed means the best system in a referenced niche or category, often used in combination with or in lieu of all-in-one software. The advantages of going best-of-breed vs all-in-one are many, including specialized functionality, better support and focused user community, improved end-user experience, and lower costs. The primary drawback to best-of-breed is dealing with multiple systems, databases, and vendors which can lead to integration challenges when trying to connect all your tools.
For many reasons, all-in-one software platforms that manage everything and allow for a single vendor relationship are easier to work with and offer more integration. But all-in-one software has disadvantages of its own like being restricted to a single vendor with outdated technology or watered-down features, less specialization, less flexibility, and generally higher costs priced for Enterprise buyers. This chart from Benchmark Estimating does a good job comparing the key differences between the two: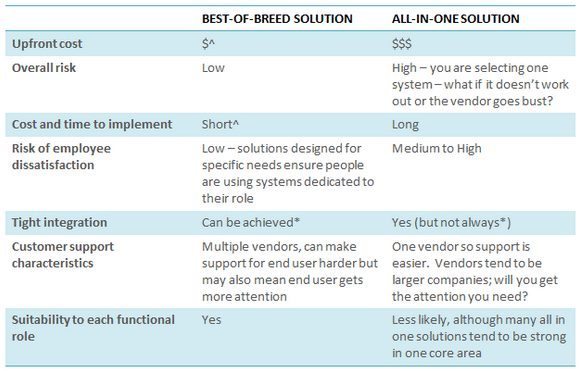 Why landing pages?
Now that we know the difference between best-of-breed and all-in-one, let's talk about best-of-breed landing page builders. Chances are, if you are currently using an all-in-one marketing automation solution, you haven't been 100% satisfied with the native landing page builder that came in the box. It may be non-intuitive, produces unattractive results, or require programming skills to create custom designs—whatever the reason, you may be in need of a best-of-breed solution to complement your efforts. Or, maybe you are very new to the world of creating landing pages and are here to see which one would best fit your marketing needs.
Let's get this straight: I'm not a programmer. I'm not a designer. I'm a marketer who wants to quickly and easily create professional, functional, responsive, high-converting, trackable, highly-customized, and beautiful landing pages. Am I asking for too much? I recently joined Autopilot to manage our Demand Generation efforts. Our team is small, agile, and working with a limited budget.
A big piece of the Demand Generation puzzle is creating landing pages that convert visitors into engaged prospects and eventually new customers. Landing pages are key to getting website visitors to take desired actions or conversion paths, such as providing their email address or clicking through to another page. They can serve many functions including pay-per-click lead generation, webinar or event registrations, social media contests, product launch signups, email subscriptions, sales pages… (Aren't you getting excited just thinking about the possibilities?)
Criteria for reviewing landing page software
Knowing that there are several solutions that tout powerful capabilities, I set off to review the top best-of-breed landing page builders. It's worth mentioning that the list of tools reviewed here are not comprehensive. If there's one you love that I've missed, please tell us about it in the comments. I'll be basing my evaluations of each solution against the following criteria:
Skills required: Do I need the help of a developer to use this? Or is it so easy and intuitive that a complete noob can create a landing page in less than half an hour?

Capabilities: Does it come with all the must-have features? The key features that I'll be paying attention to the most are: a) simple graphical editor, b) built in SEO, c) responsive design, d)  A/B testing, e) conversion tracking and analytics.

Visual Appeal: Design plays a huge factor in usability. Do I enjoy working in the interface? Do the templates look like they belong in 1995 or 2015? Does it bring me joy and delight to see my landing pages come to life?

Pricing: Is it affordable? (less than $100/mo)

Onboarding Journey: This category is not necessarily a review of the product, but how the company itself followed up with my action of signing up for a free trial. Did they offer any training? Tips and tricks? A walkthrough of the product? Access to customer service? Did they make it easy for me to learn how to build a landing page with their software?
Here's a quick feature comparison chart for this review: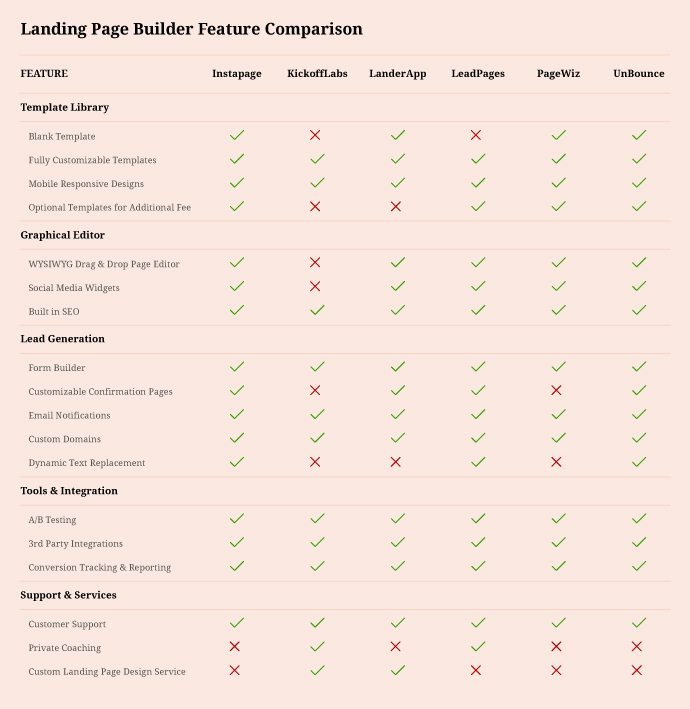 1. Instapage - Build and Test in Minutes
Instapage is an ideal platform for teams and digital marketing agencies alike. The major draw of Instapage is how powerful, yet easy it is to set up landing pages.
Skill Required
Instapage was the easiest, simplest, most intuitive landing page solution I tried. The name says it all, you (or anyone, really) can create landing pages instantly, without any technical knowledge. This means you spend less time educating yourself on how everything works and more time optimizing your page design. I built my first page in under 10 minutes.
Capabilities
I was surprised at how many solid features come with Instapage. At first glance, Instapage may seem simplistic, but the capabilities are robust and allow you to be quite sophisticated. They have an intuitive builder, SEO plug-in, all the most popular integrations (Autopilot included), mobile ready pages, drop-in pixel tracking, and unlimited A/B testing capabilities.
Visual Appeal
There is a wide variety of 100+ templates to choose from ranging from basic to professional, organized by category: Lead Generation, Click Through, Webinar Pages, Mobile App, Thank You Page. All templates are mobile responsive and ready for optimization.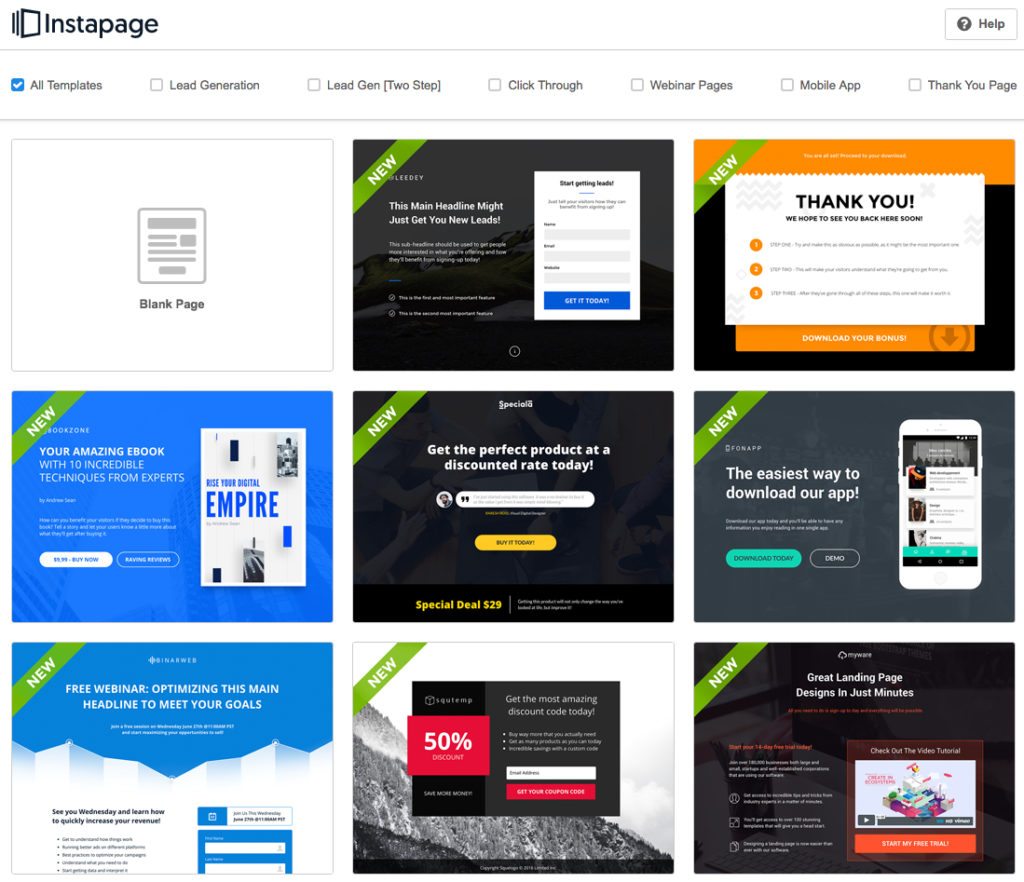 Instapage's editing interface was my personal favorite. It was clean and sparked my creativity by giving me the most screen real estate for freely dragging, dropping, and moving things around the landing page. There were many customization options as well, including a slick alignment and grouping feature as well as the Inline Style Editor, a CSS editor module.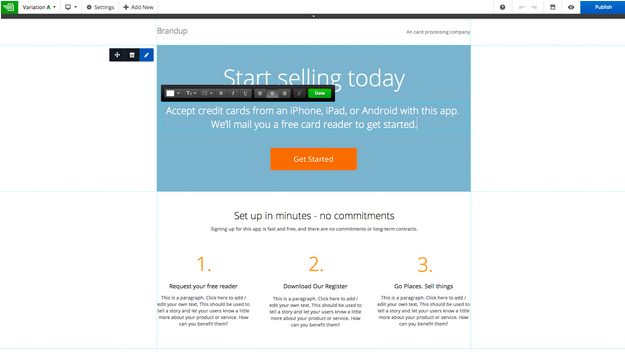 Pricing
Instapage's price points are among the most competitive landing page builders. Their goal is to bring powerful, but simple, high quality landing page creation to both teams and agencies, and the plans they offer reflect this mission. +1 for unlimited pages, visitors, and domains. While Instapage doesn't have an option to pay month-to-month, they offer a 30 day free trial period with no credit card required.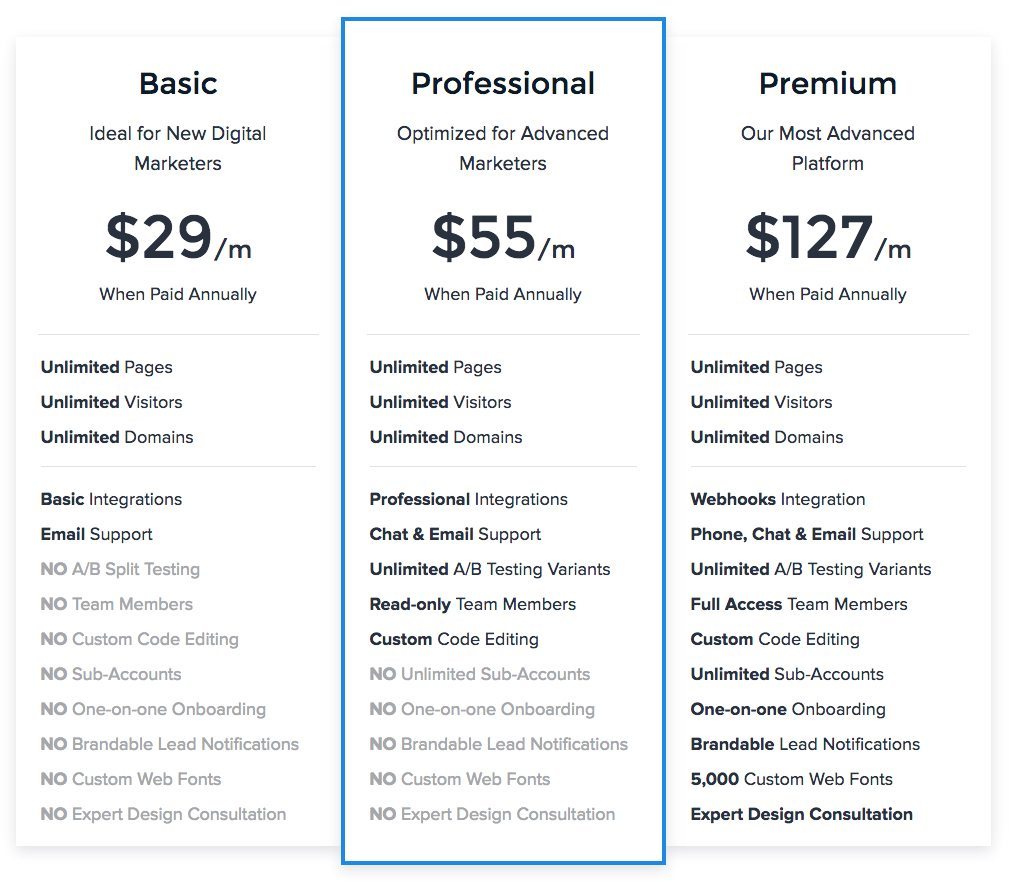 Onboarding Journey
I appreciated the interactive walk through introduction of the tool when starting my first landing page. It made everything even more straightforward, if at all possible.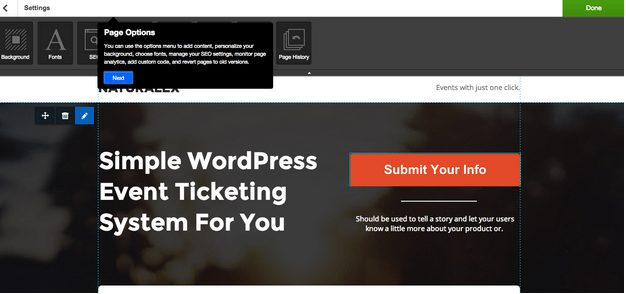 Instapage has been pretty on point with their email communications, although I did get emails from two different customer success managers. They promptly sent over a welcome email linking to new user guide and then a follow up email with 3 tips and tricks to help me get started.
2. KickoffLabs - Smarter Landing Pages
KickoffLabs offers the tools you need to "grow your email list with a viral campaign." While the core of their product is the landing page builder, they also offer pop-ups, opt-in forms, automatic email responders, and a referral generation system. Today, I'm solely looking at their landing page feature, though the other tools certainly make it a differentiator.
Skill Required
KickoffLabs is very easy to use and suitable for complete beginners.
Capabilities
It has all the basic functionalities: all pages are mobile ready, easy-to-use form editors, A/B testing, customized page titles, meta descriptions, and social sharing text. Customization in the graphical editor can be a challenge if you want to make significant changes to your landing page template, but don't know any HTML or CSS.
Visual Appeal
Setting up a landing is quite intuitive with KickoffLabs. First, you create a new campaign, give it a name and then select how you'd like to collect leads. In this case, I chose "On a new landing page." From there, you are prompted to select a landing page theme. Because there is no categorization like "Coming Soon," "Webinars & Events," etc. or filters like "New & Featured" or "Popular" for landing page templates, you must scroll through all of their options to find one that you want. Albeit a limited library, no option to start from a blank page, and no ability to preview before moving forward, there are appealing templates to choose from.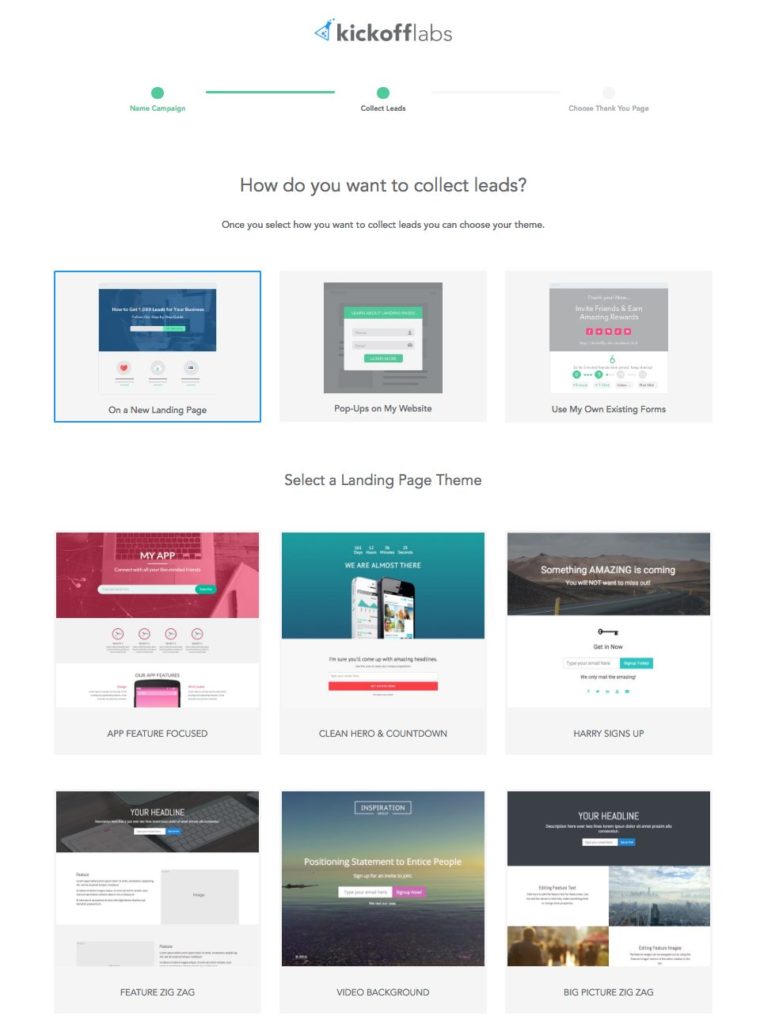 Once a template is chosen, KickoffLabs prompts you to select a thank you page template and directs you back to your dashboard to edit your pages. This was a bit clunky of a user experience and I found myself wishing there was a one-click option to start editing my landing page immediately.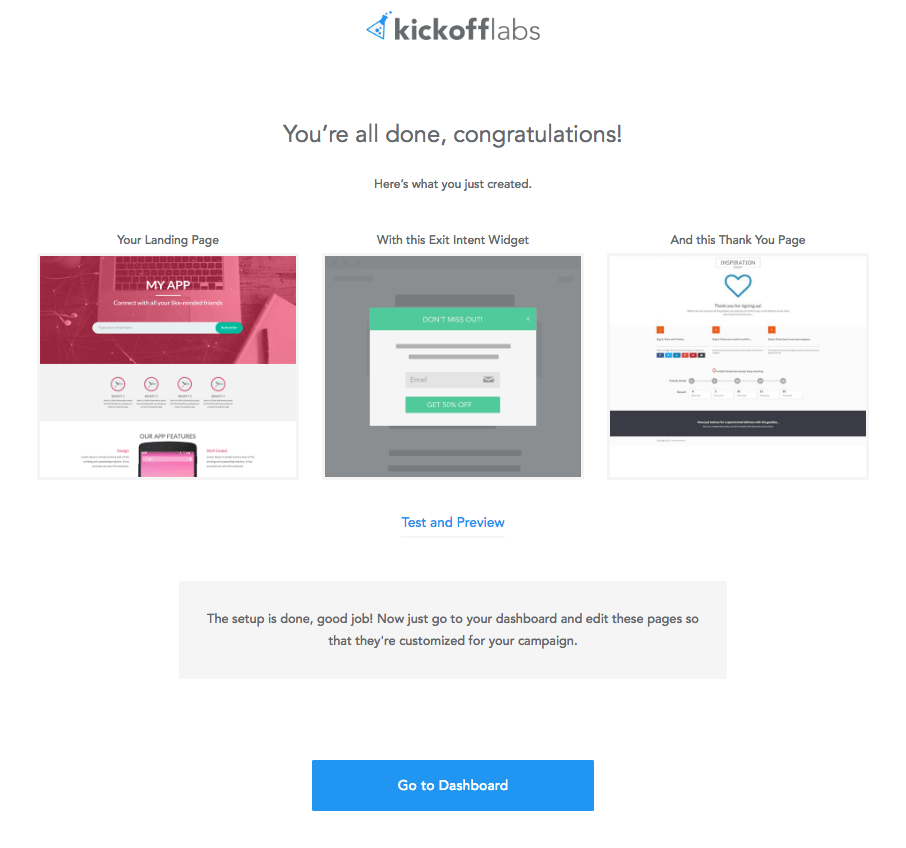 The landing page editing interface didn't get me too jazzed. It's simple enough, but not very intuitive to navigate. There isn't a drag and drop editing ability to move things around, meaning you are confined to the template you've chosen.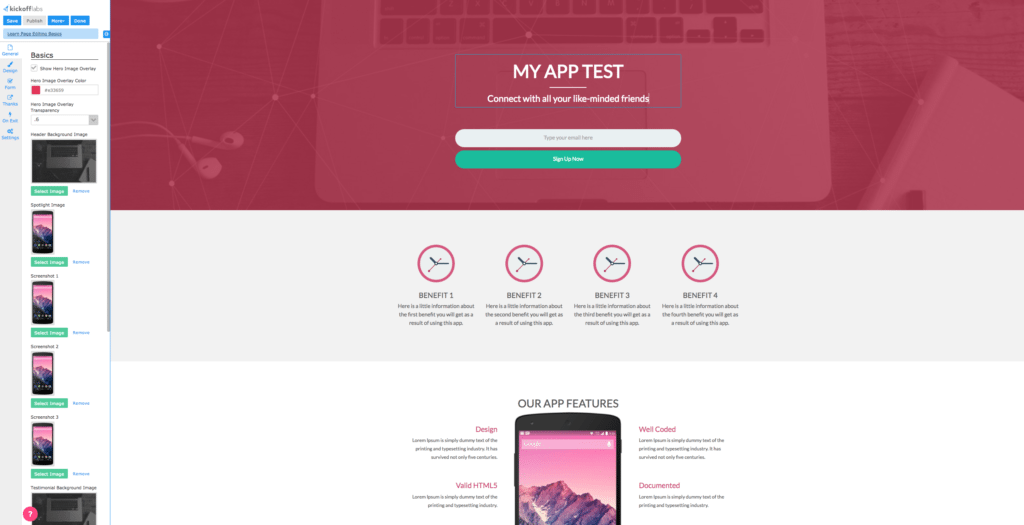 Pricing
Low entry point at $39/mo to get up and running with basic features and 10,000 unique visitors per month. You'll save 30% each month when you pay annually. KickoffLabs also has a nice money back guarantee if you aren't satisfied after 30 days.(Image Source)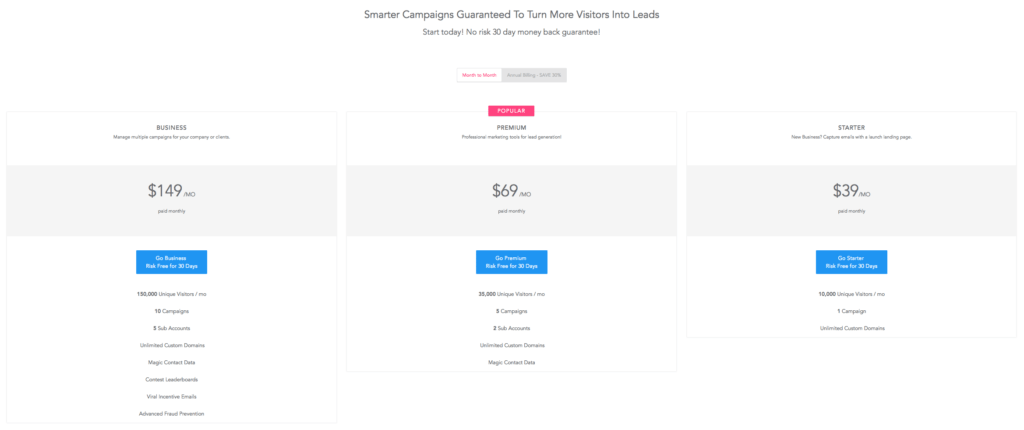 Onboarding Journey
I experienced aggressive follow-up email communications as soon as I signed up for a free trial, receiving 1-3 emails every day which leveled off after 4 days into the trial. They offered to review my landing pages before going live or to have them build a custom one for me. Within the editor, there is also a video you can watch to learn page editing basics.
3. LanderApp - Create, Optimize and Publish Landing Pages
LanderApp self-describes as the most intuitive landing page builder that helps businesses grow.
Skill Required
Suitable for beginner
Capabilities
I like how quick and easy it is to use Lander's visual drag and drop editor. It's intuitive and you can create a great looking landing page in minutes. They have all of the core functionality including built-in SEO, mobile ready pages, A/B testing, and conversion tracking.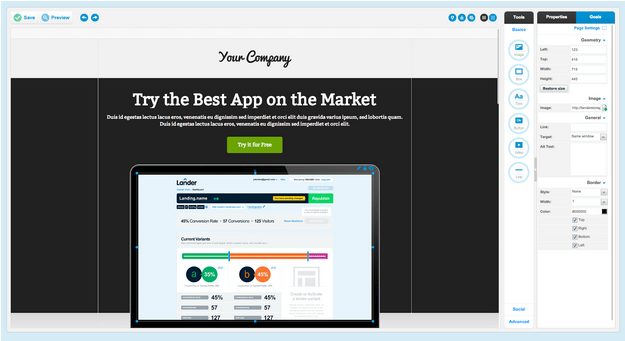 Visual Appeal
One thing that sets Lander apart is their emphasis on beautiful design. Built by designers for any marketing goal, Lander's templates are well-thought out and designed to help you convert visitors into customers, subscribers and passionate fans. While there aren't a ton of options to choose from, each landing page template looks modern and professional.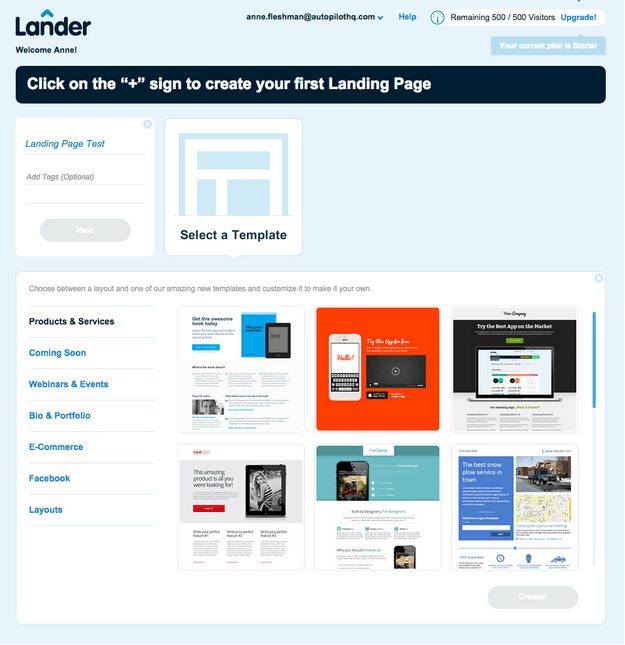 Pricing
You'll get a 25% discount of Lander if you pay annually. At $22/mo, Lander's Basic plan is the least expensive entry level option compared to other solutions. However, if you're getting considerable traffic to your pages, you'll have to upgrade quickly from the Basic plan as it only includes 3,000 unique visitors per month and one customer domain. To compare, Instapage's basic plan is $29/mo for unlimited visitors and unlimited domains.
Of course, you can always test out Lander with their free 14 day trial, no credit card required.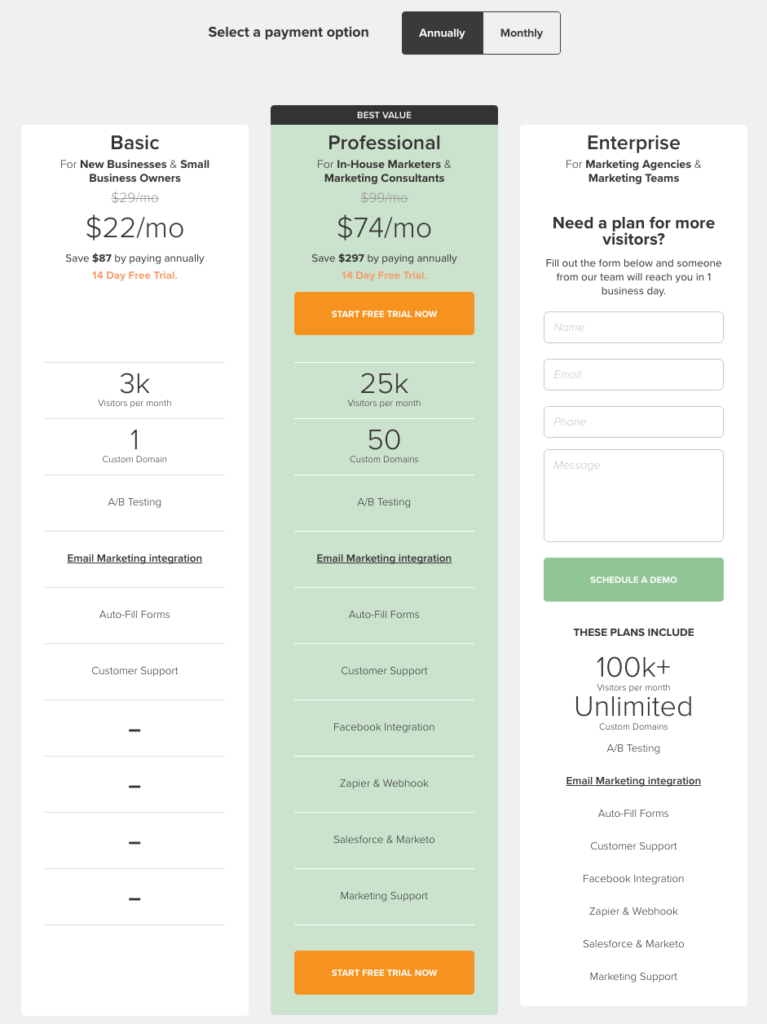 Onboarding Journey
As soon as I signed up, I was sent a welcome email and introduced to an Account Manager who offered to help me get up and running.
4. Leadpages - The Internet's Easiest 'Next Generation' Lead Generation Platform
LeadPages is a good option if you are looking for more than a simple landing page builder. I'd consider it more of a general lead capture solution with it's Leadboxes, Leaddigits and Leadlinks product suite that allows you generate leads across webpages, email, social media and text messaging. For the purposes of this review, I will only be looking at their landing page builder product (what they call "Leadpages").
Skills required
Good for all levels, but probably more suitable for intermediate to advanced users who will benefit the most from their unique features.
Capabilities
Building a landing page with Leadpages starts with selecting a template or uploading a custom page. The graphical editor is intuitive: replace text by typing, upload image files directly from your computer, and change font and background colors with hex numbers.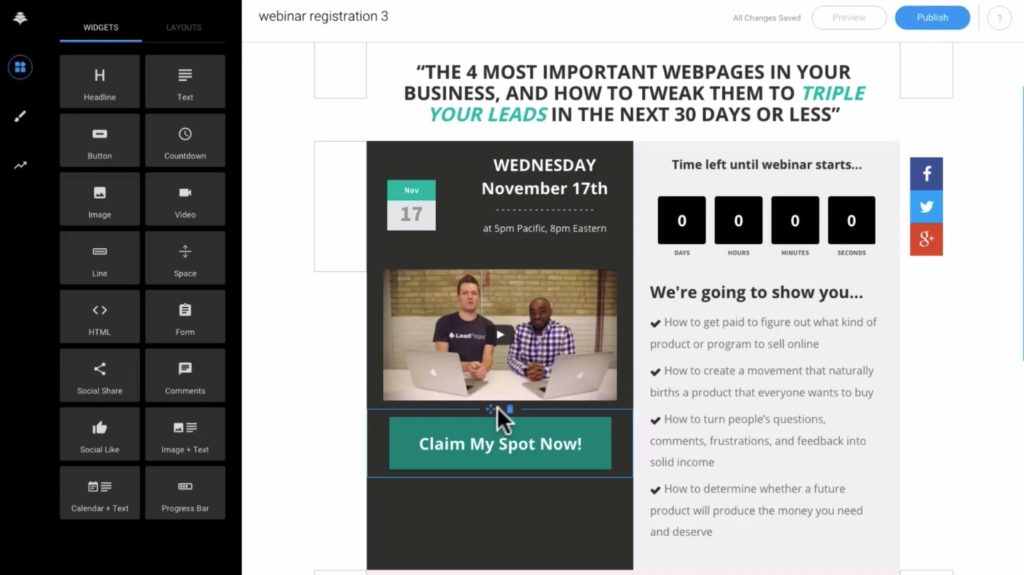 It used to be that my biggest gripe with Leadpages was the lack flexibility to drag and drop elements of their landing page templates. In March 2016, Leadpages announced their drag-and-drop builder and an all-new toolbar that lets you add new elements to any section of a page, move individual elements and rearrange sections, and make pages entirely your own.
I find the user interface to be powerful, easy-to-use and convenient for digital marketers who want to keep up with modern best practices like built-in mobile and tablet responsive designs, A/B split testing and the ability to add tracking codes and SEO tags. Leadpages also integrates with major email service providers and webinar services and has some nice customization features like the ability to configure exit pop-ups, form pop-ups when a user clicks a call-to-action button, and a "lead magnet" function that allows you to send an autoresponder email as soon as someone submits a form.
Visual Appeal
I love that Leadpages allows you to sort templates not only by category, but by those with the highest conversion rates, so you can be confident you're using a landing page proven to work. LeadPages is also constantly updating and adding designs to their collection.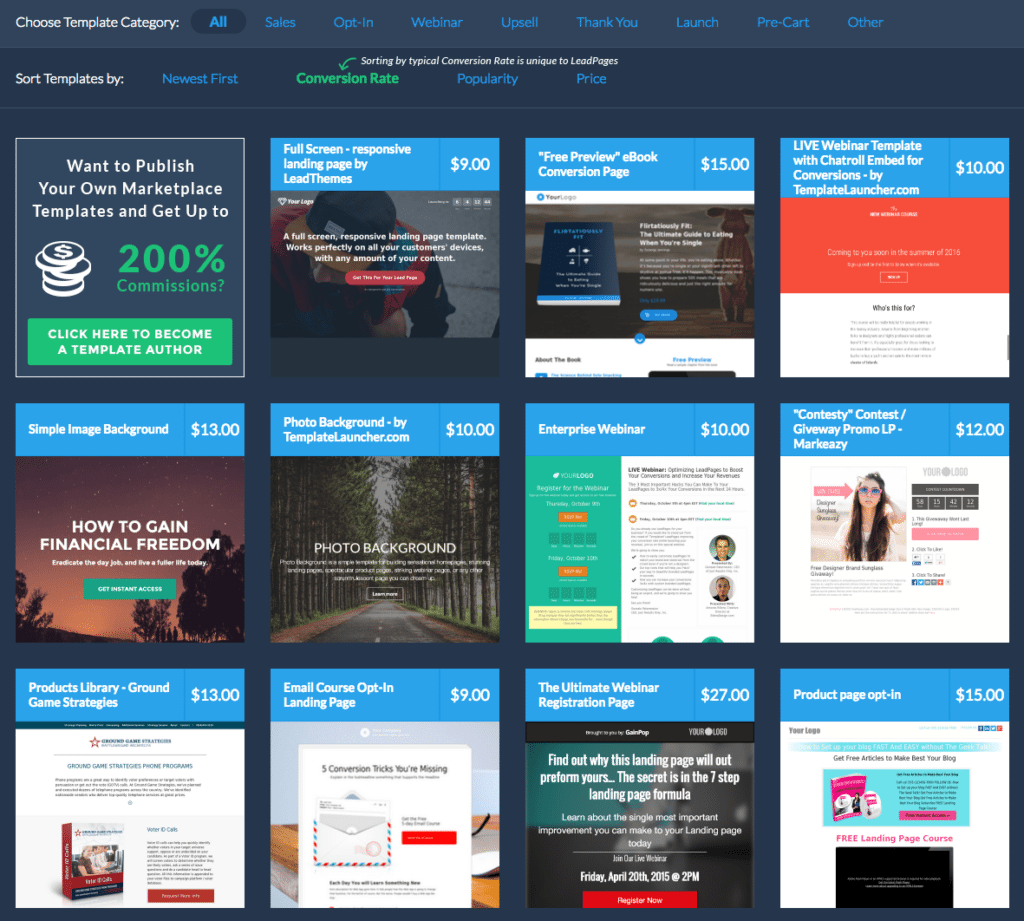 While not as beautifully designed as some of the other solutions, you can expect every template to be highly functional, clean and to get the job done. Careful though—many of Leadpages' templates come at an additional cost ranging from $7 to $45.
One thing I found to be quite annoying is there's no quick preview options when browsing through templates and they require you select your industry over and over again before taking you to the graphical editor.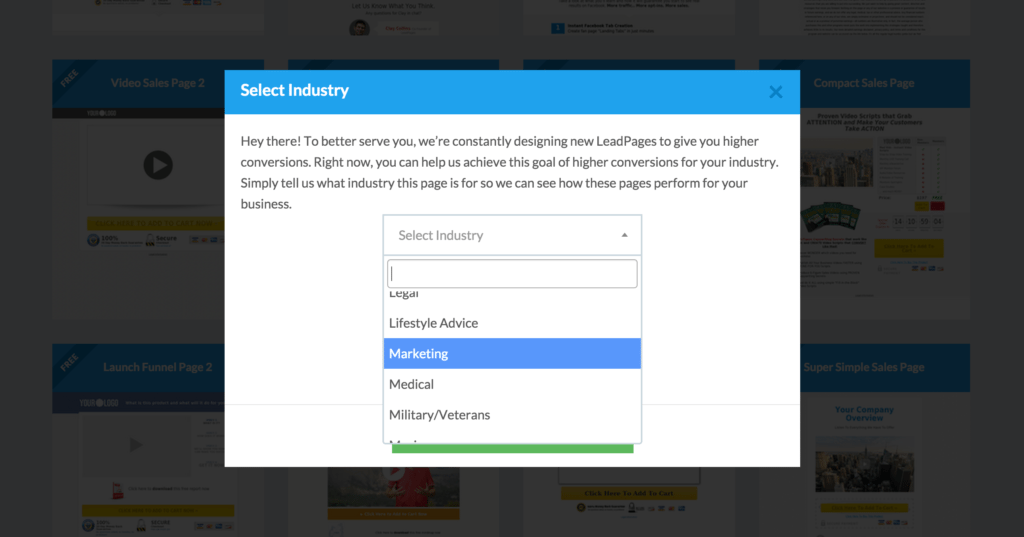 Pricing
Leadpages does not offer a free trial option, but they do offer a 30 day money back guarantee if you aren't satisfied with your purchase. Plans are paid monthly, annually or on a 2-year cycle.
It's difficult to compare Leadpages' pricing structure 1:1 with other landing page builders because they have a relatively unique product suite. Their $25/month Standard is on the lower end of those on this list, though it doesn't include A/B testing. LeadPages puts a lot of emphasis on making its users successful with every plan including weekly q&a coaching calls. If you're particularly interested in investing in Leadpages' other capabilities like Leadlinks or Leaddigits, go for the Pro or Advanced plan.

Onboarding Journey
After going through Leadpages' onboarding flow, it's clear that they care about setting their users up for success. I found their "Getting Started" video to be helpful with straightforward step-by-step instructions on how to create your first Leadpage. They also invited me to attend an onboarding webinar for a more in-depth introduction.
5. PageWiz - Landing Page Generator & Landing Page Templates
PageWiz is another all-in-one landing page creation tool "designed to let professional marketeers, business owners and affiliates launch landing page campaigns from scratch, within minutes and easily optimize them."
Skill Required
Good for marketers all across the board, from beginners to experts and agencies
Capabilities
The first thing you do to create a landing page is select your campaign type between desktop and mobile. This leads me to assume that landing pages in PageWiz are not natively responsive and you have to create a separate landing page for each.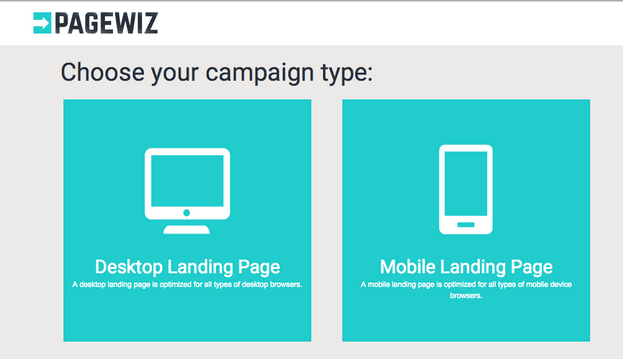 In terms of the actual editor, the drag and drop capabilities were nice although it was cumbersome that keyboard shortcuts don't work for certain actions, like delete or undo.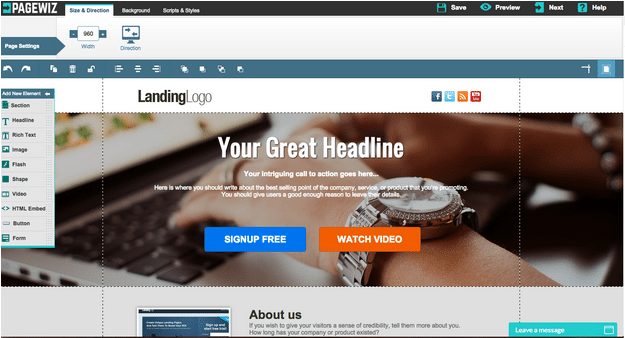 PageWiz comes with all the other functionality you would expect from a best-of-breed solution including built-in A/B testing, SEO plugins, and real-time analytics.
Visual Appeal
I'll be honest–the template selection was underwhelming in comparison to the other solutions. Not only were there not as many options, they also weren't as pretty or inspiring. However, they do give you the ability to start from scratch.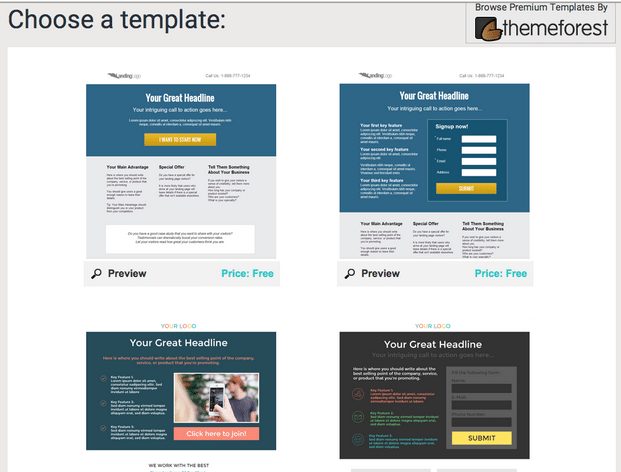 Pricing
With plans starting at $29/mo for 5,000 unique visitors, 2 custom domains, unlimited landing pages, and all other features included at the Basic level, PageWiz offers competitive pricing and a free 30 day trial.

Onboarding Journey
PageWiz gets you started with a designer video tutorial popup and also sends the same video to you in a welcome email.
6. Unbounce - The Mobile Responsive Landing Page Builder for Marketers
Unbounce is the most well-known, widely used solution in the space and a top-notch, all-around option.
Skill Required
Unbounce might be better suited for an intermediate to advanced marketer. It was difficult for me to imagine someone with zero experience coming in knowing exactly what to do when they see this: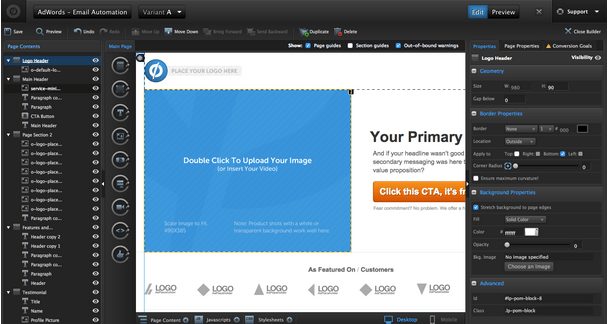 It's a lot to digest: there are different layers to navigate, a lot of options for customization, and can be quite overwhelming at first glance-especially if you are looking to build a landing page quickly. For novice marketers, perhaps it is too complex out of the box. Once you familiarize yourself with the layout, it lends itself to faster creation.
Capabilities
Unbounce has pretty much every bell and whistle you could ask for. It's very robust with a flexible drag and drop interface. "Designed with conversion in mind," it has A/B testing, real-time analytics, and over 60 integration partners with apps you probably already use like Salesforce, Google Analytics, Zoho, Campaign Monitor and more. Unbounce also recently added native mobile responsiveness to their ever-growing features list - previously the one major downfall of the tool.
Visual Appeal
The "create a new landing page" flow was straightforward. There are plenty of visually appealing templates to choose from, although browsing and previewing each of them can be cumbersome if you don't know what design you are looking for. You can filter pages by type between Lead Generation, Click Through, and Coming Soon, or you can start with a blank page.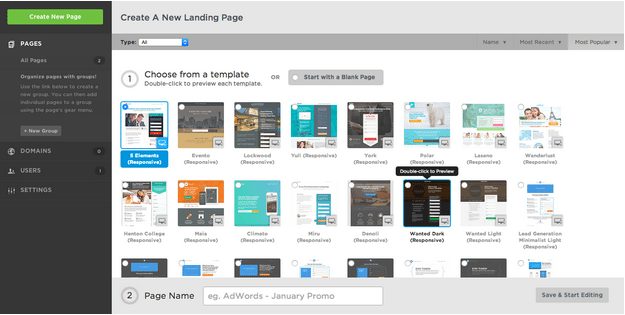 Here are some page examples built with Unbounce. They also have more templates to choose from through Themeforest for an additional fee.
Pricing
For the power of the tool, Unbounce's pricing is affordable. It's one of the most expensive solutions compared to others on this list, but you'll have the comfort of knowing you can rely on responsive and helpful customer support if you run into any trouble.
All plans include unlimited domains. Certain advanced features like integrations, client sub-accounts, and advanced convertables targeting are not included in the Essential plan. If these are important to you, you'll have to upgrade to the Premium plan, which is pushing the affordability threshold.
Below are Unbounce's pricing plans when paid month-to-month. You'll get 20% off if you pay annually. Of course, you can always try Unbounce before you buy by signing up for a free 30 day trial of any plan. There are no setup fees or hidden costs, and you are free to cancel your account should it not be suitable for your needs.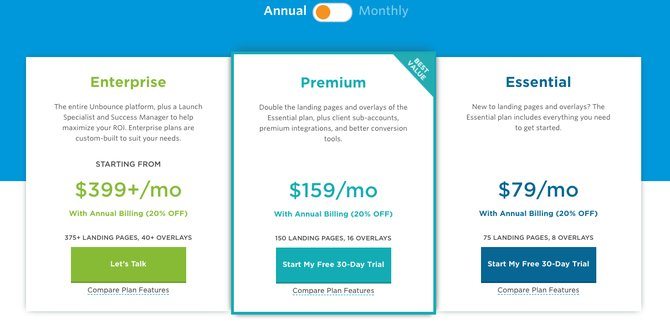 Onboarding Journey
Unbounce puts out stellar content and I'm comforted by knowing there are real people behind their brand. Even if I didn't use Unbounce as a solution, as a marketer, I enjoy reading their blog and have found their content on their Resources page to be valuable like this ebook, "The Conversion Marketer's Guide to Landing Page Copywriting." Go on, download it. It's a bit advanced, but I guarantee you'll learn something from reading it.
And the Winners are…
Skill Required: Instapage

Capabilities: Unbounce and Leadpages

Visual Appeal: LanderApp for the templates, Instapage for the editor

Pricing: Instapage

Onboarding Journey: Unbounce
Which landing page builder do you use? What are your favorite features? Please share in the comments. 
Editor's Note: This post was originally published in January 2015 and has since been updated for comprehensiveness.