December 5, 2018
Lead magnet ideas
As much as we'd like to convert first time website visitors into customers, research shows more than 90% aren't yet ready to buy (Capterra). Most of the time, they're just doing research or browsing for answers to an immediate question.
Your job at this stage is to start forming a relationship by giving your visitor a compelling reason to provide their email address in the form of an excitement-inducing, low-friction lead magnet. While these people won't become customers right away, you've planted the seed of winning their trust and business in time.
Let's take a look at 9 highly-effective lead magnet examples:
1. Ebooks, reports, whitepapers or guides filled with your expertise
Ebooks, reports, whitepapers and guides are one of the most common types of lead magnets. They are an opportunity for you to share your hard-earned insights over the years and simultaneously draw in new leads to grow your business.
Take an in-depth look at a topic you have already covered on your blog, share results from a study, or create a workbook with checklists and step-by-step instructions a reader could do on their own. Repurposing your best blog content is the easiest way to create this stuff. The process takes compiling, editing, and designing, but the end result is evergreen, and it'll draw leads and clicks over time.
Instapage has a great example of this. The company offers an ebook titled 35 Techniques to Triple Your Landing Page Conversions.
To drive traffic to the landing page, Instapage puts a call to action (CTA) button at the beginning and end of its blog posts, like so…
Call-to-action example from Instapage
The CTA feels like a natural part of the article. It's obvious, but non-intrusive. Clicking on the button leads to this simple landing page:
Ebook landing page example from InstapageSource: Instapage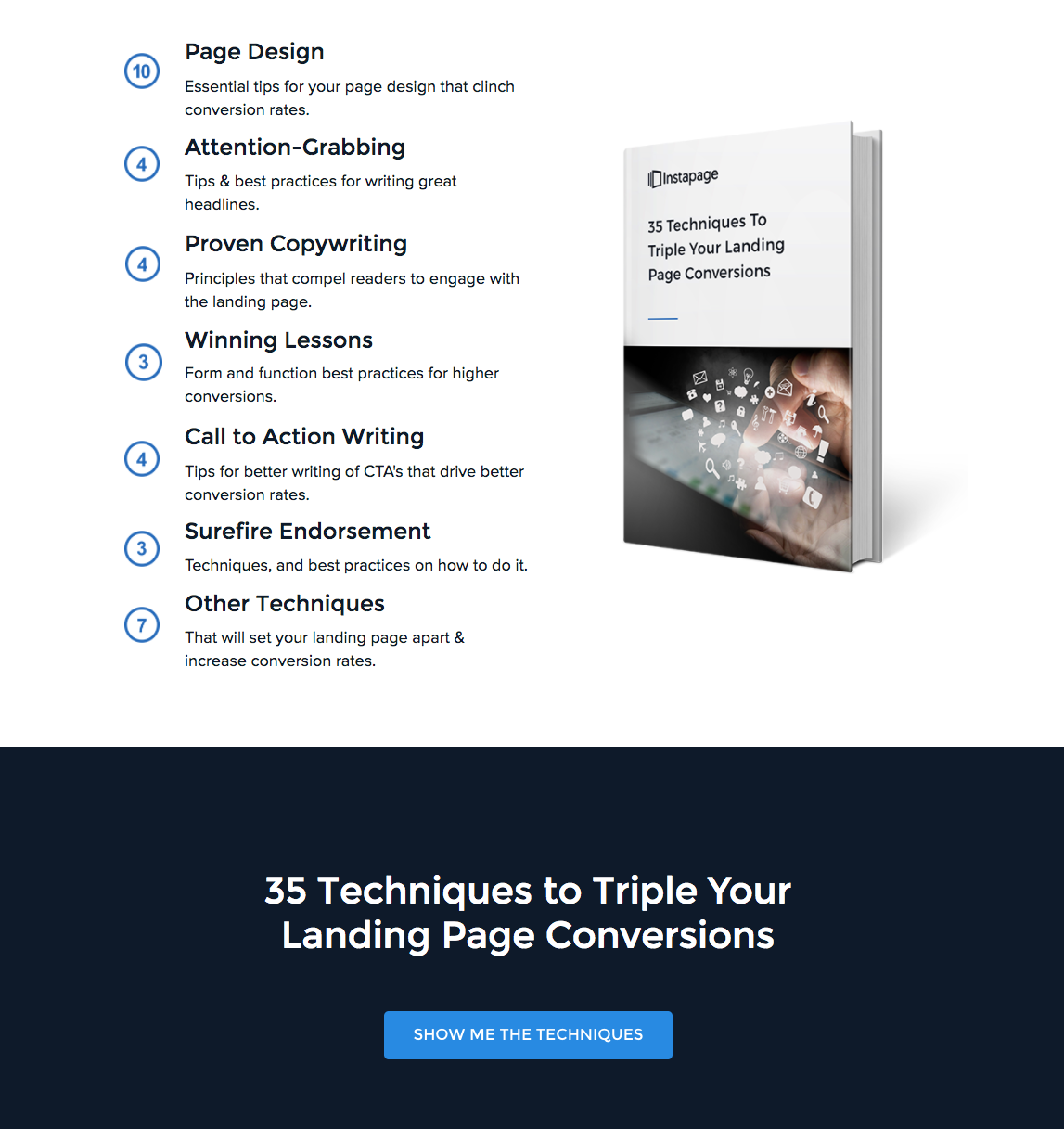 A few other examples include:

Growth Labs' curated guide of 30 companies who are winning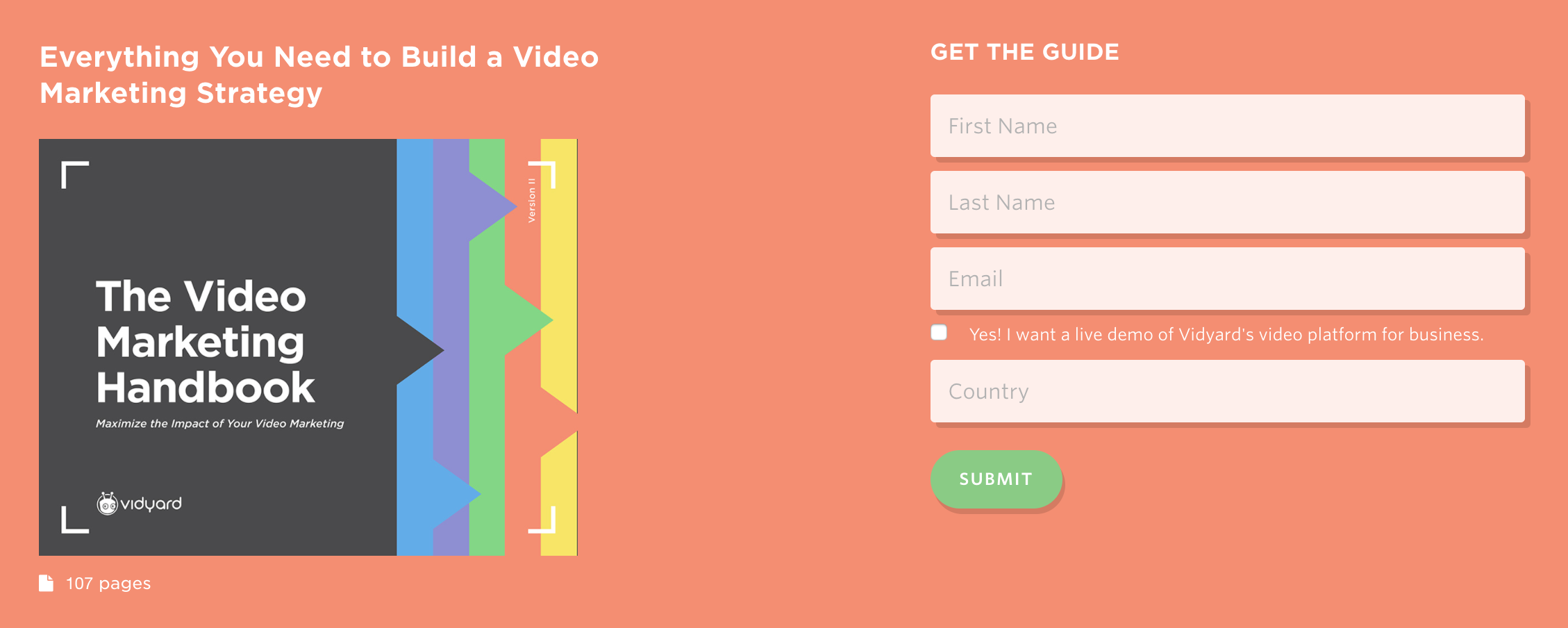 Vidyard's Video Marketing Handbook which serves as a 107 page one-stop-shop definitive guide
2. Who can resist swag?
People run 5Ks just to get a T-shirt; they'll surely give you their email for the same thing. Companies like New Relic, Atlassian, and Invision do swag marketing well.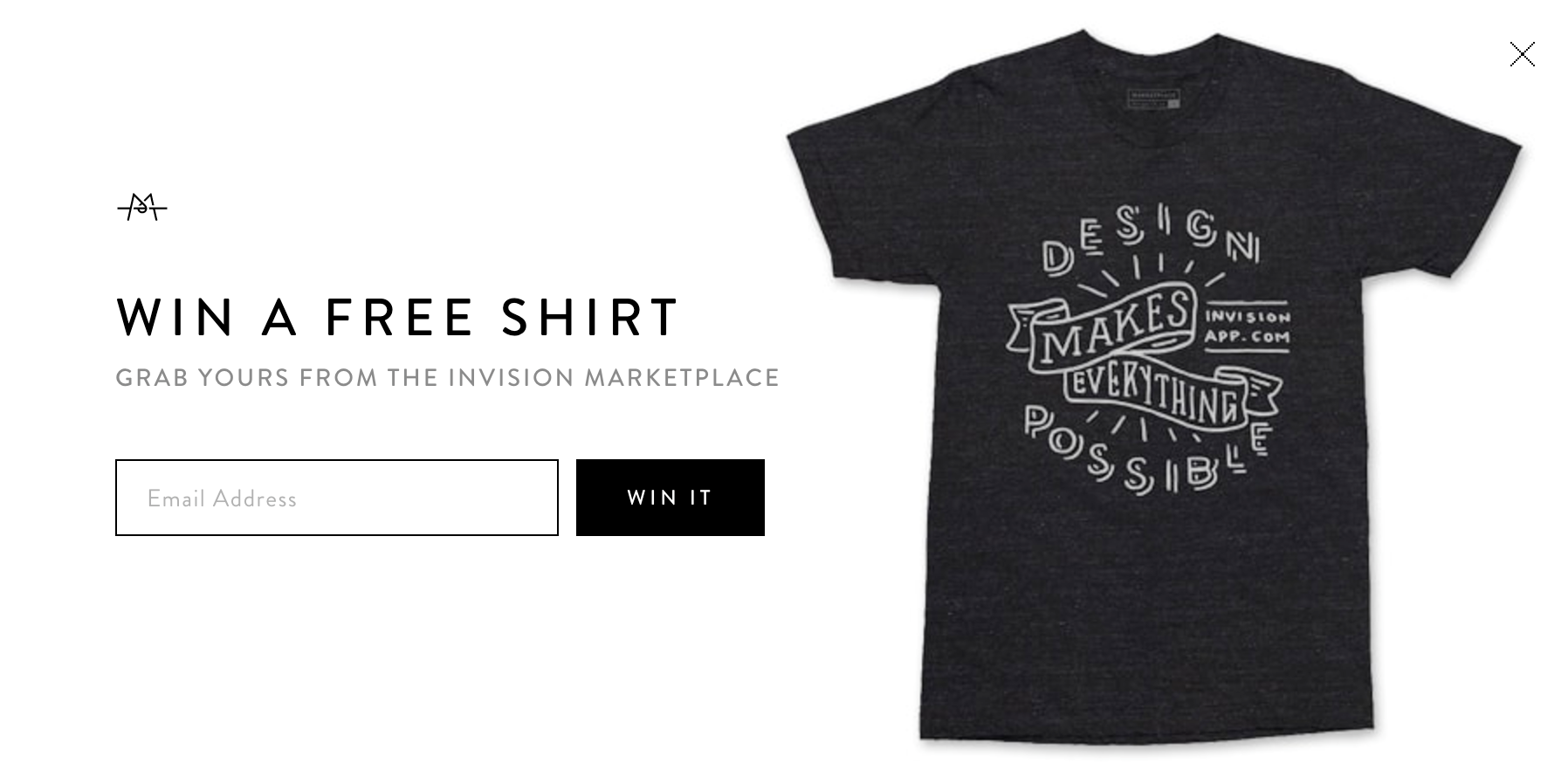 Example of swag marketing from Invision
Giving away swag could get expensive, but like New Relic's former CMO Patrick Moran says:
"Swag gets people over the hump of 'hey, neat idea – maybe I'll try it someday', and moves them to 'Rockin', now's the time!"
The company hasn't shared exact numbers, but the cost of the t-shirt is nothing compared to the gain of overcoming two of the company's hardest challenges: garnering interest from people who aren't familiar with the product and getting them to implement it.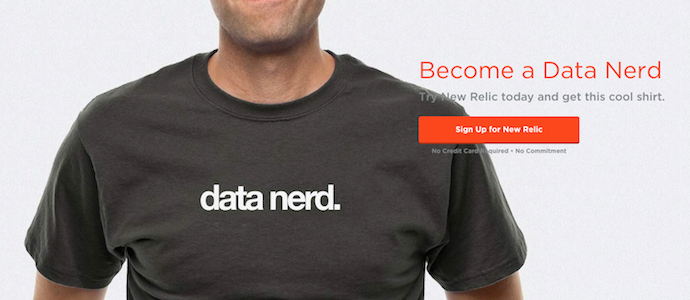 Example of swag marketing from New Relic
Swag marketing can draw leads new in, but can also be a walking advertisement for your business. Imagine 75,000 of your company shirts being worn around the world. It's the physical lead magnet that keeps on generating returns. Why not test it out and see if it works for your business?
3. The nerve-hitting quick read
Sometimes a five-minute read is all it takes to catch a new lead. The secret is speaking to a pain point felt by your target market. You want to quickly answer "Am I doing this right?" or "Ugh, I've always been unsure about this." If you can quickly give them a tip that helps them move forward, they'll love you.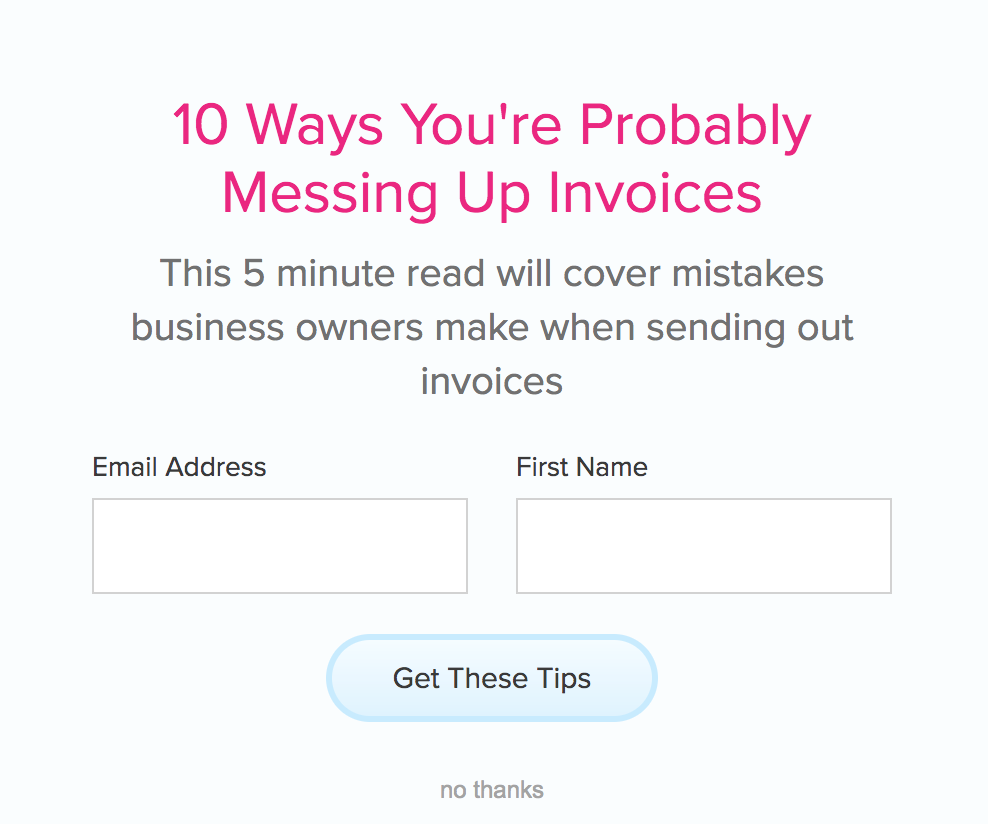 Less Accounting has a pop-up on its homepage that speaks directly to a problem small business owners feel.
4. The easy-to-read cheat sheet
Cheat sheets are a perfect resource for jogging your audience's memory, because they make complex topics simple. Think of them like the cliff notes that give people the gist of what they need to know. The best cheat sheets are resources that visitors will refer to again and again.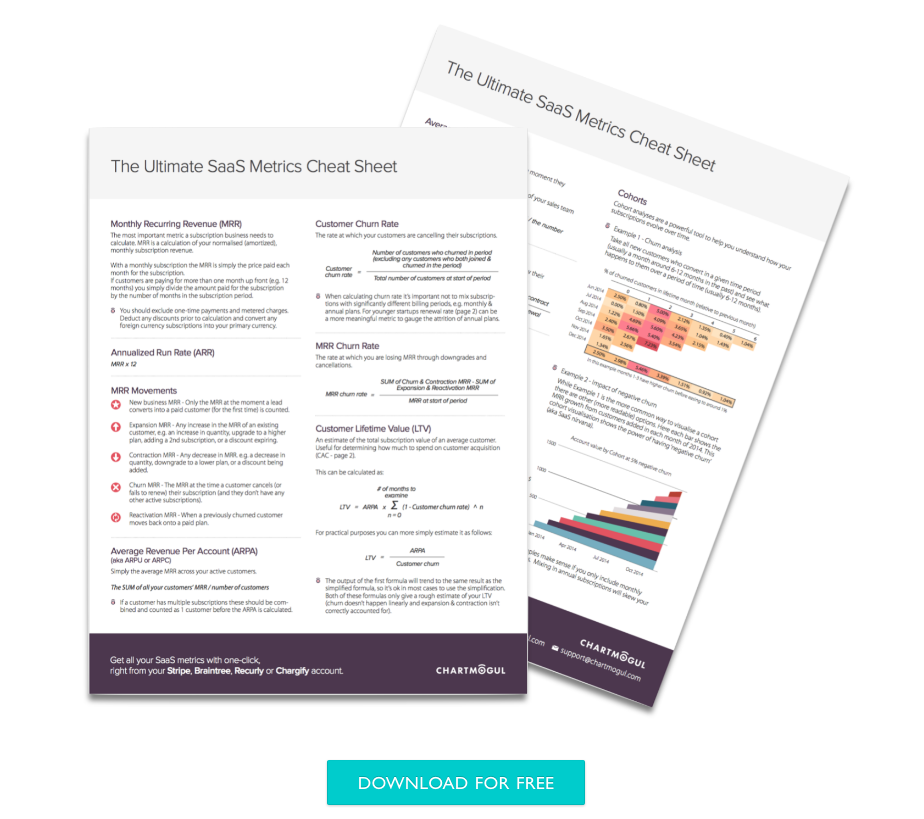 ChartMogul's Ultimate SaaS Metrics Cheat Sheet
In two digestible pages, the company explains what the key SaaS metrics mean, why they're useful, and how they're calculated. In this case, anyone can download the PDF for free without providing their email address. The magnet comes in when people want a professionally printed copy—users must sign up for a free trial of ChartMogul if they want the cheat sheet.
5. Webinars or video series that educate your audience
Kick-ass webinars can be repurposed to drive future leads. Just make them easy to access for new visitors to your website and/or blog, like our friends at Kissmetrics.

Kissmetrics' on-demand webinar library
Each webinar clicks through to a landing page. Visitors can only access the webinar recording after filling out the form. Kissmetrics is adding to their library of lead magnets with every new webinar.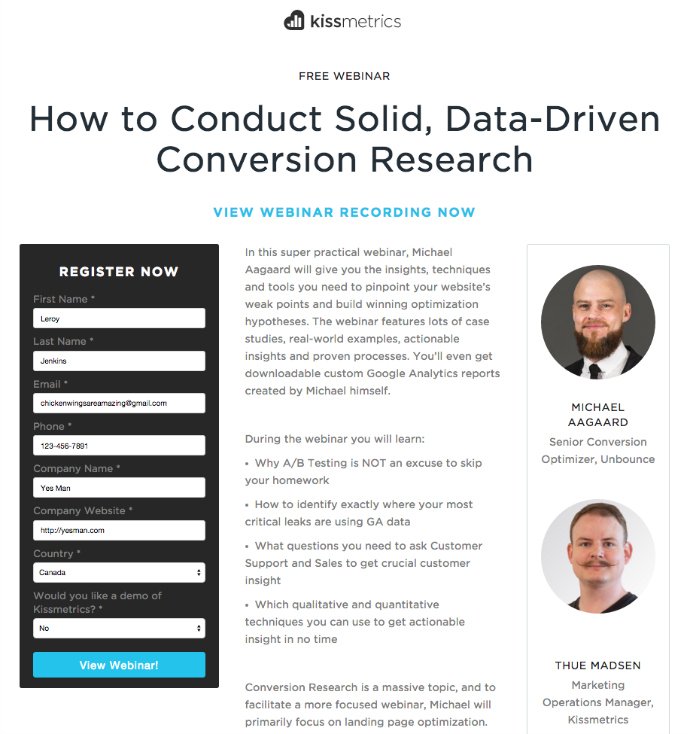 Example of Kissmetrics' on-demand webinar landing page
In a similar vein, Invision utilizes a free and easy 8-part video series as a lead magnet to teach designers how to use Sketch. With each video less than 10 minutes, you can binge watch them all at once.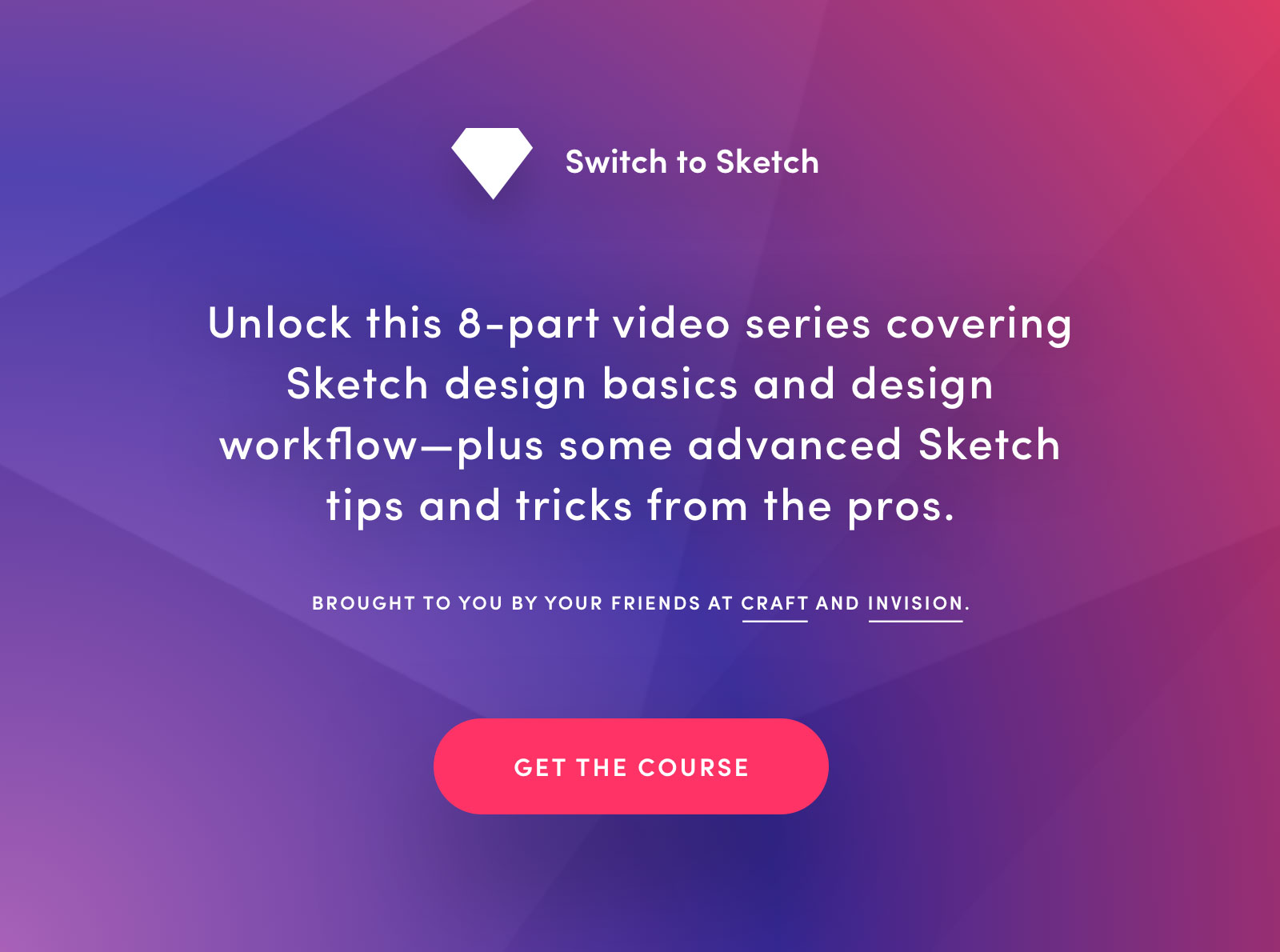 Example of Invision's video series lead magnet
6. The highlights of your bestseller
This lead magnet is a great option for companies who already have long-form content like a book. To do it, transform content that takes an hour to consume into content that takes five minutes to consume. It's a quick and easy way to repurpose your existing content.
The offer is the first thing new visitors see on the I Will Teach You To Be Rich homepage. It's the "Blueprints" of the author's best-selling book. The copy where he says "I don't want to cut into book sales, so get it now before I come to my senses and take this down" is not only conversational, but adds a sense of urgency to download.
7. Personalize the customer experience with quizzes, graders or calculators
Quizzes and other interactive lead magnets like graders or calculators are an engaging way to create personalized experiences for your website visitors. The best ones benefit both you and your lead. Ask questions to identify specific problems for your target market and conclude with an offer exchanging the solution for contact details. Think of it as a hyper-targeted lead magnet.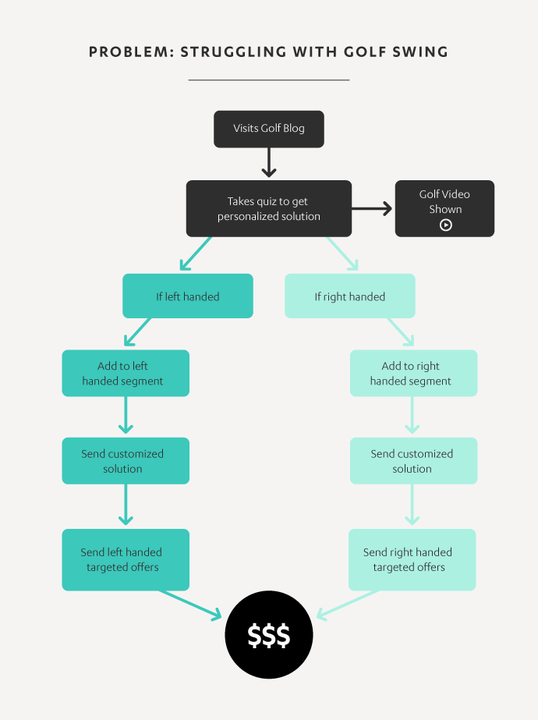 This fictional schematic from a golf business shows the power of quizzes to identify a problem and create a personalized offer
Below is a real-life quiz example from Club W, a wine business that asks new visitors to take a two-minute Palate Profile Quiz. After the user completes the quiz, there is a popup window to fill out a form to join the club. To sweeten the deal, there's an incentive to get a free bottle of wine on the first order after signing up.

Club W's quiz lead magnet
Similar to the golf blog example above, the product offerings for Club W change based on the website visitors' answers to the quiz, which ends up driving higher engagement as well as a more personalized buying experience.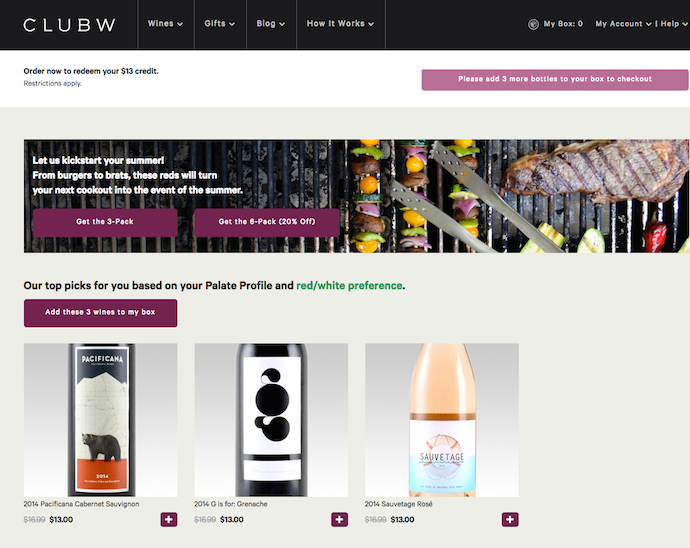 Club W's personalized buying experience
You can use an integrated tool like Typeform to create your quizzes.
Graders, scorers, and calculators are other forms of gated content that engage visitors in an interactive way while simultaneously gathering information about them in order to deliver a more personalized experience.
For example, Wordstream offers a free Google AdWords Performance Grader to help advertisers better understand how well their campaigns are performing compared to PPC best practices.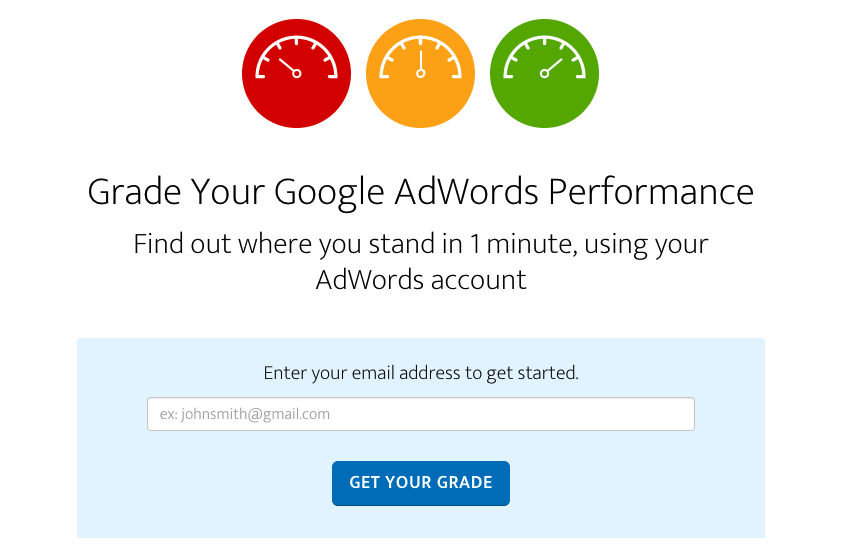 Wordstream's Google AdWords Performance Grader
8. The downloadable audit that shows people areas to improve
People want to know if the time, effort, and energy going into their work is paying off. This is where audit lead magnets come in. They provide an organized exercise for your audience to evaluate their efforts and learn by doing.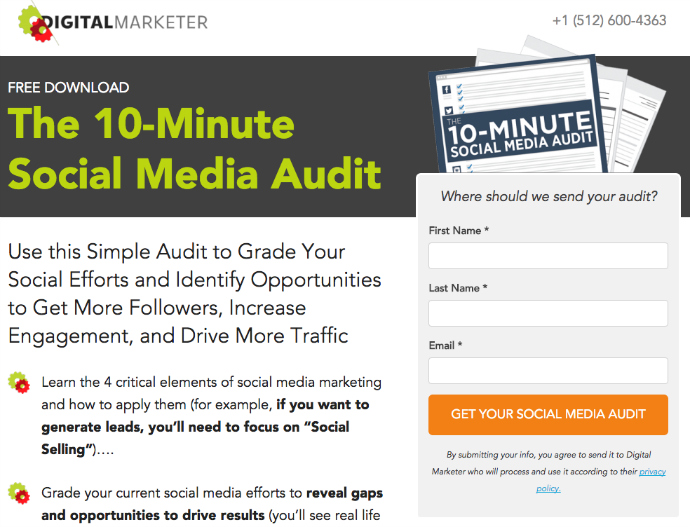 Downloadable audit example from Digital Marketer
The above audit lead magnet offer beckons readers to grade their social media efforts. Note the copy choices that nudge towards a download, like "Where should we send your audit?" above the form and how "reveal gaps and opportunities to drive results" is in bold.
9. Email courses to drip campaign your way to conversions
Email courses or mini-courses are lead magnets that leverage marketing automation to deliver emails in a drip sequence over time. These typically perform best as short 5-10 day series, sent once per day.
Email courses tend to have high open rates because subscribers expect and want to hear from you. When creating your emails, stick to consistent send times, sender, and naming convention for your subject lines so they are recognizable amongst other noise in the inbox, something simple like "Day 1: [Subject]" or "[X Challenge] – Day 1" works well.
Below are a few examples of email course lead magnets:
Highbrow strives to make learning an everyday habit by delivering bite-size courses via email every morning. Courses are 10 days long, broken down into 5-minute lessons. At the end of every course, Highbrow sends a congratulatory email that encourages you to start your next one.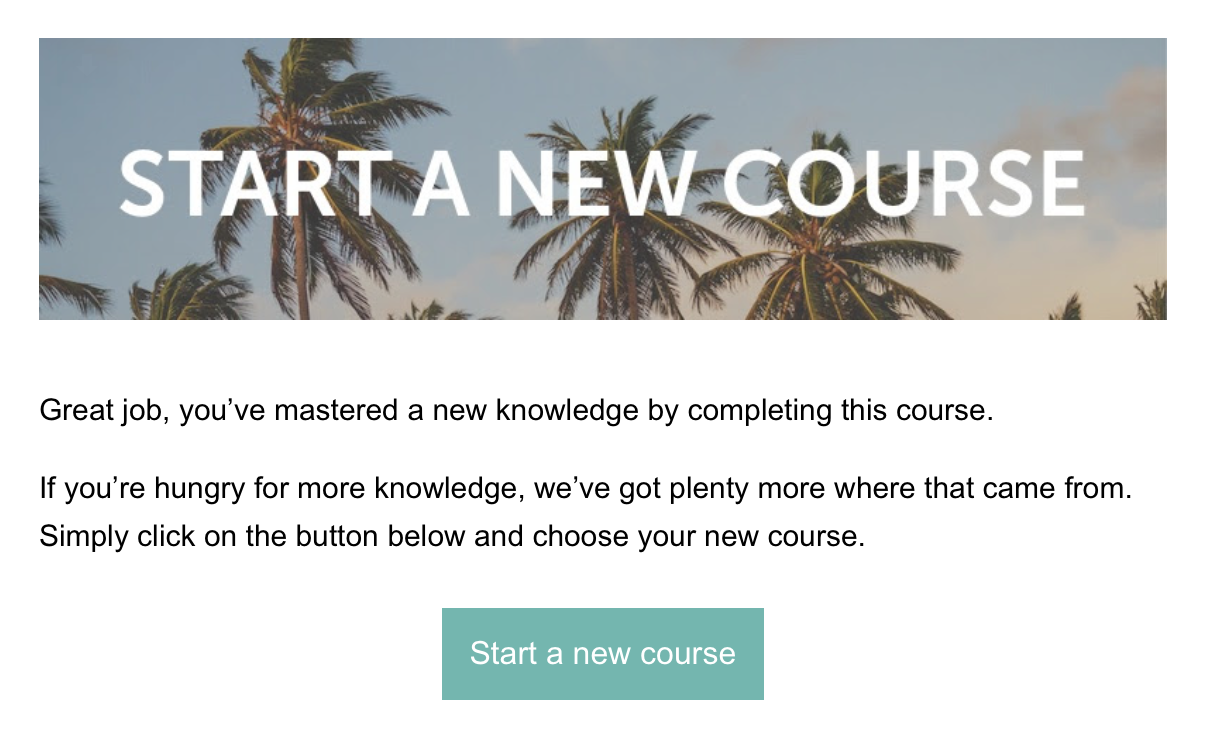 Example of email course offer from Highbrow
Simple Green Smoothies' Simple 7 email course inspires adoption of a new healthy habit. They ask new website visitors a compelling question via a Headsup message on their website.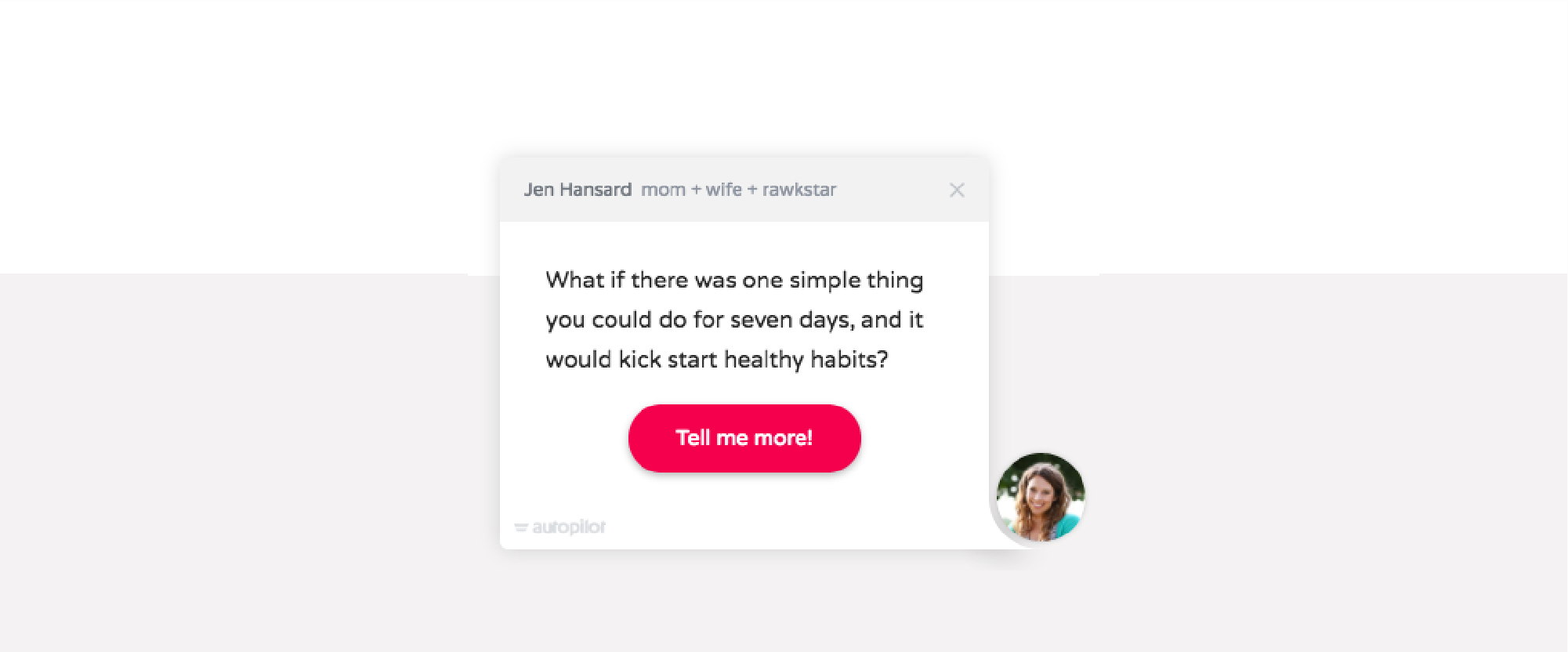 Example of Headsup message from Simple Green Smoothies
Clicking on the call to action takes the visitor to an attractive, easy opt-in landing page with more information.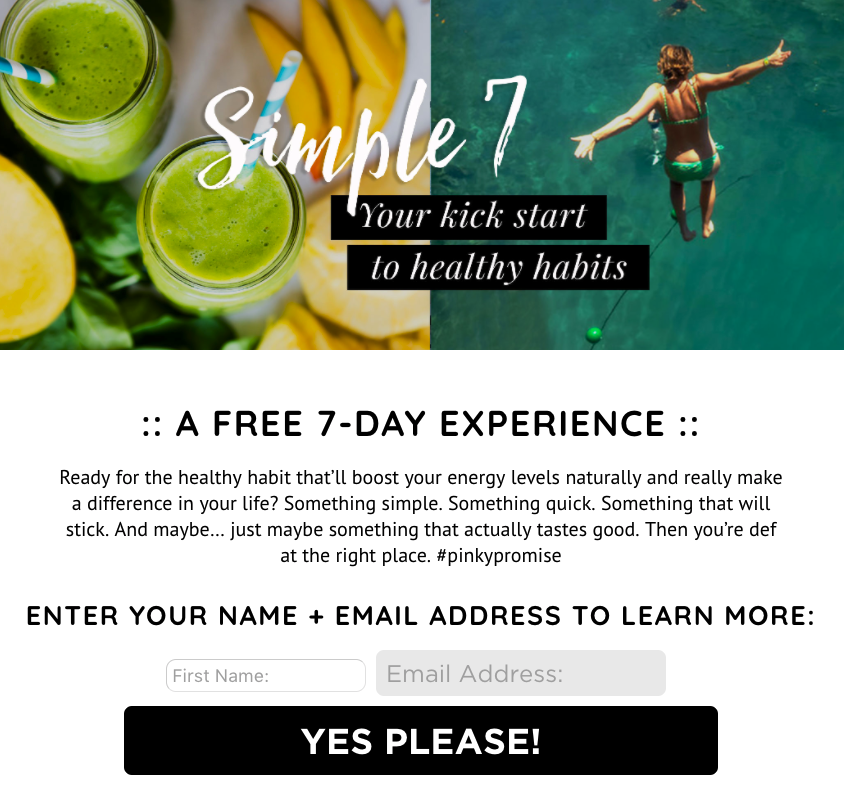 Take your email course lead magnet to the next level by co-marketing the effort like KlientBoost did with their 2017 Holiday Campaign. They worked with 25 partners including Autopilot to deliver a daily gifographic every day in December leading up to Christmas, just like an advent calendar (minus the chocolate). With each participating partner promoting the offer and sharing it with their respective networks, it's a recipe for virality.
The key to a successful email course is the final email. If the reader made it this far, there is a good chance you've won their attention. This is your opportunity to prompt them along their customer journey by providing another call to action, whether it be a free trial or demo of your product or another lead magnet offer, and show how you can help them implement what they've learned.