September 28, 2016
Announcing Selective Salesforce Sync
As one of our most requested features from Salesforce users, we're excited to officially announce selective Salesforce sync. Determining the best way to organize your database is a challenge every company deals with at some point. We all have different business models, organizational structures, and compliance standards to uphold to. With the introduction of selective Salesforce sync, you can now specify exactly which leads, contacts and accounts you want housed in Autopilot or Salesforce, so regardless of your business needs, you can ensure your database is managed correctly.
Only sync leads/contacts/accounts that meet desired criteria
Setting up selective Salesforce sync is simple, as long as you know the necessary criteria of those you do or do not want to sync. It's almost like creating smart segments. For each Salesforce object (lead, contact, account) you'll select "selectively sync," and from there, you can use Salesforce fields to determine the criteria for who you do or do not want in Autopilot.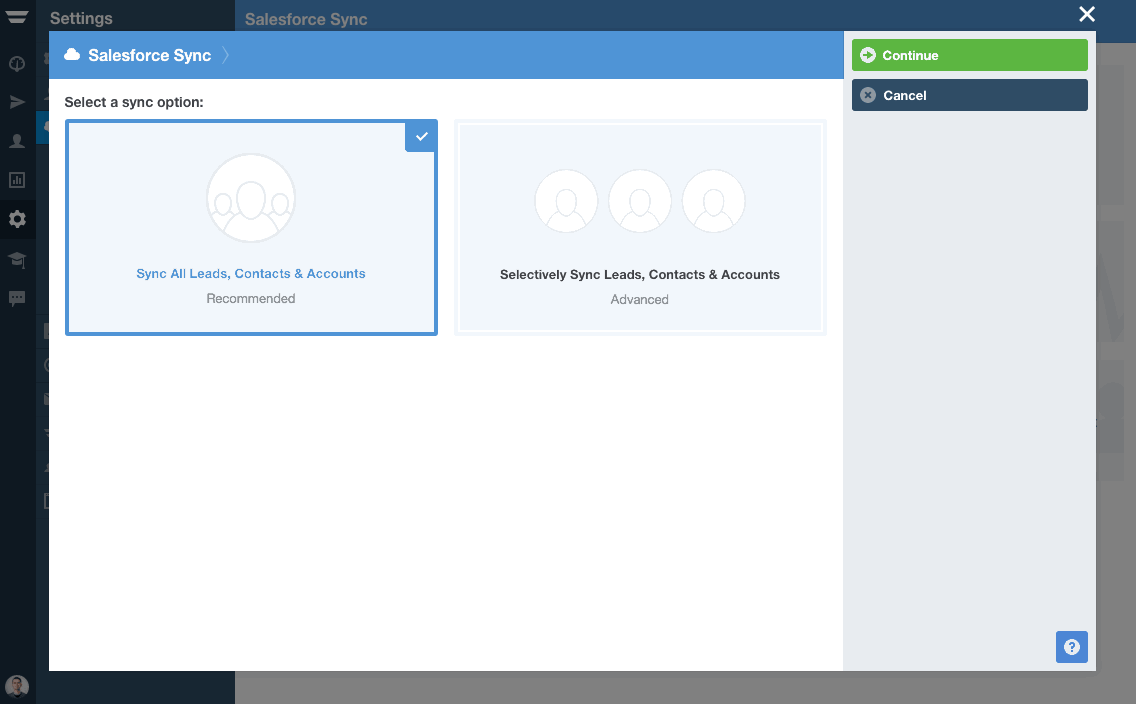 If you're unsure, we recommend starting with the default (i.e. syncing all leads, contacts and accounts), but it's easy enough to update later on if your business needs change.
Delete or unsync individuals from Autopilot who no longer match the criteria
To ensure you're always in control of your database, Autopilot also lets you define your preferred action for when a contact no longer meets the criteria you defined earlier. There are two options: delete the record from Autopilot altogether, or simply no longer sync the record with Salesforce.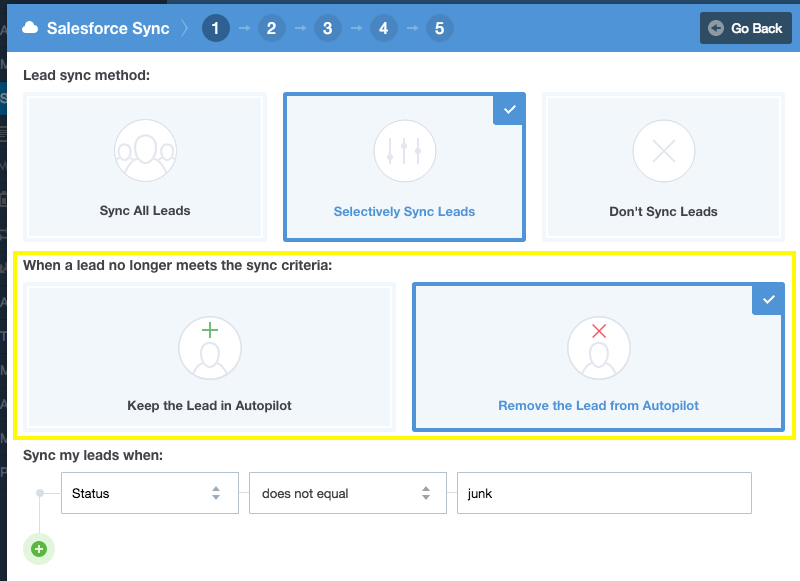 Keep the record in Autopilot. The record will remain in Autopilot, continue to run through journeys and retain its activity data. However, it's important to remember the record may not be completely accurate if something was updated on the Salesforce side after the sync was paused. This also allows you to have complete control and delete the record at a time of your choosing (e.g. after an individual has completed a journey) instead of the record being deleted immediately. Remove the record from Autopilot. Deleting the contact from Autopilot means they can no longer run through journeys. The contact will still exist in Salesforce, and sync back over to Autopilot if it reaches the criteria again. However, when the record resyncs, it will be treated as a brand new contact in Autopilot and you will lose any prior activity data.
How others are using Selective Salesforce Sync
Most companies choose to sync all leads, contacts and accounts. After all, there's always an opportunity to nurture stale leads into paying customers. However, there are certain use cases that arise where Selective Salesforce Sync makes sense.
**Enterprise departmentalization: **Many organizations have multiple product lines, each of which may have a different target customer or internal marketing team. For these reasons, it may be helpful to keep separate instances for each product line, so that you ensure you're always reaching out to the right contact regarding a particular product. ** **

Compliance: Depending on the industry, compliance can be a primary concern. Some companies need to strictly manage where each contact lives and at each stage (whether they're a prospect, an opportunity, or a customer). For example, you may be able to reach out to prospects, but once they become a customer, their information may be locked down and remain in your product only.

Rules of engagement: If you have an outbound sales team that is constantly prospecting and adding new names to your CRM, you'll need to manage those contacts outside of Autopilot. As a reminder, all email sent via Autopilot requires opt-in permission from the recipient. By using selective sync in this situation, you ensure you never have to worry about accidentally emailing a cold, unbeknown prospect.
Is there a new feature you've been itching for? Vote for ideas or suggest your own on our feedback forum.