December 6, 2018
Trade show follow up
Leaving event/webinar attendees with a positive impression of your brand by saying thank you is important. But you can take the next step and maximize your return on investment even further by focusing your follow-up journey on guiding contacts to take the next step in the customer journey.
This conversion step will vary depending on the funnel stage of your audience. The below table outlines standard objectives and a few examples of the types of events/webinars you can host based on whether you're trying to reach a new audience or nurture existing customers.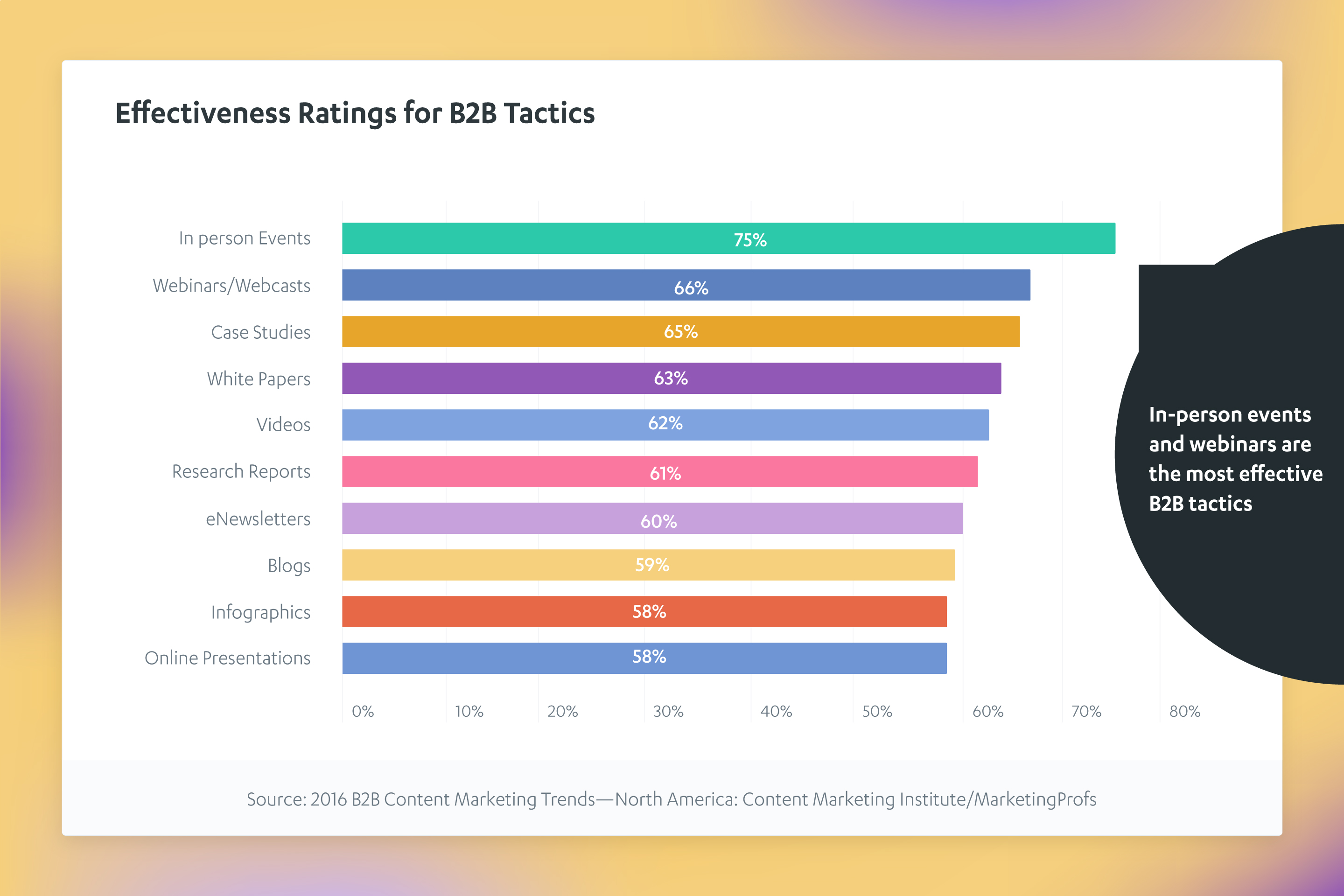 Master event and webinar follow up by guiding registrants onto the next step of their customer journey
 
Of course, there may be overlap in audiences. Customers are often interested in events catered to prospects, and vice versa. Keep this in mind as you build segmentation into your follow-up journey.
Before we dive into a step-by-step example, let's consider a few winning call to actions to use in your messages:
Link to your recap content
Leverage your recap blog post, video recording, or SlideShare in your first touch email. It's an easy win to answer the "why you, why now" question. People are busy and their attention is limited. By the time your follow up is sent, they may have moved on to the next thing. Remind them why you are emailing them, and why you are emailing them right now.
Send relevant, value-add content
If your audience was interested enough to register for your event, try sharing a related ebook, blog post, or customer case study they may want to check out. This often makes sense as the second touch or third touch email following the initial "thanks for attending" message.
Invite registrants to your next event or webinar
If they RSVP'd once, chances are this audience will take interest in others you host. Promote your next webinar or upcoming event by including the date, time, a short description, and a link to the registration page with an enticing call to action. You can also share your company's event calendar or link to a signup page where they can opt in to receive updates on future events.
Ask for feedback
You have one foot in the door already, why not ask attendees to help you improve future events? Send a quick survey or ask a blunt question like, "Did the [insert title] class last week help you [insert goal of your customer]?" Negative feedback will only help you be more effective next time. If you receive a positive reply, ask if you can feature the statement as a testimonial on your website.
Offer a special discount
Use your follow-up journey to offer exclusive discounts or offers to event attendees only. This could be a promo code for a discount on their next purchase, an extended free trial, free product consultations, an opportunity to win free swag, etc.
Craft an attendee follow-up email
When following up with your attendees, start by saying thank you. It's important to communicate that you value their participation. Next, remind them what your event was about and who spoke. Finally, include a relevant call to action. You could offer a time-limited discount on your product or service, or continue to nurture them with a related content download.
Create an email that reaches out to non-attendees
You can (and should) follow up with registrants who don't come to your event. After all, you have their email addresses! Send non-attendees a follow-up email that contains your webinar replay or event recording, a relevant call to action, and says they were missed. Providing an event recap to those who couldn't attend ensures your content doesn't go to waste.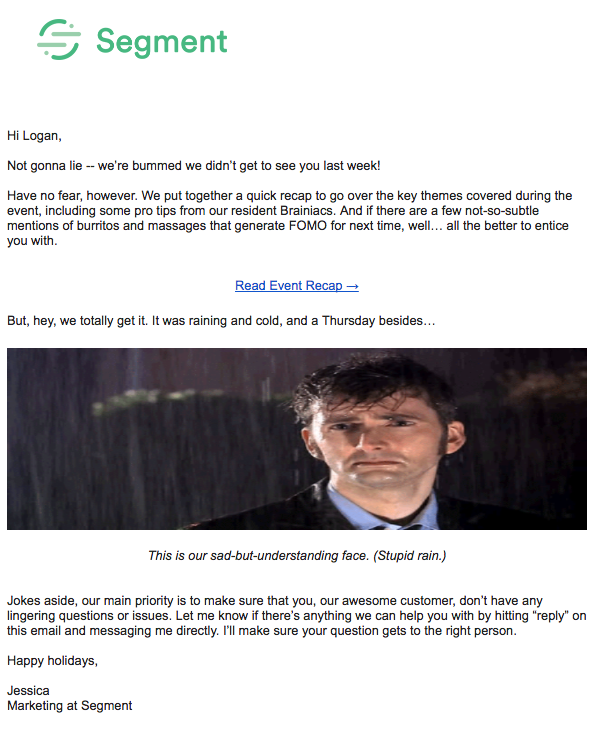 "We missed you!" email from Segment
Review, test, and publish
When you are finished configuring your follow-up journey, it's time for a quick review:
Review your journey. Does it flow logically? Have you chosen the right shapes? Do the connections between shapes make sense?
Review your messages. Do they align with your goals? Are words spelled correctly? Have you used correct grammar and syntax?
Send test messages to yourself and a handful of colleagues. Do links work? Did you remember to include UTM parameters? Do images render quickly and correctly?
Create a great journey like the one below — then click publish. Happy automating. 😊