June 26, 2018
That's why today we're introducing a new integration with Trello. Trello is a productivity and collaboration tool made up of cards, lists and boards. With Trello and Autopilot you can create new cards to help kick off a process of tasks.
Here are some of our favorite examples of how you can use Trello and Autopilot to be more productive:
Trello & Autopilot for Sales Automation
Trello can be used with Autopilot to create an adaptable sales pipeline. The board below shows a simple sales pipeline where deals are moved along each stage: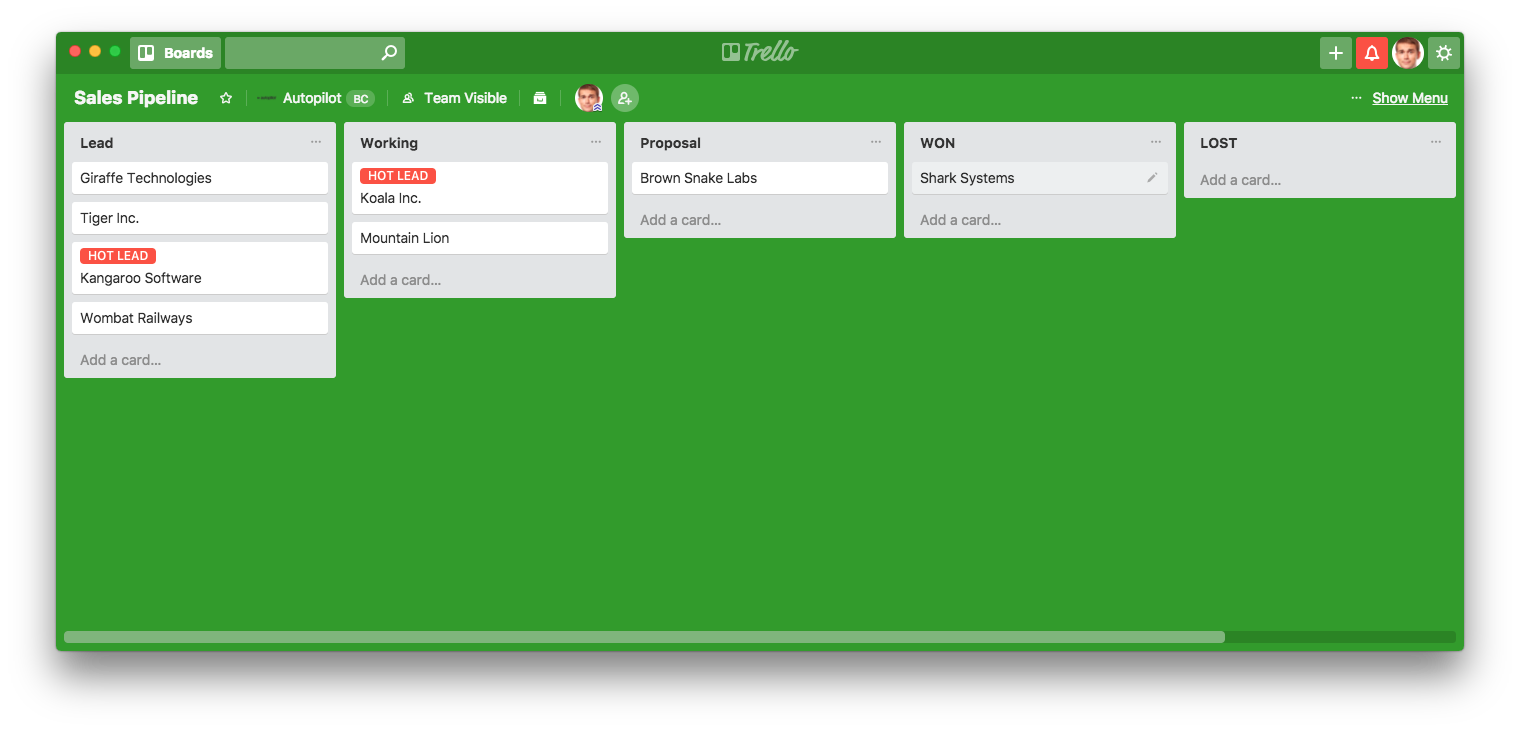 The process can be automated as part of the journey with new leads being automatically added to the board:
The Trello shape can be configured to send through variables from the journey. The card name is the name of the company and we include the name, phone and email in the card description: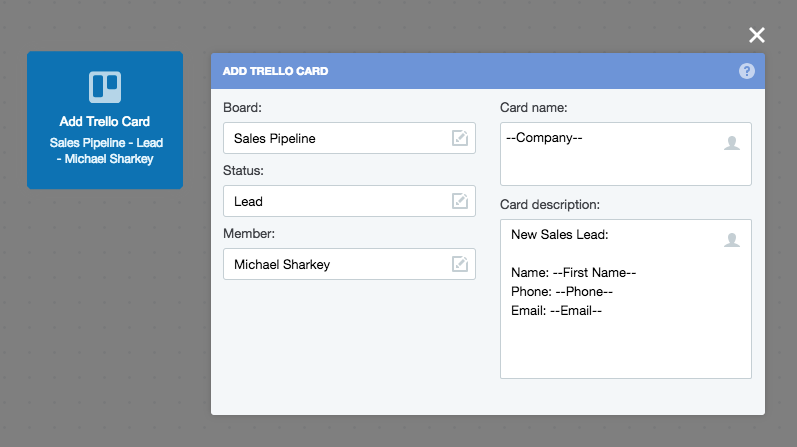 Trello & Autopilot for Customer Onboarding:
Most teams have an onboarding experience that requires a manual process. Usually conducted by a customer success team each part of the onboarding process has clearly defined steps. The board below shows an example of a customer onboarding process: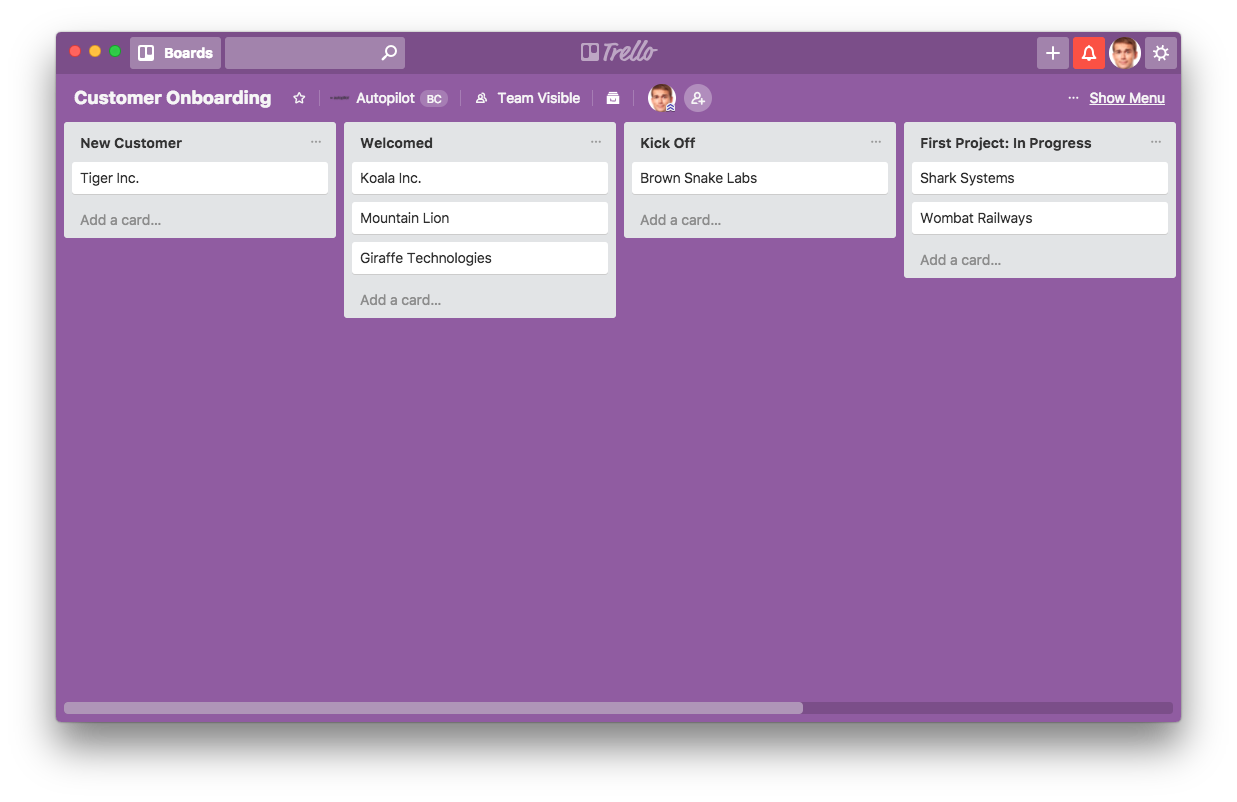 The Trello integration allows you to add new customers to this board, helping the team kick off and follow a streamlined process:
Trello & Autopilot for New Employee Onboarding:
Trello can be used for internal processes such as onboarding a new employee. Send a series of welcome emails explaining the company values, history and vision when a new employee starts. Add a Trello card to kick off the internal onboarding process:
The rest of the manual onboarding tasks can be easily followed by dragging the card through the process: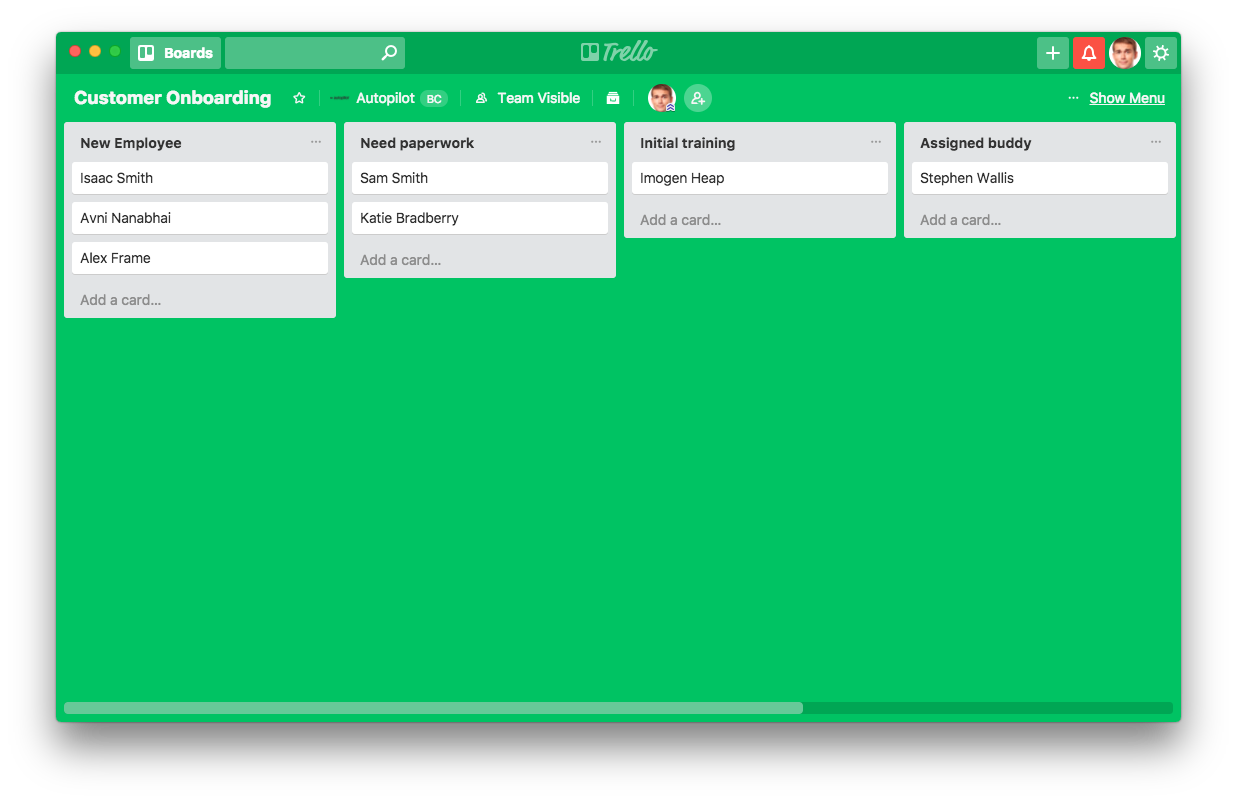 Trello & Autopilot for Product Development:
Customers have great ideas that can be used to improve your product. But collecting these ideas and taking action on them can be challenging. Form submissions get lost in email and a page of notes isn't actionable. Trello can help with a simple triage process where ideas can be turned into action: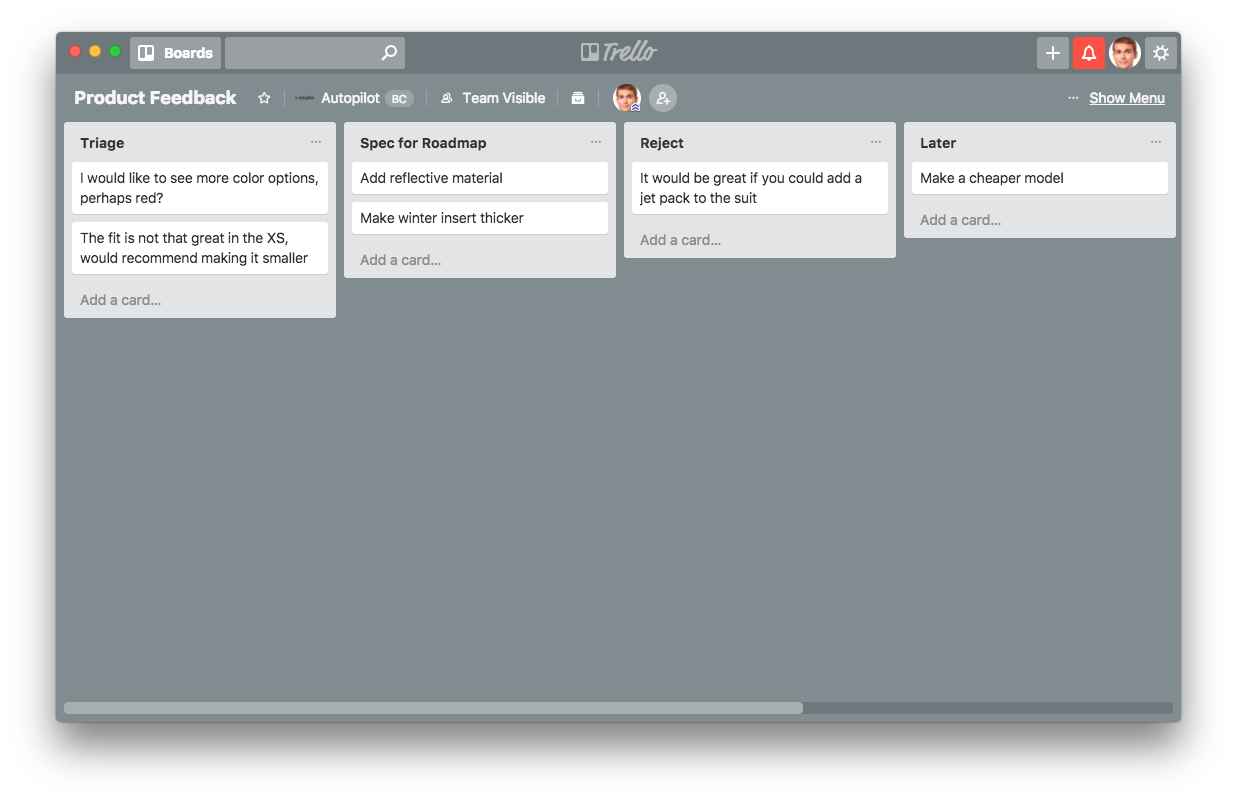 With Autopilot you can capture feedback directly from a form submission, send the customer a thank you and add a Trello task to begin the triage process:
Trello & Autopilot to Prevent Churn
Preventing churn is critical for Software as a Service (SaaS) products. Changes in user behavior can often signal a potential risk of churn. With Autopilot and Trello you can take action when these changes in behavior occur:
The Trello board makes it simple to action a follow up based on the churn risk: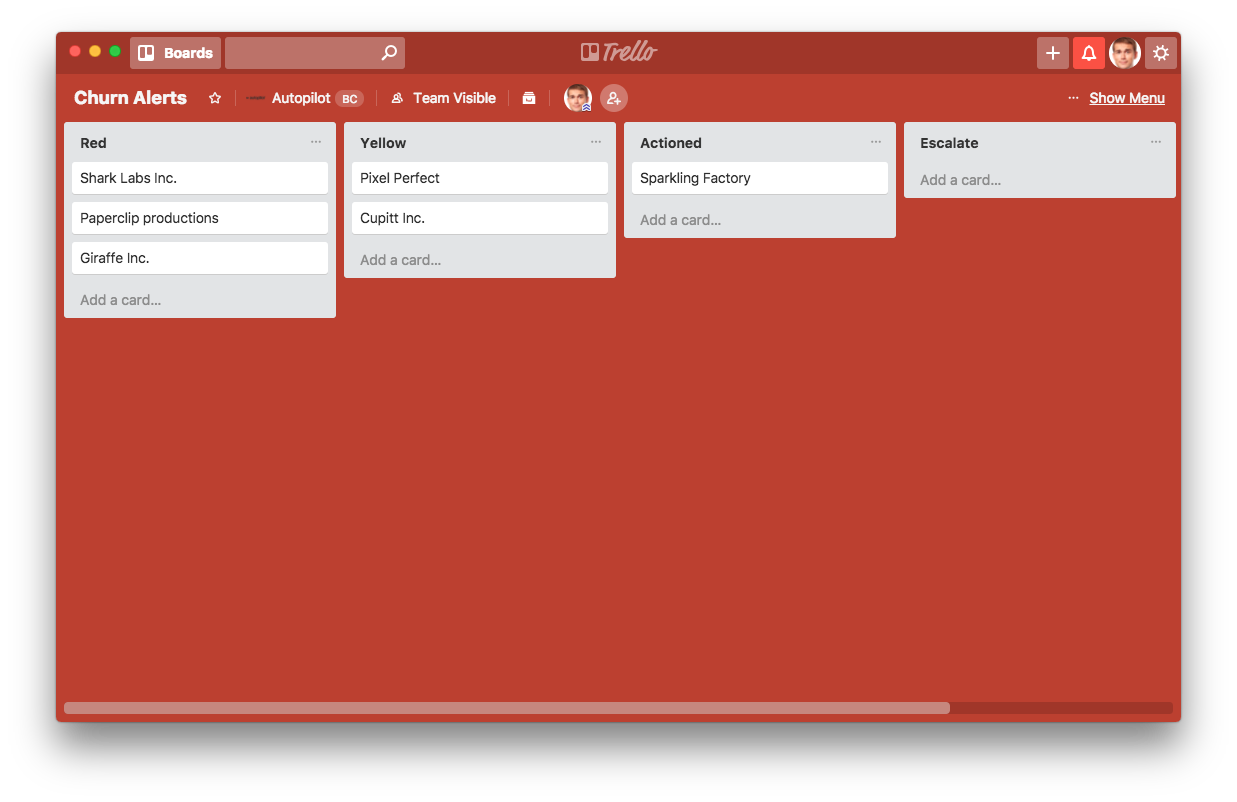 Trello & Autopilot for E-Commerce Order Fulfillment
A great e-commerce experience involves fast fulfillment and shipping. Trello can help keep track of your order fulfillment process: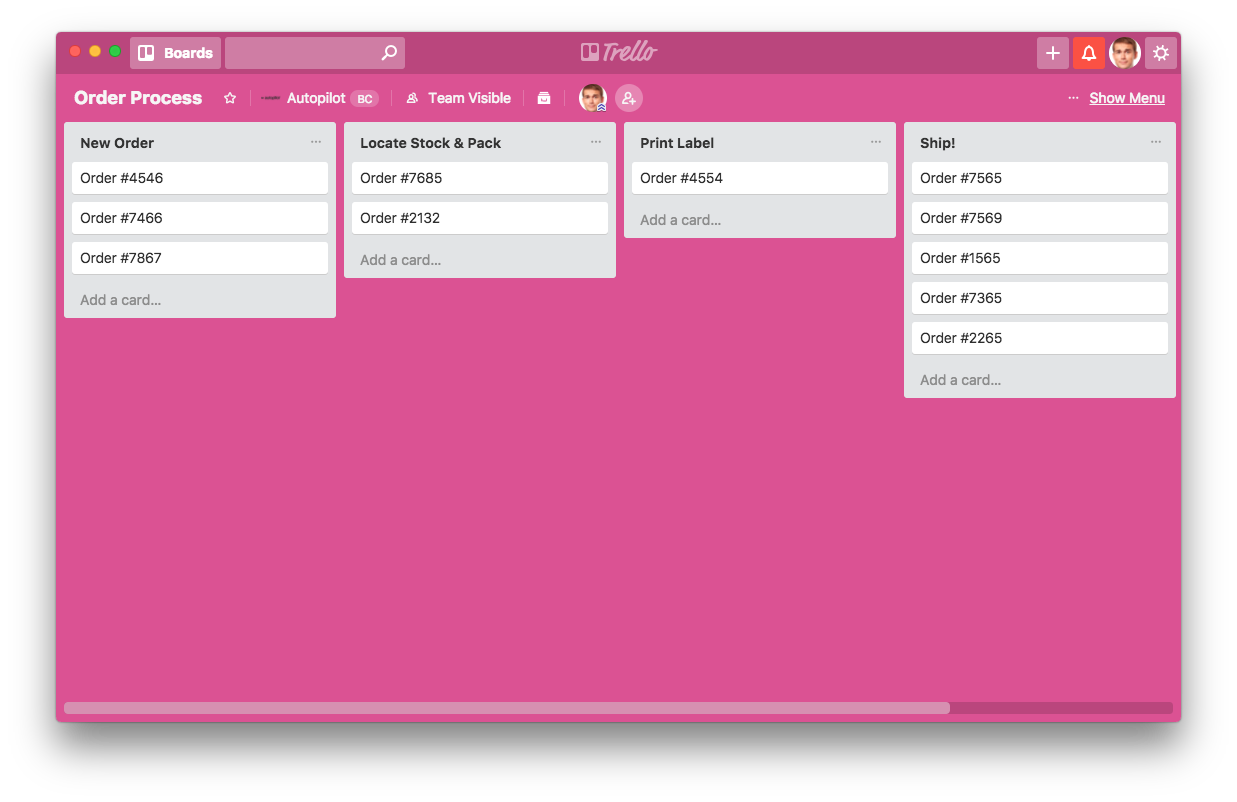 Use Autopilot to add new orders to Trello that need fulfillment, as well as sending confirmation messages when the order is placed:
Trello & Autopilot for following up forms
If you get a lot of form submissions you will quickly realize the limitations of email notifications. You don't know what you've actioned, things get lost and you can miss a lot of opportunity. This is where the new Trello integration can help. In the journey below we send a notification and also add the form details to a Trello card:
The Trello shape configuration looks like this: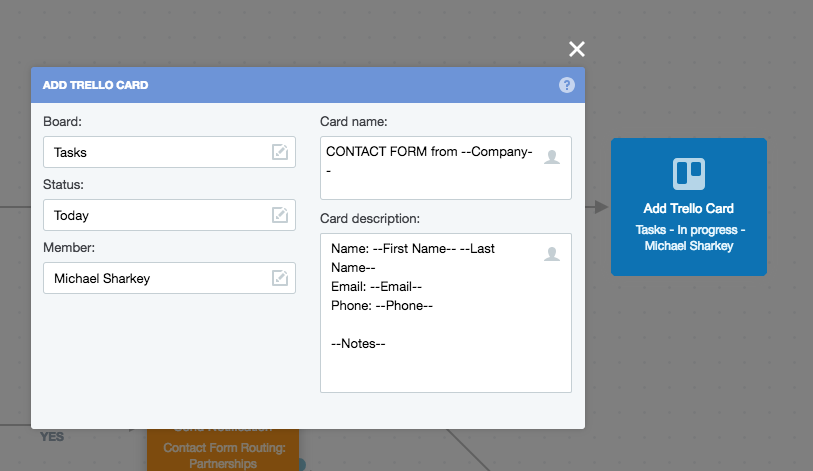 And here is a Trello board designed to action each form request: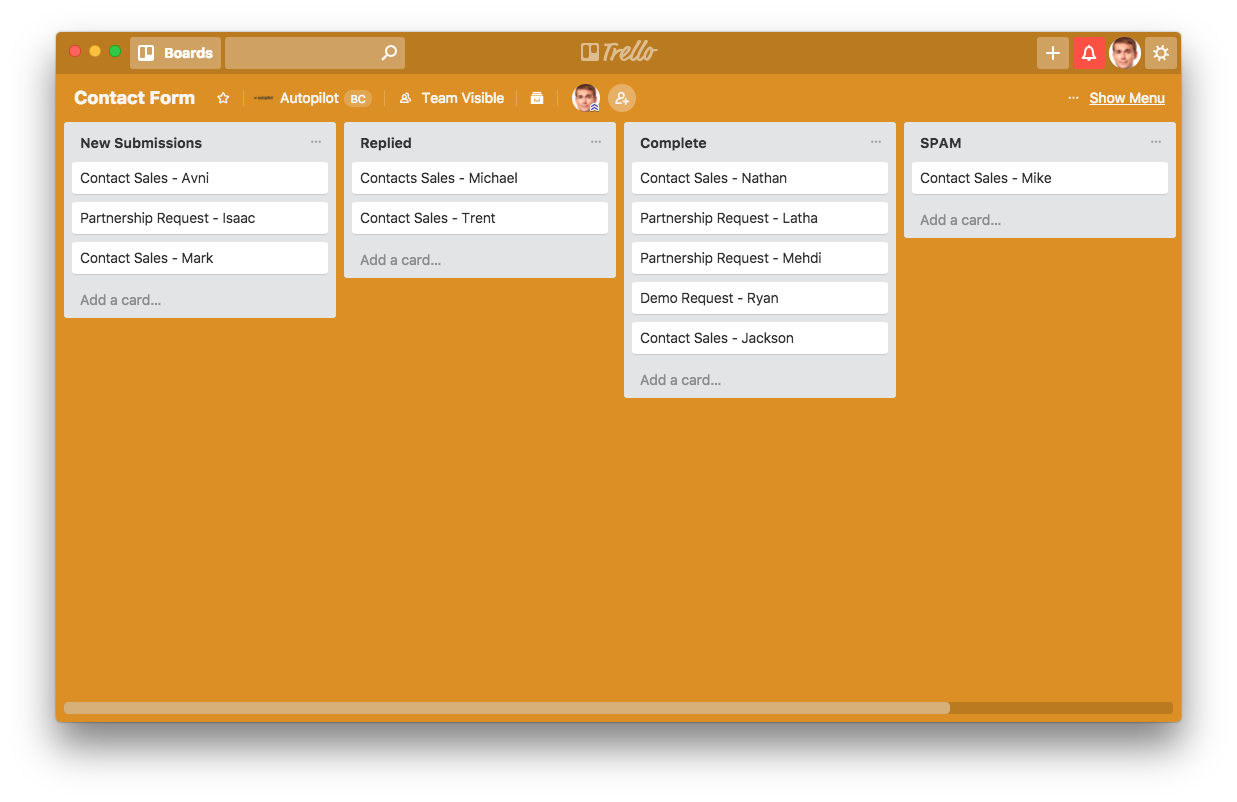 Alright you did it! You made it to the end. We hope this new integration will make you more productive. Share your thoughts in the comments below!