October 17, 2017
We fill out forms all the time. We sign up for apps, subscribe to blogs, download things, give feedback, submit surveys and more.
But when's the last time you completed an online form that was… fun? Typeform reinvented the decades-old form technology into something that is easy, human, and beautiful. Their enjoyable user experience combined with a "one question at a time philosophy" makes people actually want to fill in a Typeform. In fact, Typeform completion rates are 4x higher compared to the average survey completion rate of 14%, making lead generation and data collection a breeze.
Introducing the Autopilot + Typeform integration
So you created an engaging typeform. People submit them, but what happens next? Today, we're thrilled to announce Typeform is a new built-in Autopilot integration. You can now continue the conversations you started on Typeform by automating the next steps of your customer's journey in Autopilot.
"With Autopilot's new Typeform integration, we're enabling millions of people to automate follow up messages after surveys, quizzes, and contact us forms. No more manual download and upload." —Jason Harmon, Chief Platform Officer at Typeform
With the new integration, you'll be able to:
Add new contacts who submit your typeform to Autopilot;
Trigger personalized follow up journeys based on Typeform response data;
Send typeforms at exactly the right moment in the customer journey;
Create targeted audience segments based on Typeform submissions.
Try it now for a little surprise!
Autopilot + Typeform use case examples
You can create engaging typeforms for all kinds of online interactions like:
Lead generation
Event invitations
Demo requests
Signups
Market research
Surveys
Feedback collection
Payment forms
Take a gander at examples in Typeform's template gallery for more inspiration, and read on to learn how you can put your Typeforms to work in Autopilot.
1. Follow up with leads
Quizzes are an engaging way to capture marketing leads. You can use them to see how much your audience knows about relevant topics, and send follow up content based on the results. Click here to see an example of a Typeform quiz. Let's say you create a quiz to test marketing automation knowledge (A quiz screenshot customized from Typeform's template library ):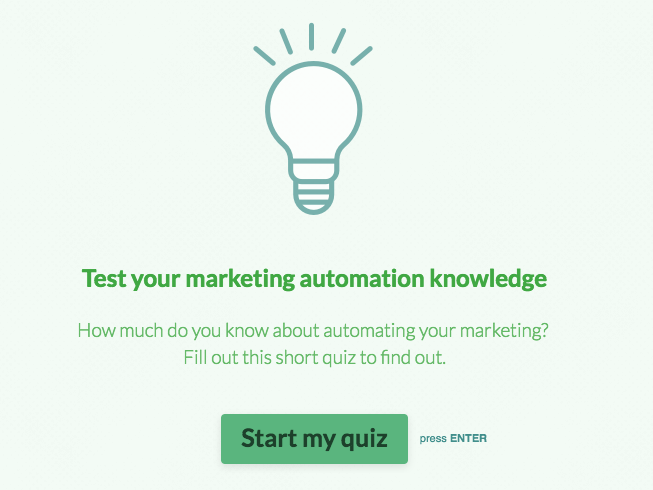 Imagine segmenting respondents into two different email tracks—like beginner and advanced—to create a more personalized experience. Here's what that follow up journey would look like in Autopilot:

How it works:
Lead completes your quiz
Typeform Submitted trigger fires the journey
Contact is added to the "Quiz Leads" list
Autopilot sends follow up email sequences based on their "Level of Experience"
After a one-day delay, both segments receive an invitation to sign up for a free trial
2. Assign demo requests to sales
Do you use Typeform for demo requests? Plus Salesforce for CRM? Beard Builder does.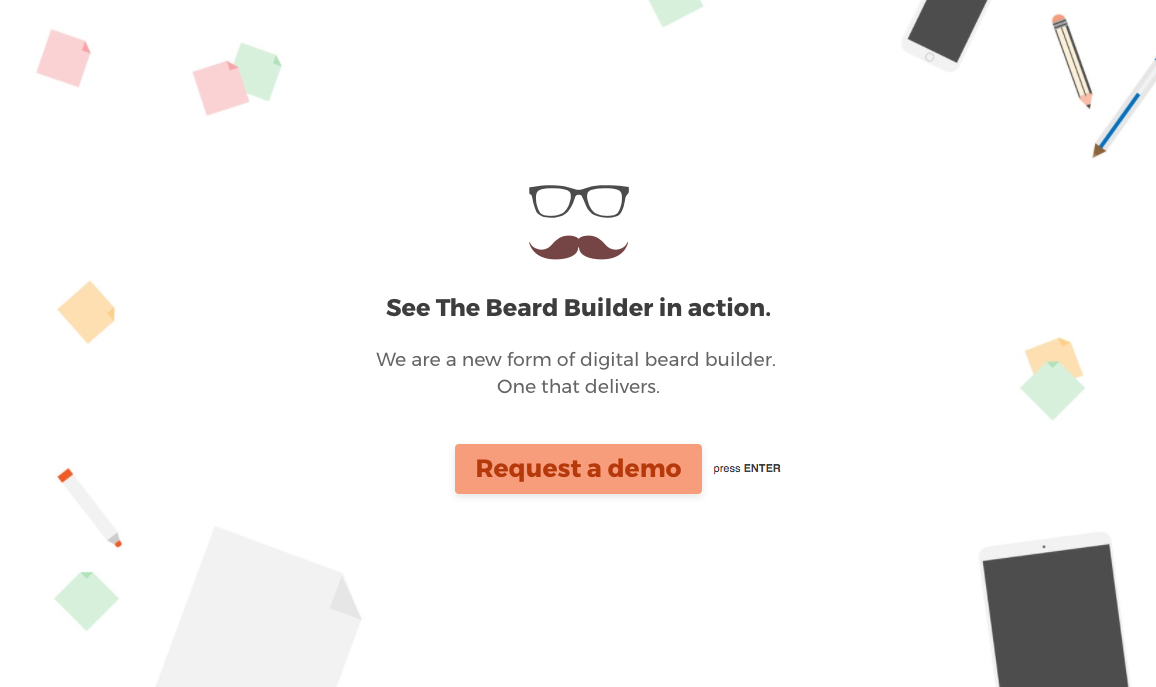 A demo request screenshot customized from Typeform's template library
Any time someone submits a demo request, you want to automatically assign the lead to a salesperson. Here's what that lead assignment journey would look like in Autopilot: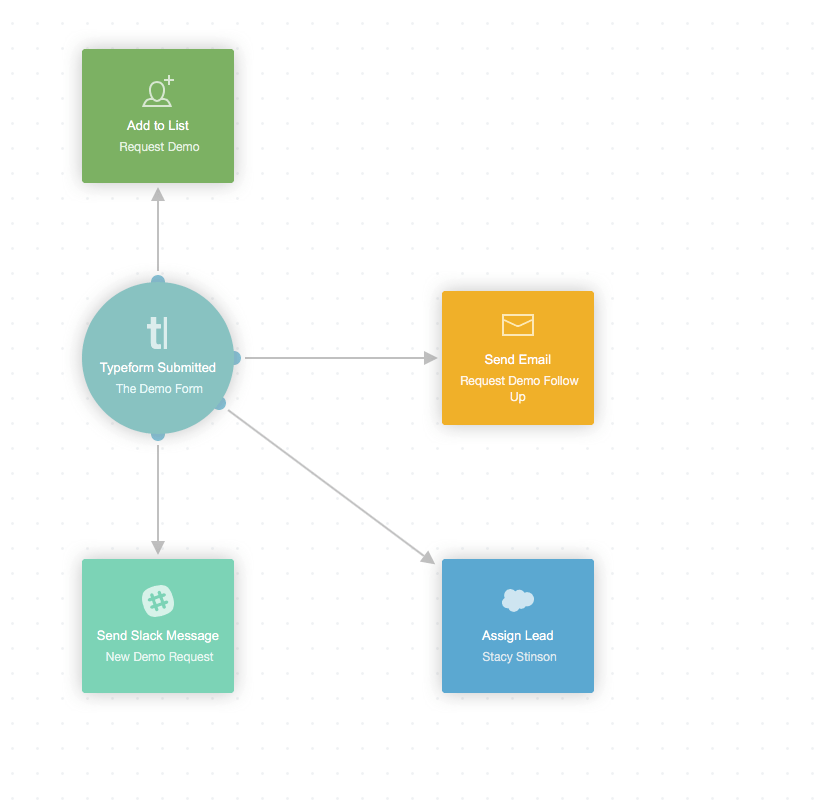 How it works:
Lead completes your request demo from
Typeform Submitted trigger fires the journey
Lead is added to "Request Demo" list
Autopilot sends a "Request Demo Follow Up" email
Lead is assigned to a salesperson in Salesforce
Sales team receives a "New Demo Request" Slack notification
3. Collect customer feedback
The first two examples demonstrate how to use the Typeform Submitted trigger. In this example, we'll show how you can incorporate the new Has Submitted Typeform condition in your Autopilot journeys. Let's say Bob has a business where he sells a lot of boxes. Any time someone buys a box, Bob asks the customer for their feedback using a Typeform survey: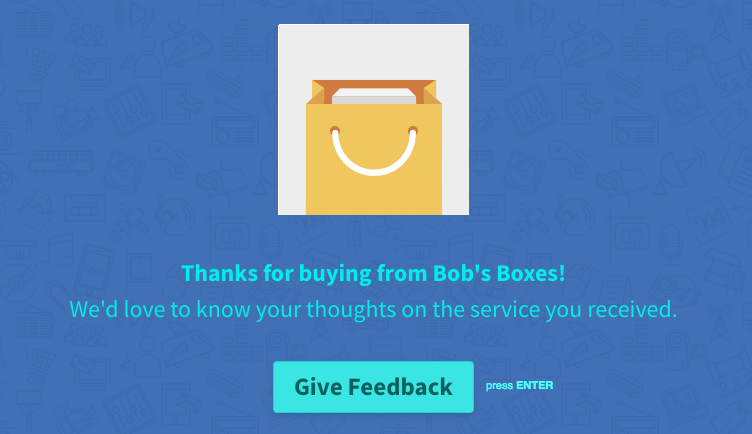 A feedback survey screenshot customized from
Typeform's template library
Setting it up in Autopilot is easy:

How it works:
New customer purchases
"Paying customers" Smart Segment trigger fires the journey
After a 7-day delay, Autopilot sends a "Customer Survey" email to collect feedback
After a 2-day delay, Autopilot checks if the "Customer Satisfaction Survey" Typeform has been submitted
If the Typeform has not been submitted, Autopilot sends a "Customer Survey Reminder" email
How Beer & Brewing Magazine uses Autopilot + Typeform
Craft Beer & Brewing Magazine is a collaboration between a group of homebrewers and beer lovers, who also happen to have experience making magazines, books, apps, and websites. Their community has more than 50,000 beer drinkers and brewers.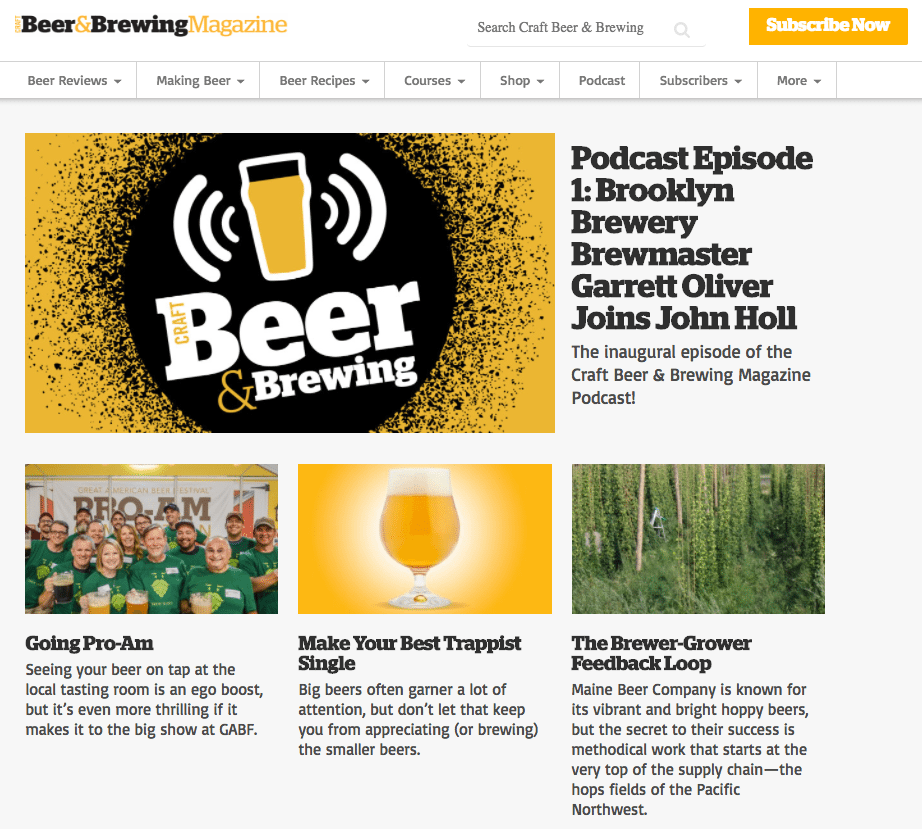 Craft Beer & Brewing uses Typeform and Autopilot together to learn more about their readers. After a person subscribes to the company's newsletter, they receive a welcome email sent from Autopilot: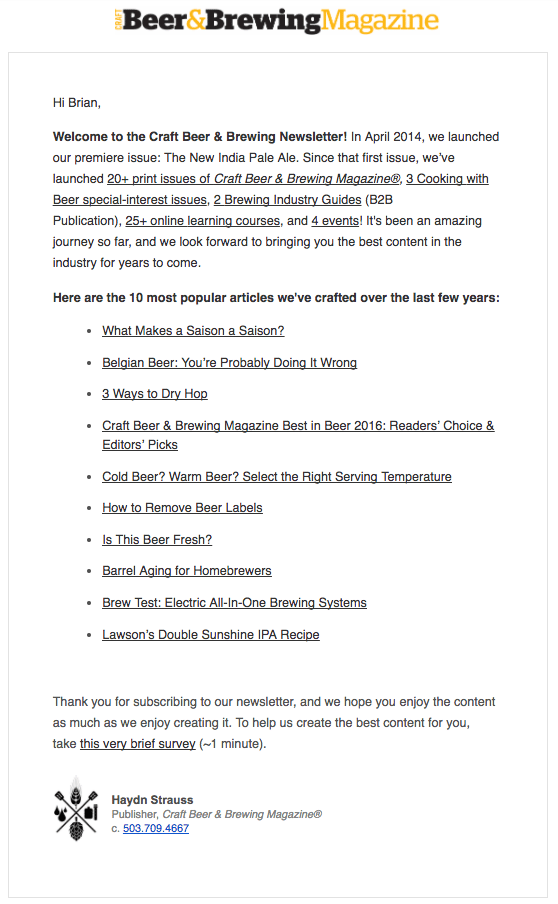 In the welcome email, there's an invitation at the end that says "To help us create the best content for you, take this very brief survey (~1 minute)." This is where Typeform comes in.

The survey asks readers about their brewing experience level, how they heard about the magazine, and a few other personal details.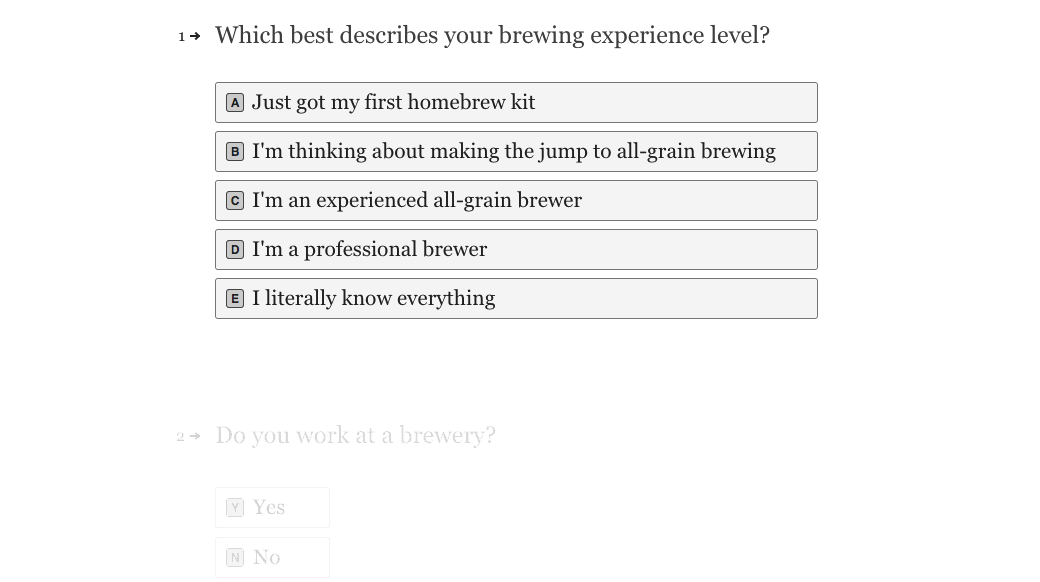 Using the Typeform Submitted trigger, Craft Beer & Brewing maps responses to custom fields in Autopilot.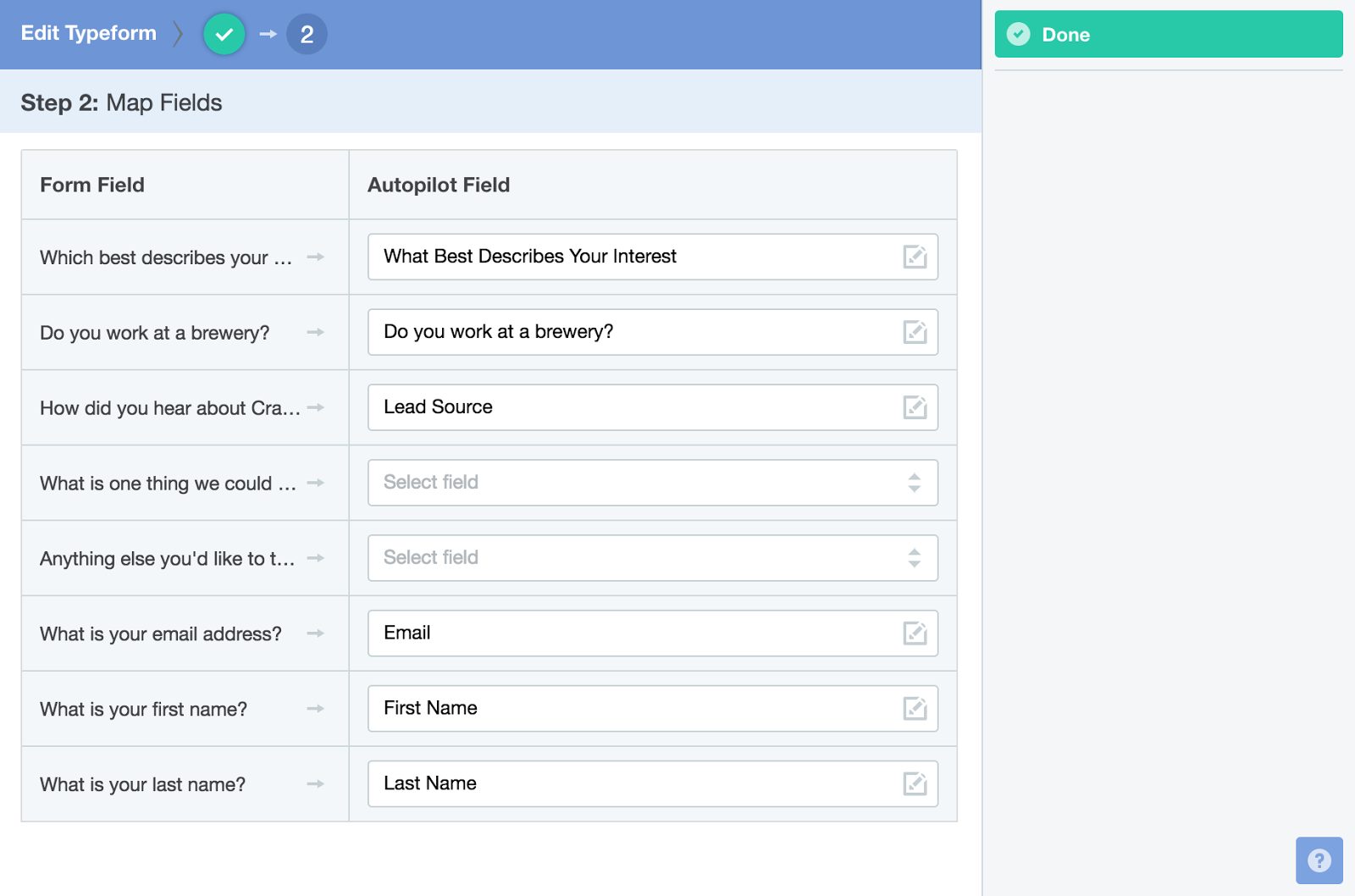 With this information, the team can create a more personalized experience. Those who respond "Just got my first homekit" get beginner content, and "I literally know everything" brewers get advanced content. Readers love it.

Try it for yourself by signing up for a free trial of Autopilot. How do you plan on using the Typeform + Autopilot integration? Let us know in the comments.