November 4, 2015
Automate Away Your Marketing Busy Work With Zapier + Autopilot
We're excited to announce Zapier's integration with Autopilot, which lets marketers save time by connecting over 500 apps to streamline their customer journey. It just got easier to automate live event reminders, nudge e-commerce customers towards their next purchase, and follow up with webinar leads like a machine. The story begins with the sea of marketing tools flooding the market. Chief Marketing Technologist estimates nearly 2,000 vendors at the beginning of 2015 alone. Marketers are using Buffer to manage social channels, Pipedrive to track deals, Eventbrite to handle ticketing, and Shopify to sell online. In the modern unbundled software ecosystem, the companies that win are those that stitch their systems together to automate tasks, extract more customer data, and work smarter not harder.
Enter Zapier + Autopilot
Zapier is glue that connects your marketing stack by syncing data between Autopilot and over 500 popular apps. In their words: "There's a secret language that lets web apps, like Evernote, Dropbox, Gmail, talk to each other. The terrible tragedy is that this language is only spoken by an elite few who possess technical superpowers. Zapier bestows these superpowers upon you!" Here's a taste of the things you can do with your favorite apps:
Automate your live event reminders: Once Eventbrite registrants sign up for your next gathering, add them a list in Autopilot and send them a thank you postcard in the mail. Yes, direct mail is back.

Nudge e-commerce customers toward their next sale: Finally, your latest customer made that milestone first purchase! Zap them over to Autopilot with a warm welcome and send irresistible content over time to land the next purchase. Pro Tip: Show a Headsup message offering 20% off a new item.

Follow up with webinar leads like a machine: You landed a big-name speaker, spent hours creating a presentation, handled all the tech, and put on a kick-ass webinar from beginning to end. Now Zap GoToWebinar registrants to Autopilot to make follow up a breeze.

Help your CRM and marketing automation tool work together: Using Pipedrive? Insightly? Salesforce? Or another CRM? Send contacts directly into Autopilot and assign hot leads to your sales team with zero manual work.

Capture Wordpress and SumoMe signups to kickoff remarkable journeys: Bloggers, get ready…Zap your hard-earned blog signups into Autopilot and send your top 10 posts or a killer welcome email to engage subscribers fast.
The possibilities are endless with the Zap editor:
How the Zapier + Autopilot integration works
Connect Autopilot with apps by creating Zapier integrations or "Zaps". A Zap combines triggers and actions like "contact added" or "unsubscribe contact." Whenever the trigger event occurs, for example new buyer contact details are created in Shopify, Zapier automatically completes the action for you in Autopilot. From there, you can create automated journeys that move contacts further along the buyer cycle. Let's step through a full example of a Zap: When someone submits a form via Wufoo, add them as a contact in Autopilot. The first part (submitting a form) is the trigger. The second part (adding a contact) is the action.

Zapier's wizard will walk you through selecting your Wufoo form, mapping your Autopilot fields to your Wufoo form fields and selecting the list in Autopilot to add contacts to, like so…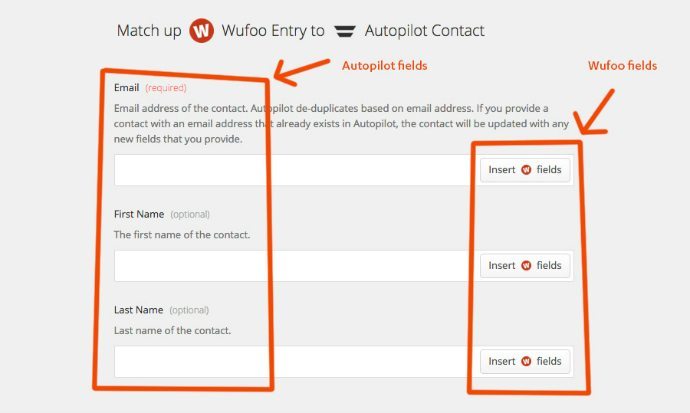 Once you've turned your Zap on, Autopilot will automatically capture the form submissions and add them to the list you chose. Now comes the fun part! You can trigger all kinds of automated marketing journeys for your new contacts like sending a follow up email or text, adding them to a lead nurture campaign, circulating an internal Slack message, or even assigning the lead to Salesforce.
How do I set up the Zapier + Autopilot integration?
To get started, sign up for an Autopilot and Zapier account. Connect your Autopilot account to Zapier, then get a jumpstart with pre-made Zaps or create your own with the Zap editor. As you use the new Zapier integration, we'd love to hear how you connect your favorite apps to trigger remarkable customer journeys. To learn more about how you can use Zapier + Autopilot, join us for an exclusive webinar on Thursday November 12th with Zapier's CEO, Wade Foster on "How Simple Green Smoothies Automates Their Rawkstar E-Commerce Business"