October 23, 2018
Marketing Automation Integrations
Optimize your marketing strategy with powerful drag-and-drop integrations. Find the best integrations to nurture qualified leads, communicate across multiple channels and create the best customer journey possible.
In the digital marketing world, there are hundreds of useful products out there, each with a different niche to solve. With so many options, aligning product into a single customer journey can be a difficult task.
With an ever-expanding list of useful integrations, Autopilot brings valuable marketing capabilities into one place. Using intelligent marketing automation software, marketing teams can implement customer journeys that are highly effective and simple to create.
Here's a list of our five most useful integrations:
AB Split Testing
Since the dawn of advertising, AB testing has been a marketer's best friend. By comparing two versions of an email, companies can validate ideas and optimize their customer journey.
When presented with multiple options for an email message, marketing teams naturally want to choose the highest performing variation. With Autopilot's AB Split Testing integration, testing the performance email is quick, easy and accurate.
The template below represents a way you can discover which of your email variations will net you the highest conversion rates for your campaign.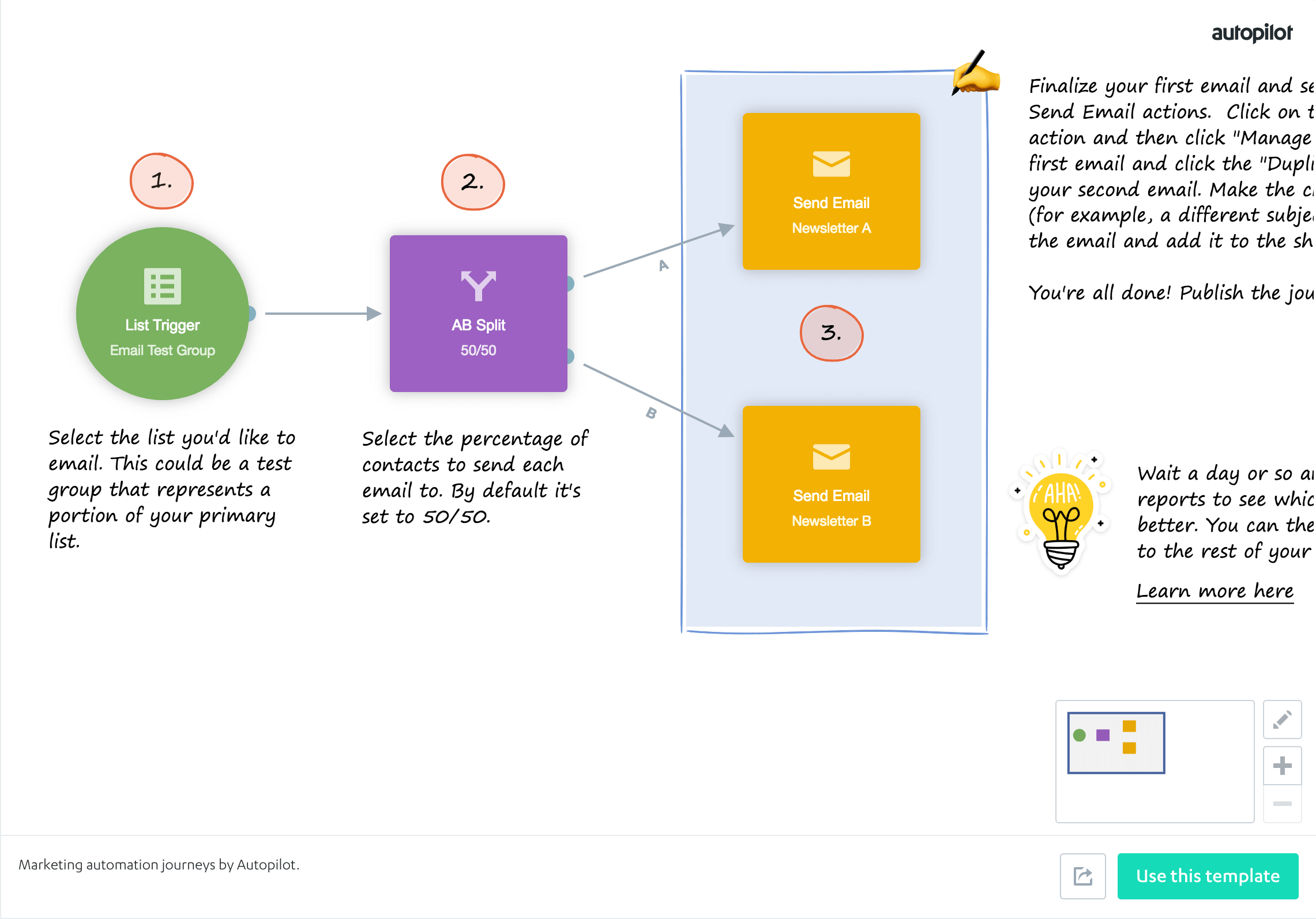 Typeform
Typeform is a data collection tool that provides simple, readable forms for customers to fill. Working as a trigger in Autopilot, the Typeform integration allows marketers to follow up with the appropriate messaging.
Here is an excellent example of a Typeform integration that captures customer data for use across multiple touchpoints.
Slack
Slack is a product that organizations use to communicate and share information. It's easy-to-use, lightweight and integrates directly into Autopilot.
With the Slack integration, teams can take action faster by receiving direct messages when customers fire events in the customer journey. These events can be anything from clicking on a call-to-action, submitting a web form or responding to a sales email.
Heap
Real-time analytics are the cornerstone of any digital marketing strategy. Capitalizing on the need for complete, robust datasets; Heap captures detailed user behavior in digital spaces without the need to write code. The Heap integration works as a trigger in Autopilot — giving marketers the ability to turn user behaviors into opportunities.
By using the Heap and Slack integrations together, this template automatically transforms user engagement into an actionable task.
Ejection
Accidentally spamming customers with advertising is not an ideal situation. The Ejection integration enables marketers to remove people from customer journeys as they flow through the marketing funnel.
A lead nurturing journey is a  great use case of the Ejection integration. During lead nurturing campaigns, a marketer's role is to turn leads into paying customers. Once a customer has converted, sales and marketing teams often need to ensure the customer is removed from the nurturing campaign. Previously, this process was manual, tedious and time-consuming, however with Autopilot's integration, removing customers from specific journeys can be automated.
Autopilot's Ejection integration allows teams to automatically remove customers from the journey at the right time, and in any campaign. With this integration, marketers no longer need to create the dreaded 'oops!' email.
Autopilot incorporates a wide range of integrations that marketers can implement into their digital marketing strategy. By automating processes and removing repetitive tasks, marketing teams can improve their KPIs and increase quality leads. Learn more about marketing automation integrations for Autopilot.