December 20, 2018
SMS Marketing Case Study
From Shark Tank to astronomical growth
Seedsheet curates organic home gardening kits to help you GYO (Grow Your Own) herbs, salads, vegetables, and even taco seasoning kits. Inspired by the same technology as laundry pods, Seedsheet has mixed science with agriculture to develop dissolvable gardening pods that anyone can use to plant and grow fresh food.
Before founding Seedsheet, architect Cam Mackugler asked himself, "How can I make gardening as easy as possible by leveraging architecture and algorithms with agriculture?" He stumbled upon his "Aha!" moment — recognizing there was a need for an easier way to transform anyone's office, windowsill, or backyard into a lush garden.
In 2017, Cam stepped onto the set of Shark Tank US and approached the investors with his laundry pod idea for gardening — "My company hacked horticulture," he quipped to the sharks. In a swift move of negotiations, he walked away with $500,000 for 20% equity and has since experienced astronomical growth that even the sharks couldn't predict.
Since his success on Shark Tank, Cam has appeared on Good Morning America, The View, and QVC to establish Seedsheet as a household name. To date, the startup has sold over $1.5 million in products, hit a compound annual growth rate of 250% and is set to sell 200,000 gardening kits in 2019.
How exactly did Seedsheet achieve this growth you ask? Their secret is SMS marketing, and here's how it worked.
The power of SMS marketing
Sending an SMS has become one of the most efficient and effective ways a business can communicate with its customers. According to an SMS Global report, companies who send messages via text receive open rates of 98% — a higher conversion rate than any other medium.
Cam reveals that in using the Autopilot-Twilio integration, Seedsheet has seen an uptake in customer engagement. The feedback they've received from customers responding to SMS messages was so favorable that they decided to focus an entire customer journey around text messaging.
When it comes to SMS marketing, Seedsheet has adopted a creative, playful, and conversational tone. Instead of sending customers step-by-step and consequently dry information on how to plant a seed, Seedsheet positioned itself as the plant. This strategy gives their product a unique voice and heightens engagement with customers.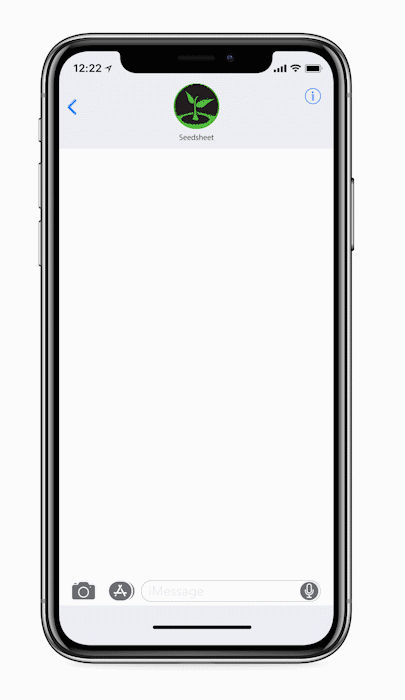 For example, if you're a Seedsheet customer and you've planted your seeds, you may receive an SMS message like this: "Hey, I'm thirsty. Give me some water." When you look behind-the-scenes into Seedsheet's marketing strategy, you'll notice that these messages are sent based on timing delays and are triggered in the first couple of weeks after a customer has started their onboarding process.
"We've fooled around with a lot of messages," says Cam. "I remember there was one (which I really enjoyed writing) that was a whole bunch of letters just randomly spaced, so it looked like a butt dial. It said: 'Hey this is your garden texting you. I stole the phone away. You need to water me again.'"
Cam explains that the first few weeks after planting is vital for growth, and just like customers need nurturing, seeds need watering. Consequently, the onboarding journey for customers is crucial and if performed incorrectly, could result in death — the death of the plant that is.
Seedsheet's SMS customer journey spans the entire lifecycle of the garden. Customers receive onboarding information via SMS which includes text-based instructions on how to water and fertilize each plant and YouTube videos on how to make delicious recipes after harvest.
"We've had a lot of customers come back to us with feedback," reveals Cam. "For example, customers have replied to our SMS marketing with: 'I love getting these text messages! Can you send more?' Which is definitely a nice thing to see."
The customer journey
Seedsheet has shared with us their very own customer journey template on how to use SMS to drive customer behavior. This journey uses text messages to send customers the right information at the right time. Fun and timely messages ensure all customer successfully grow and harvest their garden.
"Our real-time notification system follows your garden's growth and delivers relevant tips, tutorials, recipes, and reminders when you need them most," explains Cam.
From the very first text, we can see that Seedsheet interacts with their customers on a personal level. The journey determines what stage the customer enters the journey and sends timely, relevant communication.
In breaking down this template, we can see that a journey is triggered when a customer signs up to Seedsheet via SMS. These customers are added to a "Mini Herbs Registration" list and are automatically sent a welcome SMS that reads:
In asking for their name, Seedsheet can forge a strong relationship by addressing each customer personally. When a customer replies to the SMS, they are automatically sent a second message that directs them down a tailored, onboarding pathway.
To understand what information is best suited to each customer, Seedsheet send a message with a total of two reply outcomes: "yes" and "no." This splits registered Seedsheet users into two groups: one that's ready to plant and the other that will plant later.
Here's a breakdown of each reply outcome:
Customers who reply with "yes" are added to the "Mini Herbs Notifications" list, which acts as the main onboarding journey. They are sent information that tells them how to plant their seed, when to water their garden, how to harvest, how to fertilize, and finally, what recipes to make. They even receive encouragement messages like: "Awesome job this week! Keep watering daily!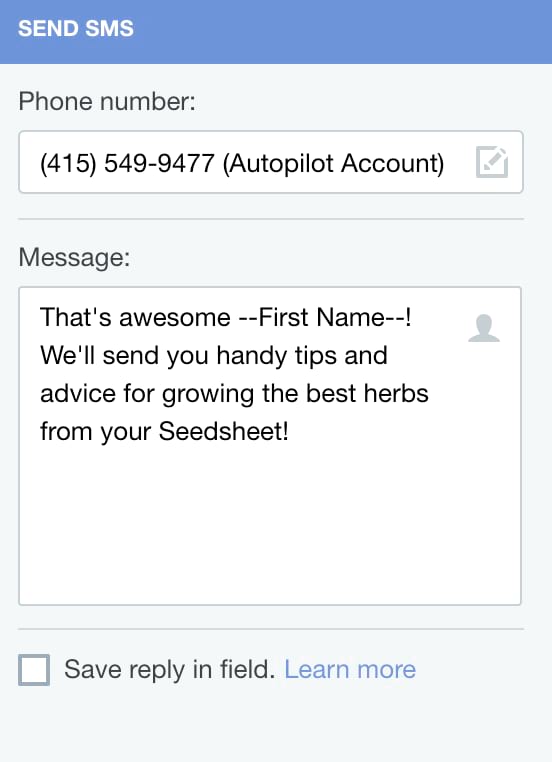 Customers who reply with "no" are sent another SMS asking them to message the word "Plant" when they're ready to start the process. When they reply, they're added to the "Mini Herb Notifications" (just like the above journey).
If after two days a customer has still not responded, they sent a series of SMS to determine when they're ready to plant or if they've in fact started the process. If they have already planted, they're added to a "Mini Herbs Late Start" list and sent a message that asks them how many weeks ago they planted their seed. Based on their response, they're triggered into the right stage of the journey.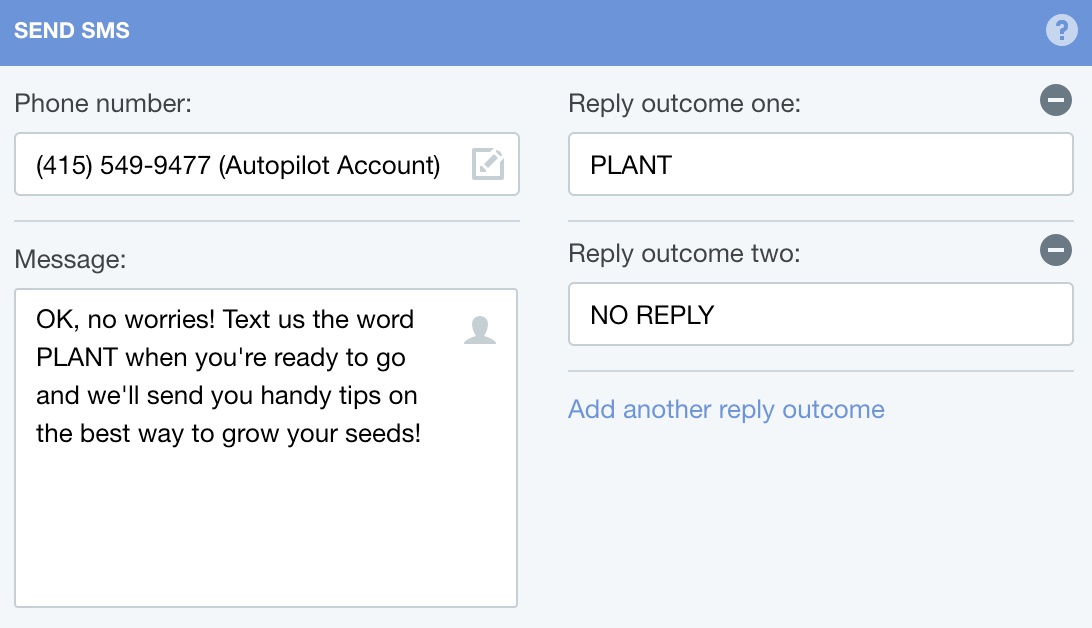 As we can see in Seedsheet's strategy, Cam wants to avoid sending customers the wrong information. For example, customers would experience a poor onboarding process if they received information on how to plant their seeds if, in fact, they're already up to the harvesting stage. To offset the chance of sending the wrong information, Seedsheet asks their customers the right questions early on. This allows them to place their customers into the right period of the journey.
Since using the Autopilot-Twilio integration, Cam reveals that his Seedsheet product reorder rate has grown. Currently, over 25% of customers reorder when they are triggered into a journey like the one above.
"There's definitely a nice correlation to see that people that are using Autopilot are coming back and growing with us again," says Cam.
SMS is a powerful tool in any marketing strategy. Seedsheet is a great case of how SMS can be used by itself — but there's nothing stopping you using SMS in combination with email, LiveChat, forms, postcards, and more. Use the Twilio integration as your starting point and discover other SMS strategies used by high-performing marketers in Autopilot's Templates Library.