July 7, 2020
Why we Made the Switch: Housecall Pro
Housecall Pro is a scheduling, invoicing and communications tool for the home services industry. As their business began to grow, they examined their technology stack and identified that despite the cost, their Pardot account was being vastly underutilized. Housecall Pro made the switch to Autopilot, and now use it successfully for all their lead and prospect communications and processes, at a fraction of the cost of Pardot.
An industry being underserved
As technology evolves, consumers have come to expect streamlined experiences with every brand they deal with. These expectations are particularly important when it comes to personal services, and matters of the home. This challenge is one all too familiar to the team at Housecall Pro.
Based in California, Housecall Pro employs over 150 staff and supports over 70,000 small businesses. The son of a painter, founder and CEO Ian Heidt witnessed firsthand how underserved his industry was by technology.
"The smaller, blue collar businesses and trades were being left behind by the internet technology revolution," Mike Schnell, Marketing Operations Manager commented "particularly in terms of products that enabled them to more efficiently manage their business. They had email, were on social media and were serving Google ads, but there was nothing for their actual business operations."
Seeing that gap in the market, and knowing how impactful a solution would be, Ian formed a team of engineers who shared his passion for 'pushing the envelope in innovation', and reaching the next level of efficiency for home service businesses.
"Our primary value and mission is caring about the service professionals themselves," says Adam Wooley Senior Director of Retention and Engagement Marketing. "Housecall Pro is big on the community aspect. I believe we have one of the most active FB communities. Our founders are in that group actively chatting, as well as all of the professionals chatting and supporting each other."
Adam attributes much of the business success to this community approach.
"They figured this out early on. As an industry, it can be quite isolating - these professionals generally work alone, and apart from small contact with customers they're operating solo all day. There's not really a strong community element in the real world of home service pros or business owners to draw on for advice, help, share stories etc."
Prior to COVID-19, they were running in-person meetups around the country and hundreds of home service professionals would attend just to network with each other, support each other, and generally stay connected through the software.
The impact of COVID-19 on the industry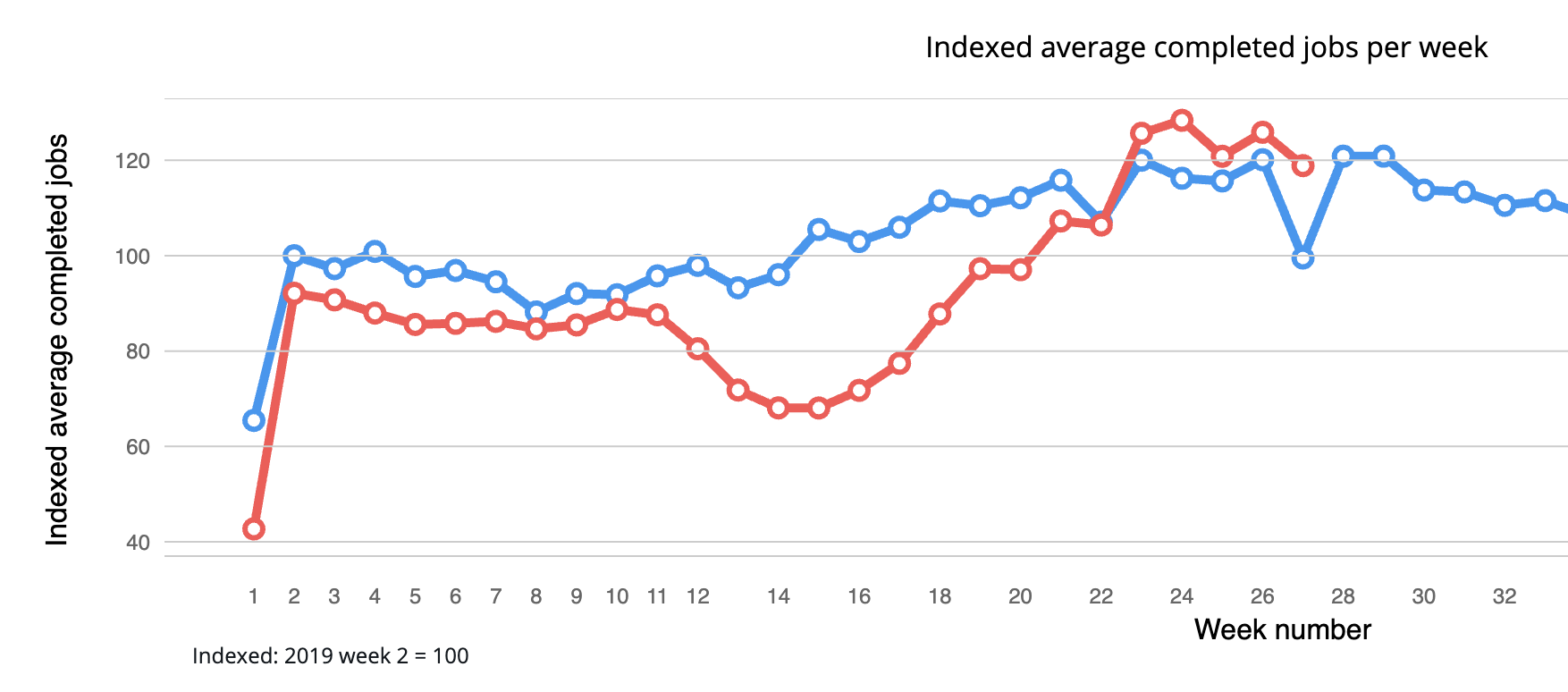 Understandably, COVID-19 had a serious impact on home service professionals. Although more time at home likely meant noticing more tasks needing attention, social distancing restrictions impacted the ability to enter a client's home. Whilst many home service businesses were fortunate enough to be considered essential, initially many homeowners were understandably uncomfortable hiring anyone to come into their home.
In order to support their customers during this time, Housecall Pro set up a few initiates, including:
The SVP of People would conduct a nightly webinar (yes, nightly!) with coronavirus-specific updates and tips on how member businesses could adapt;
HCP sent daily emails with industry updates, and additional thought leadership pieces;
Increased participation and communication through their active Facebook community; and
A regularly updated digital hub online with resources for business owners, ranging from marketing advice to government support information.
Housecall Pro received some amazing feedback from these initiatives, demonstrating the importance of communicating effectively with your customer base, particularly during a crisis:
"You guys are truly amazing! Signing up for HCP, I never thought of how much more you would be giving. Thank you!!"

"The community support is therapeutic. Feeling alone in a crisis is the worst. I'm glad we are all here to share knowledge and support each other."

"Got your back because you have ours - great businesses do great things for others"
Which solutions did you try before AP?
As Housecall Pro began to grow, a technology stack audit was performed on the marketing side of the business. At that time they were using Pardot, however the audit identified that despite the cost, it was being vastly underutilized as native functionality was overlapped by other tools.
"I grew up on and learned marketing automation with Pardot, but when I moved to Housecall Pro and inherited a Pardot account not being used, I realized it wasn't the right tool for this business."
Mike identified that they needed a solution that would not only enable them to grow at scale, but also achieve their specific business goals.
"I already knew of Autopilot, I knew that it would accomplish everything we needed it to, in many cases better than Pardot, and it cost a whole lot less. Pardot has a breadth of features, but we only were using the email solution, and were over drastically over-paying for it. Autopilot was the perfect combination of pricing and functionality for our business."
HousecallPro then made the switch to Autopilot, and now use it successfully for all their lead and prospect communications and processes, at a fraction of the cost of Pardot.
Why Autopilot?
Housecall Pro uses Autopilot for all their lead and prospect communications. They have built strategic journeys for all of their sales processes, connecting Salesforce CRM (as their preferred CRM) and their lead management - all campaigns, automations and journeys designed for the lead base.
"Our journeys are made up to distinguish the potential customer based on the information we are piping into our Salesforce instance. Based on who they are, where they came from, we route them down a four track nurture campaign. We use key data points, such as company size and lead source, as key factors for that routing. We then monitor their engagement with our comms, and serve content designed to convert at a higher rate."
"The decision to partner with Autopilot was exactly what our business needed, the product is extremely easy to use and the team is even better to work with."
You can learn more about Housecall Pro by visiting their website here.