June 2, 2020
The five ways tourism businesses are getting back on their feet post COVID
The global lockdown
The global tourism industry has, understandably, been heavily impacted by the coronavirus. In a recent report, the World Tourism Organization (a UN agency) recognized that COVID-19 had "placed the whole world on lockdown," with 100% of global destinations placing restrictions on travel, and 72% of countries completely closing their borders to international tourism.
According to the report:
International tourism globally was down 22% in Q1;
There were 67 million fewer international tourists up to March 2020, translating into US$80 billion in lost exports; and
International tourism could decline by 60-80% in 2020 compared to 2019.
Tourism is an industry of unique importance, both economically and culturally. It accounts for 10% of the world's GDP and jobs, and is the primary contributor to many emerging economies. Despite the sector having a proven resilience to global crises, the impact of the coronavirus is one that is likely to linger for some time. Destinations and service providers not only have to deal with ongoing travel bans, but the lingering fear of the virus that may pervade the minds of holiday makers for some time to come.
Tourism and travel in Australia
Tourism is a significant driver of growth for the Australian economy. In addition to employing over 600,000 workers, in 2018-19 over 9.3 million international visitors were welcomed, spending over $44.6 billion (with 44 cents of each dollar spent in regional areas).
However, it is not only the international visitors that make tourism such a valuable industry. In 2018-2019, the domestic tourism spend exceeded $100 billion for the first time, demonstrating how more and more Aussies were keen to explore their own backyard. And with the easing of restrictions in certain Australian states from 1 June 2020, it is this domestic travel market that operators must target, and convert, in order to survive.
The opportunity for domestic tourism growth
Recently, the New South Wales Government announced that domestic travel restrictions would be lifted, with the State Premier encouraging residents to "book a holiday." The industry was quick to respond, with emails firing out with a focus on two key elements: explore your own backyard, and family-friendly adventures.
With international travel unlikely to return in the near future, astute operators in this space realised they needed to both educate potential travelers with respect to what travel will look like for the next 6 months, as well as entice them to book now (and consume as much of that $100 billion in domestic travel dollars as possible).
Here's some examples of how different businesses approached this task:
Airlines acknowledge the risk factor
Budget airline Jetstar used their first communication post the announcement to acknowledge two concerns: health, and the uncertainty of travel. To put passengers at ease, they outline their new strategy to ensure safety and confidence through their Fly Well, Fly Flexible promotion. Jetstar have opted for a lengthy email, with plenty of detail, but their imagery captures those key themes: open skies, and family fun.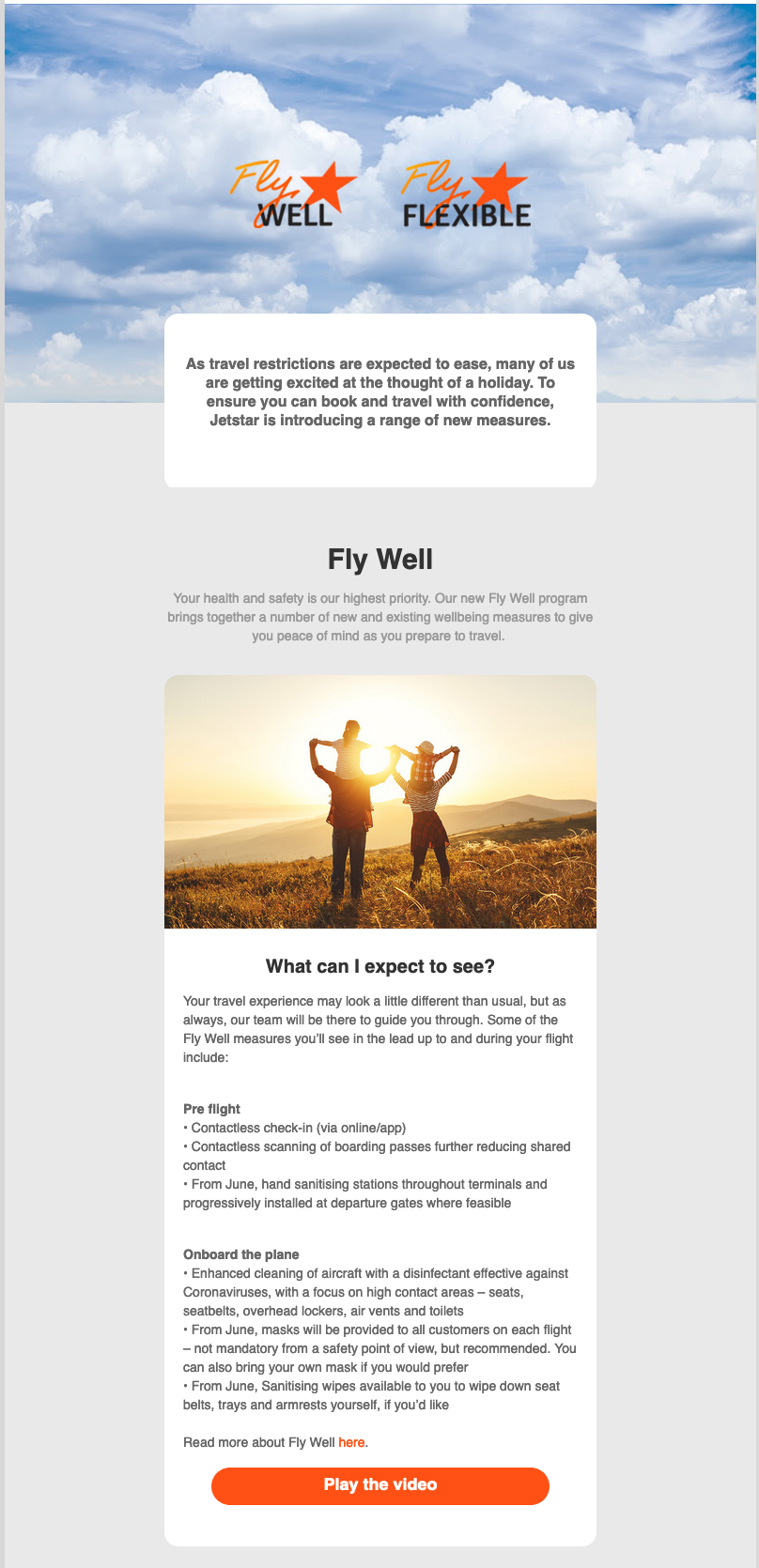 Homegrown escapes at iconic locations
MyHolidayCentre has taken the domestic approach as a proud Australian company. To inspire travellers, they're promoting their "homegrown holidays", inviting travellers to explore the beauty of their own backyard with packaged trips to iconic Aussie destinations.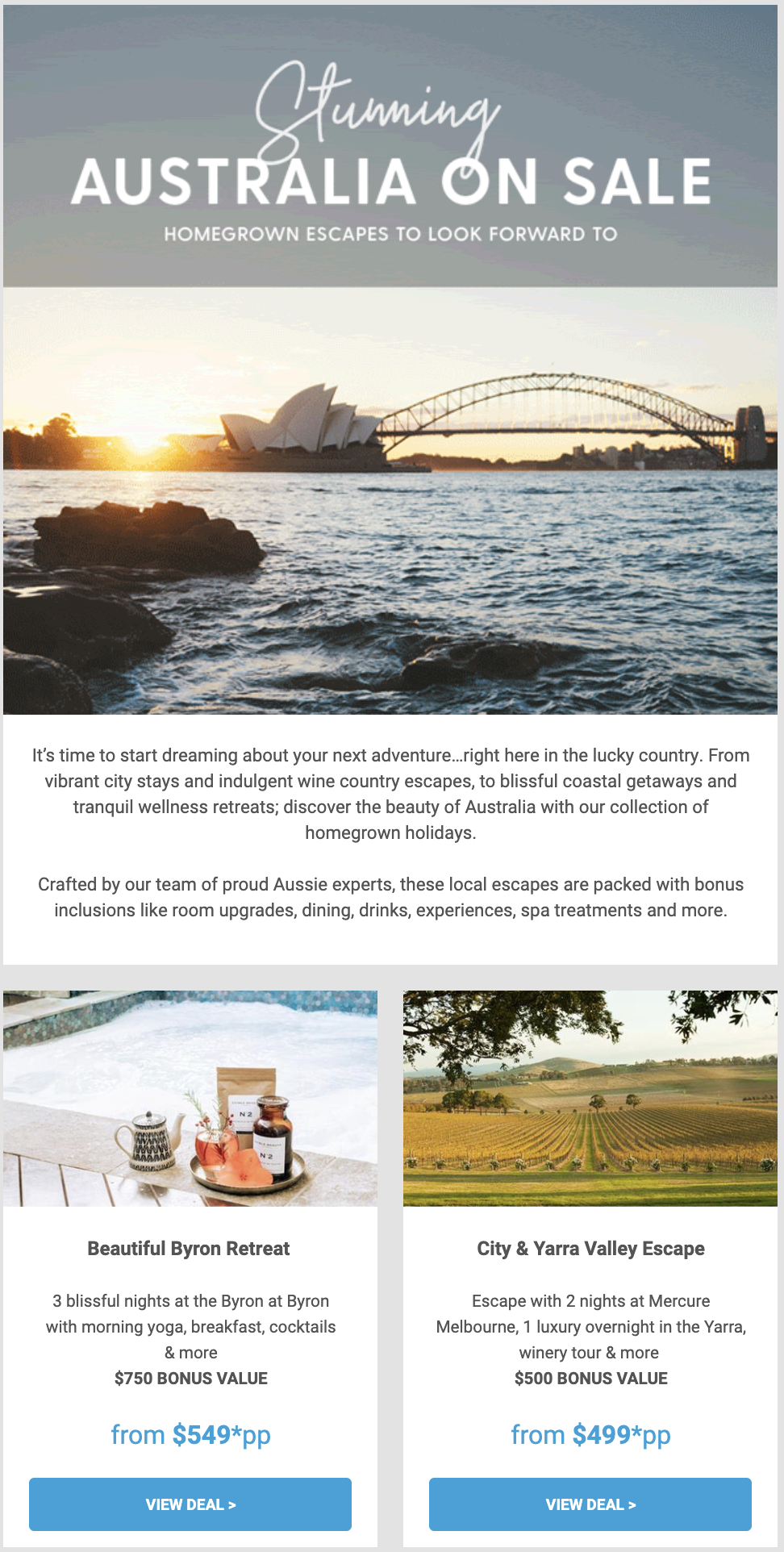 Hotels play to positive past experiences
With a heart-warming statement from their Chief Operating Officer, Accor Hotels invites travellers to reflect on the wonderful opportunity they have to enjoy "experiences on our doorstep" by visiting places they've always wanted to go, or return to an old favourite.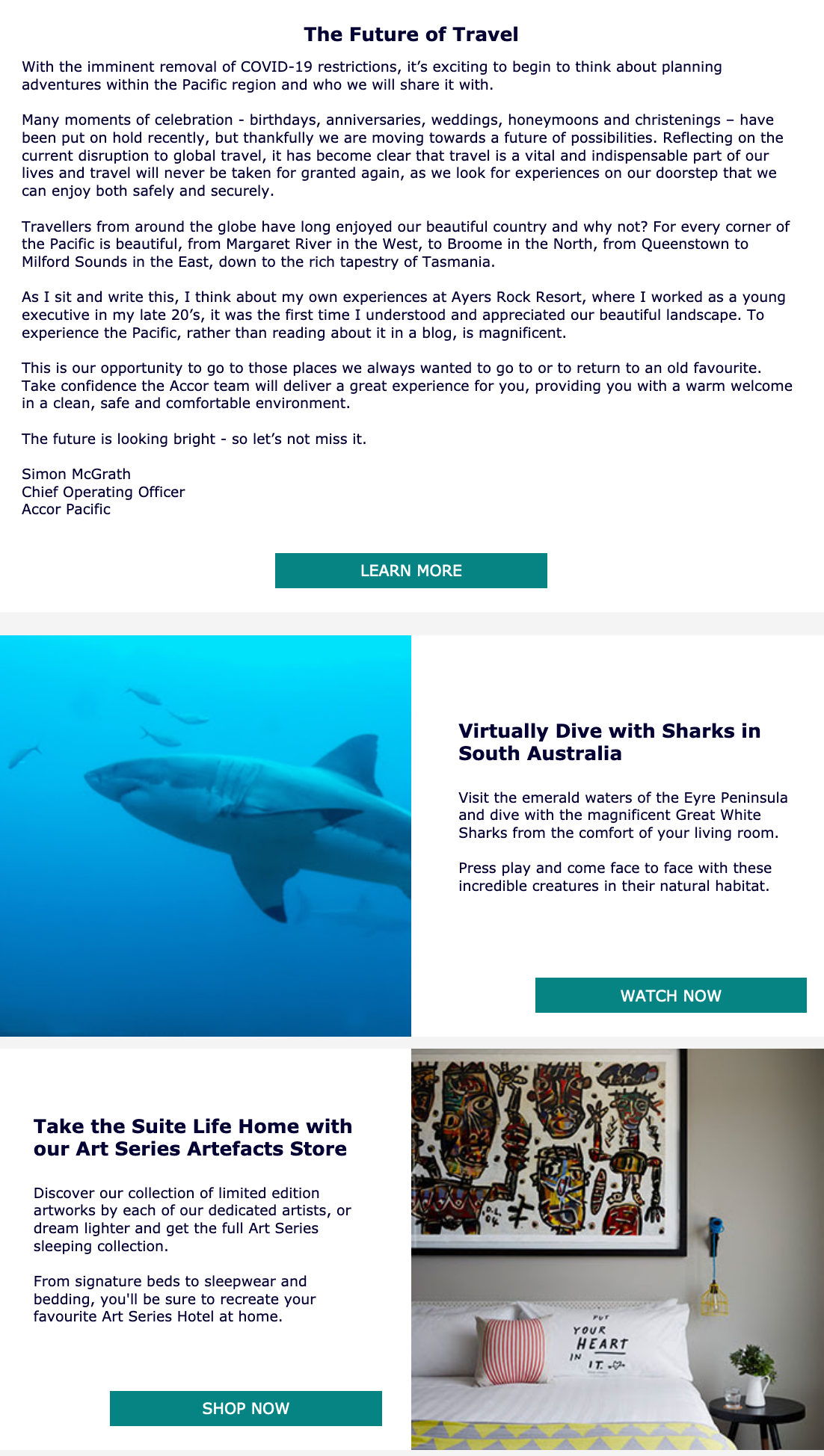 Travel Insurance and the road less travelled
In their email, Travel Insurance Direct encourages travellers to take the road less travelled, with less of a focus on destination and instead the journey itself. The email provides suggestions for road trips, practical advice on how to stay safe whilst driving, and more comfortable alternatives. Interestingly, the email also includes skiing suggestions in New Zealand (whose borders remain closed).
Luxury at home
Luxury Escapes deliver exactly what their name suggests. They're treating inboxes with gorgeous images of relaxing getaways, whilst noting the ability to work remote from these locations. Because after all, you can work remotely from (nearly) anywhere.

How to leverage the opportunity
We've been working with many of our customers over the last few weeks in advance of this announcement. These businesses range from destinations looking to attract visitors, to those providing travel services. The key advice we've provided during this time is that, If you're a travel business, you need to be communicating with your customer base. And you need to do it now.
To get you started, we have prepared these five customer journeys that you could launch with Autopilot today:
Template: Last minute travel program - Sign up to receive hot deals on last minute travel
We all love saving money, and keeping costs down whilst traveling is a huge priority for many travellers. Often one of the first places potential travellers will check when looking for their next trip is a deals page. This journey allows you to capture the attention of travellers browsing your deals and discounts page, and sign them up for promotional emails. By engaging with and keeping track of these deal hunter contacts, you know they're likely to book a last minute getaway, so you can target them with your sales and marketing content
Template: Proactive Headsup captures leads on specific pages of your site and nurtures them with destination specific tips and travel specifics
Over the next few weeks and months your website will be busy with potential travellers browsing for their domestic holiday. So why not target them and send them on a nurture designed specifically for the type of holiday they're interested in? When a new holiday maker engages with a Proactive Headsup message on your website, you can use this journey to highlight all the wonderful opportunities that are available.
Template: Gated content to capture leads - Travel tips for specific destinations, travel planning tips, event specific guidebooks etc
To help travellers get inspired to travel, plan and book their ideal holiday, or pack for the trip of a lifetime, online brochures and magazines are a great way to provide all this information in a neat bundle. Offering this as gated content allows you to ask for a future traveller's details, so you can send them not only their requested brochure, but serve them more offers in the future. Use this journey to automate that process for you, saving you the hassle of following up anyone who didn't download your content the first time.
Template: Post trip follow ups
When a customer ends their trip with you, it's not goodbye. Whilst they're riding high off the post-travel euphoria, use this journey to thank them for travelling with you/ holidaying with you, and ask them if they wouldn't mind giving you a review. You can also target them on social media to encourage them to share their photos and feedback, to show their friends and family how much fun they had travelling with you/ at your destination!
Template: Specific holiday targeting
When a contact visits one of your pages, you should be tracking this engagement and following up, as it's an opportunity to secure a booking. This journey gives you the perfect way to identify what destination, package or experience a visitor is interested in, and follow up based on their previous engagement with your business. For example, you wouldn't offer families looking for a holiday that same trips that would be better suited for a solo traveller. You should also be varying your marketing depending if the contact has travelled with you previously, as you want to remind them of that experience and offer them similar options, or incentivise them to find a new experience.
Let us know if we can help
If you're a destination or travel services provider and want to start leveraging this opportunity today, please reach out to our specialist team today by emailing support@autopilothq.com. You can also try Autopilot free for one month to implement the above templates, and put your marketing on Autopilot.