June 21, 2020
Gaining an edge in the e-commerce market with Zapier, Shopify and Autopilot
From aisle 3 to DTC
When Oscar de Vries founded his eponymous OSCAR Natural brand back in 2008, the retail world was markedly different. His natural Shaving Gel and Oil was flying off the supermarket shelves in Australia and his home country of the Netherlands, but he knew very little about his customers unless they expressly reached out to him.
In late 2012, one such customer got in touch with an unusual proposition: 'I have a stake in a razor factory in Germany and I think you should consider adding them to your range'. Warily, Oscar agreed to try the razor and was floored by what he discovered. 18-months of calls, emails and factory visits later, OSCAR RAZOR was born.
With Gillette holding 70% market share, Oscar knew he wouldn't get much interest from the supermarkets, so he had to take his business online - offering razors on demand and on subscription. In shifting to an entirely DTC model, Oscar became personally connected with his customers and his tech stack became central to his business.
Punching above your weight
"We're a small privately-owned Australian business competing against the might of Gillette and Dollar Shave Club, both owned by multi-billion dollar corporations. It truly is David v. Goliath for us - and it's not one, but two Goliaths!" Unable to compete financially, Oscar knew the only way to get any traction was to "punch way above our weight".
Oscar has been generous enough to give us a 'peek under the hood' to show us how it's been possible for them to become Australia's highest-rated razor, with just a 2-person team.
Shopify-Zapier-Autopilot
"Like many Shopify businesses, we started out with Mailchimp and that meant a lot of bulk emails that were not personalised to the individual recipient. We wanted to follow-up with customers but doing it manually was incredibly time-consuming. We had come to the realisation that we needed an inbound marketing solution, but everyone at the time was recommending Hubspot and that was just way out of our budget, especially as they wanted payment upfront "
One morning in 2016, Oscar was reading the Australian Financial Review over coffee and chanced upon an article about fellow Aussie business - Autopilot - and immediately signed up for a trial. "I'm a visual learner and I was instantly drawn to how simple and intuitive it all was. The price was right and the fact that it was Aussie-owned was the icing on the cake."
Oscar started using Autopilot to send his newsletters but it wasn't until he connected Zapier that he had his true 'aha moment'. "With the Zapier-Shopify integration, I could update Autopilot as soon as someone made a purchase or even as they abandoned their cart. To me, it was a complete game-changer".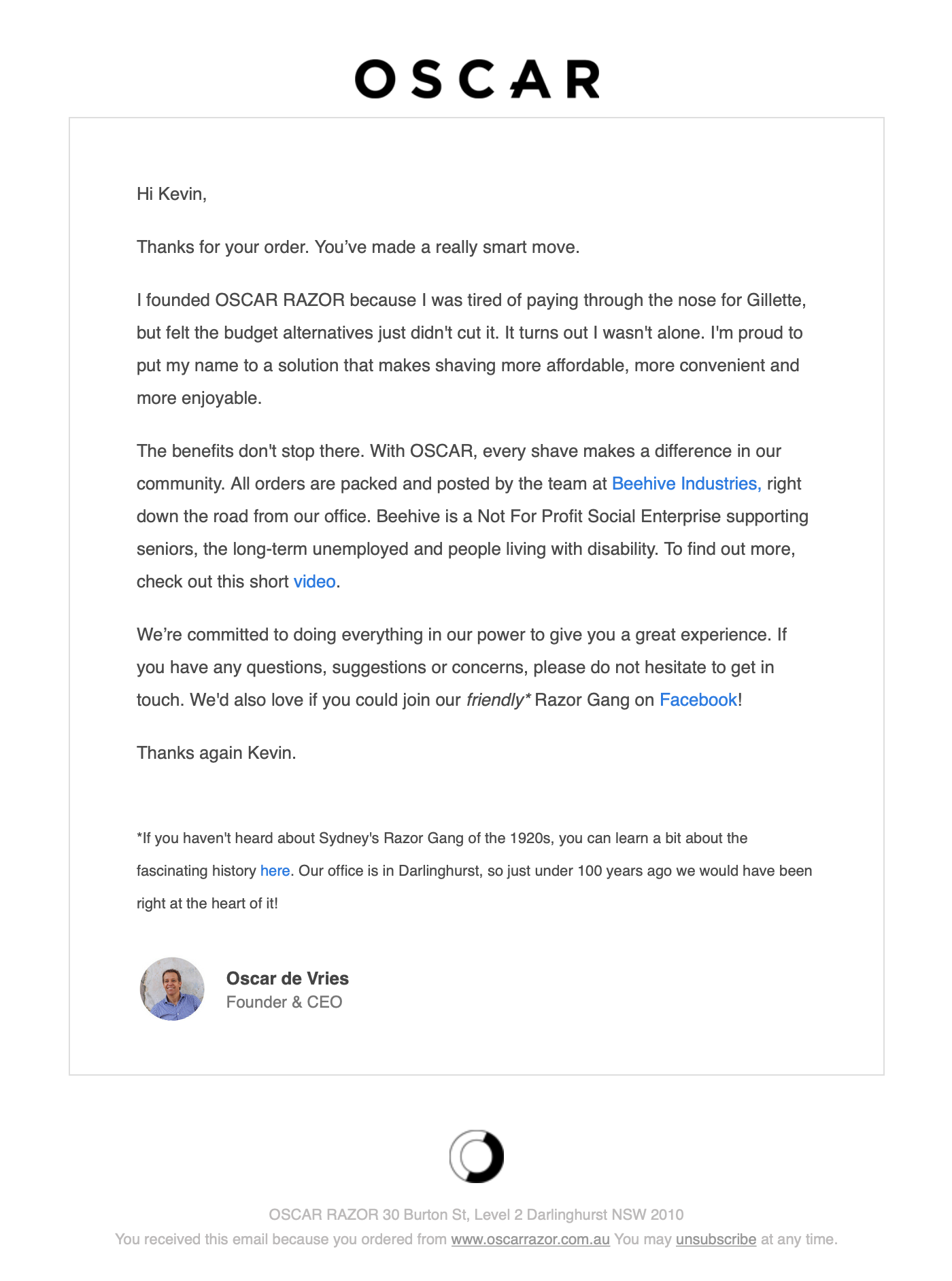 It didn't stop there. With a suite of Shopify 'Zaps' built, Oscar was addicted and wasted no time connecting Zapier to every possible tool in his stack: from Recharge (which powers their recurring billing) to Groove (their chosen helpdesk tool) to Facebook and Google Sheets.
With data automatically pulled from each of these platforms into Autopilot, the OSCAR team suddenly had full visibility across the customer journey: "We knew the exact time to reach out to someone to check-in on their delivery, based on where they are in the country. We also knew whether we'd engaged with them already in Groove. This meant we could build personalised emails that don't feel automated. Every day, we get replies from customers saying how grateful they are that we personally emailed! Of course, we reply to each of these emails (in Groove) and it really builds the relationship."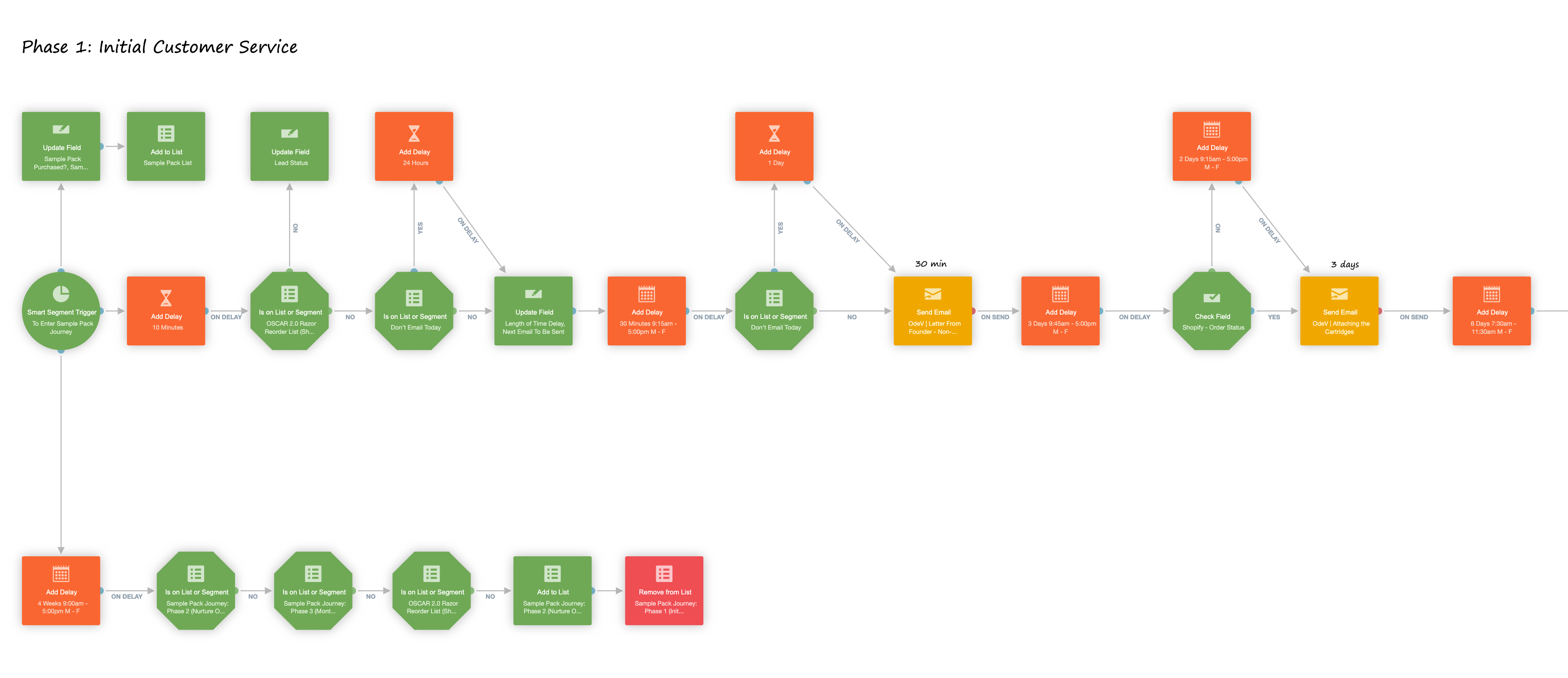 Through Autopilot OSCAR RAZOR has been able to:
Grow their mailing list tenfold by offering incentives to sign-up (Proactive Headsup)
Build a highly-engaging welcome series (their first email above has a 69% open rate)
Nurture customers onto subscriptions
Build an abandoned cart series
Re-engage past customers
Solicit feedback from customers who cancel
Flag issues with their NFP fulfilment partner Beehive
Launch a rewards program
"Autopilot has enabled us to stay lean while customising and personalising the whole customer experience from first visit to first purchase and beyond. In today's business climate you have to be on top form. Autopilot allows you to sleep and run your business 24 hours a day."
Oscar's tips for getting started on Autopilot
It's easy to become overwhelmed with all the things you could or should be doing. Take time to write a list of your goals in order of priority and tackle them in that order.
Use your email marketing as a way of creating conversations with your customers. Rather than a no-reply email, compose your emails so that they invite a response.
It's marketing automation but it's not 'set and forget'. Look at Insights and do A/B testing to make optimisations as you go.