January 27, 2015
Highlights From The 2015 Marketing Automation Performance Report
Today, we are releasing results from a marketing automation performance survey based on feedback from over 300 marketing professionals. The report offers fresh insight into 2015 marketing priorities and investment objectives–put simply, what is and is not working. "We conducted this survey because being a data-driven team, it's important we keep tabs on what the broader marketing community is doing," noted Mike Sharkey, Autopilot co-founder & CEO. We partnered with SurveyMonkey and used their "Audiences" service to recruit independent respondents to participate in the 18-question survey.
Summary: Marketers' Needs Are Not Being Fully Realized
2015 Marketing Automation Performance Report - Where Companies are Investing, Winning, and Failing provides insight into what marketers actually care about: where they spend their money, what pain points they endure, and where they succeed. The report takes a deep dive into marketing automation software– how it is perceived and how it stacks up against competing software strategies. The key takeaway is that marketing needs are not being fully realized, leaving a gap in satisfaction in the profession. The below graphic summarizes other key findings.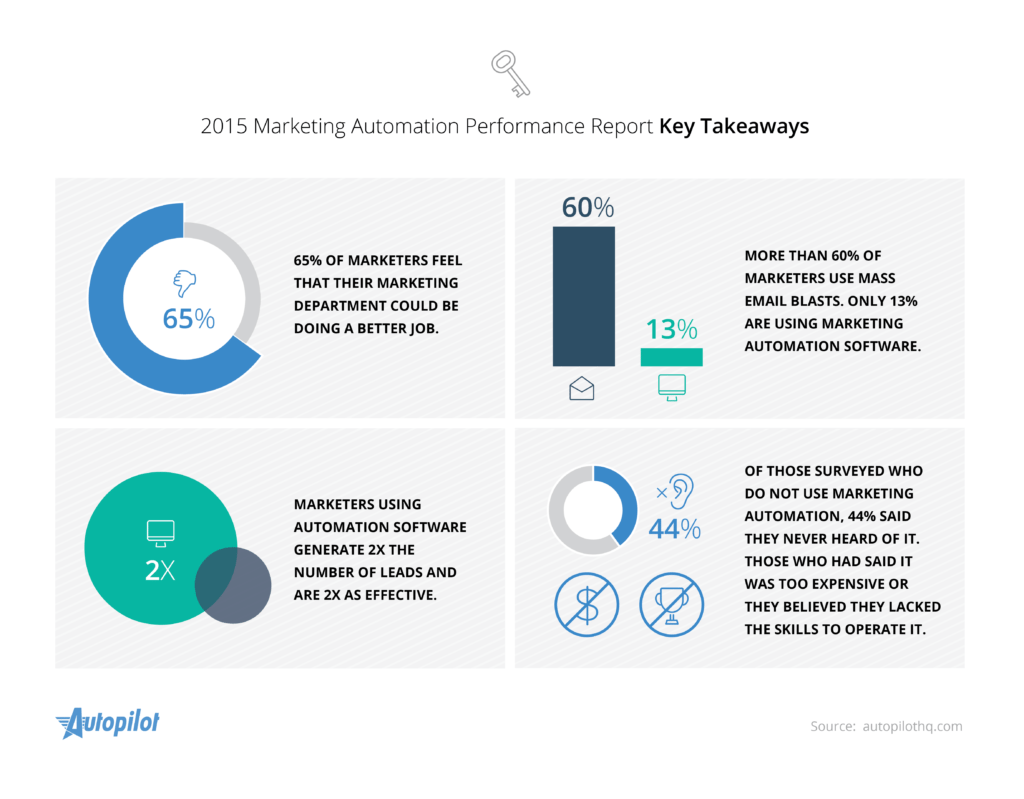 Investing in Web, Brand and Social Media
In 2015, companies are investing more in websites, brand, and social media, and less in advertising. Content-driven strategies designed to attract searchers, followers, and subscribers to their brand through web and social media channels are top priorities for marketers. The below image ranks 2015 investment priorities for marketing executives.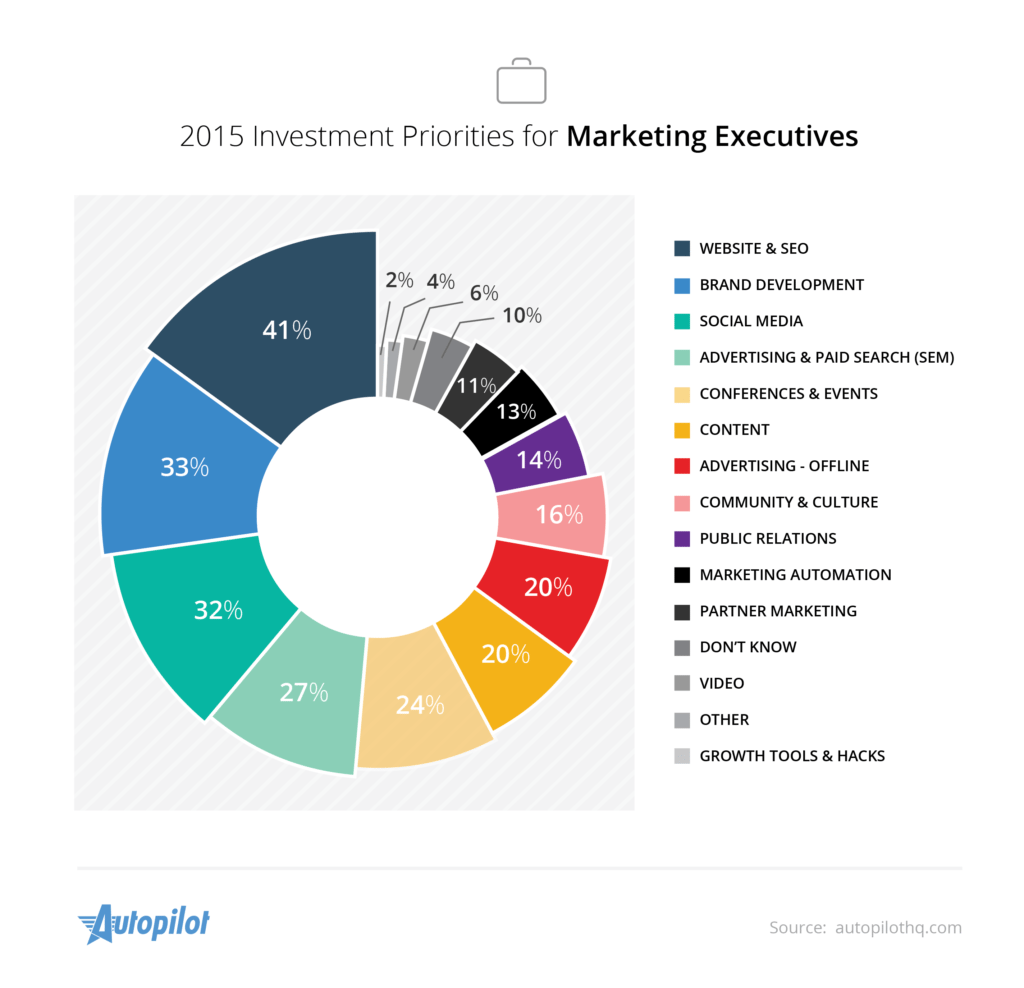 Are Marketers Out of Touch?
According to the report, marketers feel that there is much to be desired when it comes to staying in touch with prospects. In fact, a majority (65%) feel that their marketing department could be doing a better job at communicating with customers. So what are they doing wrong? According to the findings, companies who maintain a regular cadence of communication with customers, at least every two to four weeks, generate double the leads. More than 60% of marketers use mass email blasts to stay in touch with customers, however only 13% are using marketing automation software. So what are they missing out on?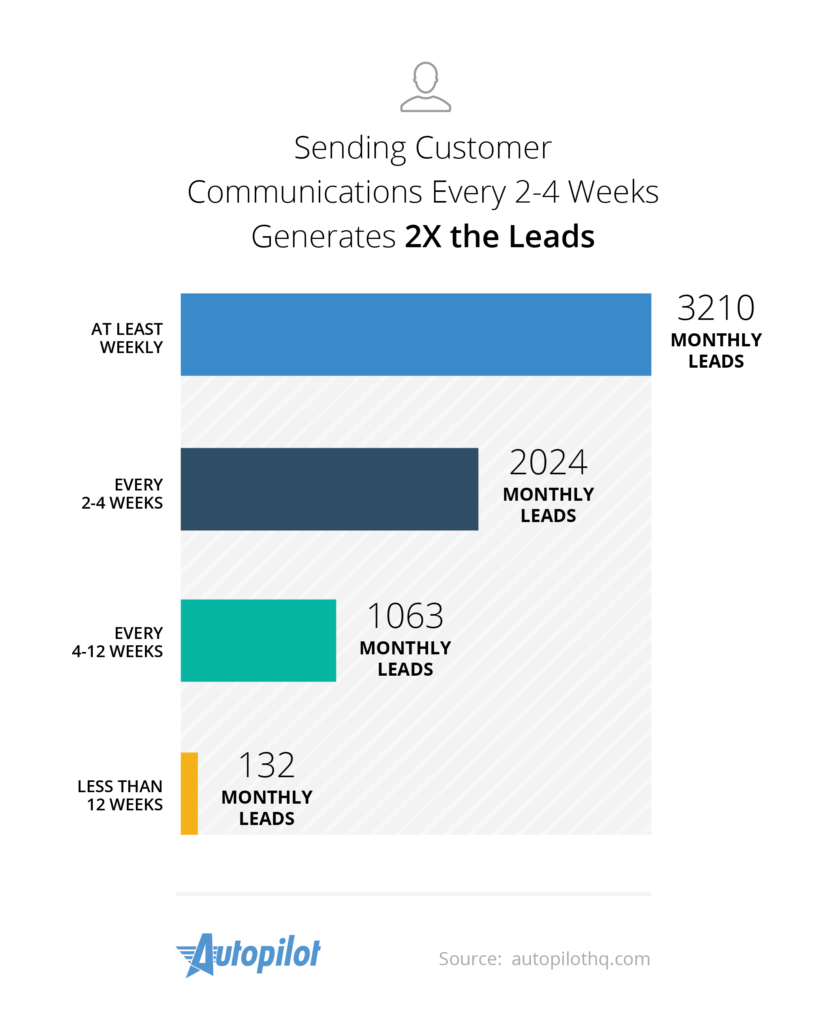 *Marketing Software Needs Work*
While companies using email software still generate more leads than those who use nothing at all, users of marketing automation software trumps both groups by generating twice the number of leads than those using blast email software. Marketing automation software users are also perceived by their peers to be twice as effective at communicating - in short, they're seen to be better at their jobs. So why aren't more companies using marketing automation software? Amongst marketers who are not using marketing automation software, 44% said they have never heard of it. Of those who were familiar, the top reasons for not implementing marketing automation included high costs and lack of skills to operate it. The big takeaway here is that companies and marketers are still struggling to keep in regular touch with their customers and marketing database – and while technologies exist that can make this possible, they are out of reach for most. Specifically, these tools are viewed as too hard to use, and too expensive, for anyone but the enterprise and sophisticated tech elite. The benefits of marketing automation were made clear - companies using the technology generated 2X the leads as those using only email software - but the path to easy accessibility and affordability still needs to shake out. ****Interested in learning more? ****Download the full report** and please share your comments below.**

Comments
Samantha Lee: So excited to start using your program!!!
Jeannie Ruesch: Using Autopilot – just started in the last 30 days and I'm already such a fan. It's so easy, yet so robust at the same time. Thrilled to have found this product!