September 24, 2018
The Best Marketing Automation Software
Marketing automation software replaces the manual and laborious tasks of sending one-off emails and separating your marketing campaigns across multiple platforms.
With marketing automation tools, companies can integrate their email, digital advertising, social media, and lead generation campaigns, while also measuring the impact of the entire customer journey.
According to VentureBeat, companies using marketing automation software report an 80 percent increase in leads and a 77 percent increase in conversions.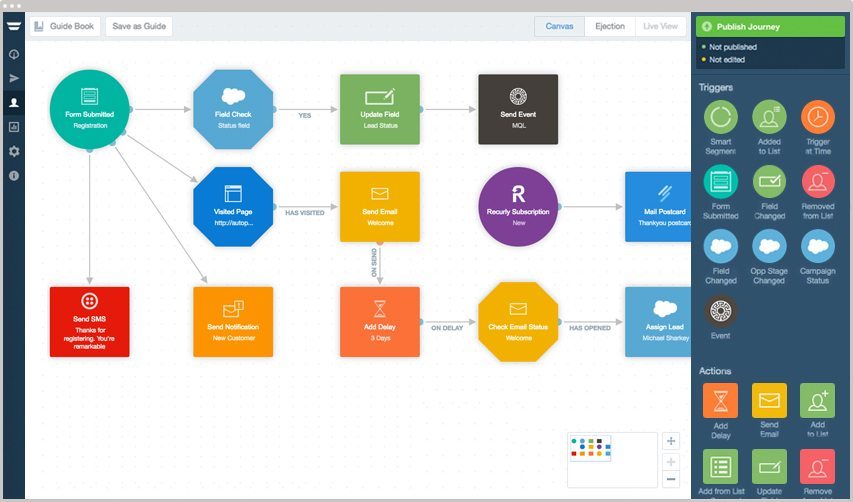 But, before you start comparing the top products, ask yourself these simple questions:
What problem am I trying to solve?
Are you focused on lead management and want to improve how you generate and nurture leads? Are you faced with the challenge of transforming strangers into leads and leads into customers? Do you want an easier way to manage the entire campaign process and workflow?
What features am I looking for?
Do you want to build personalized email drip campaigns or do you want to browse through a list of pre-designed email templates? Do you want to analyze every journey and compare the performance of each message? Do you need to segment your lists into leads and customers?
What channels am I targeting?
Do you target your customers across multiple channels like Facebook, Google, SMS, and email? Are your customers spread far and wide and do they consume content in both the digital and physical world? Do you need to deliver a range of competitive content strategies?
What is my lead management strategy?
Do you have an existing Customer Relationship Management (CRM) software and need a way to integrate it with a marketing automation platform? Do you have a collection of leads and customers scattered across spreadsheets, event lists or sales marketing tools?
What can't I live without?
Do you need to integrate with Salesforce, Pipedrive or other CRM software? Do you need to personalize your messages and keep your marketing on-brand? Do you need a way to build customer journeys and collaborate across teams?
To help you break down what appeals to you most, here's a list of the top marketing platform automation features:
| Marketing Automation | Email Marketing | Lead Management | Multi-Channel Marketing |
| --- | --- | --- | --- |
| Website tracking | A/B testing | CRM integrations | SMS marketing |
| Marketing attribution and goals | Personalized emails | Lead generation and lead nurturing | In-app messaging |
| Customer journey map | Triggered emails | Lead capture and scoring | Facebook and Google ads re-targeting |
| Marketing CRM | Responsive drag and drop emails | Sales pipeline automation | Mobile marketing |
| Marketing collaboration | Customer segmentation | Insights and analytics | Direct mail automation |
Narrow down your search and explore Autopilot's visual marketing automation software:
1. Design and Build Customer Journeys
Autopilot has designed a visual canvas for teams to build and automate repetitive marketing tasks like lead nurturing and customer onboarding. With a simple drag and drop interface or a library of journey templates, you can make every journey personal and contextual. You also have the added benefit of changing the journey path based on how your users respond.
2. Collaborate and Annotate Across Teams
Marketers need to collaborate to achieve the best results. Autopilot's annotate and collaborate feature allows teams to work together in real-time. The canvas acts as a virtual whiteboard to help teams brainstorm, draft, finalize and understand new and existing customer journeys.
3. Segment Leads and Customers
Organize the information you collect about your leads and customers in one place. Autopilot allows you to segment your customers based on activity and demographics to send highly personalized content.
4. Send Personalized Emails
Create branded and personalized emails with pixel perfect accuracy. You can start from a pre-designed template or design your own with Autopilot's simple drag and drop editor.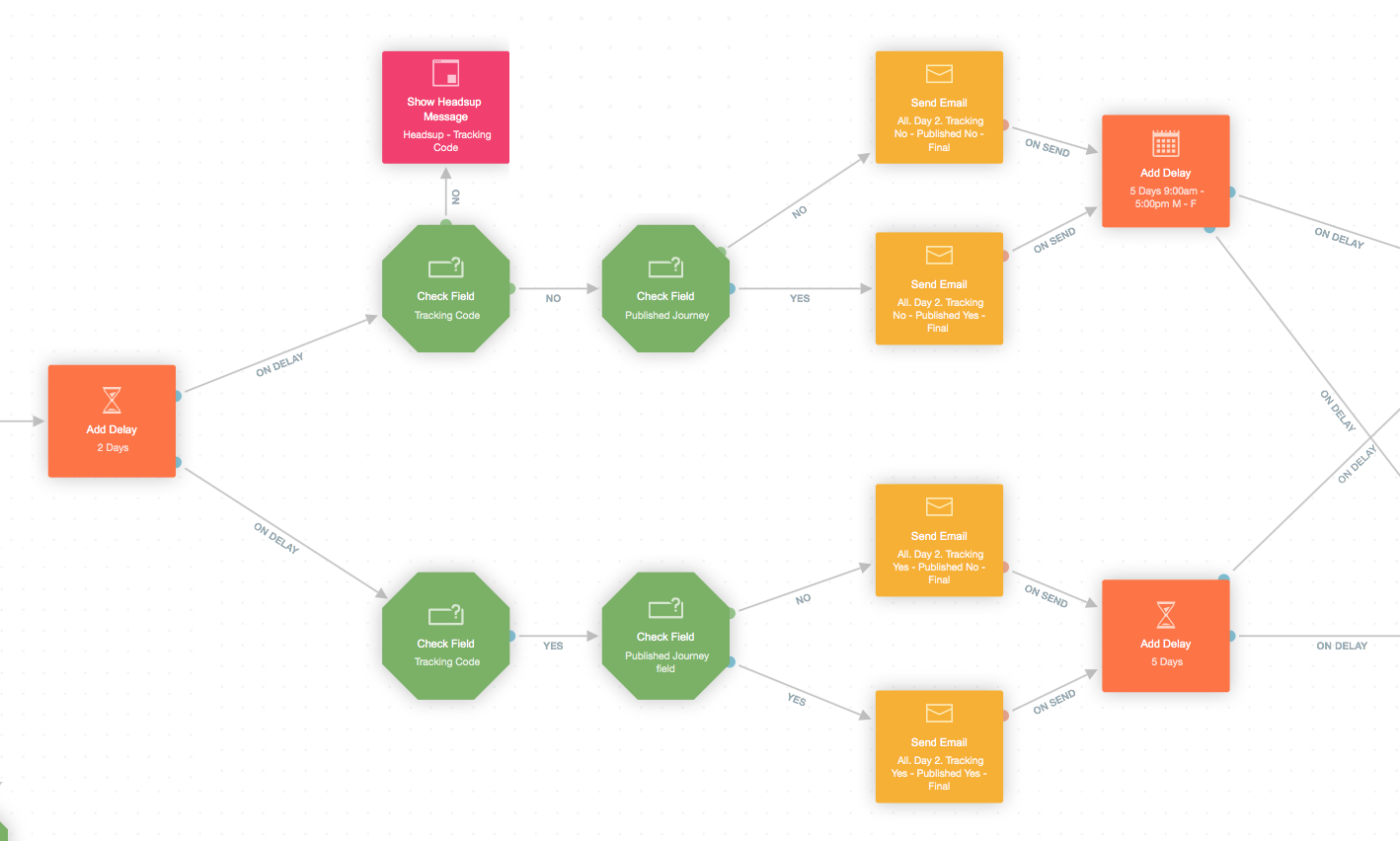 5. Storytelling Across Multiple Channels
Send personalized messages on every channel with ease from Facebook to email, SMS, Google Ads, and even postcards. Sending an SMS or displaying a Facebook Ad is as easy as sending an email. With Autopilot, you don't need a technical skill set to design and publish a campaign.
6. Automate and Integrate with Apps and Tasks
Integrate your existing apps to gain a richer view of the customer journey. Autopilot offers native integrations with Salesforce and Pipedrive to help you assign and update leads. Automate repetitive tasks with the most popular apps like Slack, Typeform, Twilio, Instapage and LiveChat.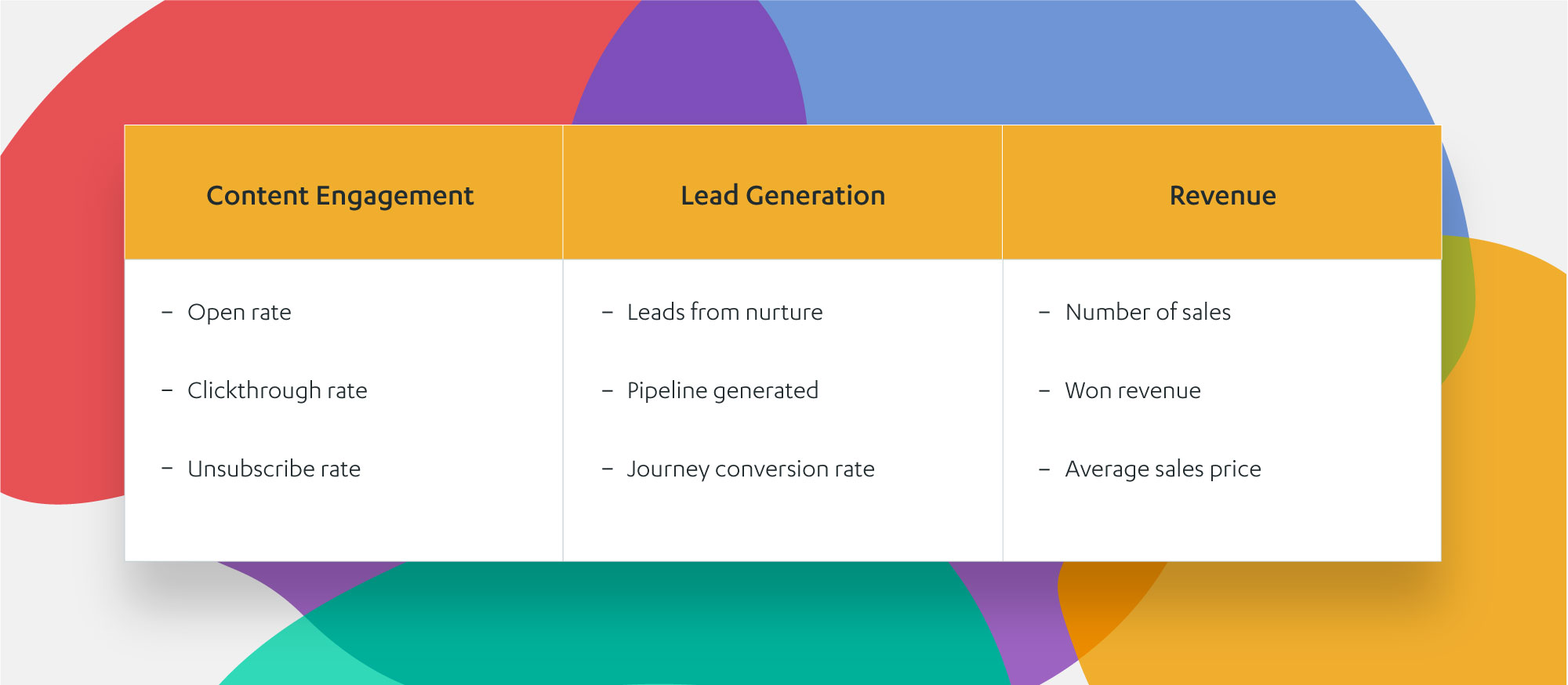 7. Set Goals and Intelligent Insights
Analyze every journey and compare the performance of every message. Autopilot allows you to set a goal for your team and apply lead scoring to achieve and track their progress over time.
The best performing marketing automation software is the one that solves your business needs. It's the one that inspires creativity and helps you increase the capabilities of your team. Revolutionize your marketing and try Autopilot for free today.