September 24, 2015
3 Things Marketers Need to Know to Succeed With Personalization [Research Highlights]
Today we're excited to release the findings from our latest research, "3 Things Marketers Need to Know About Succeeding with Personalization." This 22-page report draws from an extensive survey involving 1,200 U.S.-based consumers, and offers valuable insights into consumer sentiment and online preferences when it comes to when, where, and how brands are engaging them.
The bottom line: 72% of consumers are frustrated with generic marketing
While vendors and marketers are beginning to feel the rumblings that "personalization is the single most important capability for future marketing efforts," the key question is - what do consumers think? According to our findings, consumers expect timely, knowledgeable and personal content – when it comes down to it, everyone just wants to be talked to like they're a real person. 72 percent of those surveyed said they are frustrated when they receive generic marketing that doesn't relate to their interests or past purchases. The below graphic summarizes other key findings from the study: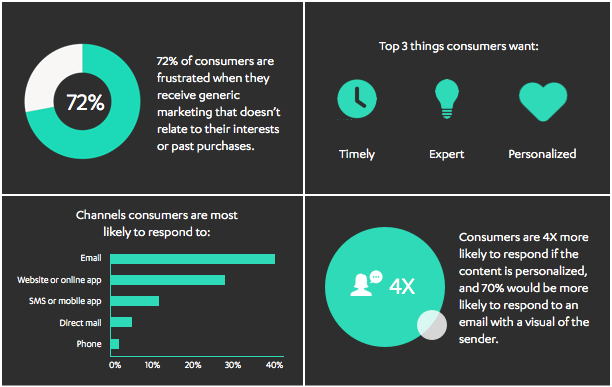 Consumers expect timely, knowledgeable, personal content
Consumers have developed high expectations for marketing to be timely, knowledgeable, and personal, as indicated when asked to select the top three factors that matter most to them when they engage a brand or product. Survey respondents were particularly vocal about the timeliness of marketing they receive. Nearly two-thirds (65%) identified companies responding in a timely manner as the most important aspect of modern day marketing. Take note: the right time for today's consumer is right when they want it. After timeliness, expert knowledge (61%) and personalizing offers and marketing to their needs (49%) were most important to consumers.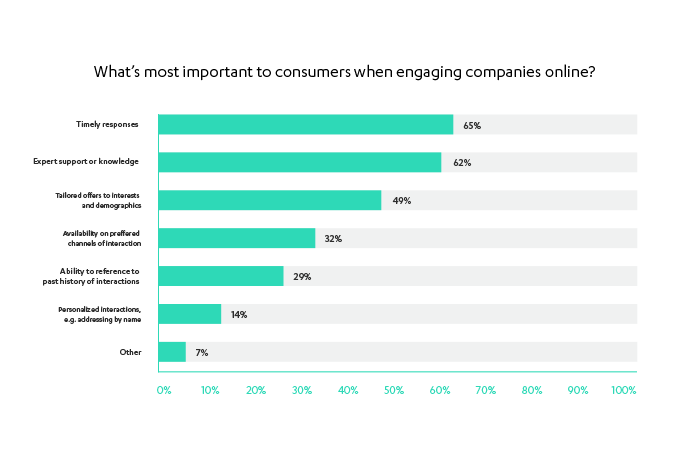 Personalized content yields 4x the results
With recommendation engines like Amazon, Spotify, and Netflix shaping consumer attitudes towards personalized content, consumers are accustomed to receiving what they want, when they want it (55 percent of respondents have purchased items recommended by an online store). To understand this better, we asked respondents to rank the likelihood they would respond to a marketing offer based on whether it was personalized and/or needed. Consumers indicated they were more than four times as likely to respond to an offer for something they need, if the offer is personalized (75%) vs. generic (17%). Additionally, respondents said they would be over twice as likely to respond to an email that includes a photo of the sender. No one wants to talk to an anonymous spambot. Conversely, only 20 percent were "turned off" by a company who uses browsing/purchasing history in its marketing. The 'creepy' factor isn't as big as one might fear (when best practices are followed - see the report)!

"Give me control or give me context" - Consumers
Forbes estimates that consumers receive more than 30,000 commercial messages per day - which makes for a noisy world where marketers must fight for attention. So it would be useful to know on what channels and in what context, you are most likely to connect with your audience. Basically, consumers either want to be able to control an interaction with a company, or else to be engaged in the right context — when and where it makes most sense. We found that over two-thirds of people are more likely to respond to a company's support outreach or personalized offers when checking email (39%) or browsing their website or using their online application (29%). Both email and web/in-app channels of communication allow consumers to control, sort, and manage the interaction without being directly interrupted. Mobile is still the preferred email platform for all audiences, including millennials, although consumers are less inclined to do heavy lifting tasks (like paying bills) via mobile.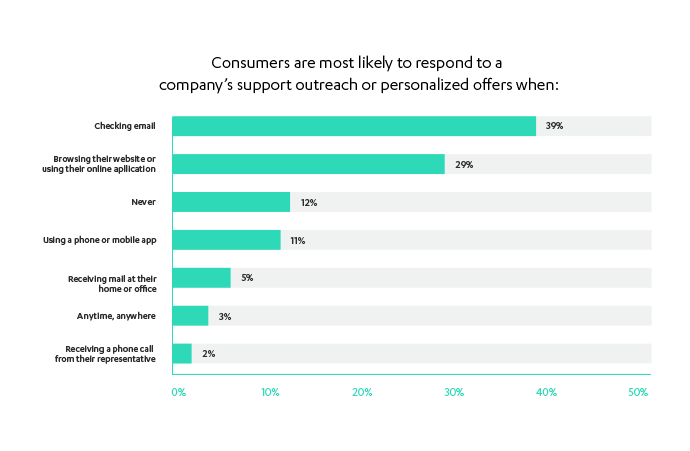 Wrapping it all up
While VentureBeat Insights recently noted that personalization is still in its infancy, the findings of this report have important implications for how marketers and brands engage their customers - you want to be timely, knowledgeable, and personal. Companies who are effective at leveraging mass channels in a personal and genuine way, and consistently deliver good customer experiences, are building communities of raving fans, quickly and cheaply. The most successful companies are using personalization in their marketing to provide a tailored, 360-degree customer experience throughout their customers' journey. By avoiding the generic messaging that most consumers dislike, and by personalizing their email, web, or in-app content to reflect the individual's interests and behavior, companies will be rewarded with higher content engagement, greater brand trust, and more valuable, long-lasting customer relationships. Interested in learning more? Download the full report and share your insights in the comments below.