April 30, 2015
Email engagement
Whether you're building an email list from scratch or sending campaigns all the time, we're all keeping our eyes peeled for examples of high-value emails that people open, read, and act on. This post outlines five email examples that will hook your readers instantly and the secrets to their success.
1. Behavior based emails to encourage product adoption
Behavior based emails are sent automatically at strategic touchpoints to nudge people towards taking the next step in the customer journey. These emails can be triggered by anything from clicking on a call-to-action in an email, viewing a pricing page, or taking action in a web app. They are sent when customers use a product or engage (or not engage) with a website and content in a certain way. The underlying strategy is to help people take the next most likely step in the process of becoming a successful user of your product. In this example from from Eventbrite, an email is sent after a user completes a vital step in using their product - creating an event.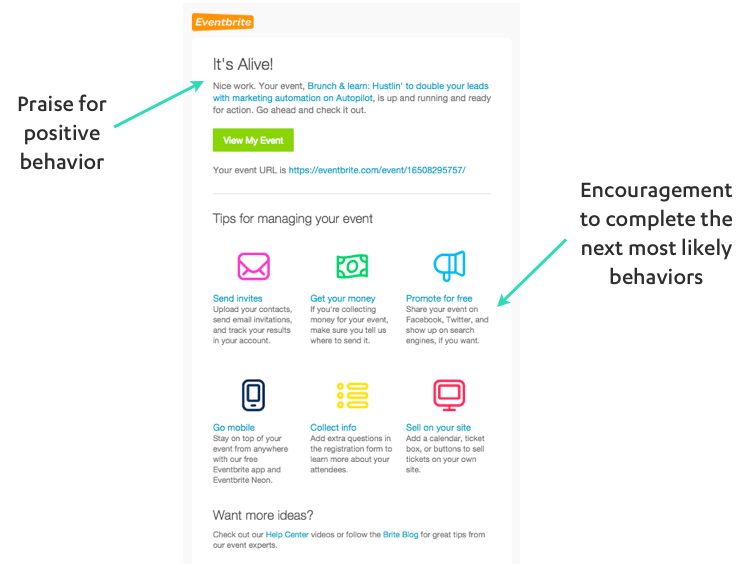 After a person creates an event using Eventbrite, their likely next steps are to send invites, collect money, and promote the event further. Because Eventbrite knows this, they include handy tutorials in their confirmation email so users know exactly what to do next. To create similar emails for your business, map out key milestones in adopting your product and create a set of emails to nudge people along the customer journey. The key email components include praise for the positive behavior and practical tips to complete the the next most likely steps.
2. Personalized emails to ask for reviews
In today's world, people are reading software reviews about your company before ever talking to sales or checking you out on Yelp before ever stepping foot into your shop. This email can help you gain more of those treasured customer reviews.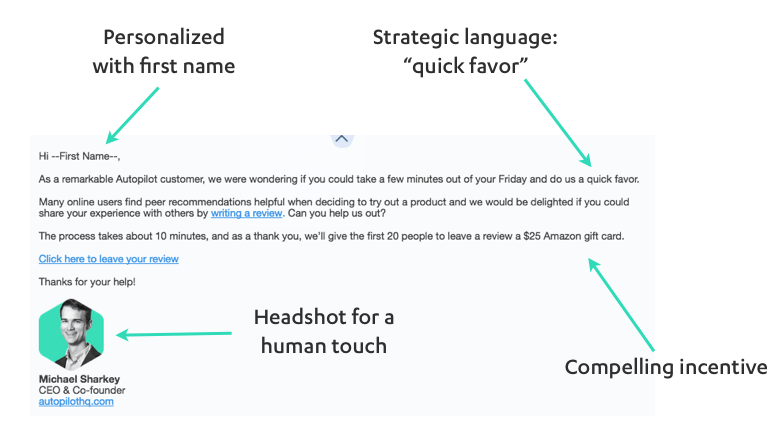 Personalize the email with the readers first name to potentially hit six times higher transaction rates. If it's within your resources, offer a compelling incentive like a gift card in exchange for a review. Include a headshot to add a personal touch and connect emotionally with your reader. According to Sabina Idler in her article about building emotion into your website, "When we see a face, we are automatically triggered to feel something or to empathize with that person. If we recognize content on a website — such as a problem, dilemma, habit or whatever else — we feel connected and understood." To cap it off, make a direct, unashamed ask to leave a review. We know this works. Last week, we used this exact email with the subject line "Can you do me a quick favor?" and saw an 80% open rate with a 31% clickthrough rate. As a result, we crossed the reviews threshold to make it onto this grid of marketing automation tools on G2Crowd.
3. Sponsored email campaigns that drive clicks and new leads
Sponsored email campaigns are an effective way to expand your marketing reach outside of your existing audience and gain exposure for your business. The goal is to quickly show value to get the audience to click through to the landing page and opt-in to your lead nurture machine, where you can guide their journey from stranger to lead to sale. Check out this email we used in a campaign with MarketingProfs: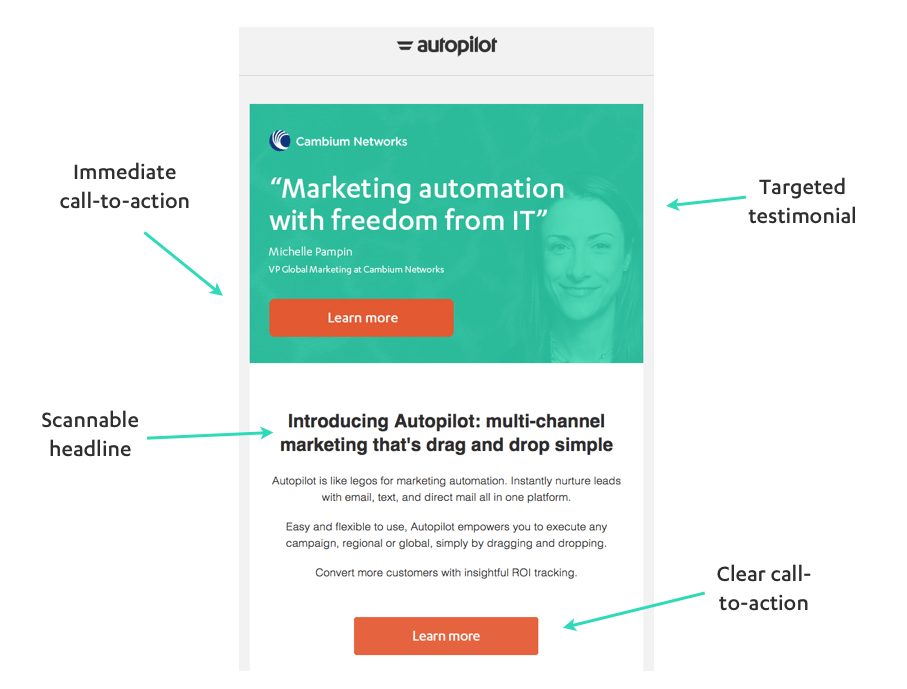 We positioned a call-to-action in the header image below the testimonial, and second CTA below the text for those who are hooked by the headline and body text. The crux of the email is content specifically targeted at leaders of marketing teams looking for an easy-to-use marketing automation solution. You can learn more best practices in our post 9 steps to maximize your sponsored email campaign.
4. Founder welcome emails to get quick feedback
Founder welcome emails are a great way to connect with customers because they result in dramatically higher open and response rates, build a personal connection with the DNA of a company and make users feel like royalty. Not to mention, users are more likely to send insightful feedback when they know the CEO is listening. Tech companies are notorious for sending this email, but this concept could easily be modified for other industries. Examples of where a personalized email from the company's founder can be effective include a marketing consultant welcoming readers to their email list or a boutique shop owner thanking a customer for downloading a lookbook. Here's an example from Tyson Quick at Instapage: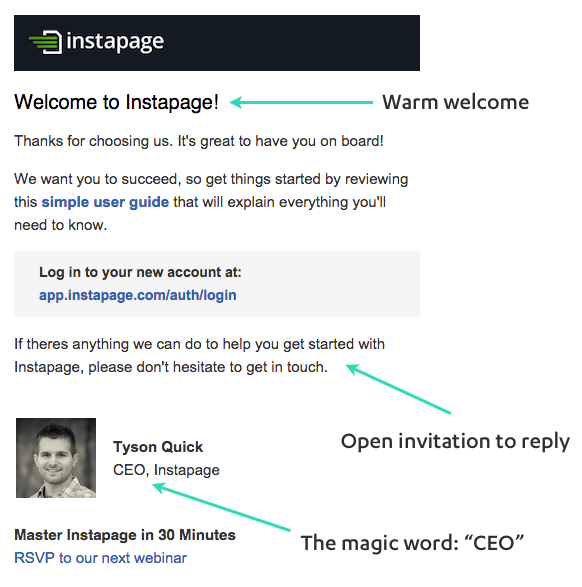 In the above example, the strategic pieces include mentioning the magic words "I'm the founder" and including a direct ask for product feedback. These emails can get repetitive pretty quickly if you're sending them out manually every time you get a new customer. The trick is to automate this email so that you get the same responses while saving yourself a lot of time on mindless repetitive tasks.
5. "Yippee!" emails that make people smile
Sometimes the best way to grow conversion is to make people smile. In this creative example from Segment, they use a GIF to delight users **and **help users go deeper into their product.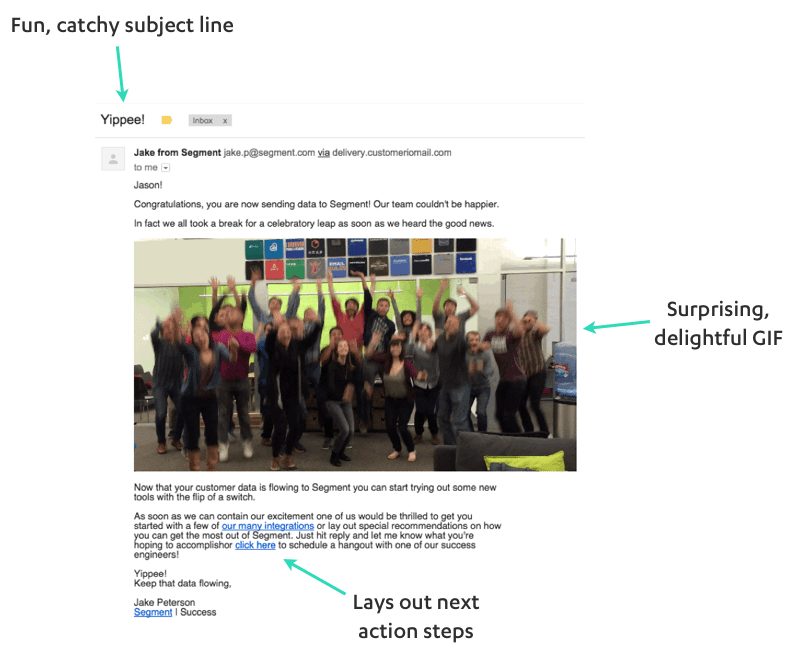 The one-word subject line "Yippee!" landed them a stellar 68% open rate! To add to the fun, they added a GIF celebrating this milestone in their customer's journey. The email ends with a call-to-action to connect with a member of their team to keep the process moving forward. Clever Subject Line + GIF + Call-To-Action = Delightful Email If your audience would love it, look for places you can insert intrigue, surprise, and delight into your customer journey. Do you have any examples of emails that get results? What have you tried in your business? Let us know in the comments.