August 17, 2016
Brand Positioning
_The Daily Show _has lost about 38% of its key demographic (18-49 year olds) since Jon Stewart departed. Believe it or not, that says less about the new host, and more about the old one. Love him or hate him, you can't deny Stewart's impact. He won 16 Emmys. On a fake news show. Because beyond his obvious comedic and producing talents, he understood one very important thing intuitively. Brand positioning.
How The Daily Show became the most popular fake news program
Positioning sounds like classic business school jargon that people use to sound intelligent, but doesn't affect anything in real life. Other terms like "synergy" come to mind here. One reason brand positioning falls in that category is because it can be difficult to pinpoint what makes you different, unique, or better than any other alternative. However, a trick to simplify this is pick an enemy. Over the course of 16 years, Jon Stewart built The Daily Show into one of the most popular shows on its network, while also nurturing and launching the careers of talented comedians such as Stephen Colbert, Steve Carell, and John Oliver. He did it by being unabashedly left-leaning, regularly attacking both individuals and organizations (like CNN or Fox News) which clashed with his worldviews. This is no different than how Steve Jobs went after Microsoft for being unimaginative. Or how the former CEO of Abercrombie and Fitch said their clothes were only for the cool kids. The pick an enemy approach doesn't always have to be so heavy handed. But the point is that you're carving out your own path by stating what you're against.
4 steps to creating your brand position
Successful brand positioning should place you in a category of one. Yet another trite, B-school concept. But that's the ideal scenario or goal to shoot for. Branding consultant Marty Neumeier wrote a short, engaging book called Zag: The Number One Strategy for High-Performance Brands that lays out a few essentials steps to creating your own brand positioning. Step #1. Focus: What do you do (in less than 12 words)? And what is your vision for the future? Being specific, concrete, and actionable is key. Step #2: Differentiation: What's your unique niche or strategy that makes you the only _______? What makes you the only 'X' in the 'Y' category? Step #3. Supported by a trend: Does this category have the potential to grow and rise in the next few years? If so, it'll propel you faster and reinforce your desired brand positioning. (If not, it'll always be an uphill battle.) Step #4. Compelling communication: What do you call yourself and your specialty? This last step needs to be as clear and concise as possible (no jargon allowed). And it needs to be communicated across all various brand touchpoints. The aim, which is obvious by the book's name, is to zig when others zag. The trick is that your positioning should be differentiated because it actually is (not just because you say it is). You can't brand yourself like Coca-Cola if you lack the same billion dollar ad budget. Your product or service's experience needs to be so compelling that it creates a shortcut in people's minds for who you are, what you do, and what you stand for. And there's no greater example than an Arrogant Bastard.
How Stone Brewing became the largest craft brewer in Southern California
Stone Brewing, the 10th largest craft brewer in the country, is celebrating its 20th anniversary this month. The company is rated "world class" by both RateBeer and BeerAdvocate, and is the largest brewery in Southern California – which is no small feat considering it resides in the same county as Karl Strauss and Ballast Point (which won the small brewery championship at the World Beer Cup in 2010). Zagat has called their flagship Escondido location, "The place to be if you're a beer geek". The location is so popular, attracting tourists from all over the country, that they're building The Stone Hotel right across the street.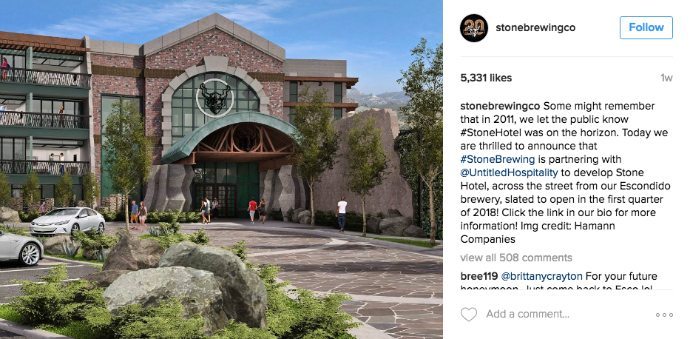 A big part of Stone's appeal goes back to polarization. They aren't afraid to take a bold approach; both in their brand communications and in the hoppy, high alcohol content beers they produce. Their logo, a ferocious-looking, beer-chugging gargoyle, was chosen to "ward off the evil spirits like cheap ingredients, pasteurization, and chemical additives of modern day beer." One of their most popular beers, called Arrogant Bastard, comes with the slogan, "Hated by many. Loved by few. You're not worthy." The actual label on each beer bottle doesn't hold back any punches either:

The company is polarizing in the best sense of the word. An approach this forward is bound to turn some people off, but it also creates passionate brand zealots.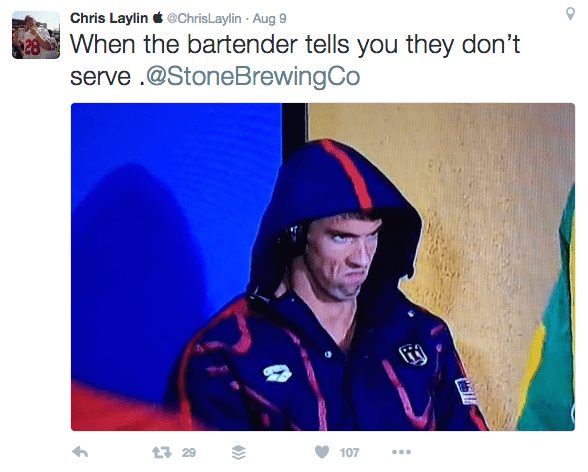 Conclusion
The key to a successful brand positioning is to create an experience that people love by creating a specific, unique vision, and then doing everything in your power make it happen. Stone Brewing is a perfect example. Their positioning success isn't because of what they say necessarily. But what they do to back it up. Same goes for Jon Stewart, who built his reputation by picking an enemy. You don't always have to take things to such extremes. But at a certain point, you're going to have to pick a side, carve a unique path, and follow through in both word and deed. Because at the end of the day, if you want to stand out, you can't also fit in. You need to create your brand positioning.