July 6, 2016
Bulk SMS marketing
Fighting for attention in an overcrowded inbox is hard. But as marketing becomes more mobile-centric, and multi-channel, it makes sense to consider whether SMS is a viable way to reach your audience beyond email. Let's take a look at the SMS marketing best practices to keep in mind as you test out this channel where 90% of all messages are read within three minutes.
1. Stay compliant with mobile-related guidelines
Just like with email marketing, there are rules that marketers must follow for a campaign to be compliant with mobile messaging guidelines as developed by the two main associations that represent major mobile carriers, CTIA and MMA.
Include a carrier disclosure such as "Msg & Data rates may apply" on advertisements for SMS-related campaigns.
Disclose the frequency with which you're sending texts such as "Subscribe to receive weekly offers."
A user must actively opt-in to receive text messages from you when they share their phone number.
Provide recipients with a clear way to opt out. This is why you'll often see language in SMS marketing that says "reply with STOP to stop receiving texts from us."
Make it easy for subscribers to reach customer support such as a shortcode like "HELP", which recipients can reply with to be redirected to customer support.
In short, you should only send SMS messages to individuals who have opted in to your service and are expecting communications from you.
2. Choose strategic moments to send SMS messages
There are plenty of creative SMS use cases for both B2B and B2C companies. The rule of thumb is to send a text when there's a more time-sensitive message that you can't risk being missed in a packed inbox. For example, you could send a quick text to remind registrants that a webinar is about to start or do the same during a conference when a session is about to begin. If you're a B2B company, you could use SMS to intro an account manager, send a quick follow up from a customer service rep, or to confirm an upcoming appointment. You could even send every customer a text message today and make an extra $17,205. Seriously. Need some more inspiration? Here are other ways marketers are using SMS:
Link to download an app to your device
Event or workshop reminders
Status notifications for signed contracts, overdue payments, appointments etc.
Product notifications
3. Send an SMS as part of an automated journey
Whether you're developing onboarding journeys for new users, autoresponder journeys for sales inquiries, or prospect nurturing journeys, you might consider spicing things up with SMS messages. Autopilot allows you to leverage SMS by weaving text messages into your journeys at any step. In fact, customers are over 40% more likely to proceed to purchase when SMS messages are included as part of a multi-channel marketing experience.

For example, let's say that you're setting up a webinar and inviting all of your current leads to attend. You could set up a journey to send next week that sends an SMS to every lead who hasn't registered for the webinar yet, then follow up via email a week later if nothing's changed. You could also send both the SMS and the email within a specific time and delivery window so it feels more natural than scheduled.
4. Personalize your SMS messages with a personalization variable
By nature, SMS is a very personal, one-to-one communication channel. The more personalized you can make your SMS text copy, the better. Include personalization variables like the recipient's first name or company in your messages. This way, your texts will speak personally and directly to your subscribers.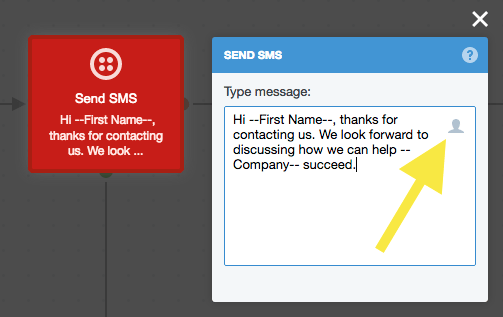 5. Remember that SMS is a unique channel
SMS is a unique channel in that it's direct, underutilized, and cost-effective. Because SMS is tied to an individual's phone number, it comes with a high barrier to entry for marketers. People can be hesitant to give out their digits for fear of being harassed by salespeople. Your job, at a high-level, is to create a compelling opt-in offer where people feel comfortable handing over their number over in the first place, and to build trust with valuable SMS messages over time. Who knew that SMS marketing would become such a powerful instrument in the marketer's toolkit after its inception almost twenty five years ago? We're just beginning to scratch the surface of this channel that will help us go beyond email and create remarkable multi-channel marketing.