April 7, 2016
Content Chemistry, and the Strategy That Takes Marketers From Good to Great
Andy Crestodina is the author of Content Chemistry: An Illustrated Handbook for Content Marketing. Over the past 15 years, he's provided web strategy advice to over 1,000 businesses. We sat down with him to talk through how companies gain traction with content marketing, what defines quality content, and why "content hubs" are the secret sauce to hitting the top of Google search results.
Q&A with Andy Crestodina, author of Content Chemistry
1. So what's the big deal with content marketing? Why does it makes the difference between success and failure on the web?
Websites need traffic, so you need a plan to bring in visitors. There are two ways to do this: advertising and content. Advertising is a problem for a few reasons.
It costs money

It disappears when you stop doing it

People are very good at ignoring it
Ads don't work well with online behavior. People don't really look for ads, share ads or subscribe for more ads. But those are exactly the channels that work well for content marketers: search, social and email. So content marketing is a great approach for people who have useful things to teach and not a lot of money to buy attention. These marketers can publish and promote content, getting traction in those channels and getting visitors to their websites.
2. What's everything you include under the umbrella of content marketing? Blogging? Social media? What else?
There are three basic things that content marketers do:
Create content (blogs, social content, videos, webinars, podcasts, infographics, books, events)

Promote content (search optimization, social media, email marketing)

Measure results (Google Analytics and other tools)
If you think of everything as falling within those three categories, it makes sense. Blogging is part of content marketing, but just publishing blog posts is insufficient. Those posts must be promoted. They need to align with key phrases (search), be built to get shared (include quotes from influencers), and be sent to a newsletter list (given a catchy subject line and call-to-action in an email) Content marketers create, promote and measure. Then repeat!
3. Let's talk numbers. Of the companies you've worked with over the past 15 years, what have been some of the biggest content marketing wins that increased revenue?
Revenue happens when a salesperson sells something. They sell things when they have leads. Leads happen when a target visitor converts. So content marketing helps in two ways: attracting a targeted visitor and convincing them to convert into a lead. The biggest wins are usually about making a website easier and more compelling in general (maximize the conversion rate) and then getting the home page and main service pages to rank (increasing targeted traffic for buyer-related phrases). For some industries, it's not that hard to do. Clients can go from zero to a steady stream of qualified leads pretty quickly.
4. What's the high-level roadmap you give to companies who are figuring out their content marketing strategy?
You've got to start with your content marketing mission statement. If you do this first, you are statistically more likely to succeed with your content. I usually tell clients to keep it simple and just fill in these three blanks: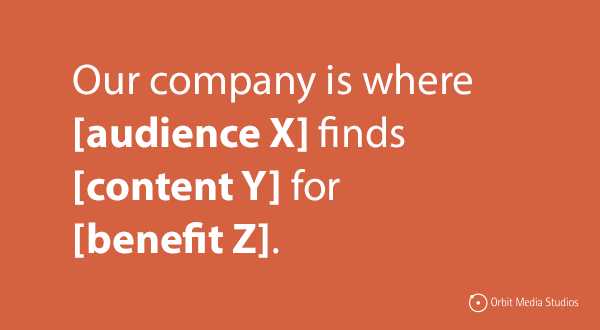 Once complete, they're ready to build their list of topics, keyphrases, influencers and formats. Then they can fill up their publishing calendar and turn on the machine.
5. What is "quality content" and how can marketers go about creating it?
This is a really good question. There are many answers.
Some marketers would say it's about REACH. Did it get viewed and read?

Some marketers would say it's about ENGAGEMENT. Did it get liked, commented and shared?

I think it's about ORIGINALITY. Did it contribute something to your industry?
Original content is the highest quality. There are literally millions of posts published per day. But most of them get no traction at all. Most of them add nothing new to the conversation. Originality is quality. Although it's possible to write original opinions (contrarian views, predictions, true thought leadership) I think this is difficult to do consistently. So I recommend creating original research. Ask yourself: What do people often say in my industry, but rarely support with data? If you can find this "missing stat" and create research for it, you'll have created something truly original, truly high quality. Your audience and your industry may thank you for it…
6. Tell me about this idea of a "content hub" that you cover in your book. What is that? And why is important?
Bad marketers just publish an endless string of loosely related content. Good marketers marketers create content that is interrelated within a larger structure. Great marketers create content hubs, which are based on a strong theme, with tight integration across several areas:
Related topics

Related keywords

Co-created with multiple influencers

Published in multiple places

Created in several formats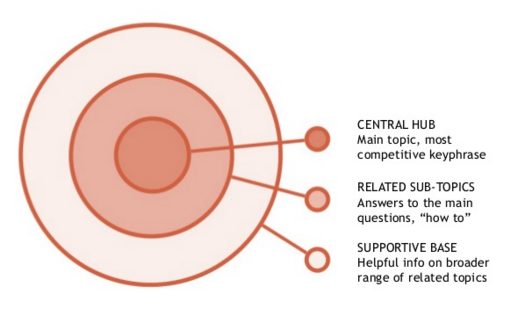 Content hubs require more forethought, more work and persistence than a stream of loosely related posts. But the results are much, much better. Now it's your turn. What content marketing insights would you add to this list? Do you have any follow up questions for the Chemist of Content? Let us know in the comments.