December 11, 2017
CRM Comparison
If you're searching for a CRM that meets your needs, you've come to the right place. In this article, we'll cover everything you need to know before making a decision:
What is CRM software?
Why is CRM software important?
Core features of CRM software
Factors to consider before buying CRM software
Top 8 CRM software comparison and reviews
What is CRM software?
CRM is an acronym that stands for Customer Relationship Management. CRM software acts as a central hub for managing business relationships across every department in your organization. From potential customers to repeat buyers, CRM platforms enable organizations to build in-depth profiles for their contacts. At the same time, they enhance efficiency of sales workflow and improve team productivity and performance.
"Today's CRM software is highly scalable and customizable, allowing businesses to gain actionable customer insights with a back-end analytical engine, view business opportunities with predictive analytics, streamline operations and personalize customer service based on the customer's known history and prior interactions with your business," writes Vangie Beal.
Why is CRM software important?
Using CRM software has three key benefits. It helps you and your team…
Know your customers
CRM solutions provide each individual contact (person) and account (business) with a unique profile that aggregates and centralizes data relevant to that customer. This component of CRM software makes it easier to provide value during every customer interaction and at every step of the buying process. Access to this knowledge can help improve the customer experience, boost your sales performance, and maximize your customer retention.
Get organized
Not only does CRM software act as a central hub for managing your customer relationships, it can also be a central hub for your data. By connecting your finance, operations, customer support, and marketing apps, you gain a holistic view of your business—which helps to focus future efforts.
Having everything stored in one place also fosters collaboration, preventing individual departments from working in silos. That's right: You can say goodbye to working on something all week only to find out that your efforts have been duplicated.
Because CRM software provides your team with access to the information they need to do their jobs well, it can also boost the overall productivity of your team and performance of your business.
Improve your performance
More often than not, how well you perform is dependent on how organized you are. CRM software automates menial tasks, like workflow management, and streamlines your sales process, improving the efficiency of your organization.
Your performance is also dependent on how much you know. Advanced reporting features, like sales pipelines, forecasting tools, and other customized reports, help you identify what's working and what isn't—so you can do better next time. By keeping track of every opportunity, you're sure to boost your bottom line on your way to building a sales force automation machine.
Core features of CRM software
There are five core features of a CRM software:
Contact management
Sales process management
Analytics and reporting
Third-party integrations
Access management
Contact management
CRMs contain unique records for each contact (individual) and account (company), where all relevant data is stored. At minimum, contact records usually contain the individual's name, title, company, location, email, and phone number, followed by any open or closed opportunities, email marketing campaigns they were included in, social media profile URLs (like LinkedIn), copies of email correspondence, interactions with customer service representatives, notes from phone calls, and associated follow-up tasks and reminders. More complex records might include their birthday, education, job history, the names of their spouse and children, their pain points and challenges, and hurdles they must overcome before purchasing. With customizable CRMs, the sky's the limit. In other words, whatever fields you create define the type of information you can collect.
Good CRM applications manage this data automatically. For example, when a contact who fills out a form on your website with new information (like an updated email address), this event should trigger the original record to update without requiring your attention—assuming your CRM is integrated with your lead capture form tool. Similarly, when customer information is updated within the CRM system itself, all instances of that record should update automatically, saving you hours of grunt work.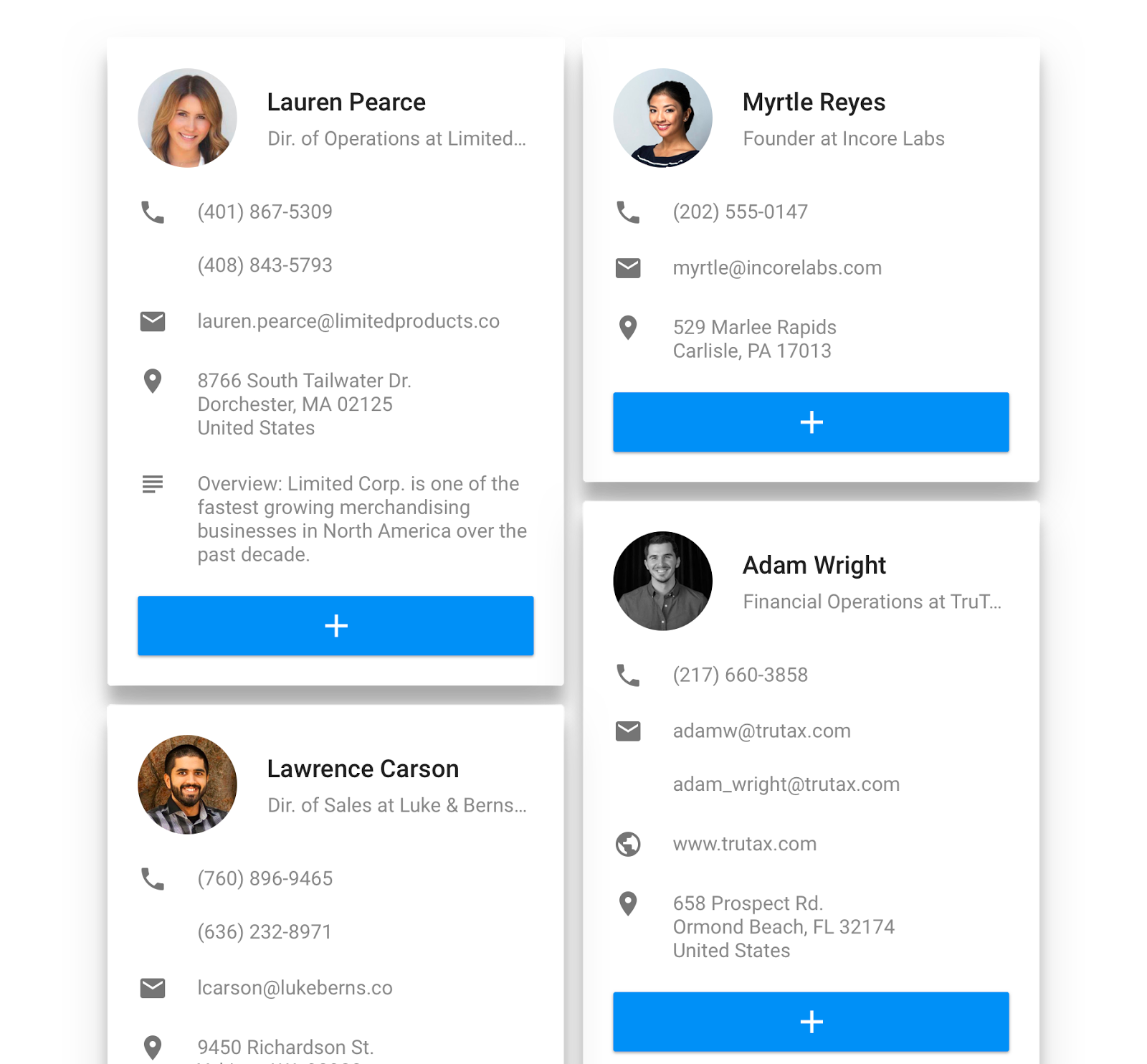 Sales process management
One key benefit of CRMs is that they help streamline your sales workflow. During setup, you're forced to identify and document your sales process (the steps you must take to make a sale). In doing so, you define a repeatable process that your sales managers and pros can follow, which increases their productivity. CRMs also keep sales reps on top of things with automated alerts and task reminders, empowering them to stay nimble, while lowering their workload by reducing data entry. Plus, the analytics and reporting features of a CRM helps with forecasting and quota tracking, which keeps your whole team accountable for results.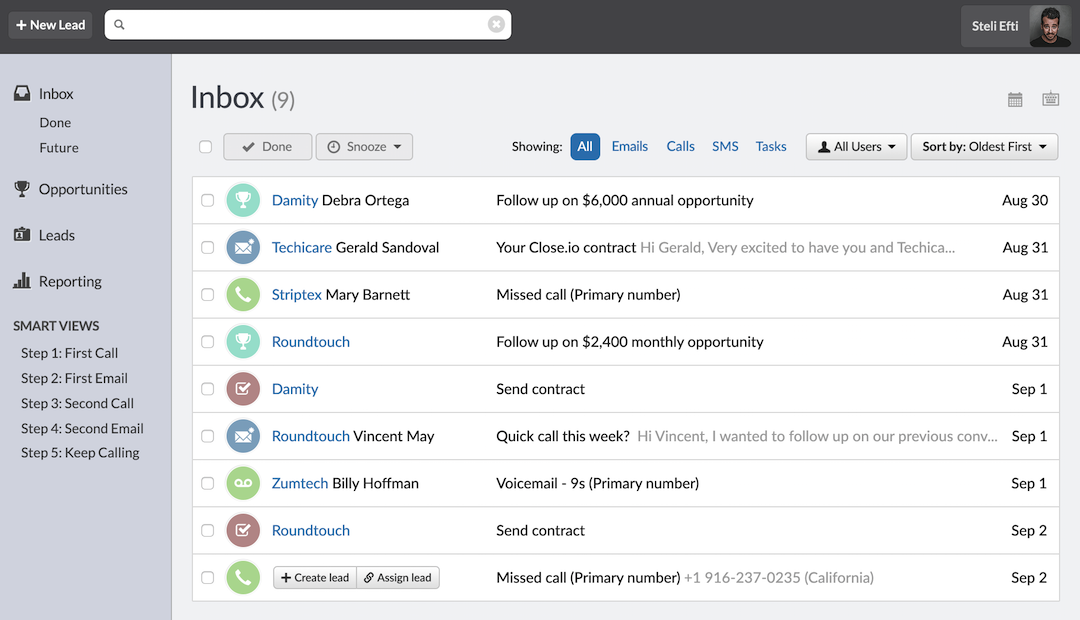 Analytics and reporting
As your central data hub, CRMs are an ideal platform for analytics and reporting. Having said that, most CRMs focus on sales management. For example, sales pipelines reveal which deals are in what stages of the sales process in real-time, allowing you to assess how close your team is to meeting their quotas. Once you've set up opportunity stages, you can also forecast your monthly, quarterly, and annual revenue using your CRM. You can even measure the performance of individual campaigns to see how effective they were at converting contacts into customers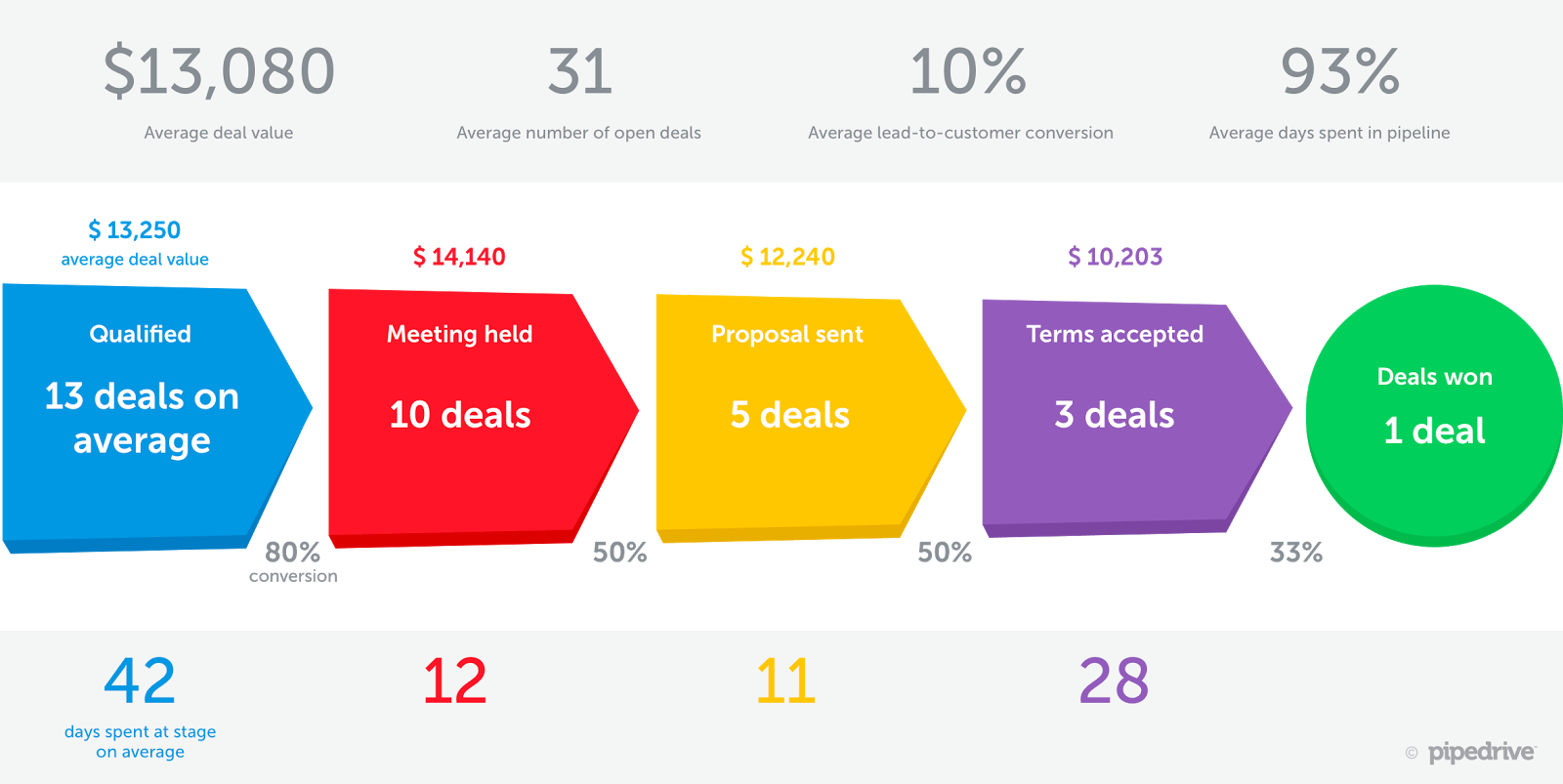 Third-party integrations
All-in-one solutions and software suites are a thing of the past. High-performing companies create technology stacks comprised of many individual best-of-breed apps. For this reason, it's important to choose a CRM that integrates with other tools (like Autopilot). If these tools don't communicate back and forth with your CRM, you end up with conflicting and outdated data distributed throughout your stack.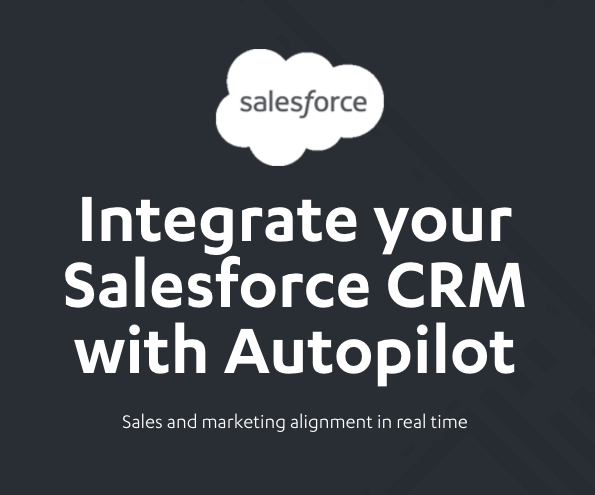 Access management
Most premium plans offer some form of access management, which enables administrators to restrict an individual's viewing or editing permissions based on their role within the organization. For example, some organizations reserve editing permissions for dedicated CRM database administrators. Others allow sales reps to view only those contacts within their territory. Depending on the size and structure of your organization, this functionality may or may not be necessary.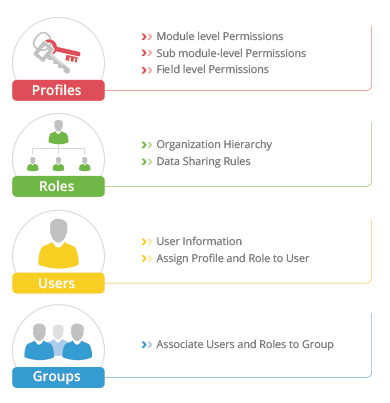 Factors to consider before buying CRM software
Scalability
Switching from one CRM to another can be a big headache. Before making your purchase, consider whether or not this software can support you as you grow. Where will you be 3, 5, even 10 years from now? How big will your database be at that point? How will your needs have changed?
The reality is, successful companies grow. That's why it's important to compare your current and future needs against CRM pricing tiers before making a decision. You'll also want to find out whether the CRM has a proven track record of supporting companies like yours (industry, database size, etc.).
Connectivity
The tools you choose have a big impact on your success, which is why it's best to follow a best-of-breed approach to technology. All-in-one solutions and software suites are a thing of the past. By purchasing a CRM that integrates seamlessly with other tools, you can build a high-performance tool stack now or in the future.
We've noticed one trend that may make evaluating this part of your purchase a little bit easier. Older and more established CRM software companies, like Salesforce, Zoho, and SugarCRM, tend to be built on code that existed before the age of open and connected apps. Because they arrived on the scene earlier than others, they were able to leverage that clout to get people to play by their rules in an effort to grow a community of partners. For this reason, they're more likely to have extensive app marketplaces. More recently, companies started to request things like open APIs—application programming interfaces that give developers unrestricted access to proprietary software. As this trend took off, more and more software companies prioritized developing open APIs. Plus, companies like Zapier stepped in to bridge the gap between compatible apps that didn't already integrate natively. As a result, companies that released their CRMs after 2010 tend to have more powerful APIs and Zapier integrations.
Support
Because CRM software is a centralized place for your sales and marketing activities, it's important to carefully consider what level of support you'll get with the plan you choose. What time of day is the customer support team available? Can they be reached via social media, live chat, email, phone? Don't pinch pennies on this aspect of your purchase. It's also important to consider how big of a client you'll be relative to other users, as it may impact the kind of support you receive. Smaller clients tend to get less hand-holding than larger clients, especially from the larger, more established CRM software companies.
Security
Your CRM is filled with confidential information, belonging both to you and your customers. Consider how your customers would feel if they learned their data fell into the wrong hands. Lost trust almost always results in lost business, so make sure you prioritize security when making your decision.
Training
While some CRM systems are relatively simple and easy to use, the complexity of others makes for a steep learning curve. That's why it's important to find out whether the plan you purchase comes with a dedicated account manager, complimentary training, and support database—or you may end up footing the bill for a pricey consultant.
Pricing
Because CRM systems are priced by user, it's important to consider the size of your team. How many team members will require access to this software? As your company grows, how much will that change? Try to forecast how much you'll spend now and in the future before making your purchase. You'll also want to consider any hidden costs associated with your purchase: app integrations, API calls, external support, and more. These extras can add up.
Another important question is: What's included in the price? If your CRM is hosted in the cloud as opposed to on the premise, how much storage does your subscription entitle you to? What level of support can you access? Are you limited to a certain number of users? How many custom fields can you create? These are all questions you'll want to ask before making a final decision.
Top 8 CRM software comparison and reviews
Now it's time for the big reveal. Which CRM tools made our list?
Salesforce
Prosperworks
Pipedrive
Close.io
Zoho CRM
Base
Insightly
MS Dynamics
All eight offer free trials, contain enviable features, and have happy customers, but which is the best CRM software to choose for your business? Find out below.
A note on Autopilot's integration score
You'll notice that we've given each CRM an Autopilot integration score. This score is based on how well the CRM integrates with Autopilot, which may or may not be an indication of how well the CRM integrates with other software overall.
After analyzing countless CRMs, we gave each a score between 0 and 3:
3 = Native integration
2 = Advanced API connected via Zapier
1 = Basic API connected via Zapier
0 = No integration
Please note: A score of 0 doesn't mean there's no way to integrate; it just means that you'll need to do some development work on a custom API to get things going. For those who are interested, find our docs here. A few folks have already written Ruby and PHP libraries, which you can view here and here. A tenacious crew in Australia has even gone so far as to take 0-scored Sage CRM and develop an Autopilot integration for it. Check it out. When it comes to two technologies playing nicely together, it's not a one-size-fits-all kind of situation. Instead, there's a broad spectrum of functionality ranging from basic to advanced.
Here at Autopilot, we like to think of it in terms of language proficiency: Some integrations understand basic commands (like "hello", "goodbye", and "one beer please"), while others have a more nuanced understanding of the language, including its colloquialisms, idioms, and slang terms. In this analogy, native integrations have a deep command of each tool's functionality and can converse freely. When things go awry, they even offer error handling and reporting.
Professional or working knowledge can be achieved with an app's open API and some developer work. But not every team has the time or resources to develop these.
Luckily, tools like Zapier exist. Zapier adds an easy-to-use interface to any app with an open API, helping you bridge the gap between apps that don't integrate natively. In other words, Zapier can be used to set up back-and-forth communication between two platforms without developer assistance.
A strong Zapier integration with a CRM satisfies 3 criteria:
It has a granular understanding of the structures within your CRM: leads, contacts, accounts, opportunities, stages, activities, notes, etc. Because nuance is important, depth matters. For example, when a contact's status is updated to "nurture", it should be able to automatically remove that contact from your pre-sales emails and move that contact to your newsletter drips. Similarly, when you update an opportunity status to "win", the contact should be added to your onboarding journey, whereas lost opportunities should continue to be nurtured.
It can both send and receive records—continually pushing the most up-to-date information to and from your marketing automation and CRM platforms, including primary fields like the contact's email address. This "bidirectional sync" keep records updated in both systems without requiring any effort from your team.
It can trigger off of both new and updated records. Some integrations can only trigger an action based off of new records (e.g. a new lead). In other words, the conversation falls flat after the contact moves beyond the first stage of your sales process. You want a CRM that can communicate with your marketing automation platform throughout the entire customer journey—from lead to sales prospect, to new customer, and beyond. Strong Zapier integrations keep the conversation going throughout the relationship.
Good, but not great, Zapier integrations have limited functionality. For example, these integrations may be able to create new records but not update existing records. In other words, a new lead could be captured, but your marketing automation software wouldn't capture if and when that lead becomes qualified, which limits your ability to send targeted, personalized messages based on where that lead is in the funnel.
Our priority is to make your life as easy as possible. That's why we've given priority to CRMs that both send and receive both new and updated records, ensuring your data is always synced between platforms. Zapier pricing ranges from free to $250+/month for low-latency, high-volume enterprise plans.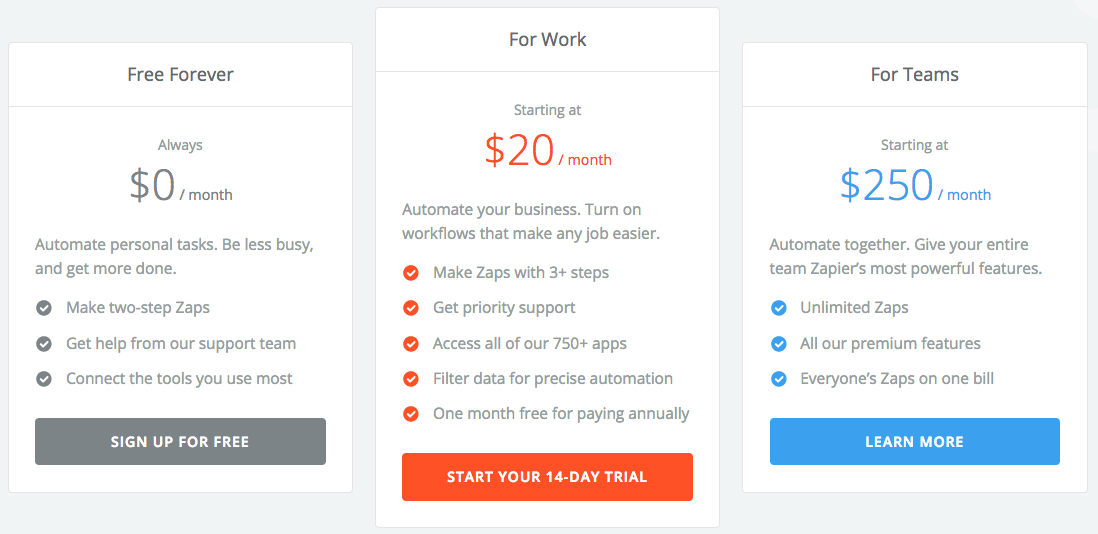 Please note: Some CRMs require a premium Zapier account. We've noted them where applicable.
Salesforce set the standard for CRMs by adding the first widely-adopted user interface to Oracle's unruly customer data. Love it or hate it, Salesforce is a robust CRM system with a wide range of third-party integration partners. If you need a CRM that's highly customizable with 24⁄7 support and have the budget to make it happen, go with Salesforce.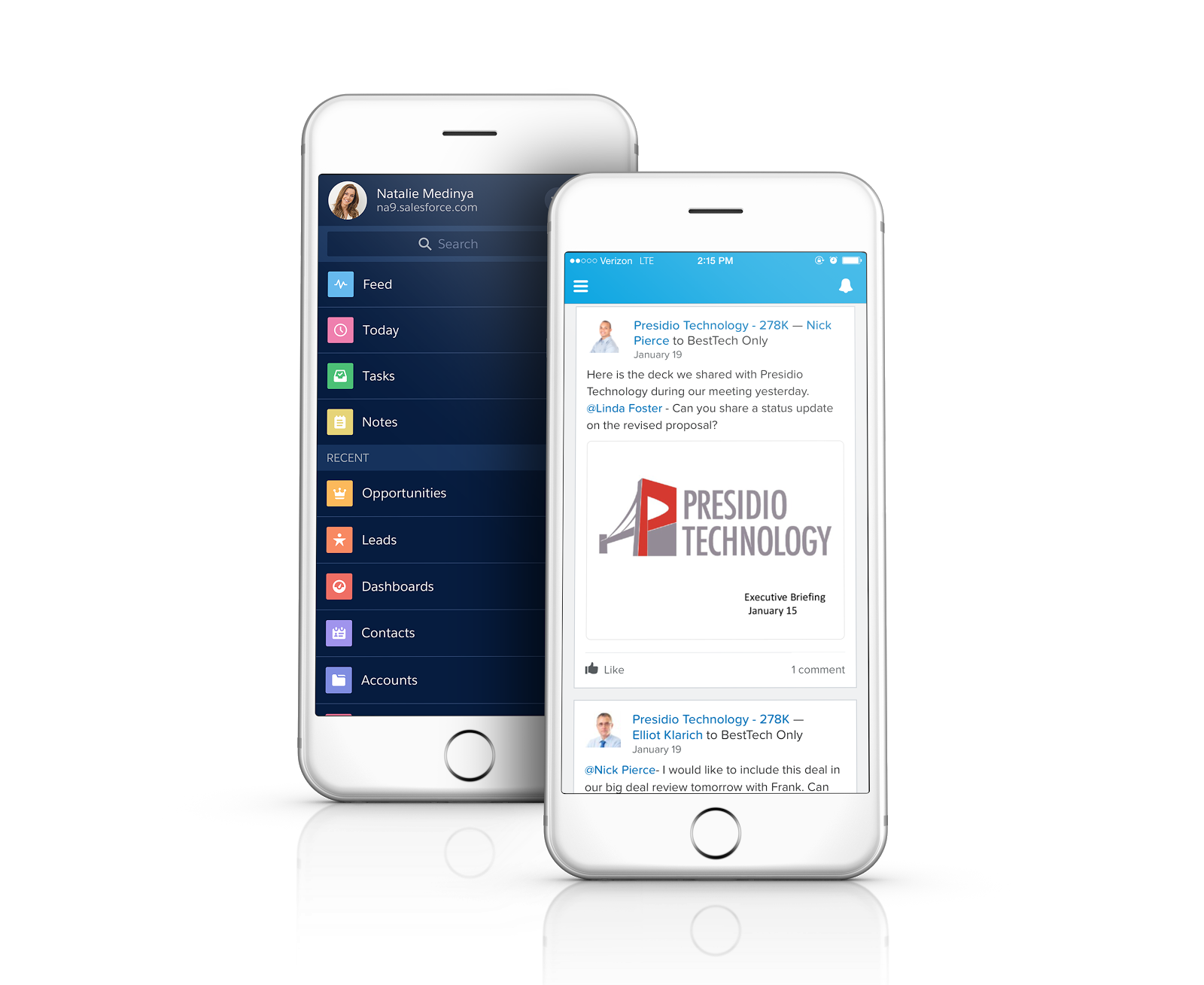 Notable features
Salesforce's best feature is that it can be 100% customized to suit your unique needs. In other words, you can design a custom sales process and define fields that are tailored to your business.
Unfortunately, it's a double-edged sword. To get set up, you'll either need to hire a (pricey) Salesforce expert or sift through their Trailhead docs until you figure out how to do it on your own.
Once you've invested a considerable amount of time and money into getting set up, you may come to the realization that it's too complicated to manage. For this reason, Salesforce works best for larger mid-market and enterprise companies that have the resources to use Salesforce the way it was intended to be used.
Having been around for years, both their help documentation and support community are highly mature. But if you're an up-and-coming company with a small database, be aware: Salesforce won't bend over backwards to assist you with getting set up.
Company size
Salesforce works best for larger mid-market and enterprise companies.
G2 Crowd Rating
With 3879 reviews to date, Salesforce has earned 4.2 out of 5 stars on G2 Crowd.
What users like:
"The all encompassing power that is Salesforce. We use it in every department to keep track of every lead, client, partner, and stakeholder interaction. It is our one stop shop for details on leads, contacts, accounts, and opportunities and the reporting power is huge." — Sarah D.
"Salesforce is an ecosystem solution to your company's marketing, sales and support efforts. There is opportunity to configure and customize as much as you needed to make it work for your specific business model." — Navin P.
What users dislike:
"Overwhelming at first, quite complex and difficult to customize, needs a lot of polishing to adapt to your specific business needs (consuming lots of money and time). The layout of the interface is clunky and is lacking responsiveness, it feels really old. Biggest disadvantage is the lack of outbound capabilities, which translates into wasted time switching between apps and difficulties with reporting and tracking activities (no matter how good the integration is." — Octavian B.
"The cost is a bit high for small companies compared to other CRMs. The setup and learning curve can be a bit daunting if you have never had a CRM before. Be sure to allow time for planning and launch strategy to be sure your implementation goes smoothly. Administrators and managers need to learn the reporting side as fast as possible so they are ready to utilize the data for KPIs." — Brian S.
Price Range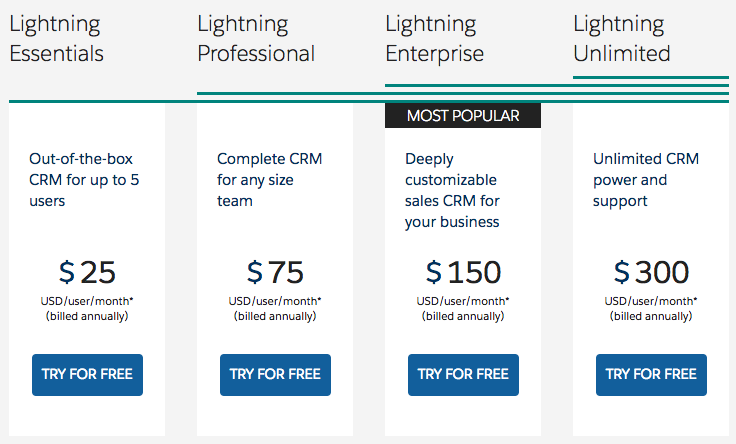 Salesforce's pricing is definitely on the higher end. Click here to see a full breakdown of the features included in each plan.
They've also productized their API calls, which means that it'll cost you to customize your app integrations. Luckily, Autopilot uses the highly efficient Salesforce Bulk API call and offers selective sync, which allows you to choose which records to sync with Salesforce.
Autopilot Integration Score
We're giving Salesforce a 3 out of 3 because it's the only CRM that integrates natively with Autopilot, and it enables you to achieve an unparalleled level of granularity. It's the only CRM to receive this score. Autopilot has a native (think: fluent) integration with Salesforce that keeps accounts, contacts, and leads synced between the two platforms at all times. Here's a great write-up about the integration.
One thing to keep in mind: SalesforceIQ is not the same thing as Salesforce. It's a product built on RelateIQ, which Salesforce acquired in 2014. SalesforceIQ requires a Zapier integration to connect with Autopilot.
Prosperworks is an up-and-comer in the CRM space. It has a simple interface that's focused on quickly and efficiently closing deals.
If you need a CRM that's quick to set up, requires no training, and integrates seamlessly with G Suite (formerly Google Apps), go with Prosperworks.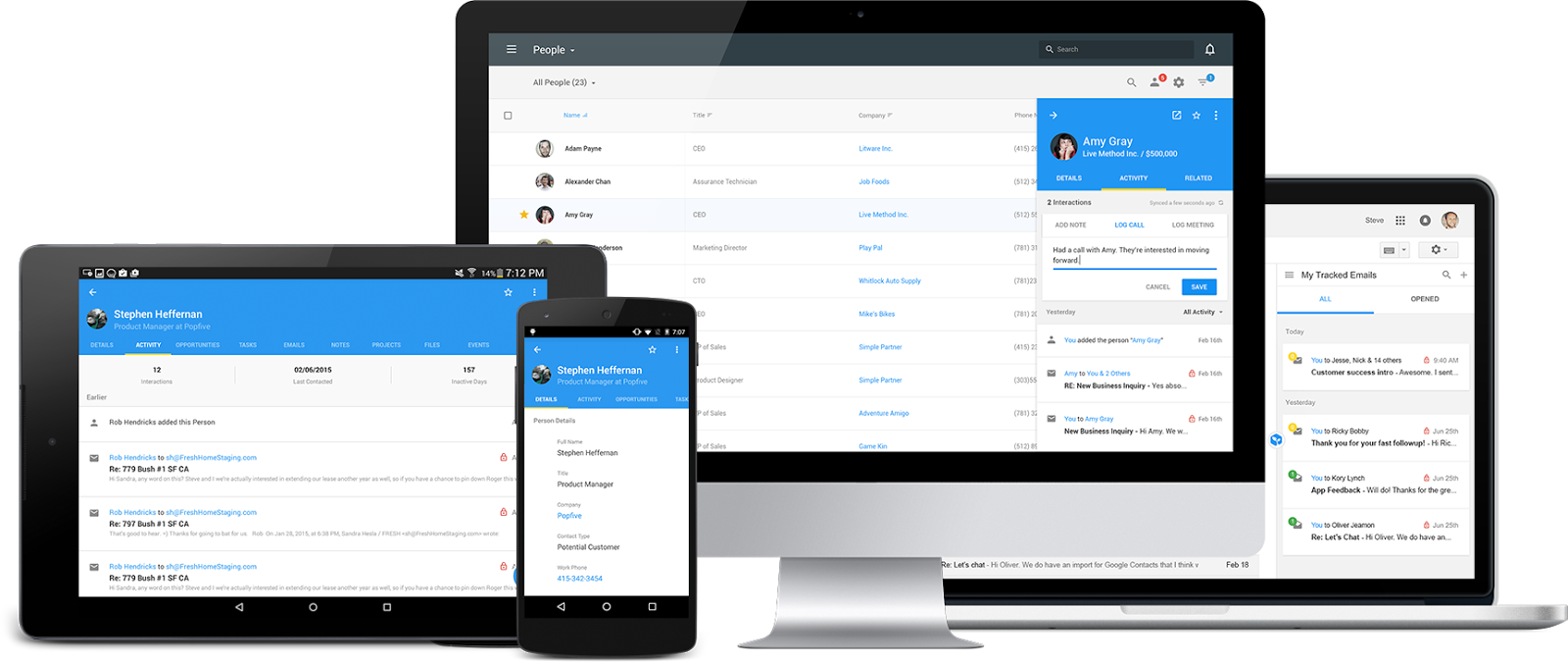 Notable features
One feature we love is the native integration with G Suite (formerly Google Apps), which makes it ideal for startups.
The beautiful thing about this integration is that all contacts are updated automatically between Google Contacts and Prosperworks, and any related emails, files, and calendar events can be automatically linked across your company.
By integrating seamlessly with apps like Google Sheets, Google Docs, Google Calendar, and Gmail, Prosperworks essentially enables you to reduce the number of apps you use to accomplish daily tasks. It even looks and functions like other G Suite apps, resulting in a reduced learning curve for you and your team.
Company size
Prosperworks works best for startups and small businesses.
G2 Crowd Rating
With 271 reviews to date, Prosperworks has earned 4.7 out of 5 stars on G2 Crowd.
What users like:
"I have trialed many different CRM tools over the past several months. I chose Prosperworks not so much because the other were not good (some were quite good) but rather because of the integration with Google apps. This eliminated a lot of redundancy. A couple of examples: All the CRM tools had a calendar. Prosperworks uses Google Calender which I use as my work calendar. So now everything is in one calendar that I have access to 'inside and outside' of the CRM tool. Same with email. They all had integration with Gmail to a degree. However, I found that the use of email within the CRM tools kept the email in the tool. With Prosperworks, they use my Gmail so all of my email stay within my account, again accessable 'inside and outside' of the CRM tool. This was critical for me. And it works really well." — Marvin S.
"Prosperworks is AMAZING!! My favorite part of prospect works is how it functions with Gmail. Every person that contacts me through email all I need to do is scroll my mouse over the persons email name or address and Prospect works on the right side of my Gmail will within 1 second Prospect work well then ask me if I would like to add this person as a lead.

The best thing is that you don't have to switch tabs or upload a new window you can just do it all from your Gmail and also you can add new tasks on the Google Calendar from Prospect works. There's so many other things that I failed to mention but I hope you get the hint. This is the best and easiest to use CRM on the market. Especially if you are using Gmail or Google apps for work (it is highly recommended to already have this when signing up. This CRM has made it easy for me and co-workers to complete a task in just a few seconds with its integration to Gmail. I did not know something like this even existed." — George P.
What users dislike:
"I posted 3 questions in their community forum and Zendesk, but so far haven't received a response. I predict this will change as their community grows and becomes more active." — Reggie F.
"My dislikes are not so much dislikes but rather 'catch up' issues. My other CRM tools have been around for some time and therefore have had a lot of development, particularly around the features. Prosperworks is relatively new so it has some catch up to do. The only dislike is with the Support. I have searched through for many of my questions and found people have asked same or similar questions. But not all have been responded to by Prosperworks. In fact many have responses from other 'power' users. Perhaps this is the business model which may work out in the long run but initially lacks depth." — Marvin S.
Price Range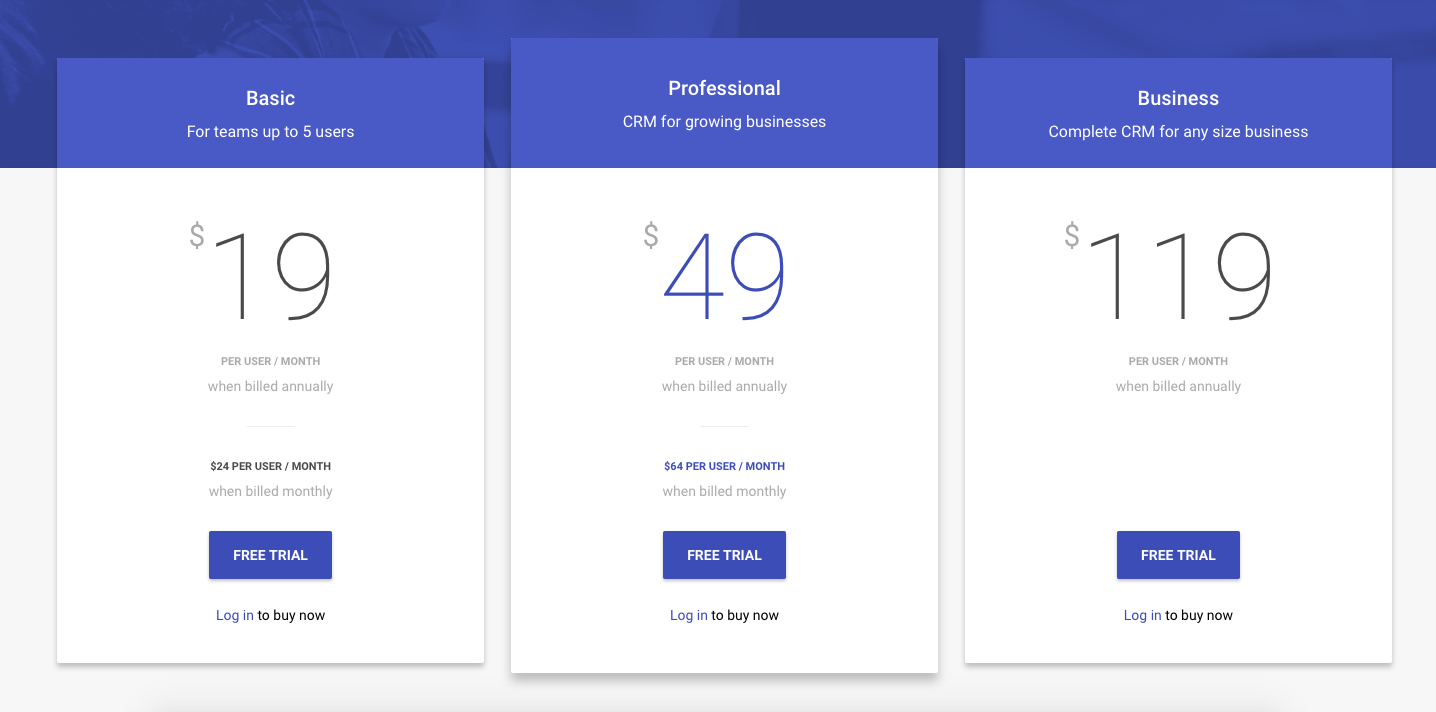 Pricing starts at $19/month per user for a maximum of 5 users, but is limited to 5 custom fields and 30,000 records. By upgrading to their Pro plan for $45/month per user, you'll unlock more records, custom fields, email tracking, and their API. Their Business plan, which is $119/user per month adds advanced administrative features like goals and a leaderboard and comes with a premium customer support.
Autopilot Integration Score
We're giving Prosperworks a 2 out of 3 because it allows you to achieve a high level of granularity, integrates with Autopilot via Zapier, and can both send and receive both new and updated records. For example, Prosperworks can update Autopilot on almost any change to an opportunity, lead, or contact, while Autopilot can create opportunities or activities based on qualification journeys.
After Salesforce, Pipedrive is the next most common CRM we here see at Autopilot. It's a CRM with singular focus: drive deals down the pipe. If you need a CRM that's mobile-friendly, easy to set up, and helps align your team around sales performance, go with Pipedrive.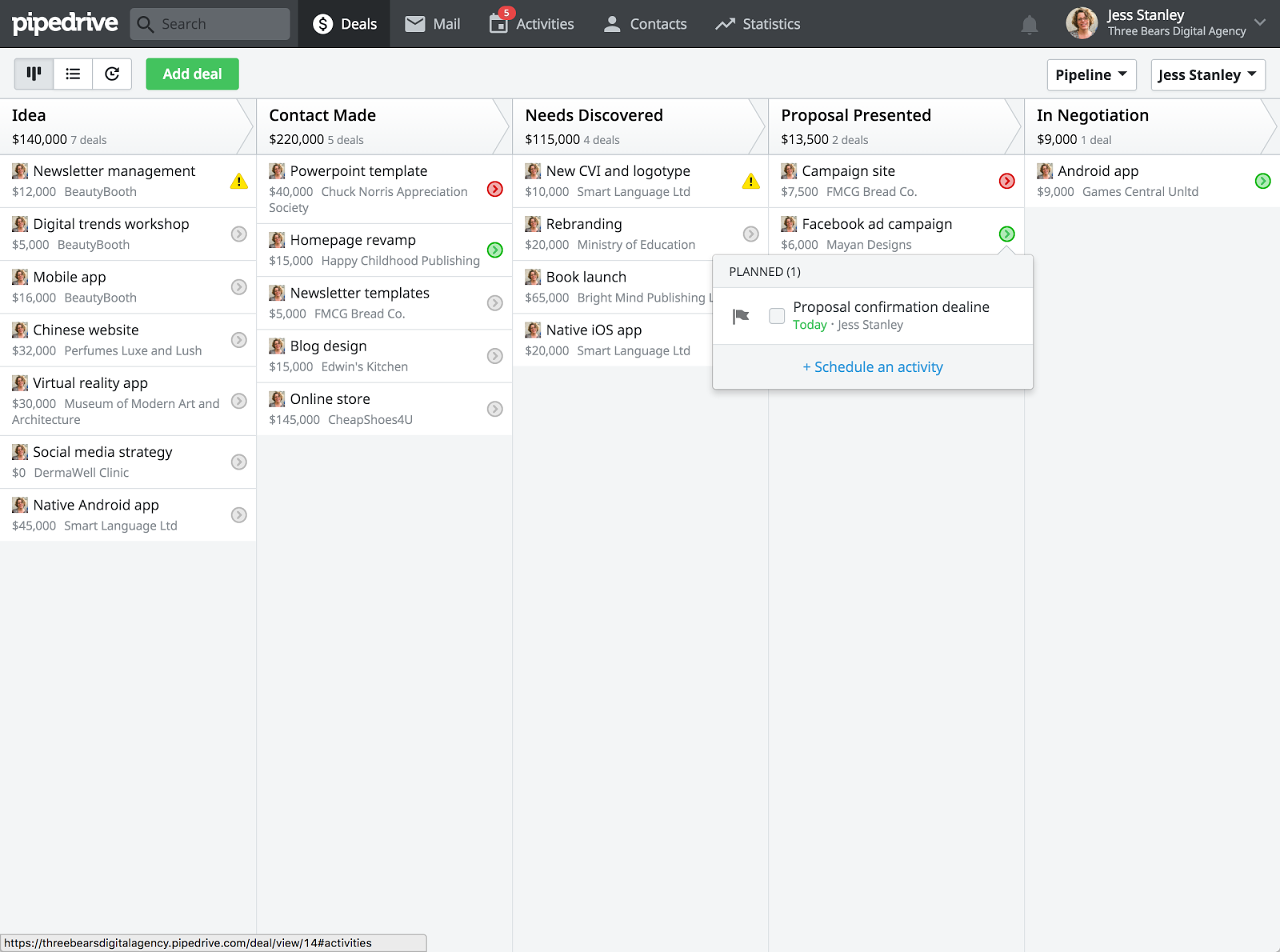 Notable features
Pipedrive was designed with the phrase "less is more" in mind. That is, features that complicate your sales process and require valuable time and resources to manage have been avoided. As a result, Pipedrive delivers exactly what every sales team needs:
An intuitive, easy-to-use interface that helps your salespeople get stuff done fast
A simple sales pipeline that makes individual and group reporting easy and keeps your entire team on the same page
The ability to automate menial tasks, like keeping notes up to date by blind copying Pipedrive on all customer correspondence
One feature we love is Pipedrive's handy form builder, which can capture leads and send them straight to Autopilot for qualification and nurture, meaning your sales team won't be bothered with new contacts until they show buying behaviors.
Company size
Pipedrive works best for startups and SMBs.
G2 Crowd Rating
With 515 reviews to date, Pipedrive has earned 4.4 out of 5 stars on G2 Crowd.
What users like:
"It tracks sales opportunities easily. I like the option to pull the dropdown by sales manager to either limit the view to one sales manager or to show everyone. This allows for a lot of visibility into what each user is doing and is a core feature we feel will allow us to grow. The timeline tracking helpful, because it shows the number of days each opportunity was in each category. It connected easily with zapier. We use that to cause pipedrive actions to send automatic emails to notify us of each opportunity's status and to trigger various users to take their assigned next steps." — Administrator in Real Estate
"Having reviewed and trailed many CRM's - we eventually settled on Pipedrive. Unless you have too much money and time there is no such as the perfect CRM; most will require learning and customisation to meet your specific needs. For us, Pipedrive balances simplicity, features and ease of use with enough customisation to make it work well for our needs. We're a rapidly growing national NGO, and Pipedrive has helped us scale quickly. The integrations with Google Apps and now Slack mean that it also sits (and plays) nicely within our workflow and systems." — Aleem A.
What users dislike:
"Must on BI and advanced reports, weak on security because if you are admin you can see it all, and if you are a simple user you see only your data, there is no intermediate level. People and Organization are duplicated very easy, causing a duplicated register." — Administrator in Higher Education
"Analytics cannot be personalized like lists/reports. It is not a real business intelligence.Quota is limited and probably the weakest part of Pipedrive. It is not possible to control quota by product, month, teams, etc. The integration with Trello could be more flexible. It can only create cards in specific situations/events. It would be good to have more options to create cards and to personalize the information sent to the cards as well. Integration using APIs would be good since we have local (Brazil) solutions and of course they are not available for integration with Pipedrive. That would be good to have cheaper user, just to read opportunities/contacts and manage tasks." — Marcos P.
Price Range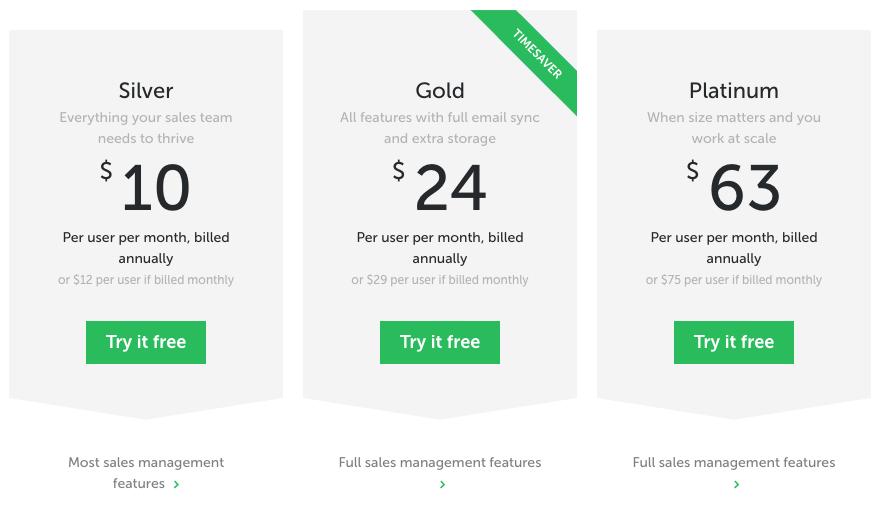 Pipedrive's Silver plan is $12/month per user (if paid monthly) and includes API access, the ability to append emails to records via blind copy (BCC), and 2GB of storage per user. At $29/month per user, you get access to two-way email sync and 5GB of storage per user. In addition to everything offered in the smaller plans, their Platinum plan, which is $75/month per user, comes with 100GB storage per user, dedicated hosting, and phone support.
Autopilot Integration Score
We're giving Pipedrive a 2 out of 3 because it allows you to achieve a decent level of granularity, integrates with Autopilot via Zapier, and can both send and receive both new and updated records.
For example, new people, new activities, and deal stage updates can be sent to/from the CRM. Plus, contacts in Autopilot can be updated to reflect the latest contact information, activity, and notes. You can even create and update deals the contact is associated with.
Close.io is a CRM focused on centralizing all of your sales communications in one place. If you need a CRM that balances mid-level customization with an intuitive user interface, go with Close.io.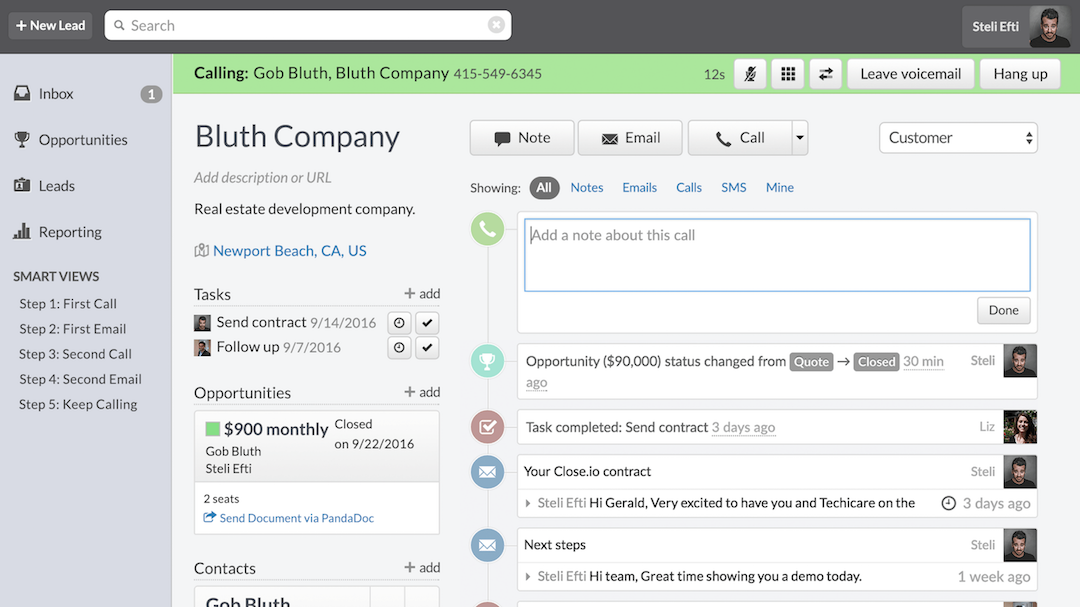 Notable features
Close.io's calling features fit seamlessly into their UI. Sales reps can make and record calls within the app, as well as view aggregate call performance over time. These features are baked right into the product. No plug-in or manual logging required.
Company size
Close.io works best for startups and SMBs.
G2 Crowd Rating
With 33 reviews to date, Close.io has earned 4.3 out of 5 stars on G2 Crowd.
What users like:
"Close.io has really strong base functionality, with good call, email, and lead tracking. The reporting is great for keeping tabs on a small team, and understanding basic activity metrics. Overall the application just works great out of the box, and is organized the way that I needed it to be for my software sales team." — Dave M.
"The simple fact that Close.io organized leads by company rather than a person is awesome. Every email sent, every call made, and every note about a company and all leads within are kept in one place. No more worrying about reps contacting a company someone else is working on currently. Their new inbox feature is great as well since it provides a single screen for what a sales rep needs to get done in regards to follow ups." — Andrew H.
What users dislike:
"The lack of dashboard and a global activity timeline to track who does what in the day, what I need to do today, etc. Pricing is a bit high compared to its competitors though." — Maxime L.
"The only thing that I feel could be stronger is reporting within the platform. While there are many of the basic reporting tools that you need, there are deeper ways that you can dive into the data that don't quite exist within the platform yet." — Cody S.
Price Range

Close.io's Basic plan, which comes in at $65/month per user, includes unlimited records, 2-way email integration, and API access. Their Professional plan, which costs $110/month per user, offers a unique phone number, automatically tracked calls, and unlimited calling within North America. Finally, at $165/month per user, their Business plan delivers custom reporting, a toll-free phone number, call recording, voicemail, and call analytics.
Autopilot Integration Score
We're giving Close.io a 2 out of 3 because it allows you to achieve a decent level of granularity, integrates with Autopilot via Zapier, and can both send and receive both new and updated records.
Founded in 1996, Zoho has spent the last 21 years building out an impressive feature list and network of app integrations. Like Salesforce, Zoho CRM is fully customizable—but at a fraction of the cost. If you have budget constraints, but need a CRM that offers premium features and is flexible to your needs, go with Zoho CRM.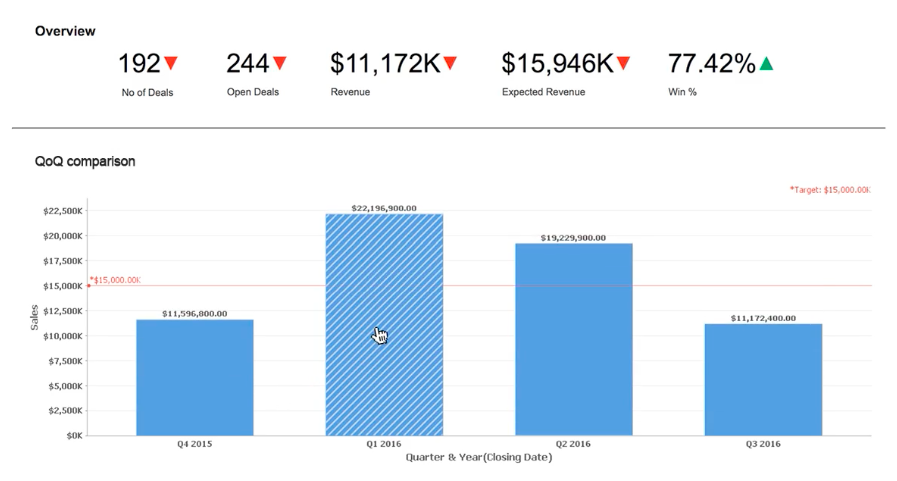 Notable features
Zoho is an all-in-one software suite with a strong network of Zoho API Integration Partners. As a result, the opportunities are endless in terms of what you can accomplish with Zoho. Features include a CRM, survey and form tools, an email creator, developer tools like bug tracking, project management, helpdesk software, accounting software, and more. Clearly their development team hasn't been slacking.
Company size
Zoho CRM works best for mid-market companies.
G2 Crowd Rating
With 457 reviews to date, Zoho CRM has earned 3.8 out of 5 stars on G2 Crowd.
What users like:
"Once the system is set up, it is extremely efficient. It has space and labels for every field we need, and is very user friendly on both ends (input and export)." — Carol B.
"Rich feature-set CRM that is intuitive and very Salesforce like without the big price tag. Allows you to manage you entire sales process from lead through close to account management. Integrates well with Google Apps and Microsoft Office 365. Robust reporting capabilities and data views to group and filter records on the fly. Love that no programming knowledge needed!" — Dean L.
What users dislike:
"The setup is complicated. You need someone well-versed in the system to create the programming specific to your company. We hired someone to do this, and it took some time to learn." — Carol B.
"My only complaint about the ZohoCRM stems actually from the whole package. The CRM is only but a part of the larger, overall Zoho package. And these functions together (along with each separate cost), a company begins to see price comparisons next to Salesforce, which for the most part is bundled altogether. This compartmentalization is SOMETIMES a bit tedious as you begin to expand into other needed products also conveniently provided by Zoho, for an upcharge of course." — Mitchell C.
Price Range

For $15/month per user (on a month-to-month plan), you get 100,000 records, sales forecasting, and the ability to send mass email. For $25/month per user, you get unlimited records, lead management tools, a social CRM, a Google AdWords integration, and workflow automation. For $40/month per user, you get territory management features, workflow approval processes, and the ability to customize a variety of features. For $100/month per user, you get priority support, advanced customization, advanced analytics, and enhanced storage. But beware, list prices don't include…
extra storage (an extra 5GB costs $5/month)
campaigns (5,000 subscribers costs $45/month)
SalesIQ (tracks 100,000 website visitors for another $100/month)
reports (2 million rows costs $80/month)
social integrations ($10/month for one brand across five networks)
Luckily, you can choose what you need and you're never bound by a contract.
Autopilot Integration Score
We're giving Zoho a 1.5 out of 3 because it allows you to achieve a high level of granularity, integrates with Autopilot via Zapier's premium plan, and can both send and receive both new and updated records.
Based on available Zapier triggers and actions, Zoho CRM appears to know the 20% of the language it needs to get 80% of the way there, which is commendable. In other words, it accomplishes what most people need in terms of communication back and forth between Autopilot and your CRM. For this reason, we'd normally give Zoho CRM an Autopilot integration score of 2 out of 3. But because it requires a Premium Zapier account, we've knocked it down to 1.5 out of 3.
Base was made by salespeople, for salespeople, which they claim improves productivity while encouraging adoption. If you need advanced calling features, like call tracking, recording, and analytics, and a #1 rated mobile app so your team can work on the go, go with Base.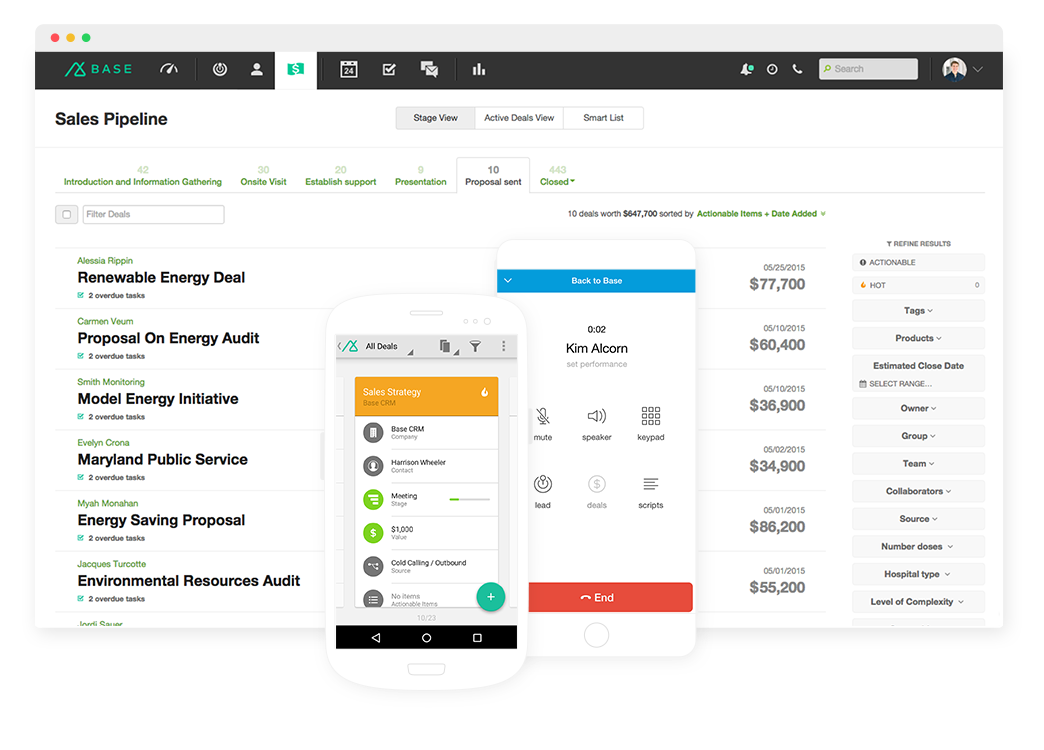 Notable features
One interesting feature offered by Base CRM is their integration with Base Voice, which allows you to call contacts, log calls, and record calls directly from within the app via their Twilio integration. Unfortunately, their website isn't very transparent. Before having our questions answered, we're funnelled directly to their free trial and demo request pages. For example, while they claim to have lead scoring capabilities, we were unable to confirm whether they're driven by AI—and without machine learning, lead scoring is flawed.
Company size
Base CRM works best for startups and SMBs.
G2 Crowd Rating
With 103 reviews to date, Base CRM has earned 4.5 out of 5 stars on G2 Crowd.
What users like:
"It offers everything I am looking for - and more. The mobile app is unparalleled, allowing me to quickly enter calls, create tasks related to deals and quotes, track and log my emails, texts and calls, see what I have on the go, create new Leads, and so much more. The app alone is by far the best mobile experience I have had on any product like this. When it comes to the overall experience, the customization was key for me. I was able to quickly setup my own pipeline, create custom fields for clients and deals in relation to the services I offer (vehicle information, documents, etc), and integrate it directly with my Google Contacts and apps, so everything stays fully synchronized with my phone. Seeing all the information on one screen - including deals, leads, communications, documents, tasks and notes - for a single customer, makes getting information I need take much less time than I ever imagined it could." — Tyler H.
"BASE is super intuitive. Out of the box (so to speak) you get 90% of its promised functionality without additional set-up. What I like even better is the intuitive screen design. You don't have to 'hunt' for the information you need. You can control the app with one finger if you need to look things up while you're sipping coffee at Starbucks ;-)" — Mike W.
What users dislike:
"There are a ton of features that are rough around the edges. For example you can't merge leads, multiple email addresses for a contact are a pain. A bit too much admin work if you are cranking through leads and want to do simple things like bump calls that are no answer." — Glen B.
"In my opinion there isn't a lot of automation. There's no solid way to implement a followup regiment across your team, so I worry wether people are adhering to the protocol we've mandated, which means that I spend a good bit of time manually sifting through salespeople's data to make sure we're all following instructions. Other CRMs allow you to create workflows and prompts to take action are triggered by that plan i.e. day 1 make a call, if no answer send email, if email is opened do this, if the email is not opened then do this instead, and day 2 followup is based on the outcome of day 1 etc. and you end up with this really robust process that eliminates subjectivity and basically tells the salespeople what to do everyday." — Rob S.
Price Range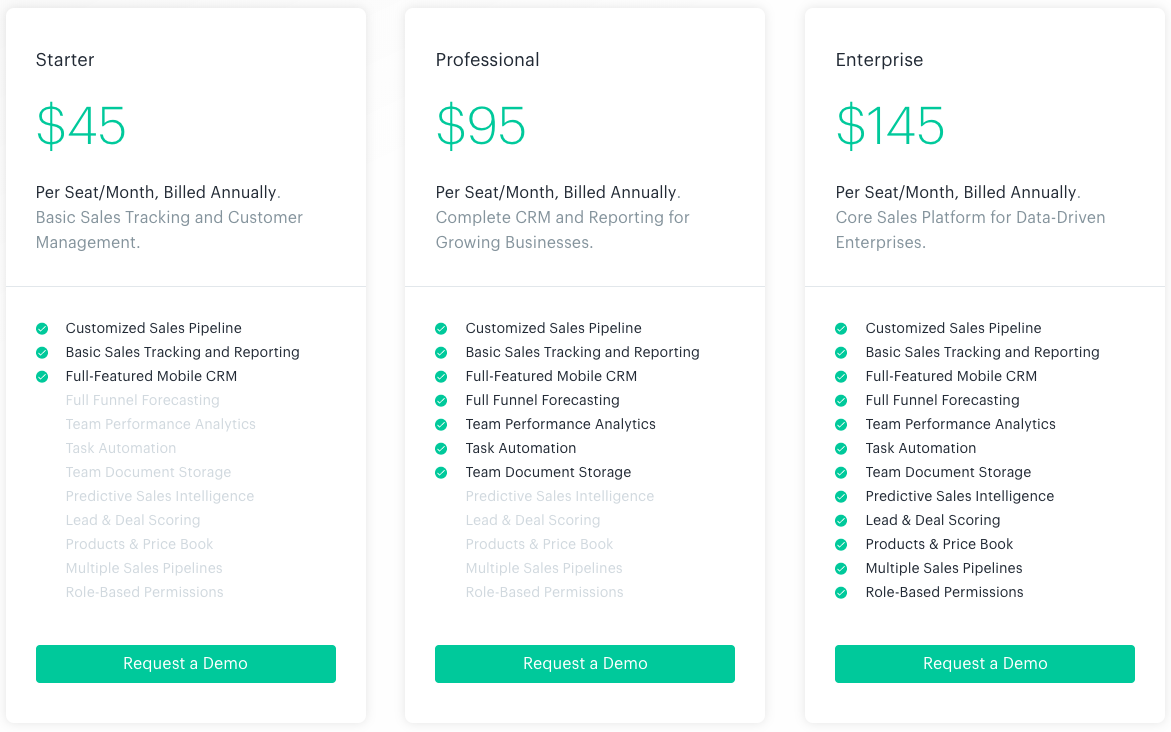 Base CRM's starter plan costs $45/month per user. Its Professional plan costs $75/month per user and includes important features like sales forecasting and task automation. Advanced CRM features, like predictive sales intelligence, are unlocked under their Enterprise plan, which costs $125/month per user.
Watch out for hidden costs: Their success packages cost extra—and start from a whopping $2,500! From our perspective, that seems unusually high. Considering how painful switching CRMs can be, hopefully it comes with a free massage?
Autopilot Integration Score
We're giving Base CRM a 1 out of 3 because, while integrates with Autopilot via Zapier, it offers a limited amount of granularity and can send and receive only new records.
For example, Autopilot journeys can be triggered off of new (but not updated) contacts and leads sent through from Base. Similarly, Base can only receive new (but not updated) notes and tasks from Autopilot.
Insightly takes CRM to the next level by using project management features to help you manage the customer relationship from new lead to repeat sales and referrals.
If you need a CRM that offers decent functionality while being easy to use, and you're on a tight budget, go with Insightly.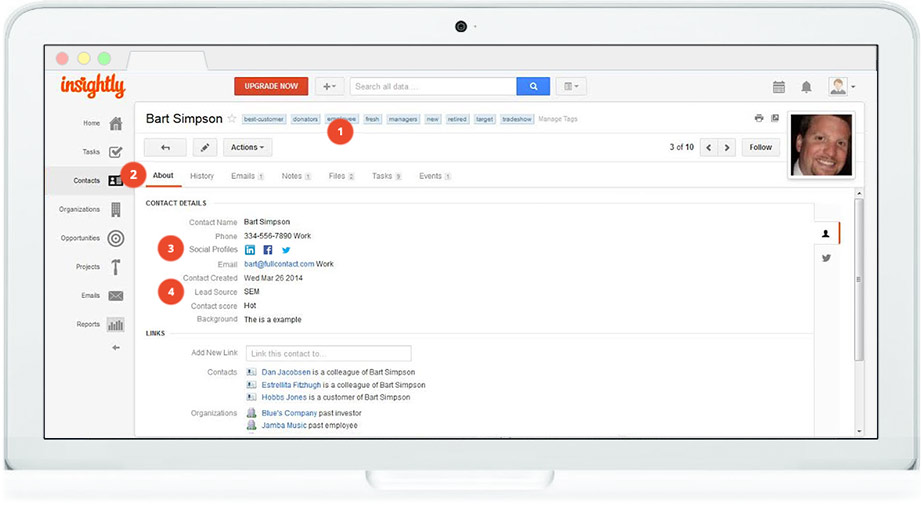 Notable features
Insightly's focus on project management gives it a unique approach to CRM. You can either visualize projects being completed via milestones or witness deals being closed via stages, which allows you to customize your sales process beyond what you'd normally see. This setup makes it especially suitable for services companies.
Company size
Insightly works best for startups and SMBs.
G2 Crowd Rating
With 190 reviews to date, Insightly has earned 3.9 out of 5 stars on G2 Crowd.
What users like:
"After reviewing many CRM products, I settled on Insightly as the best mix of features and affordability. It has a very straightforward user interface, allows ample customization to accommodate our sales flow and business practices and has the added advantage of an incorporated project management module. I have nothing but good things to say about the customer service attention I have received and all of the great free onboarding help and resources the company provides. Thus far, I am jubilant with Insightly as a company and as a CRM software solution." — Doyle M.
"One of Insightly's standout features is that it has the flexibility to associate any item with any other item. For example, you can associate a contact to more than one organization, associate contacts with each other, associate a task or note to more than one contact, project, or opportunity, etc. Other unique and powerful features are custom pipelines and custom activity sets. You can create multiple pipelines which can be assigned to different opportunities or projects as needed, and pre-configured activity sets which will automatically create tasks for each stage in the pipeline as it occurs. So it enables you to customize processes to your organization. Not to mention Insightly's integration with Gmail and Google Apps, which allows you to add emails and contacts directly from Gmail, as well as create tasks, opportunities and projects. Also has integration with other popular tools like Mailchimp." — Craig D.
What users dislike:
"Once anything is associated with a customer account, it is incredibly difficult to find anything that you've stored. There is no ability to search within the items you've stored for a particular client. The only search capability is global. So, if, for example, you wanted to search for IRS issues experienced by a particular customer, there is no way to do it. You are basically limited to sequential order by date." — Pete B.
"While Insightly has a lot of flexibility, it's missing some basic functionality that is common to most other CRMs, specifically, custom views for lists. It displays organizations, contacts, projects, etc. in very nice looking lists, but the lists contact very limited information about each item. And you cannot customize the information/fields that are displayed. So, let's say you have a "due date" field for projects, and you would like to see a list of open projects with their due dates - you cannot do that. You would have to click on a specific project to open it and see its due date or other information you are interested in." — Craig D.
Price Range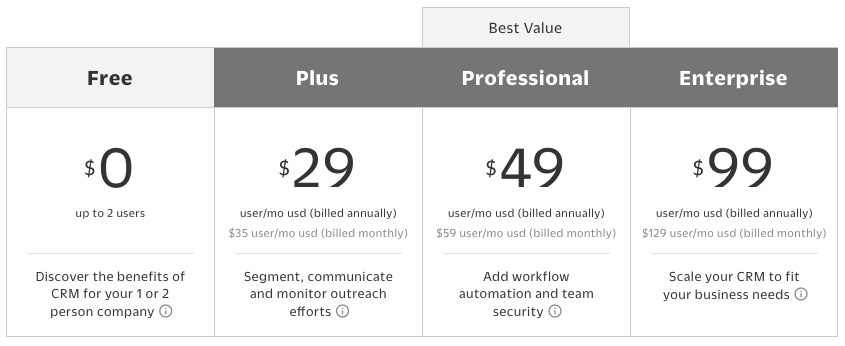 Insightly is one of the few CRMs that comes with a free plan for up to 2 users. If you're a one-man shop and are sick of using a spreadsheet for your CRM, Insightly could definitely up your game. These are the main differences between Insightly's plans:
While the Plus plan come with email support, their Professional and Enterprise plan comes with priority email support.
When it comes to record limits, Free accounts are limited to 2,500 records, Plus accounts are limited to 100,000 records, Professional accounts are limited to 250,000 records, and Enterprise accounts have unlimited records.
For custom fields, Free accounts are limited to 2 custom fields, Plus accounts are limited to 50 custom fields, Professional accounts are limited to 100 custom fields, and Enterprise accounts are limited to 200 custom fields.
Mass emails are limited to 10 per day for Free accounts, 2,500 per day for Plus accounts, 5,000 per day for Professional accounts, and 10,000 per day for Enterprise accounts.
Autopilot Integration Score
We're giving Insightly CRM a 1 out of 3 because, while integrates with Autopilot via Zapier, it only allows you to achieve a limited level of granularity and can send and receive only new records.
In other words, Insightly's Zapier integration is fairly basic. It can send new accounts and leads to Autopilot and receive new notes, tasks, and leads from Autopilot, but that's it.
Microsoft Dynamics 365 is the technology giant's spin on CRM. It works best for larger organizations that want to break down the silos between their CRM and ERP systems.
If you're a large company who is invested in the Microsoft ecosystem, and with a huge budget, check out Microsoft Dynamics 365.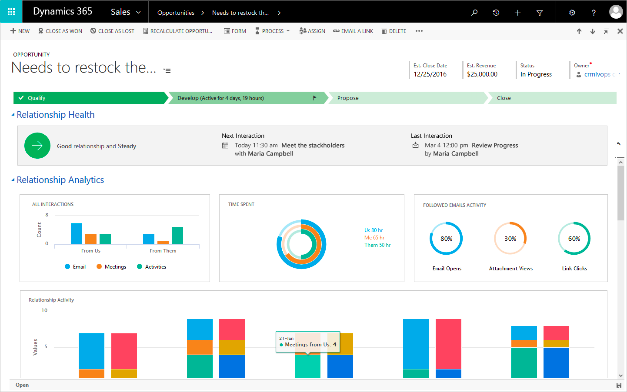 Company size
Microsoft Dynamics 365 works best for larger mid-market and enterprise companies.
G2 Crowd Rating
With 412 reviews to date, Microsoft Dynamics 365 has earned 3.5 out of 5 stars on G2 Crowd.
What users like:
"The simplicity and easy of navigation on the Microsoft Dynamics CRM is a huge plus. Another key advantage over our old tool is you don't have to be in the corporate environment (domain) to use it as it is hosted on the cloud and not on premise." — Afeez B.
"It seems like you'll never know everything there is to know about Microsoft Dynamics; every day you discover something new that you can do with it! My company uses it for managing customer and product information and syncing customer data and behavior with our website. It is incredibly useful, even if the UI / UX could use some work. It's very customizable. It's basically an all-in-one program; you can keep track of ALL the data you need to run your company: from purchasing patterns to product info/availability to invaluable demographic info." — Elisabeth C.
What users dislike:
"I don't like the fact that it is clunky to customize and difficult to get the most out of the program. You must either dedicate significant time and effort to learn how to customize the program, or hire a professional consultant to assist. To become a power user you really need to undergo some serious training. Otherwise you end up with CSRs not using it to the fullest extent because they don't know how." — Matt B.
"Being a former power user of Salesforce and then coming on board with a company that is using MS Dynamics was beyond disappointing. The customization is just not there. With that being said, it would be difficult not to mention all of the day-to-day annoyances that I face in my role. Reporting is an absolute disaster. For a quota-carrying rep, daily reports are a necessity. I can't even run a simple report showing all of my prospects and their current solutions. Absolute nightmare." — Ashley B.
Price Range
Autopilot Integration Score
We're giving Microsoft Dynamics 365 a 0 out of 3 because it doesn't integrate with Autopilot and is not currently not supported by Zapier.
Special thanks to Autopilot's Sales Engineer, Logan Herr, who did a ton of research, analysis, and writing in preparation for this post.
If you're interested in expanding your search, check out the Gartner CRM quadrant.
What CRM software are you leaning towards? Why? Share your experience in the comments.