November 25, 2015
Delivery Windows are Live in Autopilot
Many of you have requested time and day windows, so you can send email, SMS and Headsup messages at times when people are more likely to respond to them; for example, during business hours. As our Thanksgiving gift to you, they're now available! You can enable a time and day window on any new or existing Add Delay action: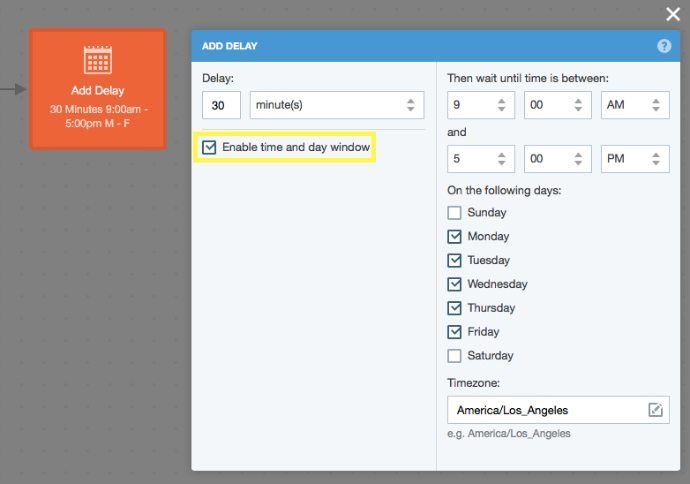 Once enabled, in addition to the regular delay time, it will then make a contact wait until a time and day window is reached (e.g. 9am - 5pm, Monday to Friday) before moving to the next shape of your automated journey. You can try it now in Autopilot. Let's step through an example to show what this looks like in the real world. Say you are a food delivery service (like a Sprig or Munchery) and your newest customer Marie signs up on Friday at 4pm to receive her first lunch on Monday - an exquisite Vietnamese pork vermicelli. As soon as she becomes a customer, this journey launches: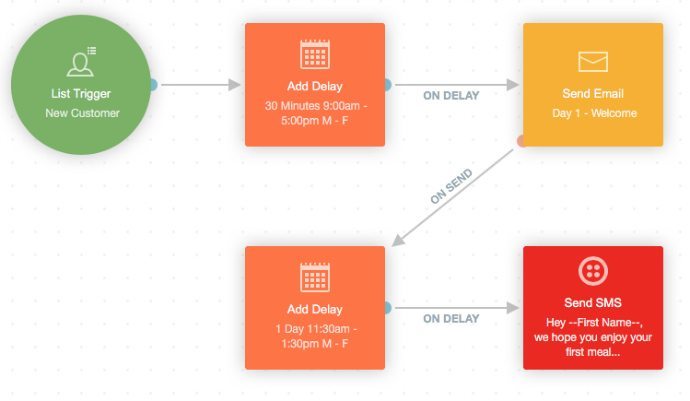 Marie receives a welcome email thirty minutes after signing up since it falls in the Monday through Friday, 9am-5pm delivery window. Normally she'd receive the "enjoy your first meal" SMS a day later, but it's Friday so the delivery window delay kicks in. The weekend happens. Marie goes to Napa for some Chardonnay and spends Sunday reading a little Kerouac (she lives in San Francisco after all). Monday comes and it's vermicelli time! Marie receives her SMS between 11:30am and 1:30pm - right as she's opening her lunch. Other examples of how you could use delivery windows:
Send an email promotion between 6pm-7pm to catch public transit riders on their way home

Only show a "Hey, can I help you get set up?" in-app message when your support team is in the office

Schedule all of your communications to send between 9am-5pm instead of late night hours to avoid the "this is an automated robot" feel
You can tailor delivery windows to meet your business goals and the needs of your audience. The possibilities are endless.
How do I start using delivery windows?
You can find delivery windows in the "Add Delay" shape of the journey canvas. For more specifics, check out this step-by-step guide to setting up delivery windows or try it now in Autopilot. As you use this new feature to send emails, SMS, and Headsup messages, we'd love to hear how you're reaching customers in the right way, place, and time. How do you plan on using delivery windows for your business? Let us know in the comments.