January 25, 2017
Demand Generation Marketing
"Our blades are f***ing great," proclaimed Michael Dubin before riding a forklift and swinging a machete in a launch video for Dollar Shave Club. Just 48 hours after it was released, that two-minute clip drove 12,000 people to sign up for the new subscription service. Viewers didn't just love the video, they needed the product.
Today we're going to cover how you can create that need for your product or service too—without machetes, forklifts, or hitting the viral jackpot. It all begins with a popular marketing strategy known as demand generation.
What is demand generation?
Demand generation is the process of creating a desire for a particular product or service. It starts with showing your prospects they have a problem that needs fixing, then it presents your business as the fixer. Keep in mind, that desire doesn't have to be the desire to buy. It can be, among other things, the desire to…
Learn more about a product or service via its website
Engage with a brand on social media
Sign up for an email newsletter to stay informed about a product or service
Start a free trial for a product or a service
That "what" your prospects desire depends on where they are in your marketing funnel. Not everyone enters your funnel at the same place, or progresses through it the same way.
If they're at the very top, then they're likely to start at step one in that list. If they've already engaged your with your brand or researched your product, they're more likely to want to take steps three or four. What it comes down to is this: Your demand generation strategies get them to take the next step in the customer journey. Now that you know what it is, let's be clear about what it's not: Demand generation isn't the same as lead generation. A lot of marketers get the two confused, so let's settle the issue once and for all before we go on.
Demand generation strategies vs. lead generation strategies
Demand generation and lead generation aren't exactly the same. But they're also not wildly different.
Lead generation is the process of getting a curious prospect to trade their personal information (name, email, phone, etc.) in exchange for something from your business. That "something" can be a newsletter subscription, an ebook, a free consultation, or any of these lead magnets.
Demand generation, though, doesn't always involve capturing that prospect information. Think of it this way…
All lead generation is demand generation. You cannot generate a lead without demand. Consider lead generation a component of demand generation.
On the other hand, not all demand generation is lead generation. Sometimes that "demand" gets your prospects to visit your website, or engage with you on social media, like we talked about earlier.
You see? The two are different, but related. And neither of them is easy. Sparking that desire for your offer takes more than an email blast or a generic display ad. Good demand generation is accomplished through authentic and thoughtful marketing across paid and organic channels. Here's how the pros do it.
Demand generation strategies for paid channels
1. Invest in search engine marketing
A whopping 90% of B2B buyers who are online use search specifically to research business purchases. That's what makes it such an appealing channel to advertise your product on.
If you haven't built up the domain authority to appear on page one, where 94.4% of organic clicks happen, then pay-per-click ads can get your business attention at the very top of search engine results.
As far as strategy goes, make sure you're bidding on keywords related to your brand at the very least. When people type in your company name, you want the first link they see to direct them to one of your landing pages. Otherwise, you risk burying yourself in the number of other web pages that include a reference relating to your business.
For example, if not for a PPC ad, we at Autopilot would get pushed below the fold by an organic Wikipedia result related to airplanes.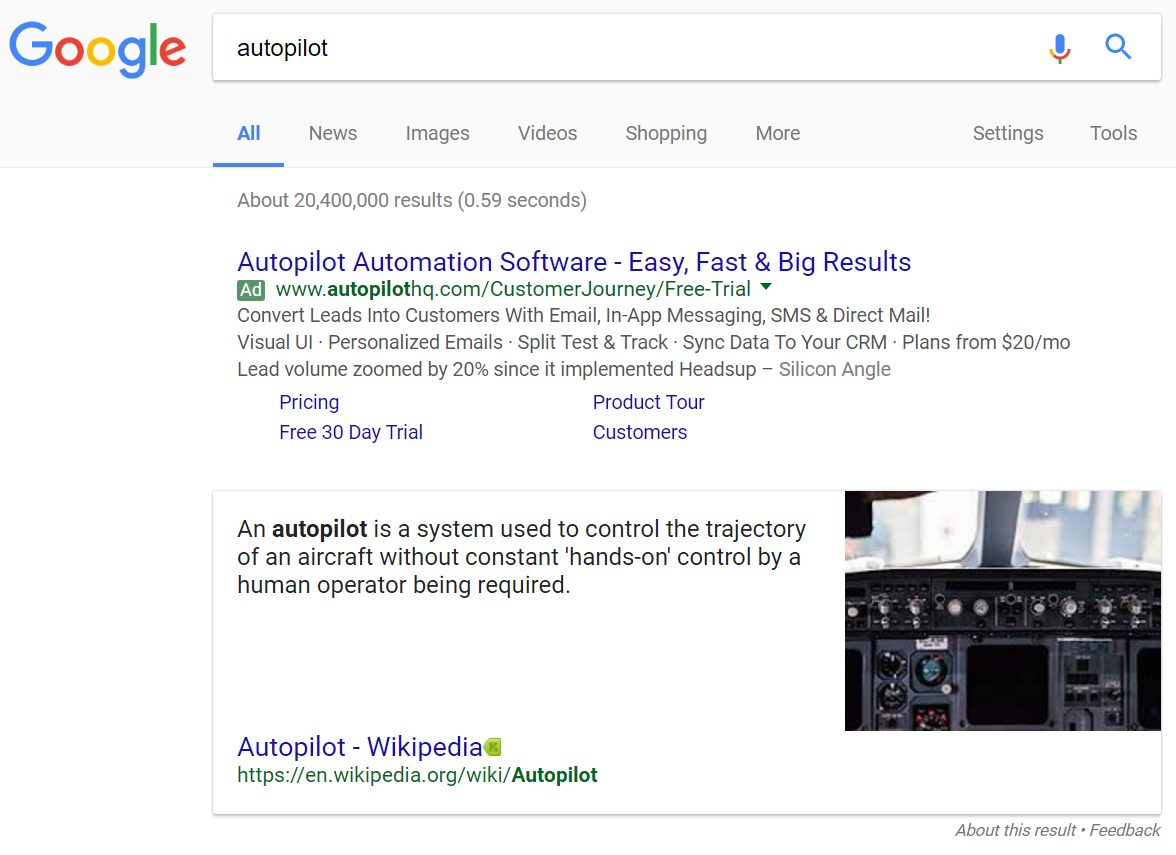 If you want to get more advanced, consider bidding on keywords related to your competitors, or ones tailored to stages of your marketing ie: SEO funnel. Broad terms work well at the top of your funnel to drive more traffic, but they'll also be more costly and competitive to rank for. On the other hand, specific long-tail keywords get less volume, but they're also more likely to drive conversions.
To ensure your ad has the best chance of getting clicked, make sure you emphasize the benefits of your offer. Notice how there's no wasted space in the Autopilot ad above. In that one ad you learn:
Autopilot is marketing automation software that produces big results quickly and easily.
You can use Autopilot to convert leads into customers with email, in-app messaging, SMS and direct mail.
You can split-test with our software, create personalized emails, sync data to your CRM, and design automated workflows with a visual user interface.
Plans start at $20/month.
Third-party proof from Silicon Angle that using Headsup can boost lead volume by 20%.
We offer a free 30-day trial, a product tour, and different pricing plans.
Make the most of your PPC listing by learning about creatives and extensions you can use to appeal to your prospects' self-interest. How will your product or service solve their problem? That question's answer will spark potential customers' desire for your offer.
2. Bid up your listing on review sites
Paying for premium placement on review sites take the strategy we just touched on one step further, by adding an element of social proof. Often in their search for a solution to a problem, your prospects will want to compare you to other competitors. They'll punch "best CRM software" or "CRM software comparison" into Google, and they'll see results like the top one on this page:

And that will lead them here, where they can see how CRM softwares compare across 7 different categories: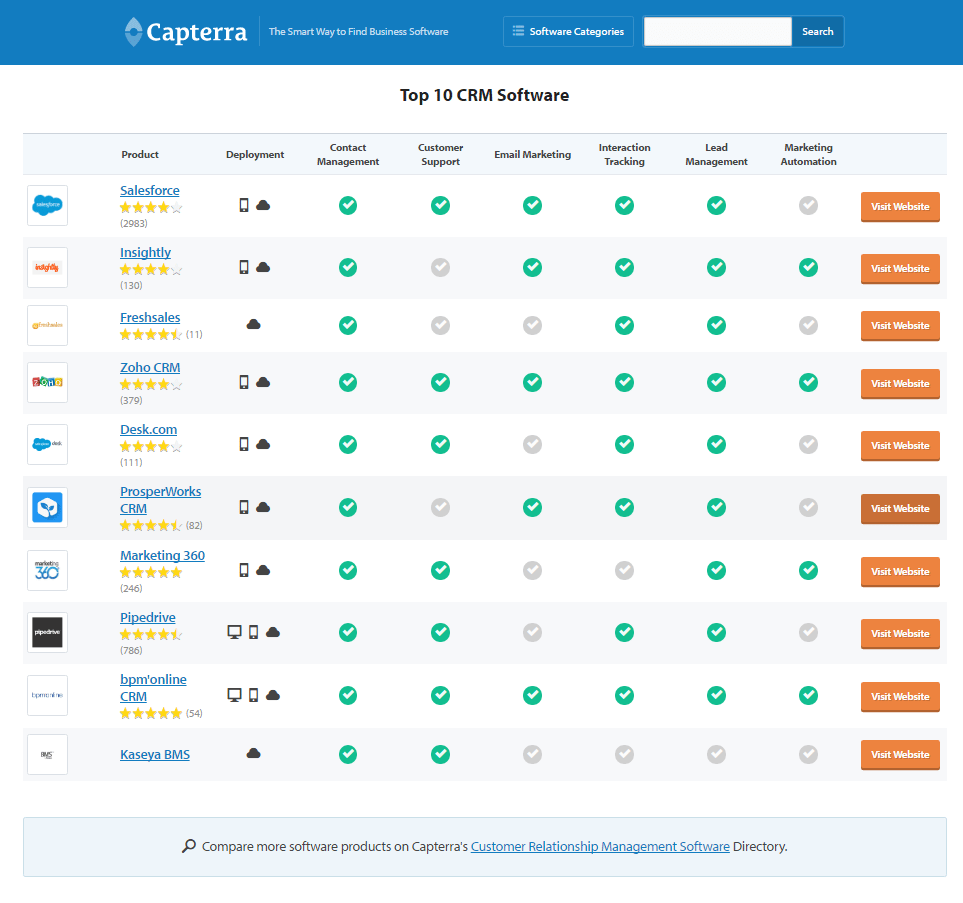 The advantage of getting your product or service listed on review sites like Capterra or G2 Crowd is that they handle all the work of getting the page found on search engine results pages.
Bidding on your listing via a pay-per-click (PPC) program will guarantee you'll appear above all your competitors who have a basic listing.
Before you do any of that, though, start with the easy stuff, like creating a Google Business Page and claiming your Yelp page if you have one. That way, you'll be able to control conversations surrounding your brand. When you consider that 84% of consumers trust online reviews as much as personal recommendations, this is a tactic certainly worth leveraging.
3. Tap into the power of remarketing
No one likes an ad that follows them around the internet, right? That's why remarketing is creepy and ineffective.
Not so, say 91% of search experts —62% of whom are spending between $1,000 and $5,000 a month on the tactic.
According to them, serving ads related to pages that your prospects have visited is wildly effective. And the "whole remarketing 'creep factor' is ridiculously overblown," says  WordStream research —which shows that conversion rates actually increase the more a retargeting ad is displayed to an internet user.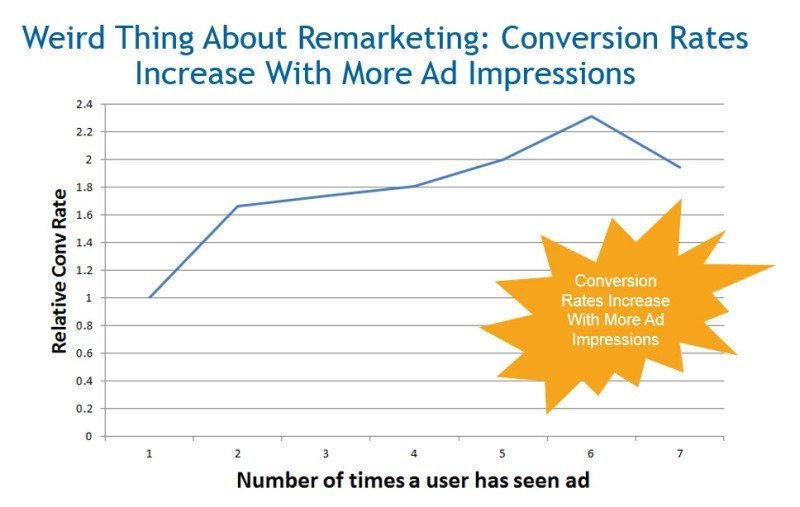 So take advantage of both Google dynamic remarketing and Facebook custom audiences to target your website visitors on Google's display network and the biggest social media platform in the world. With the tag and pixel on your page, coupled with ads highly tailored to each audience, your conversion rate has the potential to jump 147% over time.
I can't tell you the click-through rate of this Disruptive Advertising retargeting ad, but I can say it's doing a great job of generating demand.

People are psychologically wired to want to avoid making mistakes, which is why negative copy like this can work. It taps into a viewer's insecurities by making them wonder, "Am I one of the 61% wasting my AdWords budget? Maybe I do need a PPC service."
4. Sponsor an event
"Whether you're sponsoring a technology conference like Startup Weekend or an extreme fitness competition like Warrior Dash," says Kathleen Smith, "event sponsorship provides you access to an invested, enthusiastic audience."
That audience, if you sponsor the right event, is filled with people who have in them the desire for your offer. You just need to bring it out. To make sure you sponsor the right event, ask yourself…
Is this an event my target customer would attend?
Does this event align with my brand's culture and values?
Do I get access to the attendee list? Or other lead generation opportunities?
How much exposure do I get in return for my sponsorship?
Reebok and CLIF are both sponsoring the next Spartan Race in southern California, which makes sense as far as those questions go, but Mariott Rewards and Panasonic? Not as ideal of a fit.
This can be a really pricey tactic, so if you're going to sponsor an event, you need to make sure you're getting your money's worth. Try to make sure you have, at the very least, the ability to demo your service or hand out a sample of your product to generate buzz throughout the event.
And if you have the budget for it, consider an engagement idea that makes the attendee experience more delightful like offering a hot device or prize for those who sign up for your product. Another example is building a mobile app that attendees can use to interact with your brand before, during, and after the occasion.
Harley-Davidson used an app to showcase product customizations through a "mentor" feature, and sign people up for test drives at a recent exhibition. The visualizations generated the desire, and the test drive signups sent attendees to the next step of the marketing funnel.
In other words, the app brought prospects' ideal Harley to life, and they were so allured by it that they couldn't help but sign up to take one for a spin.
5. Team up with an influencer
As valuable as a customer review is for demand generation, it becomes even more valuable when that customer is a recognizable figure like a celebrity or well-known industry professional.
The term for these recognizable people is "influencers," because they have influence over people who matter to your business. Influencers can generate desire on your behalf, with a product review or a branded video, for instance. Linqia's 2017 State of Influencer Marketing Report reveals exactly how: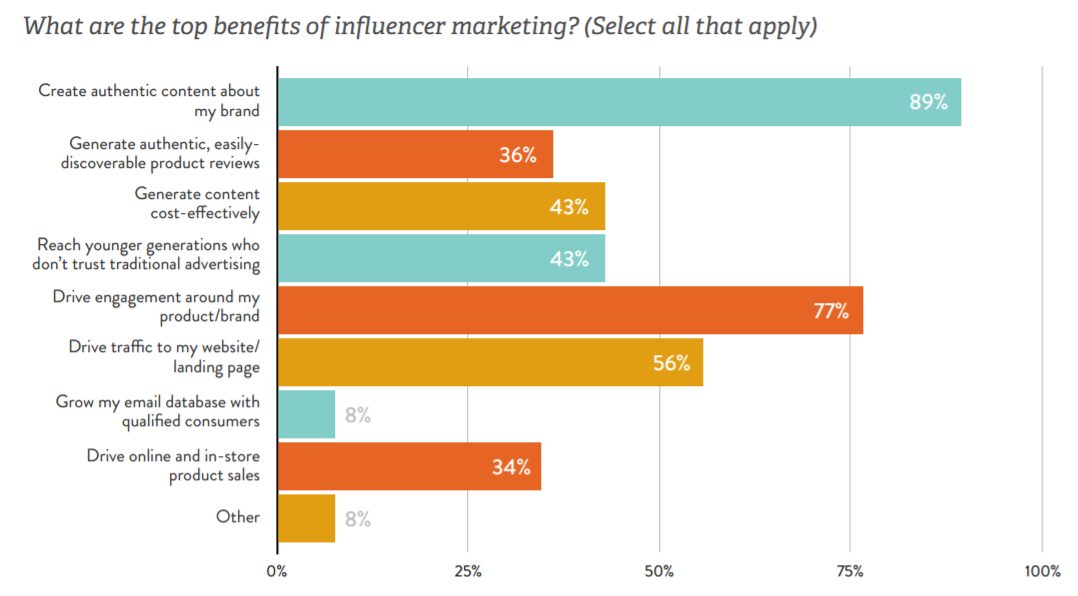 A telling 94% of those who used influencer marketing found it to be effective, which is why nearly 60% of respondents say they're going to spend over $50,000 on the tactic this year. Lynda.com used influencer marketing to get their brand in front of 46 million people, and GNC teamed up with fitness titans to grow social traffic, by adding 383,000 Facebook fans and 60,000 Twitter followers.
If you choose to use this demand generation strategy, make sure you're teaming up with someone who has the eyes and ears of your ideal customer demographic, and think of a way to promote your product in a way that resonates with the influencer's followers. If they're a YouTube star, you'll need a compelling video. If they're an Instagram super-user, you'll need to create an eye-catching visual.
Work together to come up with something that meshes with both the influencer's style and your brand identity.
Demand generation strategies for organic channels
6. Turn your employees into advocates
Very few businesses take advantage of some of their most valuable advocates, which is too bad, considering they also happen to be the easiest to access.
Data shows that 50% of employees are already posting about their employers on social media. So why not ask your most passionate brand evangelists to spread the word about your product or service?
"Employees are the most credible voices on multiple topics, including the company's work environment, integrity, innovation and business practices," says an Edelman Trust Barometer Report. Why? It's simple.
People tend to trust their social connections more than official marketing campaigns. Requesting that your employees share your content with their networks has the potential to pay off big time. According to technologist Travis Wright, businesses can increase engagement by 700x and brand awareness by as much as 24x by turning their staff into promoters.
IBM and SAP use employee advocacy and amplification platforms like GaggleAMP and Dynamic Signal, just to name a couple. Whether you choose a professional platform, or simply implement a new company policy, this strategy has great demand generation potential.
7. Co-market with a related business or integration partner
Influencer marketing can generate massive demand for your product, but it can also put a massive hole in your budget. If you're not in a place to spend $50,000 to team up with an industry big shot, try the alternative, known as co-marketing.
This demand generation strategy allows you access to something extremely valuable: A new and untapped audience that could use your product or service. And the cost to you is nothing. All you need to do in return is offer the same to the business you've partnered with.
Like you would with an influencer marketing campaign, make sure that the business you're partnering with has an audience that resembles yours. There's no use promoting your product to people who aren't going to want it. If you're a SaaS company, a good place to start is with other softwares that integrate with yours. Learn how strategic partnerships with Segment, Slack, and Zapier led to early growth for Autopilot here.
When you decide on the co-marketing partner, work together to figure out what the collaboration is going to look like. Maybe it's a monthly guest blog post, a joint webinar, or a cross-promotional agreement like the one between Foundr and Rich20Something on Instagram.
It worked like this: Rich20Something shared a post by Foundr, and Foundr reciprocated: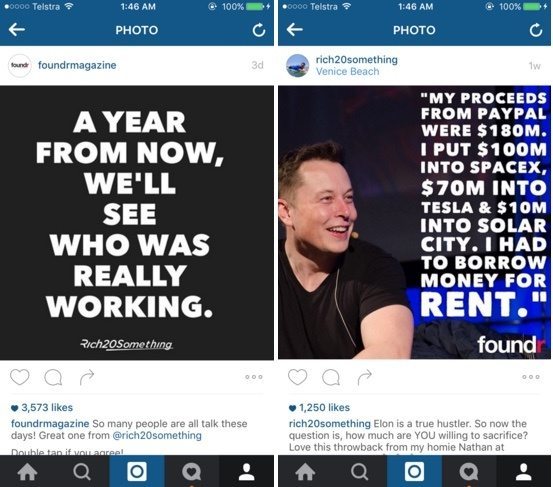 The technique helped Foundr's Instagram following grow by 400,000, which translated into 70,000 new email subscribers.
Remember, the key here is cooperation. Make sure you have something to offer before you ask for access to another business's audience.
8. Offer strategic lead magnets
Free content is the cornerstone of any successful inbound marketing strategy, and blog posts are only the tip of the iceberg.
Strategic lead magnets have the potential to generate demand for your product and service by offering a valuable resource in exchange for personal information. Like a magnet, they draw potential customers to you. The key is creating an offer your target audience wants so badly, they're willing hand over their contact details like name, phone number, email to access it. Common lead magnets include:
Ebooks
Swag
Cheat sheets
Email courses
On-demand videos
But you should aim to create something uncommon and more valuable. Offer an interactive quiz, a step-by-step blueprint, templated worksheets, or even a tool.
WordStream lets potential customers submit their email in exchange for a graded AdWords report.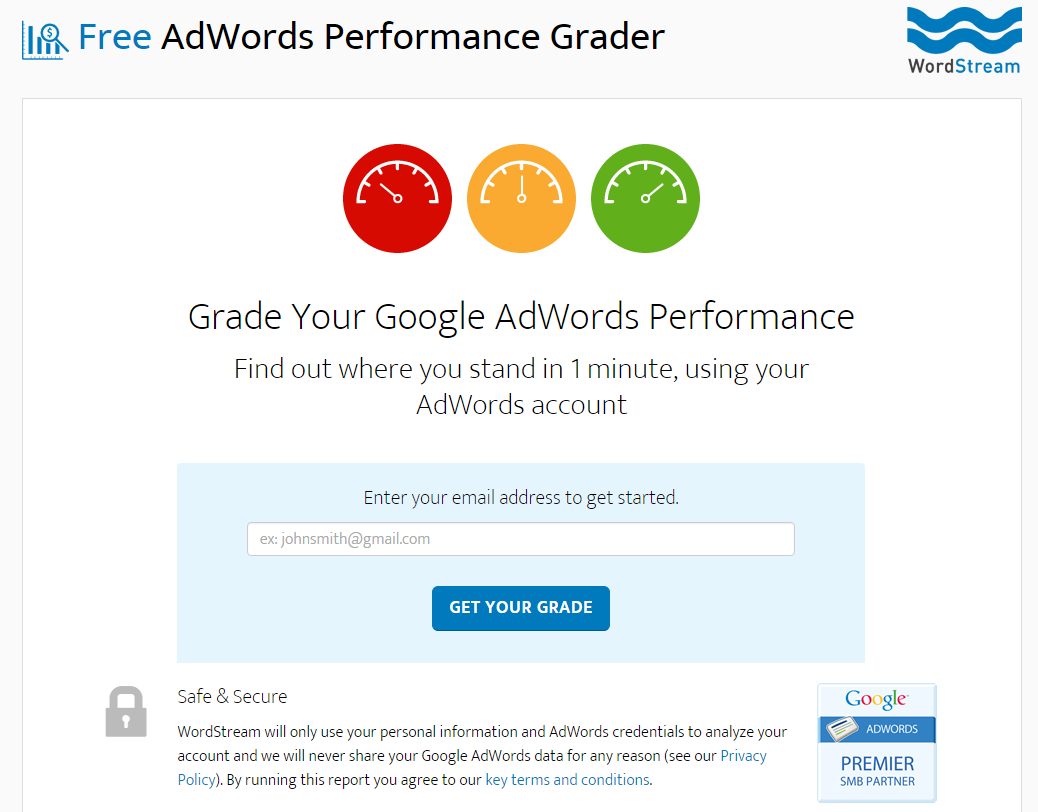 It's magnets like these that are best for generating demand for your product or service. This one's relevant to what WordStream offers (PPC services), it's valuable, it's quick ("Find out where you stand in less than 1 minute, using your AdWords account), and it's free.
At the top of your funnel, light content like whitepapers and tip sheets can work to generate some awareness of your product. In the middle, case studies and industry reports can boost your authority. And at the bottom, free trials and demos showcase how your product or service's features can improve your prospects' lives.
In most cases these hold true, but every business is different—which is why it's necessary to figure out what your audience wants at every stage of the buyer's journey. Find out how to do that by content mapping.
9. Automate the review process
I said it before, but it's important enough to warrant mentioning twice: Reviews are perhaps your most powerful ally in generating demand for your business. It's common sense really.
If I tell you my solution is the best on the market, you're not likely to believe me. But, if a current or former customer does? Then that statement becomes a little more credible.
The voices of these customers can be turned into marketing collateral you can use to generate that desire for your offer—a customer interview, a landing page testimonial, a case study that proves your product works—they're all powerful demand generators.
But, reaching out to get your customers' opinions one-by-one is impractical, especially if you have 15,000 of them.
That was the problem for LiveChat, an SaaS company that helps business owners connect with their website visitors. To solve it, they used Autopilot to send an automated email requesting written reviews from every customer that gave them a Net Promoter Score of 9 or higher.
The set-it-and-forget-it technique helped the company earn 120+ reviews and a 4.85 rating on GetApp. The best part? It can be replicated for nearly any business. Learn how to do it.
10. Don't stop nurturing your leads
The worst thing you can do to people who have expressed interest in your offer is forget about them. When you do, chances are they'll forget about you too.
Today's buyers have more control over the customer journey than ever before, but that doesn't mean they're going to make the entire journey alone. In most cases, you'll have to guide them along with a process known as "lead nurturing."
Lead nurturing can involve many things, including social media interaction and phone call follow-ups, but most often it's email that bears the brunt of the work. The reason is for its ability to offer personalization on such a large scale. Today it's possible to deliver individualized messages to each of your prospects based on how they interact with your website.
When landing page SaaS company, Instapage, came to us with 55,000 email contacts that had stopped interacting with their brand, we made them a little wager:
Launch a lead nurturing journey and you'll make the money back you'd save from downgrading plans. If you don't, we'll give you a refund.
Spoiler alert: We didn't have to give them a refund.
With an automated journey that involved sending visitors 18 different emails based on their behavior, Instapage was able to nurture a portion of those 55,000 subscribers to a sale in just two months. That portion translated to an extra $30,000 in annual revenue.
The lesson? Demand for your product can be lost if you don't carefully nurture your leads through the customer journey. Learn how to develop your own lead nurturing strategy with our recommended tools.
Demand generation is about reminding your potential customers they have a problem, and then offering to solve it. Disruptive Advertising does it with remarketing display ads, Wordstream does it with an AdWords Grader, and Instapage does it with an automated lead nurturing strategy built using Autopilot.
How do you do it? Did we miss any of your go-to demand generation strategies? Let us know in the comments!