May 31, 2017
Email Marketing Automation
Replies have always been elusive in the email automation space. Arguably, email replies are the hottest of leads, but far too often these slip through the cracks because they're nearly impossible to track (unlike opens, clicks, and unsubscribes). Autopilot's reply tracking changes the game. We recently released reply tracking for emails sent from Autopilot, which allows you to:
Create smart segments of users who have replied to any email, or a particular email
Branch or trigger journeys and journey ejection based on who responded to an email
See full replies in the Autopilot activity feed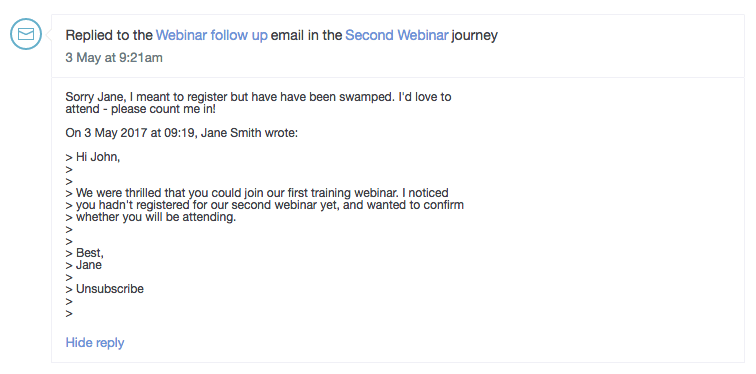 Replies in the Autopilot activity feed
Reply tracking is especially helpful for companies with sales teams who focus on more conversational, direct response marketing. However, it's an opportunity for businesses of all sizes to get more personal in their marketing efforts. Setting up reply tracking in Autopilot is easy. Simply configure your reply address and enable "track replies" on the emails you wish to track. (See our help center for full details.)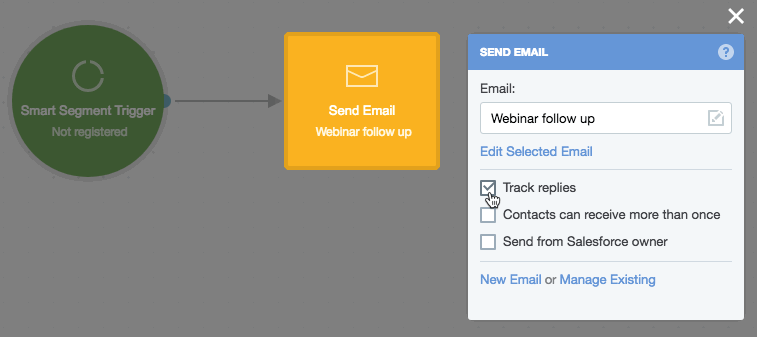 So what can you do with reply tracking? Here are four opportunities to personalize your marketing using reply tracking.
1. Eject leads who reply from journeys
Are you a company that uses marketing automation to send sales follow up emails? You know, those personal emails from a sales rep asking to schedule a meeting after someone stopped by their booth at an event or filled out a "contact sales" form. These types of emails are often referred to as "direct response," since the main call to action is enticing a response versus an email click. Before reply tracking, in order to ensure marketing wasn't following up with leads who already responded (and sending the embarrassing "oops" email), companies would have to rely on the sales team to update lead statuses or mark a lead appropriately in Salesforce when someone responded to an email. Only then could you use a condition check to make sure you were following up with the right folks.

The main reason you want to eject these users is because a response kicks off the individual's relationship with your sales team. From there, it's up to sales to continue nurturing the lead into a paying customer, and that communication is most likely happening outside of Autopilot. With the new "On Reply" option as part of the "Send Email" outcome wheel, you can easily eject users who reply.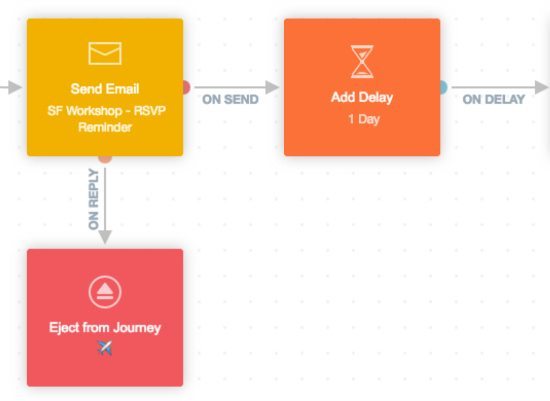 Alternatively, you could create a smart segment using the "Email Status" filter to trigger ejection.

With this new feature, marketers can confidently aim for a reply as the main call to action in an email, rather than being limited to encouraging email clicks or form submissions.
2. Assign email replies to your sales team to ensure a timely, personal response
Oftentimes, marketers add automated proactive outreach emails into their journeys to advance contacts who may be sales ready, but haven't yet taken action. For example, Autopilot's "nurture leads into paying customers" guide leverages these direct response style emails if a lead clicks through enough emails, but doesn't sign up for a trial or request a demo on their own.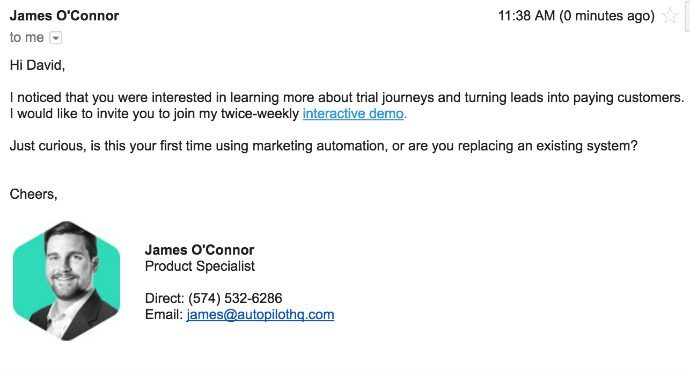 Before reply tracking, the sales team would see the response, but the lead may not have been in Salesforce yet. Since it's difficult to keep track of all these responses, it's not uncommon for replies to go unanswered. Now you can use the "Email Activity" trigger, when someone replies to any email, to immediately create and assign a lead in Salesforce to a rep. Or, round-robin the lead to a group, to avoid overloading a single salesperson.

3. Follow up with leads who haven't replied
Similar to above, you may also want to follow up with those who did not respond to a particular email. For example, some companies choose to send "reply surveys," which ask a customer for feedback in the form of an email response. Since it's such a targeted send, you could follow up with those who didn't reply 48 hours later. In Autopilot, you can branch journeys in two ways:
Leverage the outcome wheel on the "Send Email" action.
Use the "Check Email Status" condition check.
If you want the actions to happen as soon as someone responds to an email, use the "On Reply" outcome on the "Send Email" action. If you want to use replies to determine whether or not to send a follow up email, use the "Check Email Status" condition check before sending the next email in the series.

4. Increment a lead score based on email replies

Consider incorporating email replies into your lead scoring framework. Now you can use Autopilot's "Change Score" shape to increment a score every time a contact replies to an email. This will help you better segment your "active" database so you can target them with highly personalized communication. It also helps to provide valuable information to your sales team. Don't forget, you also may find it helpful to add a "Last Responded Date" off of the "Email Activity" trigger so you can see when each user was last active.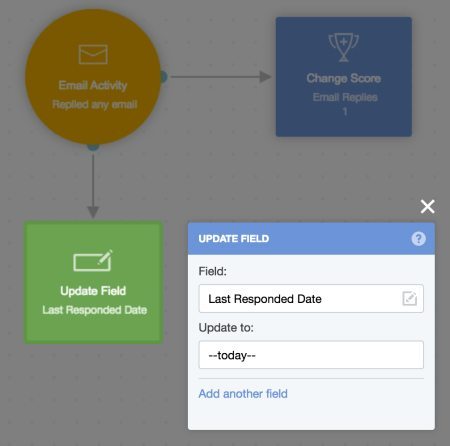 More to come with reply tracking
While there are many ways to leverage the new reply tracking, it doesn't end just there. Responses get tracked in the activity feed, and if you connect your Salesforce account, feed into a lead's "activity history" for maximum sales visibility. Want to see reply tracking in action? Login to set it up in your account or sign up for a free trial to try it yourself!