January 10, 2016
Facebook Ads for SaaS Companies
Facebook ads are a huge opportunity for brands to extend their visibility with their exact target audience. With the average Facebook user spending 40 minutes per day on Facebook (not to mention additional time on Instagram), B2B and B2C brands alike can reach potential customers far more often than they can with most other ad networks. When it comes to any form of advertising, it's important to show the right ads to the right users at the right time. Many brands find it hard to resist the temptation to start showing conversion-oriented messages in ads right away – getting customers to buy now or sign up for a product demo. However, by creating a set of ad experiences that align to the customer's stage in their lifecycle with your company, it's possible to warm up prospects before you start focusing on sales. In this post we're going to walk through six customer lifecycle stages that you can target using different types of Facebook ad options and approaches. We're going to use a typical SaaS business model as an example since the customer lifecycle is fairly well defined, and we're going to focus on the following lifecycle stages:
Awareness & Engagement - introducing your brand to a target audience that may not know you well, and staying top of mind with them through your brand's content.
Consideration - reach audience members who have visited the site in the past and deliver a targeted content offer related to the problem your software solves.
Demo - reach sales prospects who have spent time on your sales-oriented website content but haven't yet scheduled a product demo or trial.
Onboarding - assist trialing or early-stage customers who need help getting value from your product with customer success content. First 30-60 days.
Churn - earn back customers that have lapsed or cancelled service with targeted offers.
Feature Launches - update your target audience as well as current and former customers on key product feature launches to make sure they know the full capabilities of your product.
1. Awareness & Engagement
The first step of any sales funnel is awareness and engagement. At this point in your ad campaign, you want to gently introduce your brand to potential customers that might not know you well, or at all.
How Do You Find Them?
You probably have a pretty good idea who your target audience is. We built a guide to specifically cover all of the Facebook ad targeting options because there are hundreds of ways you can slice and dice demographic and psychographic profiles to hone in on your various customer personas.
What Is Your Message?
The ultimate goal here is to build recognition, trust, and intrigue. Introduce your brand and your product with messages about what your software can do and with whitepapers and other engaging content that your target audience is interested in.
Example: Bazaarvoice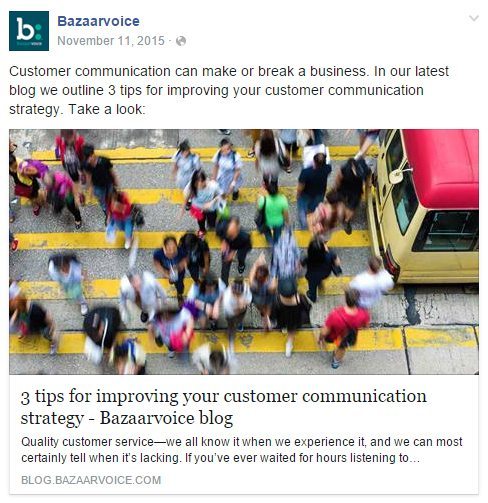 This post from Bazaarvoice doesn't sell their product, but it does show you how you can improve customer communication strategy, something immensely important for the B2C companies that could potentially benefit from Bazaarvoice's software. At this stage in the funnel our goal is to be useful to our core audience.
**2. Consideration **
By now you've been using Facebook ads to build awareness with your target audience, but how do you start the actual conversion process? If someone in your target audience is at all interested in your product or services, they'll ultimately click on one of your awareness ads or visit your website on their own. They're almost there, now you need to start working to close the deal.
How Do You Find Them?
The easiest and surest way to retarget ads directly to people who have visited your site is to install a Facebook tracking pixel on your site. Ideally, you'll place this pixel on the home page and throughout the site on key product and services pages. Check out more tips on rocking your retargeting ad campaigns.
How Do You Message Them?
Now that these potential customers are already at least a little familiar with your brand, now's the time to use ads to deliver a targeted content offer related to the problems that can be solved by your software.
Example: DocSend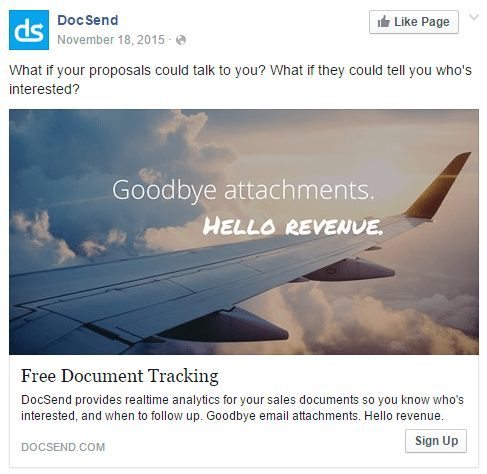 This ad from DocSend is a great example of a consideration campaign. Instead of going for a hard sell, they ask the reader a few engaging questions and offer the promise to end attachments and increase revenue. This is great soft sell messaging for someone that has visited a blog post talking about how to create better sales proposals.
**3. Demo **
Product demos and trials are a huge part of the sales process for many organizations, but it can be difficult to pin down prospects and get them to interact with your brand. Facebook ads can be used to retarget leads who have visited sales-oriented content on your site. After all, you know they're interested in your product.
How Do You Find Them?
Like for the consideration phase of the customer lifecycle, Facebook pixels can enable you to retarget potential customers who visited your site. Keep these ads specific to those who spend time on your most sales-oriented content, such as your pricing page and case studies.
How Do You Message Them?
At this stage in the funnel, the goal is to take interest that has already been expressed and turn it into a demo, a call, or a sale. Craft your messaging to include special offers, extended demos, one-on-one walkthroughs, or whatever your company can offer to convert those leads.
Example: Priority Matrix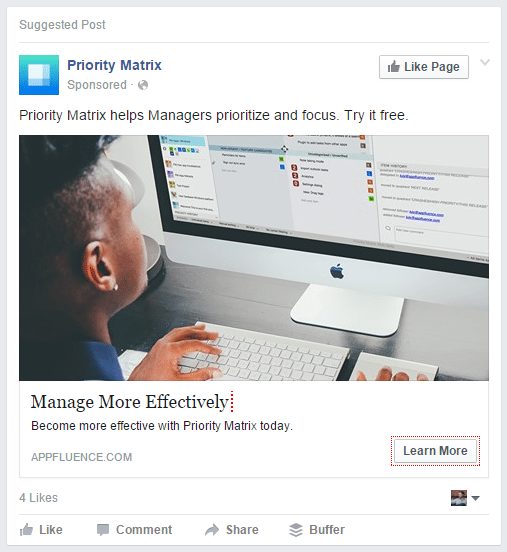 In this ad, Priority Matrix keeps it simple. They give a quick recap of what their software does, how it can help you, and offer a free trial.
**4. Onboarding **
Your targeted Facebook outreach shouldn't stop with that trial signup or initial sales conversion. Bad onboarding is a big part of customer churn. Hopefully, you're already sending customers emails letting them know how to get more out of your product and possibly in-app messages and more, but you can expand your reach and visibility with trialing or early-stage customers by feeding them customer success content through Facebook ads.
How Do You Find Them?
Building an audience for your onboarding ad campaigns on Facebook is as easy as importing a list of emails into Facebook's custom audiences feature. Don't just do one big dump, though. Divide your audience by whether they're in a trial or are paid customers, by product type, by how long they've been a customer, and more as you see fit. We wrote more about how to split these audiences inside of Facebook Power Editor.
How Do You Message Them?
The main purpose of onboarding messaging is to reduce user frustration and churn. For these ads, promote your best customer success content, from webinars to knowledge base articles.
Example: Eventbrite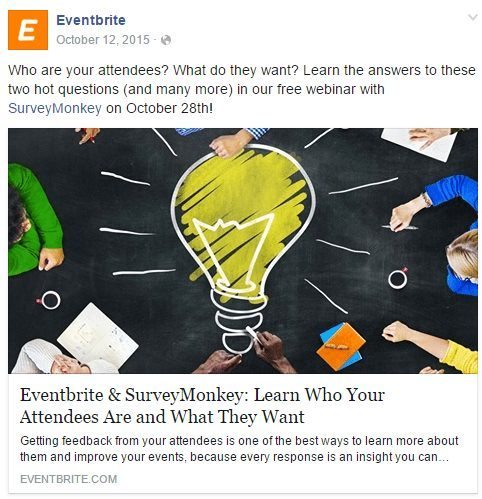 Webinars are tried and true way to guarantee onboarding success with new customers. Here, Eventbrite promotes an upcoming webinar designed to teach their customers how to learn more about their event attendees.
5. Churn
Churn happens, but it doesn't have to be the end of a relationship with a client or customer. Chances are, you have a fairly good idea why people stop using your product. This puts you in an excellent position to use what you know about causes for customer churn and use it to win some of those lapsed customers back.
How Do You Find Them?
Targeting is as simple for churns as it is for onboarding. You already have the contact information for these users and can often set up pixel tracking for them (e.g. users who view the cancellation success screen), so all you need to do is build a custom audience with those email addresses. Just be sure to update your list before each campaign.
How Do You Message Them?
There are a lot of reasons a customer might churn, and you hopefully have a pretty good idea of what that is. If you can, break down your messaging to account for specific causes of churn. Otherwise, targeted offers are a great incentive to get someone who has already bought into your service once to sign up again.
Example: Rival IQ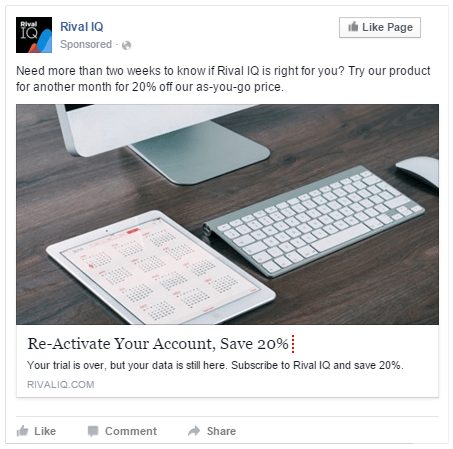 A churn isn't always a former paying customer. In this ad, Rival IQ targets those who demoed their software but didn't subscribe with discount messaging.
6. Feature Launches
Your company isn't content to rest on its laurels. New feature launches are likely a frequent occurrence, and it's important to get the word out to current customers, former customers, and prospects.
How Do You Find Them?
The audience targeting for feature launches will be a combination of all of the targeting you've already compiled. From your initial target audience to a custom audience of your current and lapsed customers, and all the pixel targeting in between, you've already done the work to find the audiences for your feature launches.
How Do You Message Them?
Feature launches require the widest breadth, but that doesn't mean you can throw targeted content to the wind. Each phase of your customer lifecycle needs its own, specific messaging to go with the unique goals you have for each lifecycle stage. Let current customers know what new things they can do, show churns how the product has improved since they left, and give prospects a final push toward a trial and purchase.
Example: Autopilot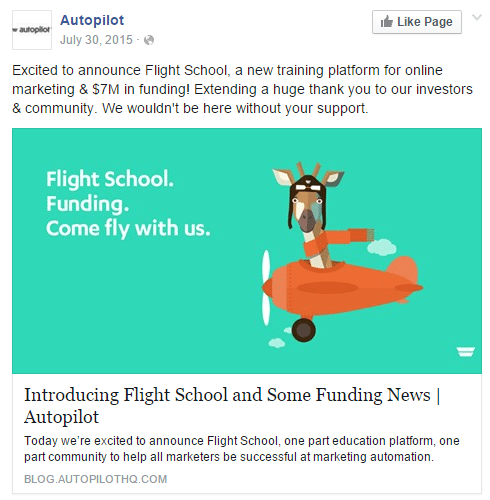 When Autopilot launched its customer journey tutorial platform, Flight School, the marketing team got the word out with Facebook ads targeting current and churned customers alongside prospective customers and their target audience. While this ad wouldn't be appropriate to sponsor for a broad awareness audience, it's a perfect update for current customers and trial stage users.
The Bottom Line
A lot of companies run awareness and sales campaigns and then let them run on repeat for everyone that's ever visited their site. But, especially when you consider that finding new leads is more expensive than nurturing existing ones, running ad campaigns for the onboarding, churn, and feature launch stages in the customer lifecycle could save you money by reducing churn and regaining lapsed customers.
Resources & Further Reading