February 24, 2015
How Guides Help Launch Better Marketing Journeys
When I first heard of marketing automation I didn't have a clue what it is was or how it could help me as a marketer. I even realized that many of the activities we had been doing for years in the startups we consulted for, such as creating regular touchpoints with leads and customers, were actually "marketing automation." We just didn't have the name for it yet. Fast forward to 2015 and shockingly only 4-5% of companies - mostly the "tech elite" or enterprises and mid-market companies in tech - have actually adopted the technology. The good news for these companies is that they generate more leads, are able to communicate with their audience more regularly and effectively, and are perceived to be better at their jobs. Time and time again when marketers are interviewed about why they aren't adopting marketing automation, they cite the same three reasons: it's expensive, they fear that the software won't produce results, and recognize they lack skills needed to operate effectively. So after helping companies implement marketing automation for years, and learning a great deal about how to help marketers recognize value quickly, we invented the Guide. Guides answer what is often the biggest blocker for marketers - the question "where do I start?"
What is a Guide?
Think of a Guide as an easy-to-follow recipe with a description and method for a lead nurturing program or marketing campaign (which we call Journeys). The only difference in the analogy is, most Guides come with ready made ingredients! Guides are a great way of drawing inspiration from marketing best practices in Autopilot. Use Guides like a template for your own marketing and even customize them to work for your unique Journeys. When you use a Guide, you're benefiting from the experience and expertise of hundreds of other marketers - since they are curated by thought leaders or shared through the community. Confidently execute marketing automation programs knowing that Guides are tried, tested, and trusted practices that work. Browse the Guide Book, which is like the iTunes music store except for marketing - and it's free! Guides are broken into categories based on the types of Journeys you can implement. You'll find everything from "The Basics" which help you get started to more advanced Journeys like "Lifecycle Nurturing" and "Customer Onboarding."
Sharing your knowledge through Guides
Not only can marketers browse and use Guides for their own marketing, you can also share and curate Guides with Autopilot's community. We'll soon be sharing Guides created by marketing thought-leaders so you can learn from the best of the best. If you aren't comfortable sharing your Guide with the Autopilot community, you can also share them privately with friends or colleagues. For example, imagine your friend has built a top-performing lead nurturing journey that she won't stop bragging about. You can put it to the test asking her to share her Guide, then you can launch her journey in your own marketing!
Keep secrets safe with private Guides
Or, if you build a great Journey and want to save it for future re-use without sharing, just save it as a private Guide. Private Guides are only available to you under "My Guides."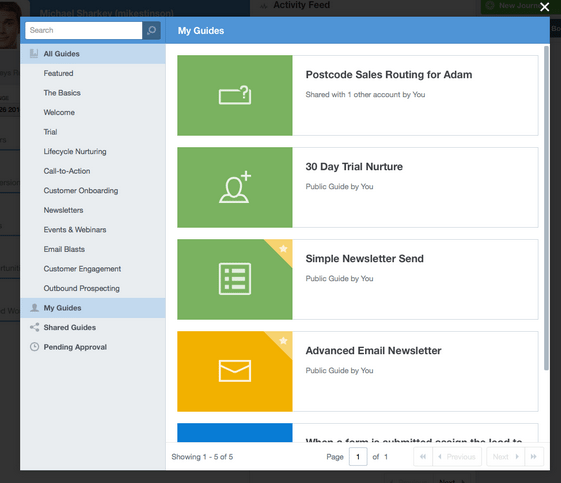 Guides help you implement marketing automation best practices, learn ways to grow your business, and help you launch better marketing Journeys quickly. We're excited to see the Guide Book expand and to support a community of marketers sharing Guides with each other. We think that Guides will help take marketing automation mainstream, by breaking down barriers and being easy to try, and easy-to-use. **What types of Guides would you like to see added to our Guide Book? Please share with us in the comments. **