April 6, 2017
How The Hustles Brand Ambassador Program Attracted 300K Email Subscribers
Are you looking to launch a brand ambassador program for your company? The Hustle—an email newsletter for savvy forward thinkers interested in business news—has grown to 300,000 subscribers and counting, thanks in large part to their brand ambassador program where people invite their friends to join. Founded by serial entrepreneurs, Sam Parr and John Havel, the company's writing voice is, in their own words: "What you'd get if the The Daily Show and The Wall Street Journal had a baby." Haha. In this post, we're going to do a deep dive of The Hustle's brand ambassador program to learn what we can apply to our own businesses. Let's hop in.
Getting people into the ambassador program
There are two ways The Hustle invites new ambassadors: 1. The ambassador landing page that lives on their website 2. An email to existing newsletter subscribers
Way #1: Ambassador landing page
In their casual voice, The Hustle lays out the ambassador program benefits in an easy-to-read landing page, accessible through their website footer.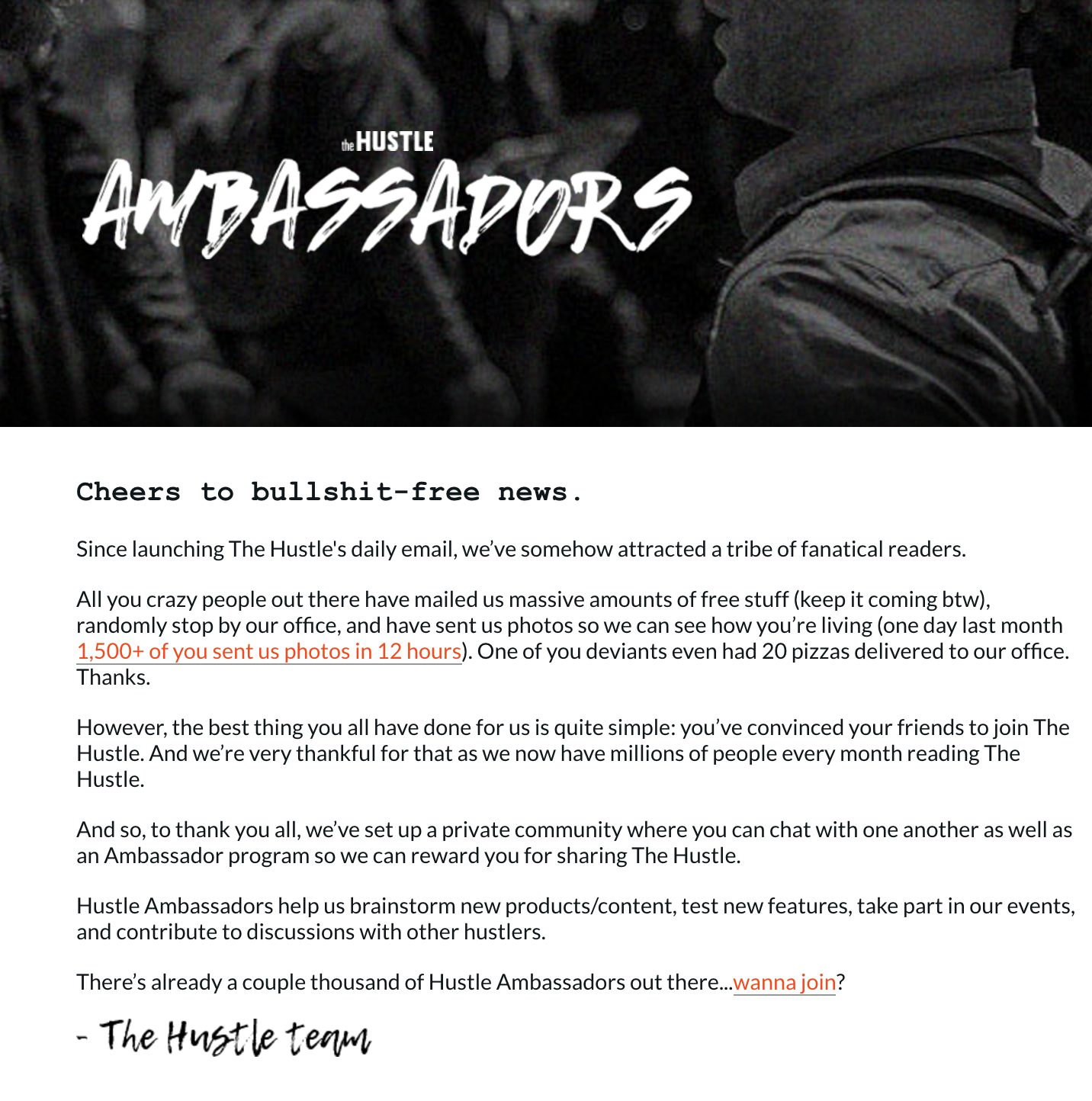 Would _The Wall Street Journal_ ever write "Cheers to bullshit-free news" in any of their marketing materials? Nope. Don't think so. Notice the benefits in the copy: "Hustle Ambassadors help us brainstorm new products/content, test new features, take part in our events, and contribute to discussions with other hustlers." It's a no-brainer for people who fall in love with The Hustle on first read. As soon as a person clicks on "wanna join?" then they're taken to this even simpler page.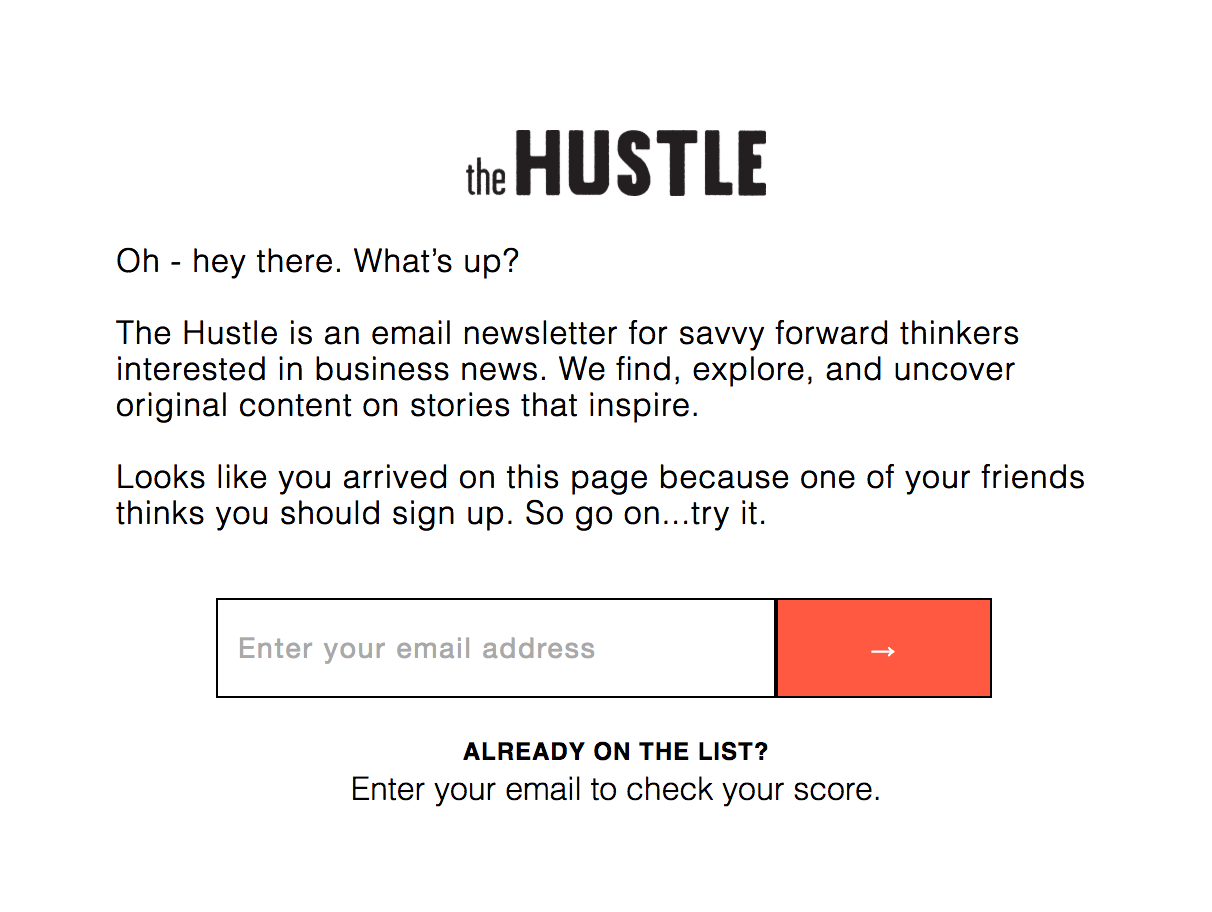 The copy conveys the value with zero jargon, and the arrow on the button encourages visitors to take action. I can only imagine how many times the team has A/B tested this form. So what happens when a person opts-in? They see an unforgettable thank-you page. The man in the mirror is a GIF, so when they land on the page, they'll see him nod his head over and over again.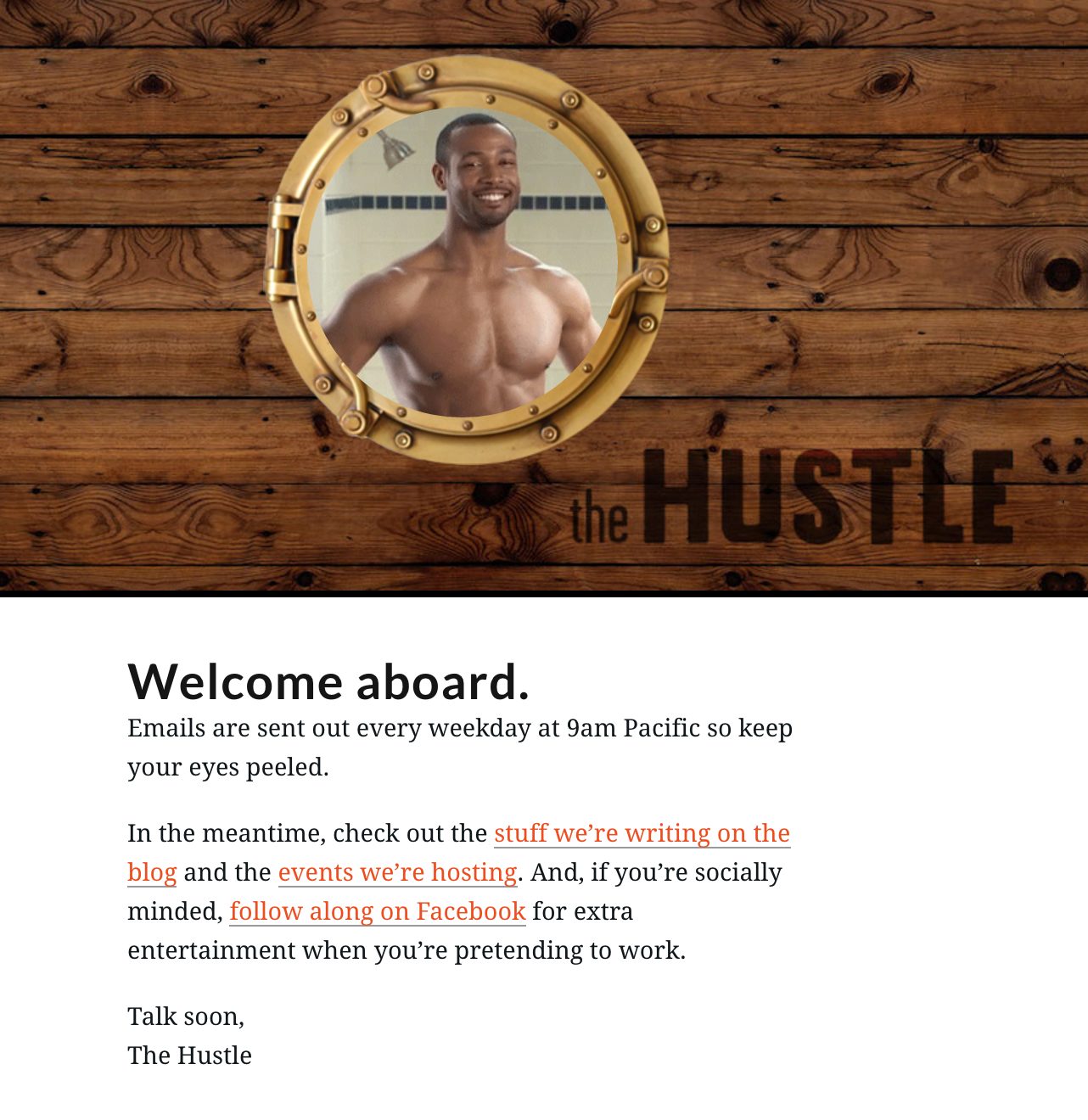 Talk about a seductive landing page ;)
Peeps are officially subscribers now if they hadn't opted-in to the The Hustle's stuff before. Up next is the most epic welcome email ever to exist. I know what you're thinking: "To ever exist? _Really?_" Yes. Really. When researching this post, I came across five different publications who've featured The Hustle's welcome email. Here's the goodness word-for-word: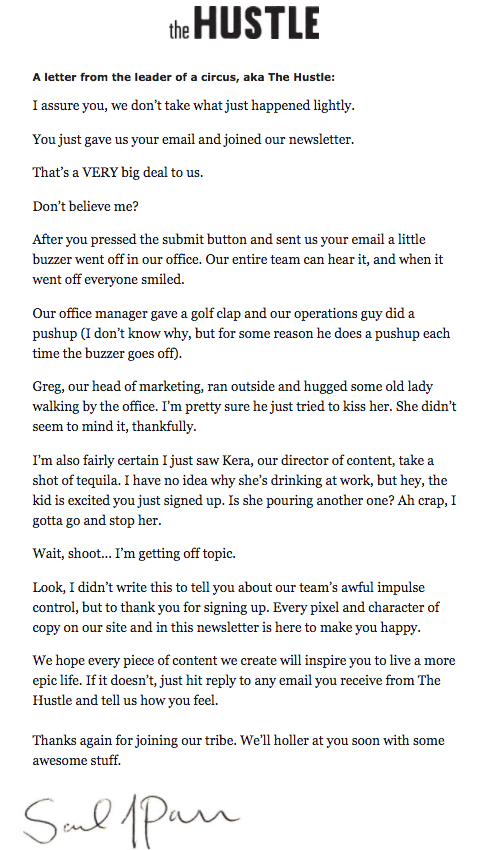 At this point, new signups are now a welcomed newsletter subscriber _and_ an ambassador.
Way #2: An email to existing subscribers
A few weeks after a person opts-in to the company's newsletter, they receive an invitation to become an official Hustle ambassador.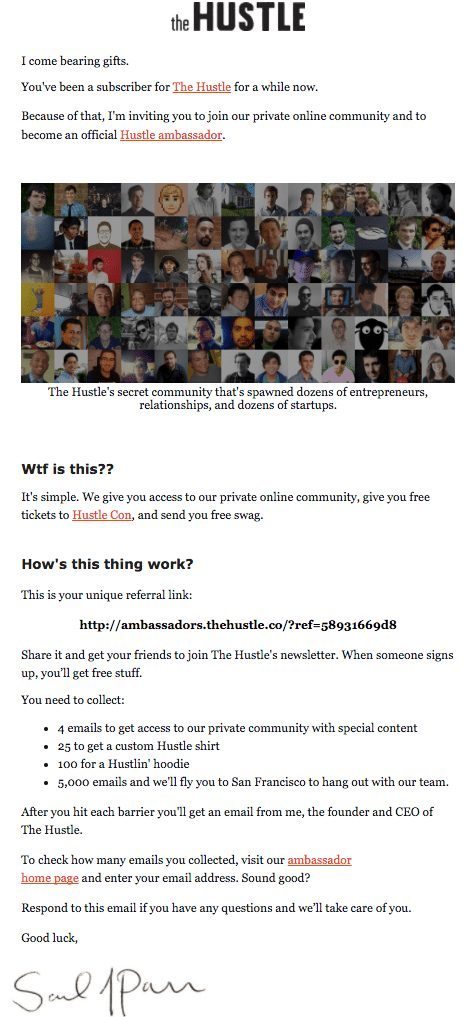 Magically, each subscriber already has a unique sharing link. This way they can start referring their friends immediately. Before we continue, let's cover exactly who participates in ambassador programs. _Forrester's Social Technographics_ explains the three audiences that do: Spectators, Joiners, and Creators.
Spectators click through to giveaways, but their interaction doesn't go further. For spectators, use a well-designed landing and clear messaging, so they leave with a good impression of your brand.

Joiners participate in low-barrier ambassador programs and may engage further through referrals, commenting and sharing.

Creators love user-generated content giveaways and ambassador programs. Because many of us have iPhones, there are many more content creators than a few years ago. As content has become easier to create, expectations have increased, too.
The Hustle's ambassador program caters to _joiners_ since everyone who opts-in to the newsletter receives a referral link no matter what. The barrier to entry is lower than a lowrider.
Giving brand ambassador program a home
Once people are in the brand ambassador program, The Hustle gives them an online home to get the scoop on:
Number of referrals so far

Their unique sharing link

Rewards tiers

How to describe The Hustle

Proven methods to get referrals
I want that t-shirt
The goods section catches my eye. Ambassadors score more cool stuff when they refer more people, like free swag and tickets to events. Since launch, The Hustle has changed their referral tiers after better understanding the average referral's customer lifetime value. Smart. When you're setting up your own referral program, choose giveaways with a viral component. Personally, I think stickers are the most viral gift The Hustle gives away. People slap 'em on their computer, right next to the Apple logo on their laptop, resulting in thousands of free impressions. To help each reward go viral, The Hustle always goes the extra mile. One of their referrers posted this pic online showing all her shiny new goods.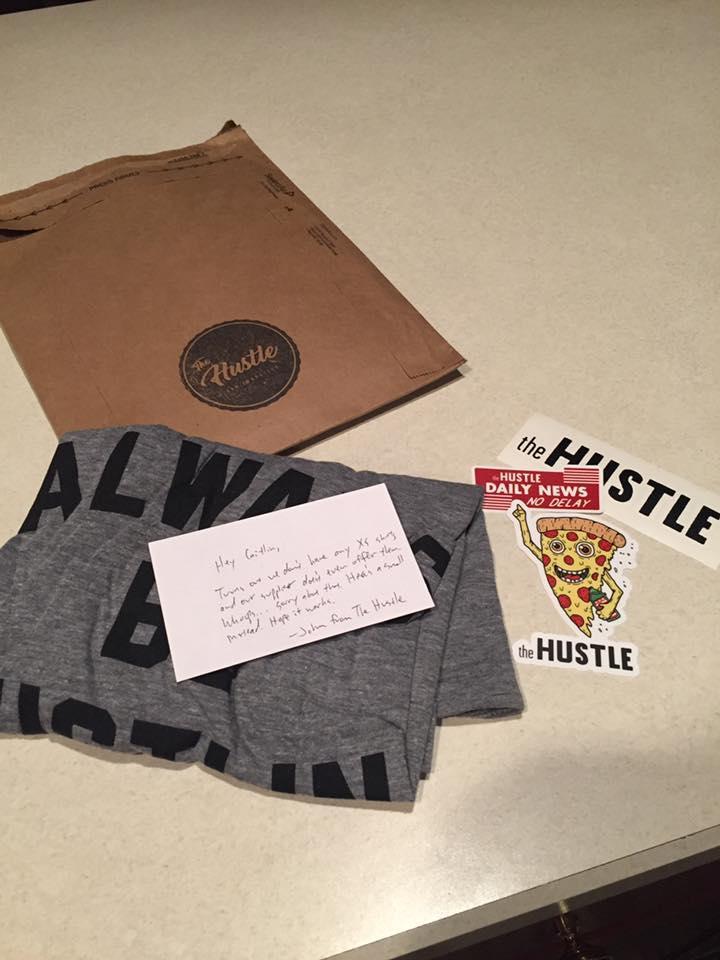 Notice the extras, including the handwritten letter and branding on the packaging. Damn, I _really_ want that t-shirt. When choosing prizes, make sure to keep them relevant to your niche and brand. If The Hustle gave away an Apple iPhone, then they'd have tons of people on their email list interested in iPhones, not their daily email and events. At the same time, don't make it too specific or you'll scare people off. **The how-to tips are helpful too. **The Hustle teaches people how to talk about the company, gives ambassadors referral methods, and includes testimonials to boost confidence. By the time ambassadors finishing scrolling through, they feel empowered to go out and invite their friends.
Delivering ambassador program prizes
What happens when a person refers enough people to receive a prize? They get another email with engaging copy and a few call to actions. First, The Hustle asks them to fill out a form to input their shipping address.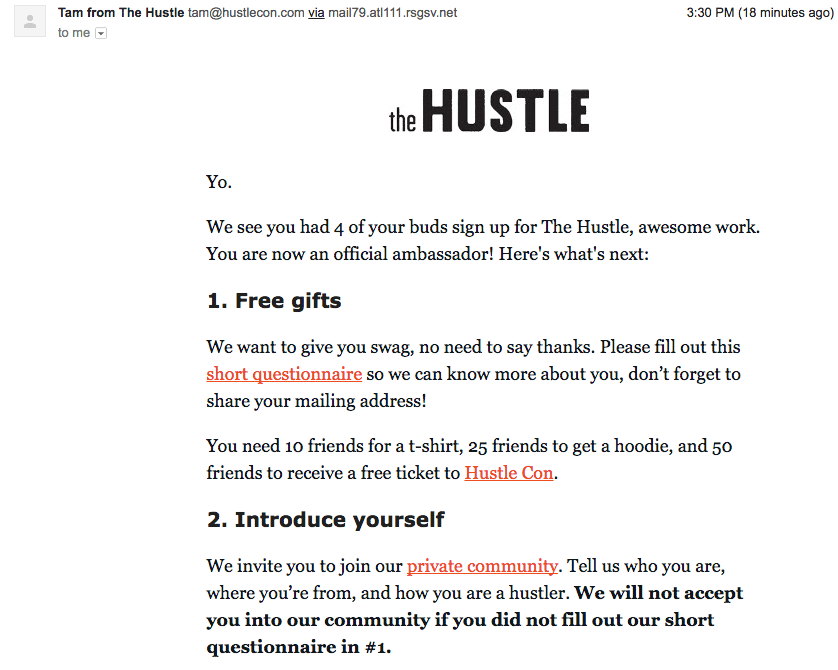 Here's the genius part: Since they know people have a strong incentive to fill out the form, they also ask if the person is a founder, the type of content they enjoy reading, their desired outcome from the ambassador program, and what websites they follow. By the time ambassadors hit "Submit," they've given The Hustle a detailed look into their life enabling them to market to them better. At the end of the form, they also link to _a YouTube video of the co-founder, Sam Parr, introducing The Hustle_ on a more personal level: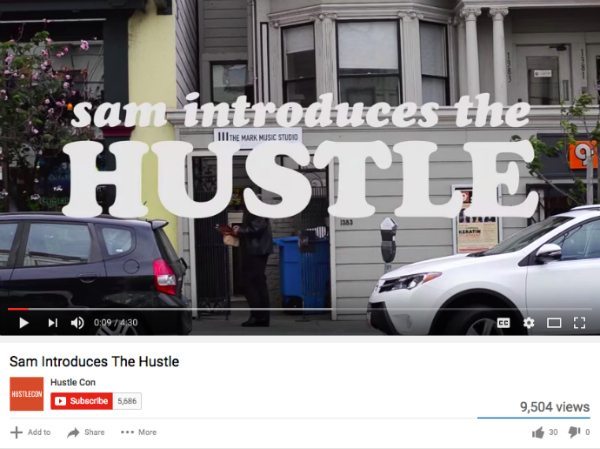 Now back to the second part of the prize email: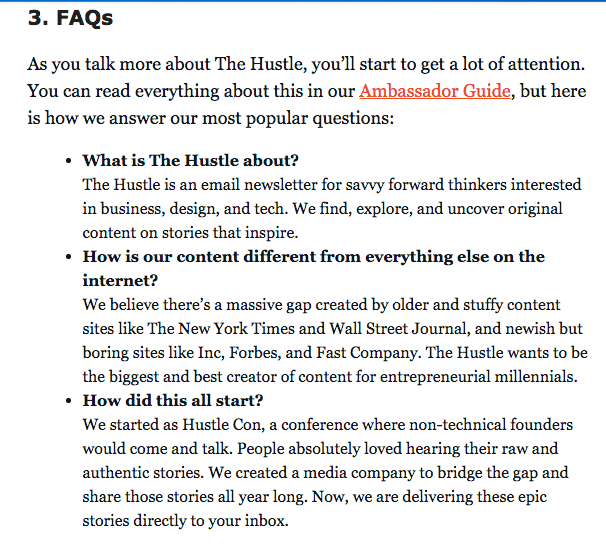 If people have any questions, they link to their ambassador guide FAQ. This is one my favorite parts of their ambassador program. The FAQ answers every question an ambassador might ask. Moreover, it reminds them of how easy it is to refer people because they include a few testimonials similar to the ambassador homepage. Here's a short snippet of the testimonials on the FAQ page: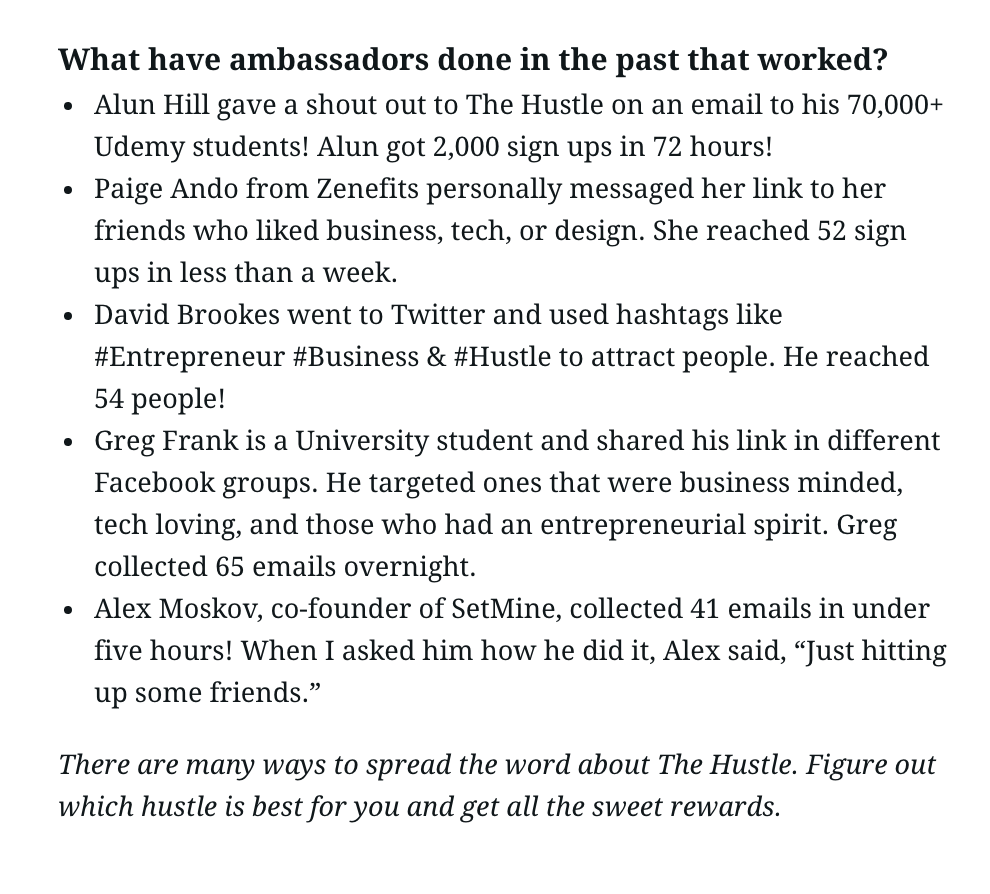 The last sentence is a call to action to refer more people. Most marketers put this CTA at the top of their email, but The Hustle doesn't believe you should ask first. They're objective is to build trust. And it's been working quite well, to the tune of over 300,000 subscribers.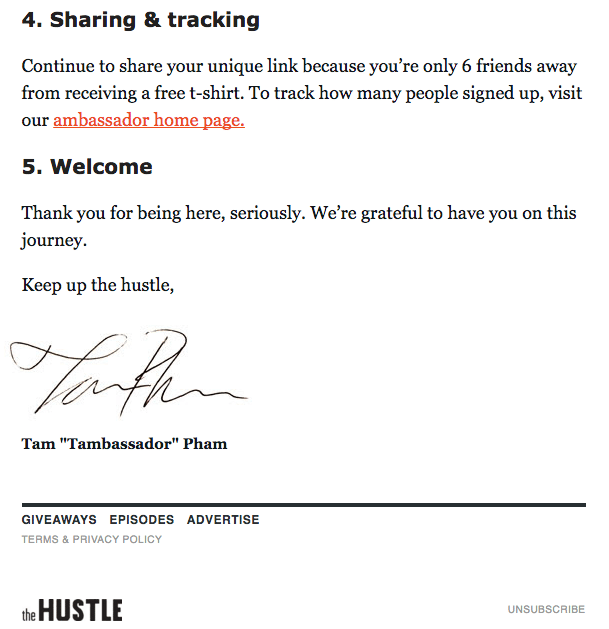 Running a private a community
The Hustle's private Facebook community is where the magic happens. An engaged community is priceless, but it takes a significant amount of work to facilitate. You need to post excellent content almost every day, respond to comments, approve members, and introduce new members. The Hustle founders know this, so they're constantly testing out content from polls to live streaming with influencers.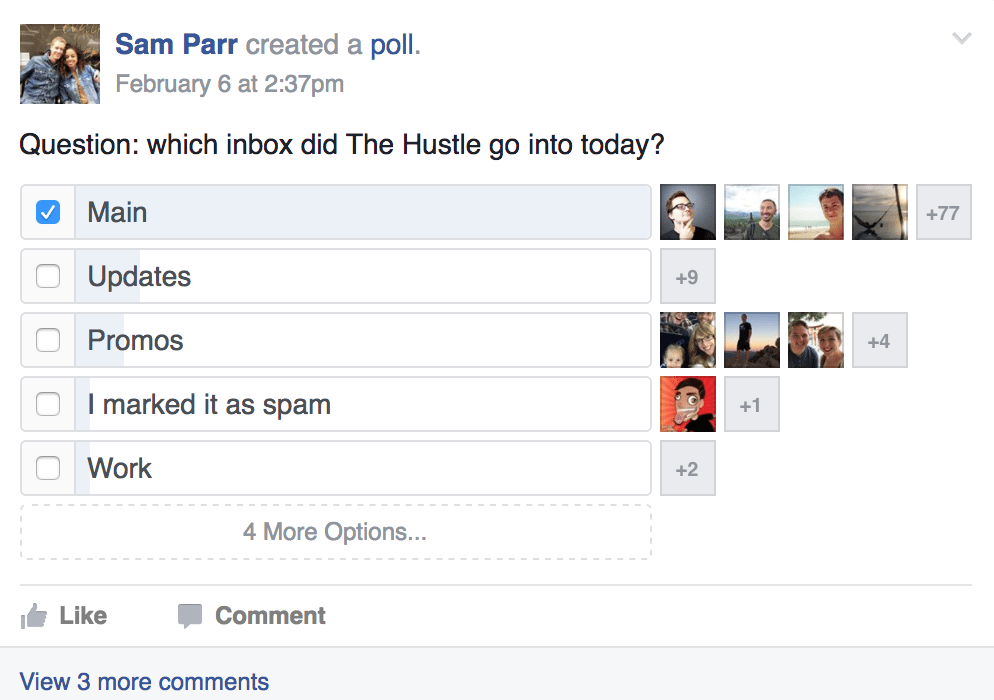 Imagine having the exclusive benefit of a Q&A with Tim Ferriss because you're one of The Hustle's ambassadors. Benefits like this live stream encourage thousands of more people to become ambassadors.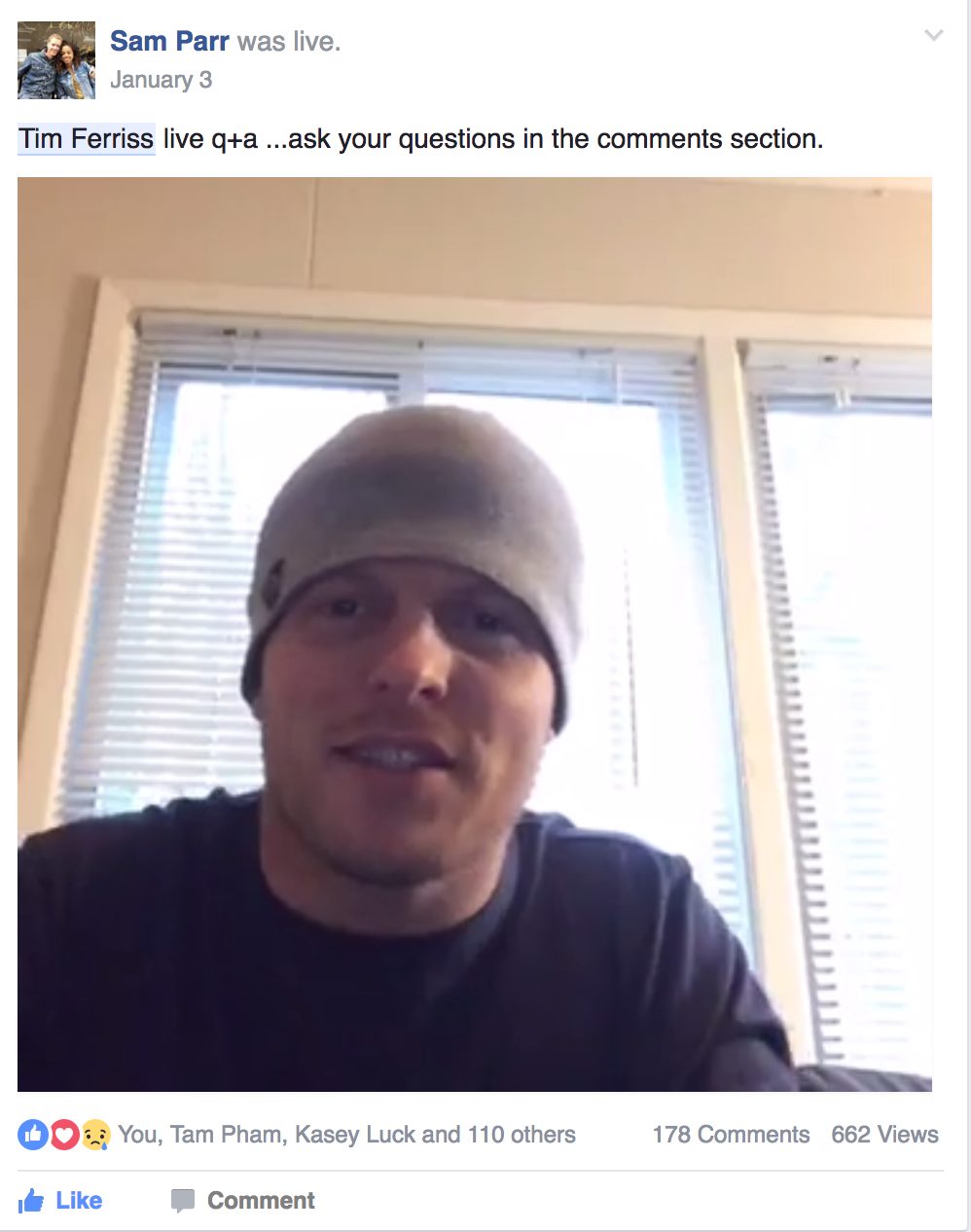 To reiterate, they post new content every day. I've seen many people try to create ambassador programs, but give up after a couple of months—they can't continue providing value. Can you? Ask yourself: "How can I provide value to keep my community engaged without burning out?" There are several ways to do this.
Make other active members moderators or admins to encourage them to create great content

Interview influencers, so you don't have to create original content

Document your personal journey of failures and successes

Congratulate your top members regularly
Don't stop posting great content. As soon as you stop posting content, the group dies. As the community leader, it's up to you facilitate the relationships.
A startup's dream
Startup founders and marketers love ambassador programs because they require little-to-no engineering, have low setup costs and include streamlined tracking. If you can pull it off, then you'll hit all the critical components of a startup's marketing dream: viral sharing, community building, word-of-mouth referrals, fan-generated content, and thought leadership. You'll have an edge over every competitor in your space with an ever-growing, ever-multiplying community. Think you have what it takes?