July 14, 2015
How To Follow Up Leads
Companies spend tons of money to generate leads online. In fact, digital ad spending in the US alone will total nearly $60 billion dollars this year. Think of all the places you spend your own marketing budget: display ads, search engine marketing, paid social media ads, sponsored email campaigns, events, and more. Tons of time, effort, and resources go towards turning strangers into leads. But when a person finally fills out a lead form, downloads a whitepaper, or inquires about your business, what happens next? According to the Harvard Business Review, for 23% of companies: nothing. The lead disappears into the abyss of bad marketing and sales. What needs to happen? How do you turn new leads into paying customers? You have to follow up. In this post, you'll learn four ways to make sure zero leads fall through the cracks (and how to increase your chances of winning new customers.)
1. Notify your team in real-time
Let the right people know immediately after a lead signs up. Send an email notification to your sales reps to follow up or to celebrate the new lead with key stakeholders on your team. This can easily be achieved using marketing automation software to trigger notifications as soon as a form is submitted. Below is the email notification we use here at Autopilot. Feel free to use it as a template or tweak it for your own company: Hi everyone, We have a new sales lead! Here are the details:
Name: --First Name-- --Last Name-- Company: --Company-- Phone: --Phone-- Email: --Email-- Comments: \--Notes-- \--Contact Link--|View new lead in Autopilot Thanks, Your trusty Autopilot.
If your inbox is already full enough, another option is to use Slack + Autopilot to send a configured notification chat directly into your "sales" or "marketing" Slack channel, like so…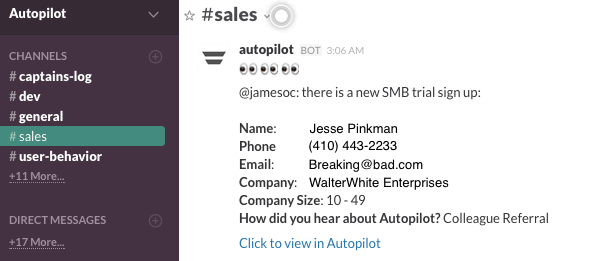 Your team will know the second a lead signs up, and can respond immediately with company size and referral source in mind.
2. Assign the lead to an owner
Clearly define sales channels owned by distinct sales reps, or "swimming lanes" as we like to call them internally. Assign leads using automated routing rules, and continually improve standard processes for each as you learn more. As an example, ask for company size (e.g. number of employees) on your signup form to automatically assign large company leads to high-touch direct sales reps, and small companies to passively managed self-service or 1:Many channels. Doing this will help streamline your sales efforts while driving down your company's customer acquisition cost to lifetime value ratios.
3. Follow up insanely fast
Online leads grow cold quickly and companies who respond the quickest, win. Did you know that firms who contact potential customers within an hour are 60 times as likely to qualify a lead than companies that wait 24 hours or longer?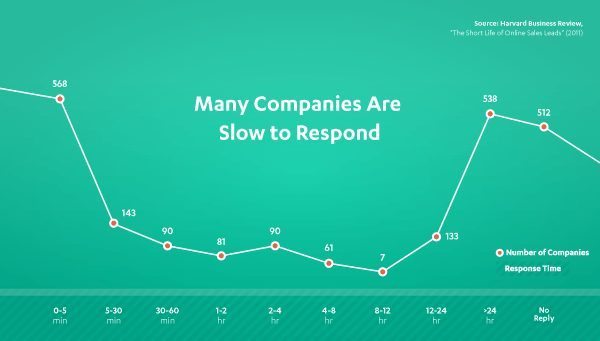 The same principle of "follow up fast" applies to businesses of all sizes, even if you are a solo entrepreneur or small business with 1-2 salespeople. For example, a few weeks ago I reached out to five boutique wedding caterers about their menus and availability. Only 3 of the 5 got back to me, with at least two of them replying a month later after I'd already moved on. Every option looked good, I just wanted the one that got back to me the fastest so I could move on to the next planning decision. The same is true for your busy leads looking to get their problem solved ASAP. Depending on what works best for your business, here are two viable paths forward:
Option #1: Call within five minutes of the inquiry
According to a comprehensive study conducted by Lead Research Management, the data shows that the odds of qualifying a lead in 5 minutes versus 30 minutes decrease by 21x, and from 5 minutes to 10 minutes the odds decrease by 4x. Translation: The faster the followup, the better.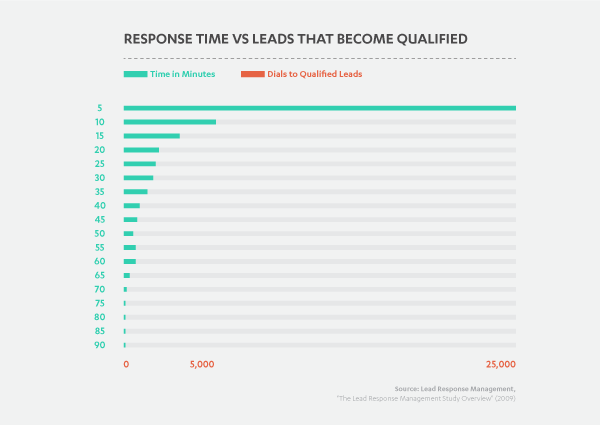 Be the first to respond quickly and thoroughly to lead inquiries. You'll increase your chances of turning the lead into a sale while leaving your competitors in the dust.
Option #2: Start a conversation over email immediately
If calling is not a part of your lead conversion strategy, follow up via email as soon as humanly possible answering all of your potential customer's questions. To buy you some time and avoid being glued to your inbox, automate a follow up email communicating that you'll be in touch shortly, like this one: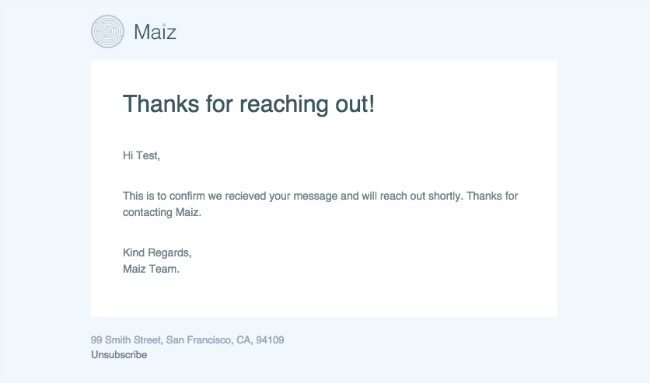 A "we've received your message" email keeps leads from wondering if their message was sent or not. At this point, the ball is in the lead owner's court to reach out. Bonus: Take a multi-channel approach and send a follow up via text message immediately after an inquiry, with a message like "Thanks for reaching out –First Name–, someone from our team will be in touch shortly."
4. Nurture "not ready" leads to a sale, automatically
Not every lead is created equal. B2B research consistently shows that 30-50% of leads are not ready to buy when they first inquire about your business, but about three quarters will become sales ready within 12 to 18 months. The best way forward is to nurture these leads over time with relevant and helpful content that keeps you top of mind until they are ready to buy. Keep the attention of your early-stage buyer by speaking to their needs and interests with best practices, industry trends, consumer review content, and non-branded content. Start by spacing these nurturing emails ten days apart, with the goal of building trust and credibility with every piece of content you share. When the time is right, they will come a knockin'.
How to follow up with your leads in a few clicks
Because following up with leads is essential to running and growing a business, we templatized this process as the "Follow Up With Your New Leads" journey in the Autopilot Guide Book.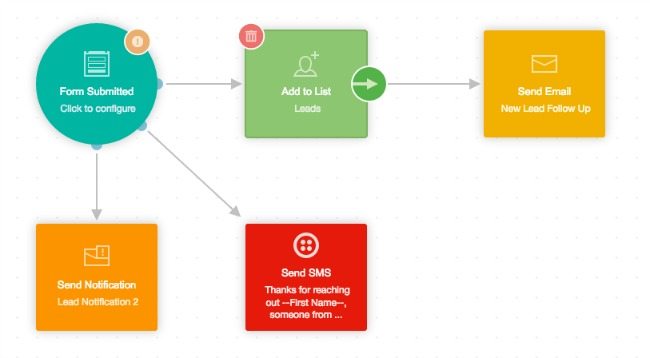 This journey ensures all new leads are responded to immediately via text and email and your team is notified to take action, helping you turn leads into paying customers. Try it yourself in a few clicks by signing up for a free trial. What's your company strategy for following up with leads? Any hot tips you'd add to the above list? Let us know in the comments.