December 6, 2018
How to get repeat customers
Repeat buyers deliver the same revenue as five new customers combined and are nine times more likely to convert.
Repeat buyers make up just 8% of visitors, but deliver a whopping 40% of revenue—making them a lucrative segment of customers. Unfortunately, long-term, profitable customer relationships don't happen overnight. By investing in customer retention from the start, you can dramatically grow your bottom line while transforming one-time buyers into committed brand enthusiasts.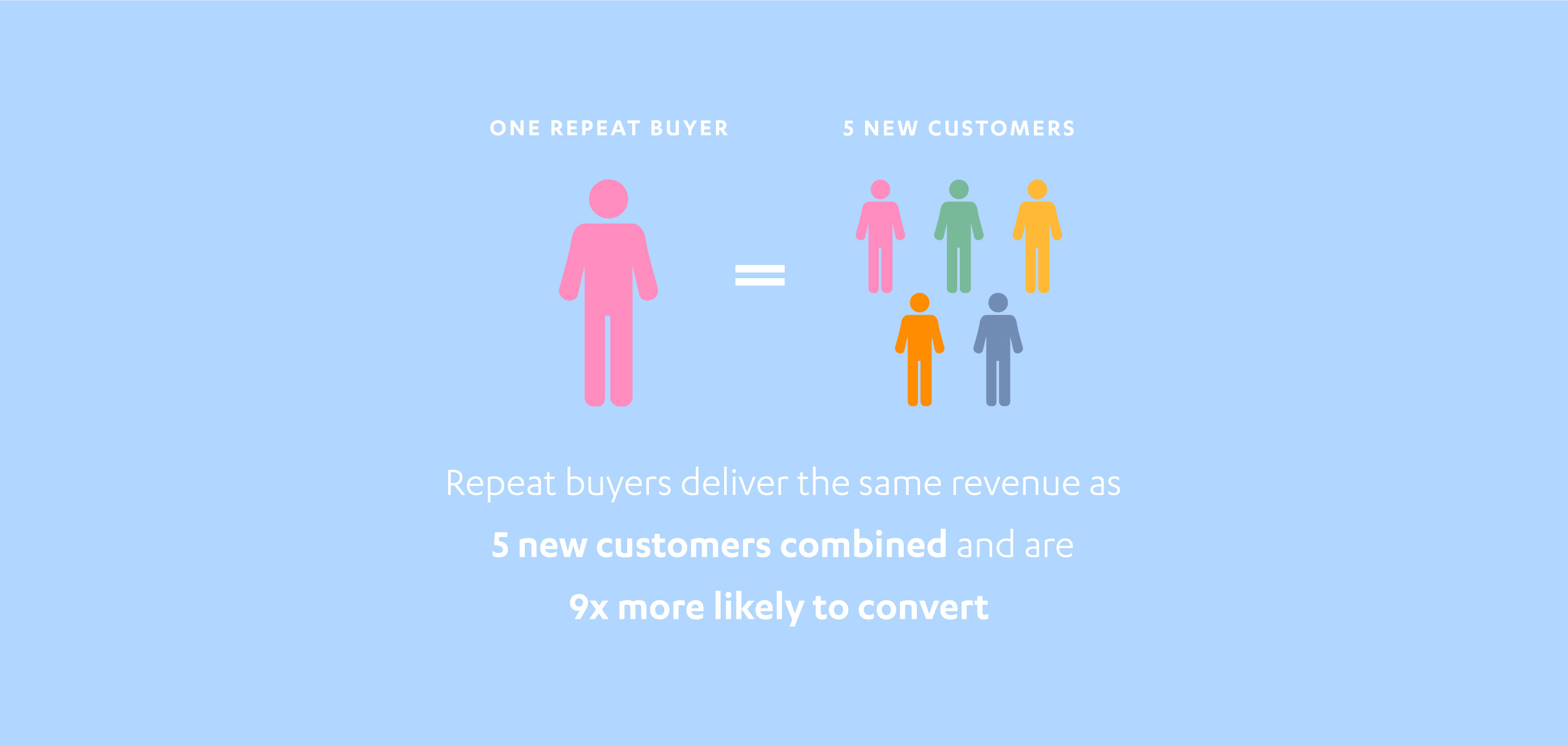 Nothing feels as good as earning a new customer. In that moment, you feel validated: Your marketing efforts have finally paid off! Time to celebrate, right?
Well, not exactly.
Marketers tend to focus too heavily on acquisition. which turns out to be a costly mistake. With acquisition costing six to seven times more than retention (Kissmetrics), the only path to sustainable growth is a commitment to keeping your customers around.
Taking new customers from their first purchase to their second can be a hurdle. But with each additional purchase, you can be more and more confident that your customer is here to stay. In fact, customers who have made two purchases in the past are nine times more likely to convert than new shoppers (Adobe).
Here's the six-step recipe for creating repeat buyers.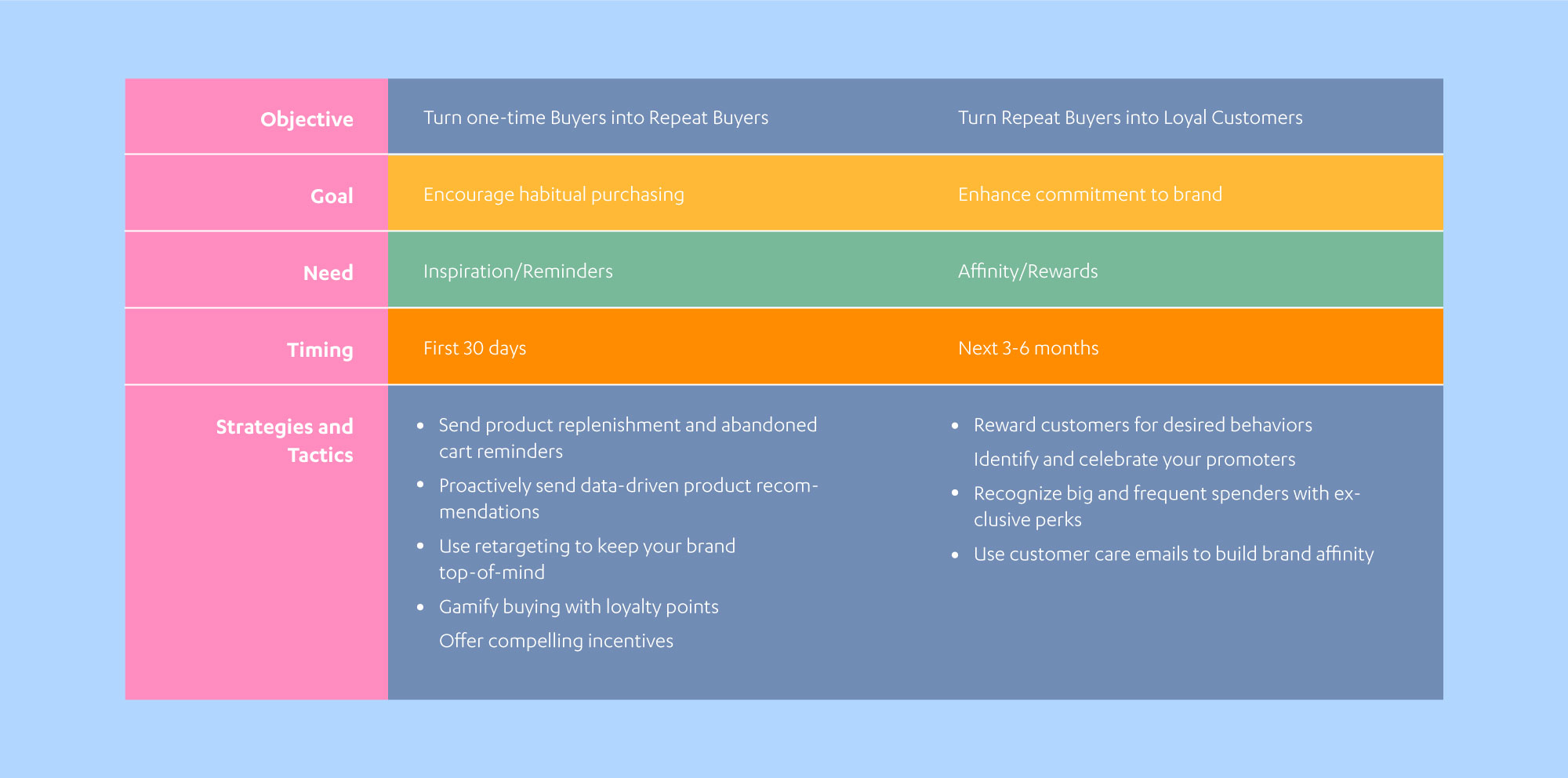 Step 1: include data-driven recommendations in transactional emails
Transactional emails are triggered by a specific action, like completing a purchase, registering for an event, or signing up for a free trial.
In this case, we're recommending that you include data-driven product recommendations in the email you send to confirm a customer's order.
For inspiration, check out this email from Huckberry. The top half of the email looks like any other order confirmation email, but the bottom half of the email curates "trending gear"—jackets, watches, shoes, shorts, and even a hammock:

This section of the email sparks the customer's interest in other products—increasing the likelihood that they'll make another purchase right away.
Step 2: send timely reminders to customers to make a purchase
It's easy to sell a product to someone who's already planning to make a purchase, which is why timely reminders are so effective. Here are two examples of compelling reminder emails:
Product Replenishment Emails
Many products require replenishment after a certain amount of time has passed. For example, because unhealthy bacteria starts to grow on personal hygiene and makeup products after about three months, doctors recommend regularly replacing these items.
But most people lead hectic lives, which is why they don't always remember when it's time to buy a new toothbrush or tube of mascara.
As a marketer, you're uniquely positioned to use transactional data to anticipate the needs of your customers. You can set up automated customer journeys solely focused on reminding customers that it's time for a refill. Remember, these are items people need—making it an easy sell.

Product replenishment email example from Drugstore.com
In the email, explain why it's important to act now and enable customers to buy with a single click. By reducing customer effort, you improve your chances of becoming their supplier of choice.
Abandoned Cart Emails
People often get interrupted in the midst of making an online purchase. In fact, many people abandon their carts simply because they began searching for their credit cards and got distracted along the way.
For this reason, a short and sweet reminder to finalize an interrupted purchase can be effective. More often than not, these reminders are welcomed by the customer—who sees the communication as a value-added service.
Curious what an abandoned cart follow-up email looks like? Check out this example:
Step 3: use retargeting to keep your brand top-of-mind
When encouraging customers to form a purchasing habit, it's important to keep your brand top of mind. Because retargeting ads follow your website visitors wherever they go online, retargeting is an effective way to achieve this goal.
Learn more about retargeting here.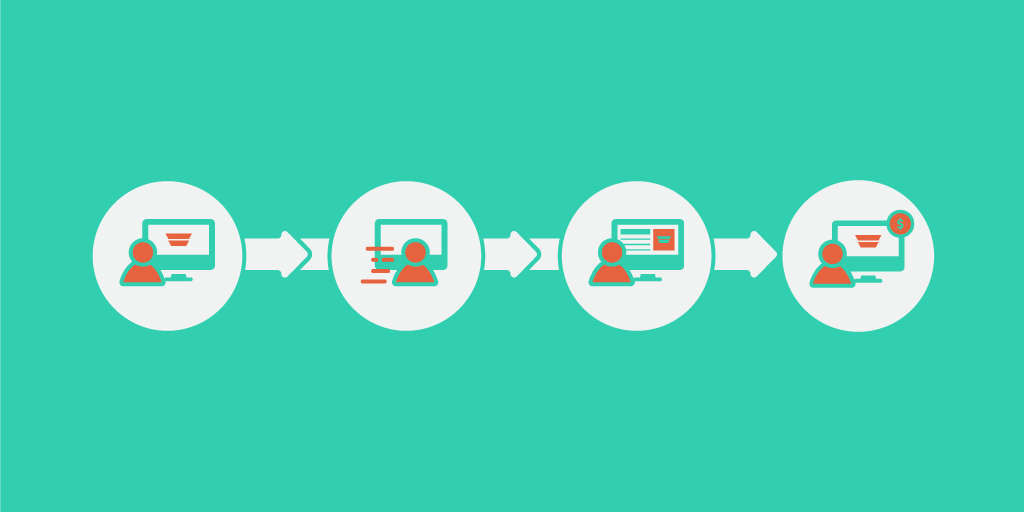 How ad retargeting works
Retargeting is also helpful in combating browse abandonment, as it allows you to show ads containing specific products to people who previously looked at those products. In essence, this helps keep both the product and your brand top of mind.
Whereas Google remarketing "allows you to show ads to people who have previously visited your website or used your mobile app", Google dynamic remarketing "takes this a step further, letting you show previous visitors ads that contain products and services they viewed on your site."
Step 4: encourage upsell and cross-sell with personalized product recommendations
Once you've collected more data about your customers, you can start targeting them with more personalized product suggestions. Basing these recommendations on their purchase history will increase your chance of making the sale.
Product recommendation emails differ from transactional emails in that they're sent proactively. That is, instead of waiting for the customer to browse your website, you nudge customers to buy by sending a carefully curated selection of products straight to their inboxes.
Say a women's clothing store wants to get their new arrivals in front of customers. They could use smart segments to send tailored emails to two to three groups of customers based on product category or perhaps brand preference (via custom fields). In doing so, they'd provide each customer with a relevant offer while increasing the likelihood of making sales.
Want a real-life example? A few months ago, I purchased a book called "The Filmmaker's Handbook: A Comprehensive Guide for the Digital Age" from Chapters, a Canadian bookstore chain. A few weeks later, I received these recommendations in an email:
Email example with personalized product recommendations
Had I continued to explore my interest in film, there's a good chance I would have at least clicked on (if not purchased) these product recommendations.
Step 5: use loyalty points to gamify the process of building a purchasing habit
Before offering financial incentives, like discounts and coupon codes, try using gamification to encourage habitual buying.
For many customers, the ability to earn points on their purchases, which can later be redeemed for goods or services (whether that's free shipping, discounts, or swag), is enough of an incentive to encourage the customer to make a second, third, and fourth purchase.
Email example using gamification to build loyalty from Swarm
One to three days after the customer's first purchase, send them an email welcoming them to your loyalty program. In the email, include the following:
How your loyalty program works
How many points they've earned thus far
How many points they need to qualify for a reward
Sample rewards (with corresponding points levels)
How to earn more points
When designing your loyalty program, remember to keep things simple. If you overcomplicate the process for redeeming points, your customers will quickly lose interest. Tie points either to dollars spent or number of purchases made, and always use even numbers (e.g., 100 points = $1 credit as opposed to 63 points = $1 credit).
Step 6: offer customers compelling incentives to make their next purchase
Once you've exhausted all other options, it's time to incentivize customers to make their next purchase with a discount or coupon code. Keep these best practices in mind as you go forward:
Incentives should gradually escalate over time. For example, one to two weeks after the initial transaction, offer a modest discount of 5-10%. If the customer fails to bite, follow up with a 15% discount. If that fails to intrigue the customer, consider offering a 25% discount.
Know when to stop. If a 25% discount doesn't persuade the customer to make a purchase, chances are that increasing that number won't change things. Perhaps it's simply not a good time. Either way, nothing's stopping you from continuing to offer an incentive (e.g. 25%) after you've reached your maximum. Decide in advance what number makes sense for your business (based on how much wiggle room you've built into your pricing) and stick with it.
This email is one of our favorites:

Email example using discount codes to drive repeat purchases from Jet
It's designed with one goal in mind: Driving one-time buyers to form a purchasing habit. By offering 15% off on two subsequent purchases, Jet helps customers get acquainted with its website, products, and processes, which helps reduce the customer's learning curve—a strong step toward developing a purchasing habit.