February 10, 2017
How to go live on Facebook
The Startup's Guide to Facebook Live Video
Have you used Facebook Live for getting your startup traction? If not, you're missing out on many early adopter benefits. When you go live on your profile, Facebook notifies _all_ your friends. If you go live in a Facebook event or group, the platform notifies _all the attendees and members. Compare this to when you post on your fan page and only get a few likes here and there. Because Facebook Live provides real-time interaction with video, it's one of the best mediums to develop your know, like, and trust factor. _Streaming live on Facebook presents a more genuine online interaction and exemplifies your startup as an early adopter. With one-third of all time spent online used to watch video, the channel is ripe for helping your startup get traction. With that said, it's not easy. Creating excellent Facebook Live videos takes practice.
Start with the five Facebook Live video essentials
**1. Know your connection speed **There's nothing worse than watching a live video with a horrible connection. It's a fast way to disappoint thousands of people. Not cool. **2. Write an eye-catching description with your ****call to action **I've seen hundreds of people stream live with short and ugly descriptions. Enough! Give people a reason to watch your video and include a call to action. **3. Ask new viewers to follow you and ****receive notifications when you go live in the future **If a new viewer taps on the Follow button on live videos, they're opting-in to get notifications whenever you go live. This is a great way to build your audience fast. **4. Say hello to commenters by name and respond to their comments **Keep your audience engaged by mentioning their names and answering any questions they have. **5. Broadcast for longer periods of time to reach more people **The longer you broadcast, the more likely people will find the time to watch and invite their friends on Facebook to take a look. I recommend that you stream live for at least ten minutes. You'll get the majority of your results from these five essentials. Check out this handy guide for marketers that show examples of good Facebook ads from Autopilot.
How to promote your broadcast _before _you go live
Your promotion efforts aren't limited to Facebook. You can link to Facebook Live videos in your email by clicking on the date of the post and copying the URL, or you can embed these live streams in your blog posts. You can do this _before _the video is even live. You'll need to use Facebook's helpful scheduling feature for fan pages that'll alert people of the time you'll stream live. Pre-announcing your live stream enables you to promote it like a webinar. This'll make it easier to attract a larger audience since viewers will have time to adjust their schedule accordingly. Having the ability to pre-announce your live stream enables you to promote it like a webinar. This will make it easier to get a larger audience since viewers will have time to adjust their schedule accordingly. When you schedule a broadcast, it acts as an opt-in news feed post where viewers can choose to get a one-time notification to remind them of when the live stream is starting.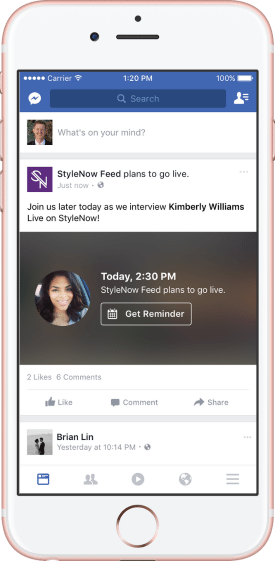 To schedule a broadcast, you must be admin of the page you're scheduling on. First, go to "Publishing Tools," then "Video Library." Here, click on "Live" and copy your stream key or server URL here. Next, write a compelling description for the scheduled broadcast. Hit Schedule.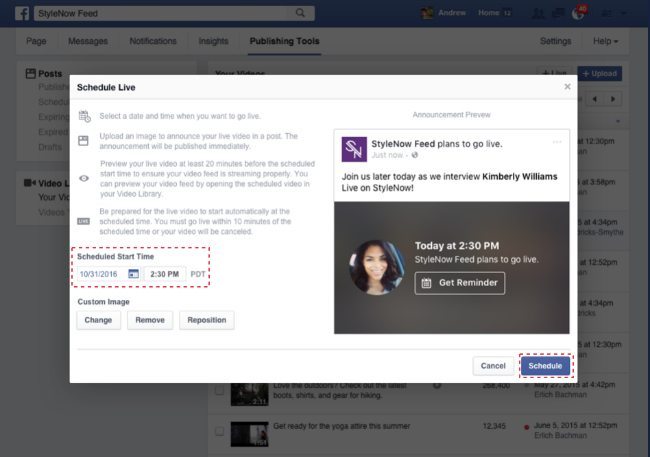 How to build your email list with Facebook Live video
This channel gets even better; you can insert a call-to-action in your Facebook Live video as a pinned comment. In the example below, I pin a link to a landing page to collect email in exchange for show notes: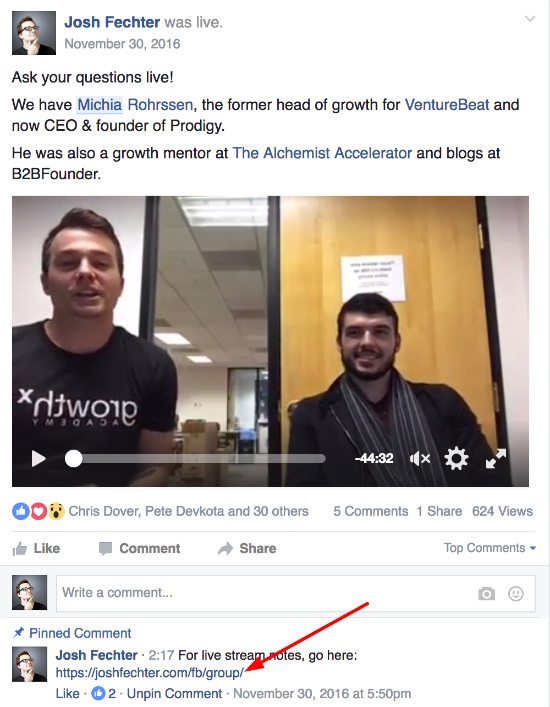 The pinned link takes the viewer to this landing page: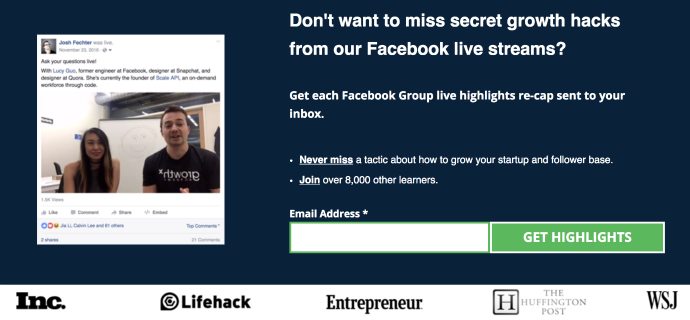 You can also use a pinned comment to include video notes for later viewers, such as detailing specific times when important things were said or done. Another way to grow your email list is through creating a retargeting audience from people who view your Facebook Live video. I make several live videos a week, so I couldn't wait to take advantage of this feature. I don't have many people on my email list but Facebook Live video gives me many people in a _retargeting audience_ because I have many viewers. Here's how you do it: Go into your Ads Manager, then click on the tool, "Audiences." Next, select on "Custom Audience," then click "Engagement on Facebook."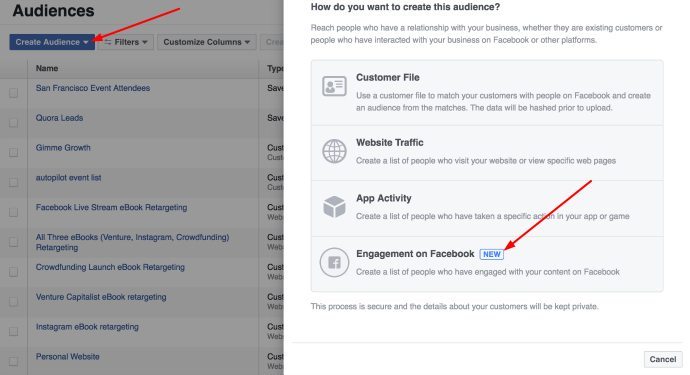 Now, select "Video."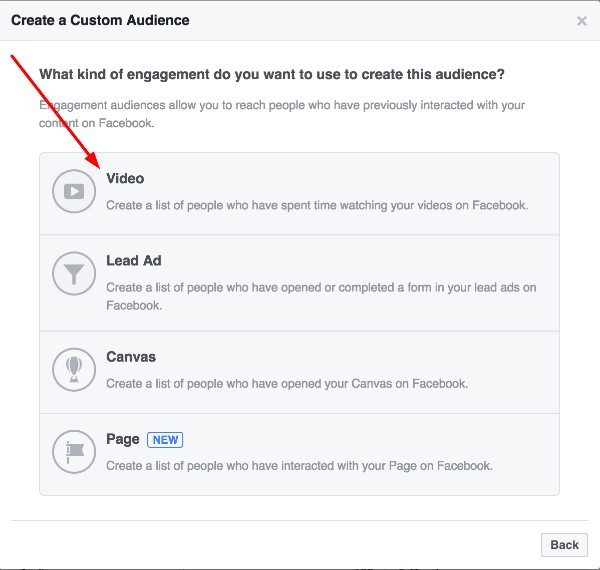 You'll have an option to select people to target based on how many seconds or percentage of your video they watched. You'll now have a list of videos to choose from.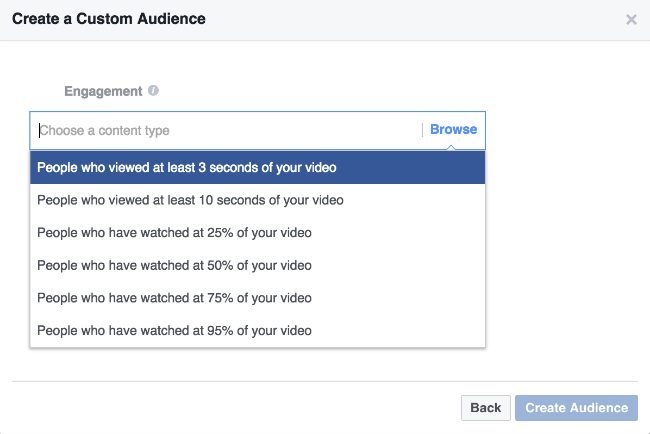 In only a minute, you're targeting people who engaged with your live content. Talk about a low-hanging fruit to build your email list with Facebook ads.
Improve your videos with graphic overlays
If you want to take your video graphics to the next level, then you need the software, OBS (open broadcast software). With OBS, you can create epic overlays like the former founder of Elite Daily, Gerard Adams. His overlay enables him to give further details of his video to encourage the viewer to click play.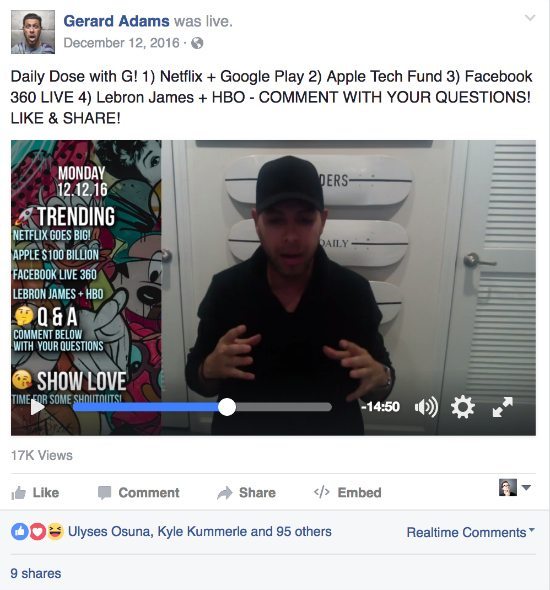 OBS software requires you to set up a Facebook API Key, but no worries because it's not complicated and there's no coding. You'll want to read this guide by Socialwall.me to help you get started with your Facebook API Key, installing OBS, and using graphic overlays.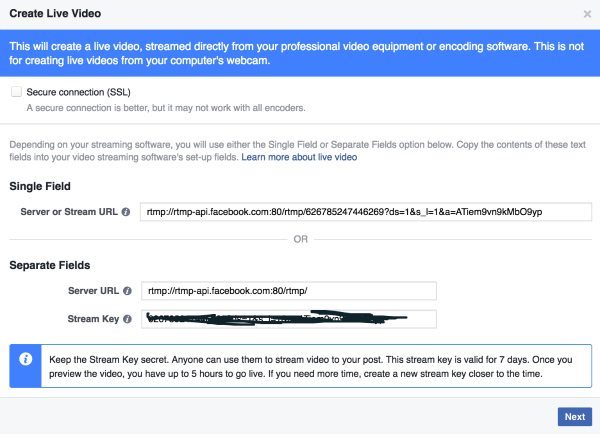 Interviewing industry influencers on Facebook Live video
Interviewing influencers is a great, low-cost startup traction tactic because meeting and providing value to industry influencers develops a strong community around your company. Moreover, it provides content to repurpose for different channels and grab the attention of prospects. You have two options for interviewing influencers:
Use BlueJeans to interview others on separate screens similar to Skype
Interview people in person using regular Facebook live or OBS software
Interviews that aren't in-person take some extra tech setup. Use BlueJeans to interview influencers in different states, countries, and locales. Here are the three steps to set everything up:
Schedule an event
Add a presenter by email (the person you're interviewing)
Click "Start Event"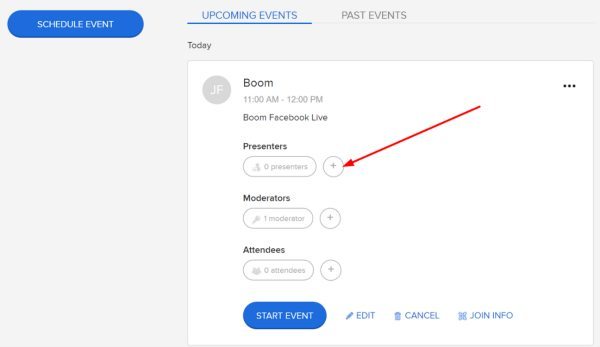 Click the microphone and video in the top right corner to ensure your sound and screen appear when you go live. Then, click "Broadcast Off" to turn it on. Next, you'll see a pop-up asking you where you want to broadcast on Facebook. You can choose a Facebook Group, Facebook Fan Page, or profile.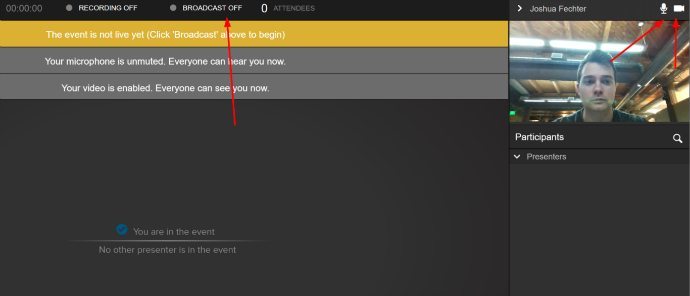 In the BlueJeans example below, I'm interviewing the founder of Jamocha Media, Mehak Vohra:
When she begins talking, she gets moved to full screen. This way the viewer can always see the person talking which makes the video more engaging. Here's the email template I use to get industry influencers to hop on a live stream with me:
"Hey [first name],
I love the work you've done as [job title] for [name of company]. Congrats on [recent fundraising, article published in high-level magazine, or milestone]
I happen to run one of the largest marketers and founders communities in Silicon Valley (2100+ members) and an active 6000+ member Facebook Group.
As a growth evangelist who hosts close to seventy events a year ranging in attendance from 200-700 people, I'm always looking for knowledgeable speakers. I think you'd make the perfect fit.
_Here's an example of one of our previous speaking events: _https://www.youtube.com/watch?v=t4gYdeVpGlU
Do you have fifteen minutes free in the next week to talk about a speaking opportunity?
How about [date & time]?
Looking forward to hearing back from you."
I use the in-person event I hold as the carrot to get their attention. When I get the industry influencer on the phone, I inform them they need to participate in a live stream with me to qualify for speaking at an in-person event. They agree to join the live stream almost every time.
How to make your Facebook Live video engaging
If you want to have an engaging video, here are few tips to keep in mind:
Operate at 5X normal energy levels
Use unpredictable storytelling (people don't want to watch you walk from A → B, but they'll watch you walk from A → ?). If they know exactly what will happen, then they'll stop watching. Don't give away the conclusion.
Use surprise variables (a guest randomly appears, someone picks up a prop)
Focus on how-to, inspirational, remarkable, and funny content
The first ten seconds matter the most for viewers who watch the recording. In turn, you need to start the video with a _bang! _
Tips for what colors to wear:
Avoid wearing white, black, red, and pinstripes
Pastel solid colors work best, like blue
Bright colors like yellow, orange, or red will cause color reflections and can be unflattering to your viewers. If you spend a lot of time at work, then use your actual office as a background to communicate authenticity. Seeing people in their natural environment feels genuine, adds a sense of time and place to the scene, and makes it feel spontaneous rather than an artificial setup. For live video, I would err on the side of being genuine since people go to Facebook to discover new experiences from their friends and family.
Your Facebook Live video toolkit
You don't need expensive tools. Here are the two tools I use to shoot professional-looking videos for under $100: **1. **_AmazonBasics 60-Inch Lightweight Tripod with Bag This tripod is perfect for shooting video on the go. I take it everywhere so I never miss moment worth streaming live. **2. **Rode VideoMic Me Directional Microphone _This video microphone can fit in your pocket. It's one extra tool that makes a huge difference in your sound quality, especially if you're streaming around others or in a windy city.
Give Facebook Live video a try
If you're not using Facebook Live to engage your audience, then test it out. The barrier to entry is zero. This a growth tactic you should put at the top of your list, especially if you run a Facebook Group and regularly hold Facebook Events. Moreover, it's one of the best mediums for building a strong community of industry influencers. Now it's time for the lights, camera, and action. How have you used Facebook Live in your startup? Any tips you'd add to this list? Let us know in the comments.