February 5, 2016
How to Increase Website Traffic
There are proven ways to drive traffic to your website. You know the list – blogging, search engine optimization, paid ads, and social media. But once you've executed all the big wins, then what's next? Here are eleven little-known tactics you can experiment with to increase your website traffic.
1. Attach a call-to-action to every link you share
Think of all the curated articles you've shared on social media. This hack turns every tweet, Facebook update, and Google+ post into a traffic driver back to your website. Use Sniply or Start a Fire to add a call to action – it could be a blog article link, newsletter signup form, or banner image – that nudges visitors back to your site. Here's an example of Evernote using this tactic: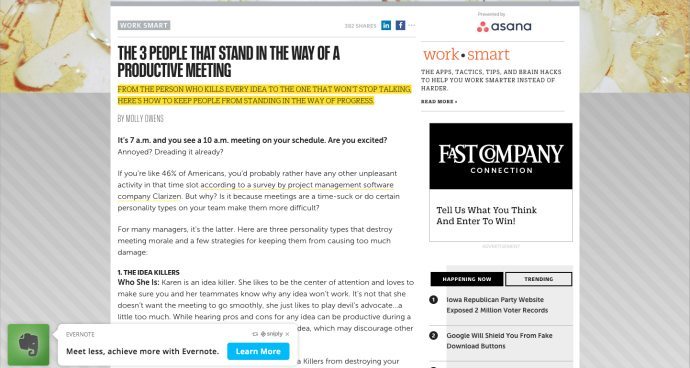 Evernote shared a Fast Company article using a Sniply link, so when readers clicked through they saw a call-to-action that links to an Evernote blog post.
2. Add your latest blog post to your email signature
Marketers are email machines. Send, reply, send, reply. To make the most of this, include a link to your company's latest blog post in your email signature. We do this at Autopilot and it works like a charm:

Change the link every time you post something new or choose just one post a week to highlight. This way, every email you send includes fresh content that people you're emailing might check out. Bonus points: Add UTMs to measure how much traffic this tactic drives back to your site.
3. Email influencers you mention in blog posts
When you mention an influencer or company in a blog post, send them an email to let them know. You can also ask them to share the post with their audience, assuming it's valuable content. Here's an email I sent to Sprig's press team after highlighting them in 6 Effective Direct Mail Examples by Hot Tech Startups:

The email is short, sweet, and to the point. Another example, one of my teammates got this message on LinkedIn from a company who highlighted her Landing Page Builder Reviews and Comparison blog post: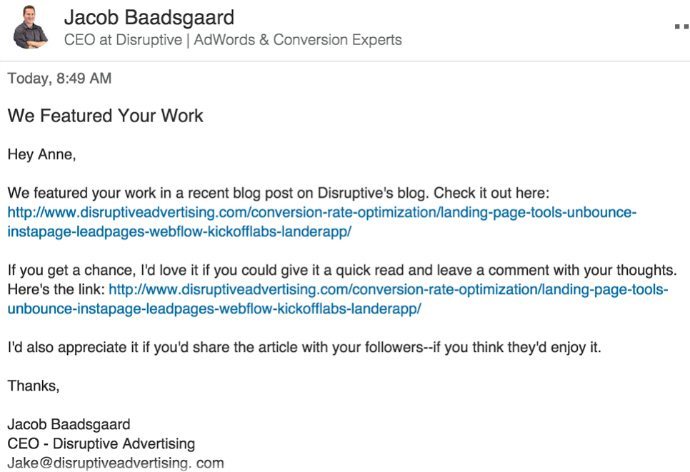 Jacob makes a direct ask to share the article with her followers – if she thinks they'd enjoy it. This tactic goes a long way in getting on an influencer's radar, and increases your chances of getting in front of other audiences to grow your traffic. Pro Tip: Use ContentMarketer.io to speed up the process of finding influencer email addresses.
4. Co-host a webinar with a trusted partner
Partner with another company in your space to co-host a webinar or a podcast. This works best with overlapping audiences that would be interested in both companies' offerings. Check out this an example from CRM giant Salesforce:

The webinar speakers are a Director from Salesforce and a Principal Analyst from the Altimeter Group. In other words, Altimeter's audience finds out about Salesforce and the Salesforce's audience finds out about Altimeter. It's a win-win. Here's how to run a kick-ass webinar from beginning to end if you want to try this for yourself.
5. Answer the Quora questions your leads are asking
By some estimates, more than 6,000 questions are asked on Quora per day_. _Chances are some of your potential customers are asking questions on Quora that you can answer. To connect with this curious audience, track down questions your leads are asking and write a helpful answer with a brief link back to your site at the end. Sarah Kathleen Peck does a great job of this in her response to the Quora question, _How do I attract the first 1000 subscribers for a content website? _It's had 42,800 views so far…

She starts with a quick intro to her work-in-progress list, then lists 26 actionable tips. Here are the last few: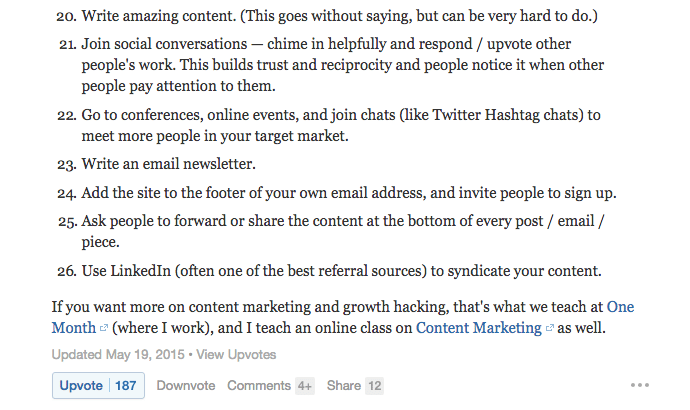 Sarah ends with a short blurb about her company and a link to her content marketing course for people who want to learn more. Her answer received 187 upvotes because it's helpful, valuable, and succinctly answers the original question. It'd be a different story if her answer was just the call to action at the end promoting One Month.
6. Get added to niche company directories
There are sites that exist on the internet solely to promote other sites. If you're a startup, here's a few to submit your company to…
This works; we got hundreds of visitors after posting Flight School on ProductHunt.
7. Go to lunch with other people in your industry
Going out to lunch offline can lead to traffic online. Last week a teammate and I went out to lunch with a marketer from another company that led to Twitter shares, blog post shout-outs, and opportunities to partner in the future. (And it was fun.) Like Keith Ferrazi says, Never Eat Alone.
8. Reach out to influencers you find on Buzzsumo
An industry influencer can spike your web traffic with just one tweet. To score a mention, proactively reach out to individuals and companies whose audiences would be interested in your content. Buzzsumo is a great way to track down influencers with page authority, domain authority, and followers. Here's a few results from my search for "lead nurturing" experts: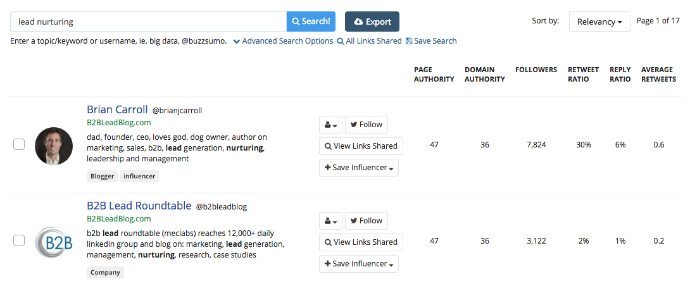 Once you know who to reach out to, send an email or tweet with a compelling blurb and a link to your website. Check out Buzzsumo's Guide to Influencer Marketing to learn more.
9. Interview experts to expand your reach
Ask influencers for a quick 30-minute phone interview that you turn into a blog post. This tactic gives you quality source content, provides more exposure for the influencer, and can lead to traffic back to your site. All it takes is thirty minutes of the influencer's time. To speed up the creative process, use this hack that cures writer's block.
10. Repurpose your blog posts on Medium
Re-posting your blog posts on Medium puts you in front of a wider audience and can drive visits to your brand's site. To do this right, you'll have to massage your posts to fit Medium's article style. One of my teammates recently spent some time researching the top-performing posts on Medium. Here are the types of posts that got a lot of love:
Unconventional bad-is-now-good flip, or vice versa - "Why I want to put myself out of business"
Down-to-earth "listen, bro" advice - "Your life is tetris. Stop playing it like chess."
**Roundups of useful things (tools, communities, books) **- "The 11 digital tools I use every week as head of product"
Shortcuts - "How I got 2.3 million app downloads (without spending a cent on marketing)"
Big-picture life advice - "How to become the best in the world at what you do"
Ritualistic life advice from expert groups - "25 daily rituals of history's most successful"
If your target market is hanging out on Medium, give it a try and measure the results.
11. Create an SEO-optimized resources page
This tactic throws more fuel on the fire if you're already winning at SEO. Choose a target keyword that your leads are searching for, then create a webpage with resources galore – articles, webinars, ebooks – as the go to hub for that topic. Here's a resource page Autopilot made about marketing personalization: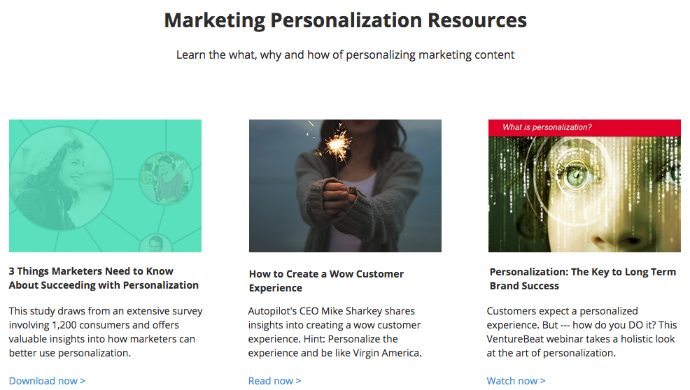 You'll need to create a large amount of content upfront (a lot of work), but the end result leads to more qualified traffic landing on your site. Have you tried any of these tactics before? Any you'd add to this list? Let us know in the comments.