March 29, 2017
How to Reduce Shopping Cart Abandonment the Multi-Channel Way
_69.23%_ of shopping carts are abandoned. That's based on an average of over 37 different studies. The most recent, like two from _Listrak_ and Adobe, show that number trending higher in 2017 to 75%-78%. That's probably not surprising to most of you, especially if you've already got shopping cart abandonment emails locked, loaded, and ready to go. That's a good start. Your first line of defense. But today, it's unfortunately not enough. Not when people are expected to receive _140_ emails each day. Yours will simply fall through the cracks, in the eternal wasteland known as the Promotions tab in Gmail. Consumers today bounce around from _channel to channel_. Their customer journey is fragmented. So your messaging, too, needs to mirror their behavior. Here's how to use multiple channels to reduce shopping cart abandonment once and for all.
1. Overcome objections from the get-go
Waiting until people have already abandoned your site is too late. Instead, try to prevent them from leaving in the first place. For example, what's the primary reason people abandon carts? _Unexpected costs_ at the last minute. They're excited for their purchase. Until that final number jumps at the very end when shipping is added or the order becomes too expensive.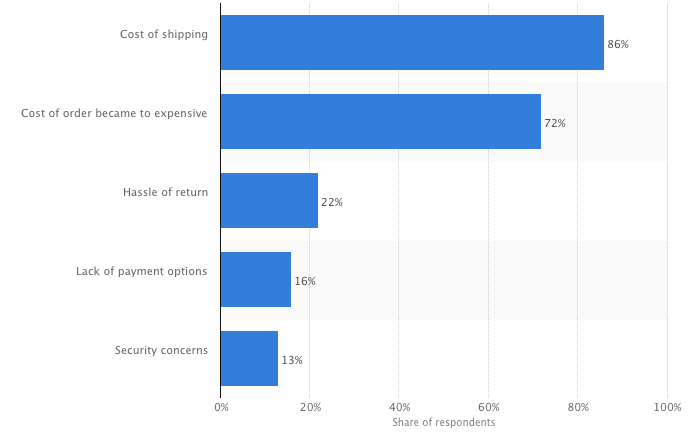 So overcome this objection before people even get to that point! Here's a simple drop down example from _Overstock_ that kills two birds with one stone.

First, Overstock addresses the dreaded shipping costs. But then they tackle the third reported objection, too ("hassle of returns"). Visitors haven't even begun adding things to their cart yet and already Overstock is removing potential threats that might later derail their conversion. Once people finally navigate over to individual product pages, you can proactively reach out to engage them and answer any questions that might be causing them to hesitate (using Autopilot's Reply Back Headsup).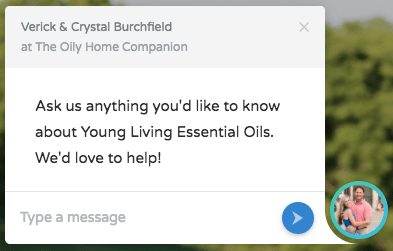 Proactive Reply Back in action
_Dollar Shave Club_ personalizes their suggested content based on the product someone is viewing.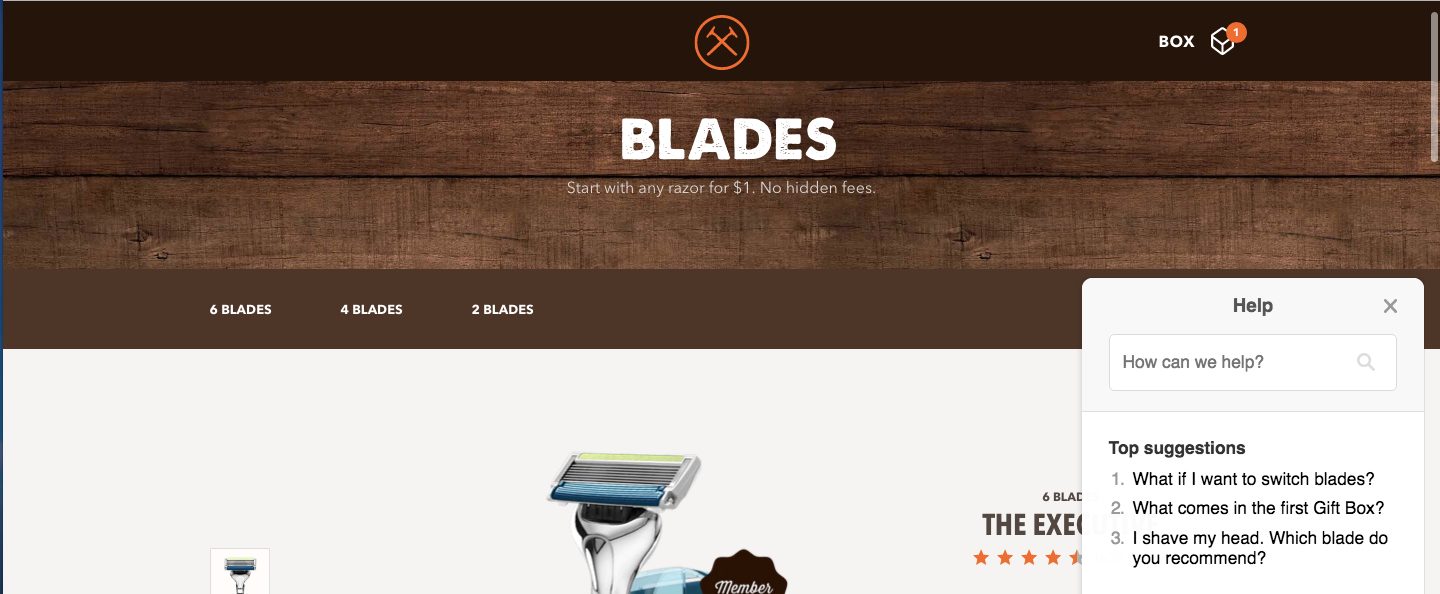 And if all else fails, you can send a targeted incentive at the right time—like a one-time 20% discount of your top-selling product—to sweeten the deal. Last but not least, are security concerns (the fifth objection raised). Unfortunately, global cyber crime is on the rise, expected to hit $2 trillion by 2019 according to Juniper Research. And online retailers are among the biggest targets. Home Depot, for example, had _50 million_ credit cards stolen just a few years ago. Google's now _forcing all websites_ (not just eComm) over to adopt SSL certificates and HTTPS. The last thing you want is for visitors to see this: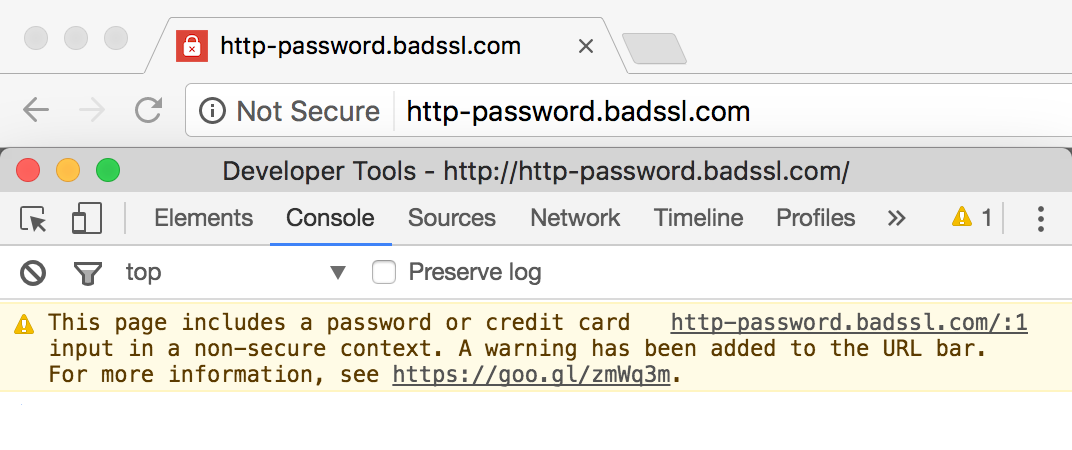 All eCommerce companies already have SSL certificates to one degree or another. But Dollar Shave Club goes above and beyond with an "extended SSL" option that also validates the company information and provides users with the all important green bar across all browsers.

Now contrast that with Marissa Collections, who wants to sell you earrings for $3,000+ (and other designer goods). Yet their primary site before the checkout flow isn't secure.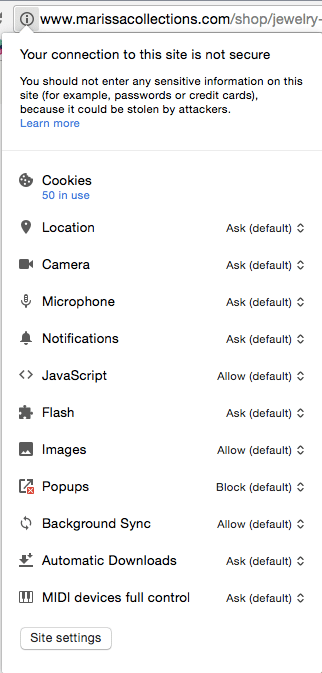 Seems small. Trite even. How does this relate to multi-channel marketing? Because site security even affects SEO. Years ago, Google used qualitative research to manually grade websites and tweak how they were displayed in search results. And _one of the 23 questions_ asked was: "Would you be comfortable giving your credit card information to this site?" Protecting user information isn't just logical to increasing conversions. But it can also impact your search visibility, too.
2. Don't let people forget (or lose out)
Trick question: How do you know when you've added a product to your cart on most eCommerce sites? You don't. At least, not always. Typically, there's a tiny little indicator in the upper right-hand side of your screen. But it can be too subtle. For example, look at the miniscule orange notification from Dollar Shave Club.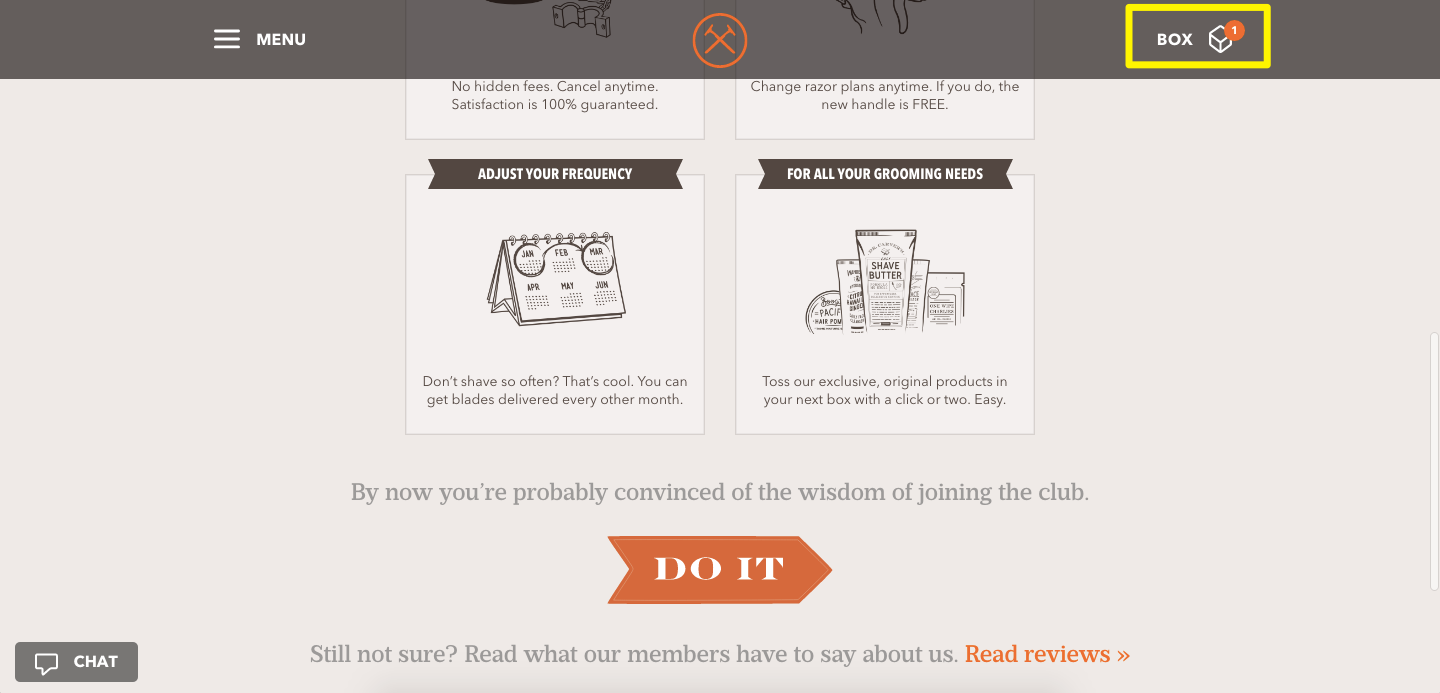 Easy to miss, forget, and leave. Now compare that to how Amazon reminds you of what's been already added to your cart while you continue to browse their site.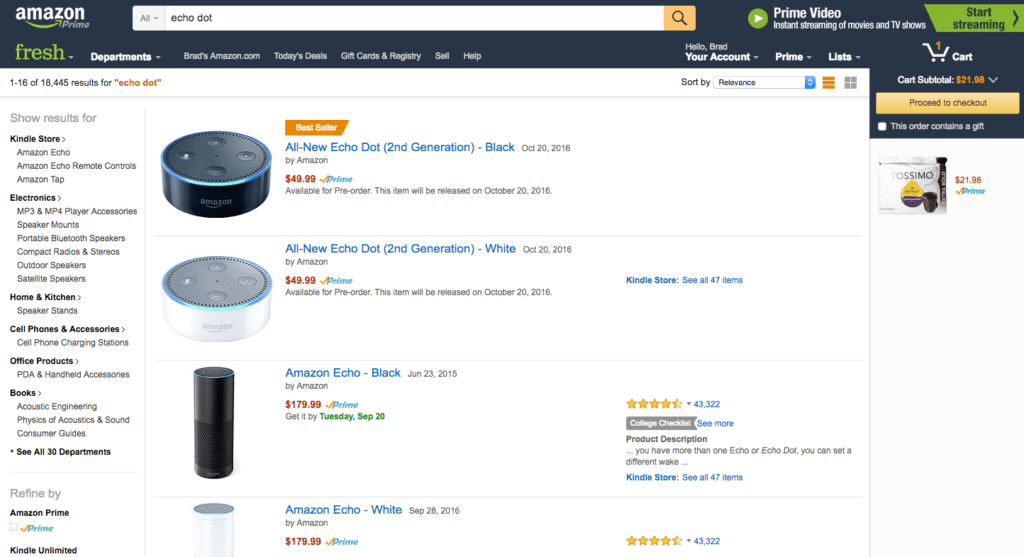 They have a sticky right-hand sidebar that follows you around to make sure there's no chance you're going to forget about following through with that purchase. Marissa Collections also uses a well placed on-site notification on the bottom of your screen as you continue looking at other products.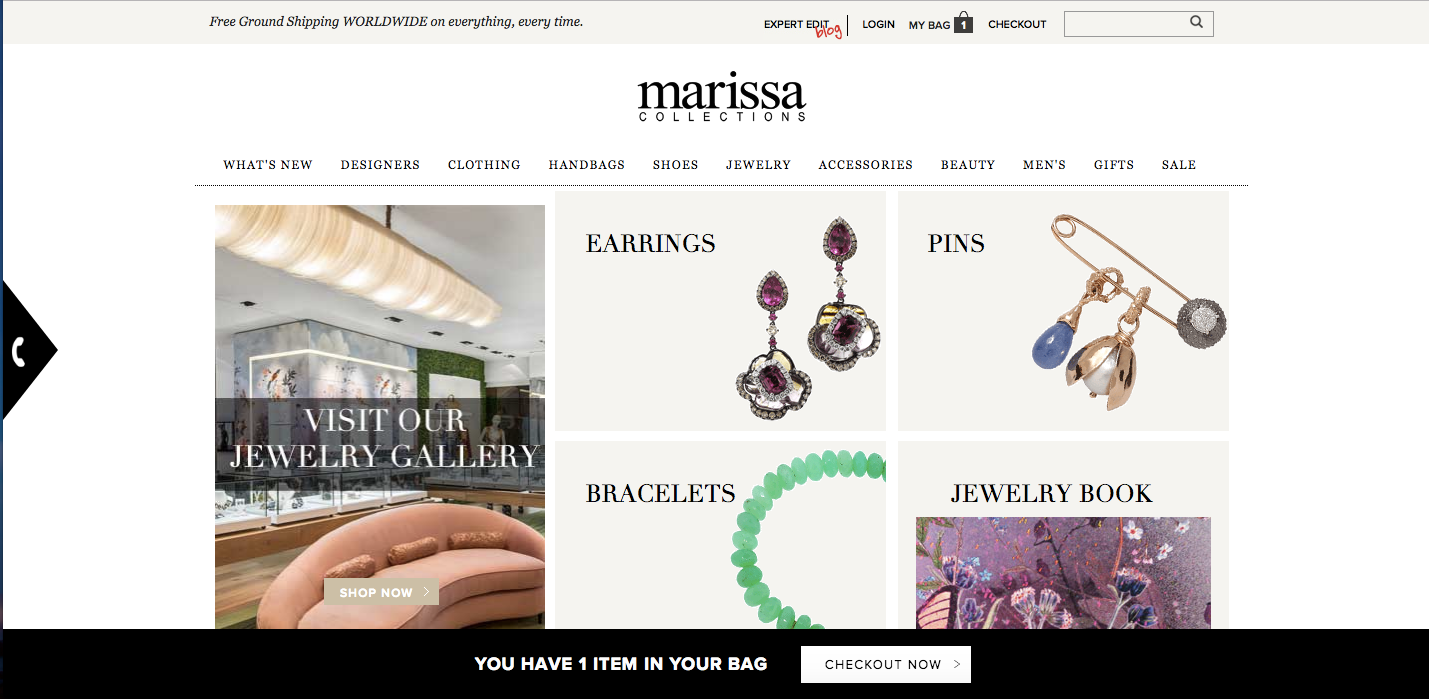 Unfortunately, people are bound to leave (for whatever reason or objection). So commence a full court press the minute they _signal_ intent to leave. The first weapon in your arsenal is scarcity (one of Cialdini's timeless principles). The _fear of missing out_ is one of the strongest, and the language you use can chip away at that internal anxiety we all face. This _BabyAge_ overlay example (via CrazyEgg) uses one last attempt to keep the user around when it looks like they're about to leave.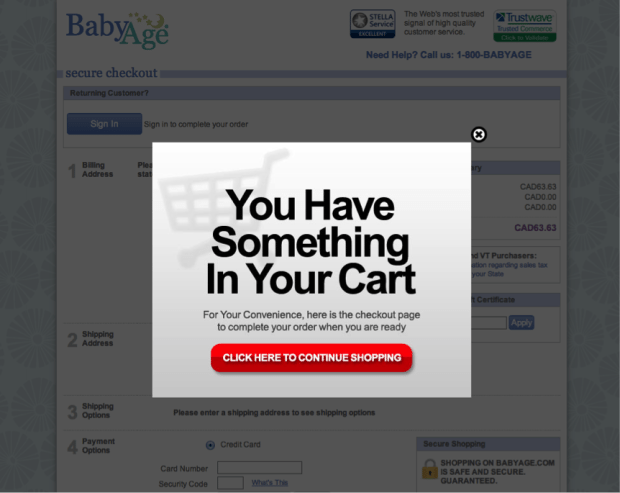 _(Image source)_
While this one from _Dynamic Yield_ offers the visitor a final incentive to stick around, with a tried-and-true discount to place their order immediately (that they'll lose out on if they leave the site now).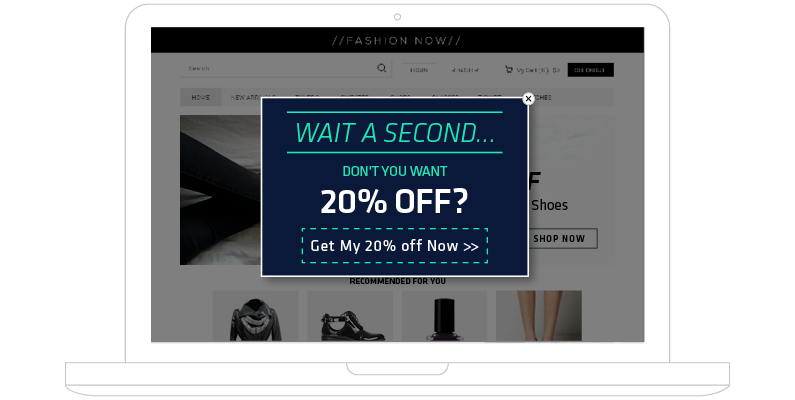 _(Image source)_
If and when they do leave, you can then continue the same FOMO messaging with your abandonment emails (that also feature the specific products in question). Here's a textbook example from Casper, complete with FOMO-inducing "Looks like you left something behind" copy.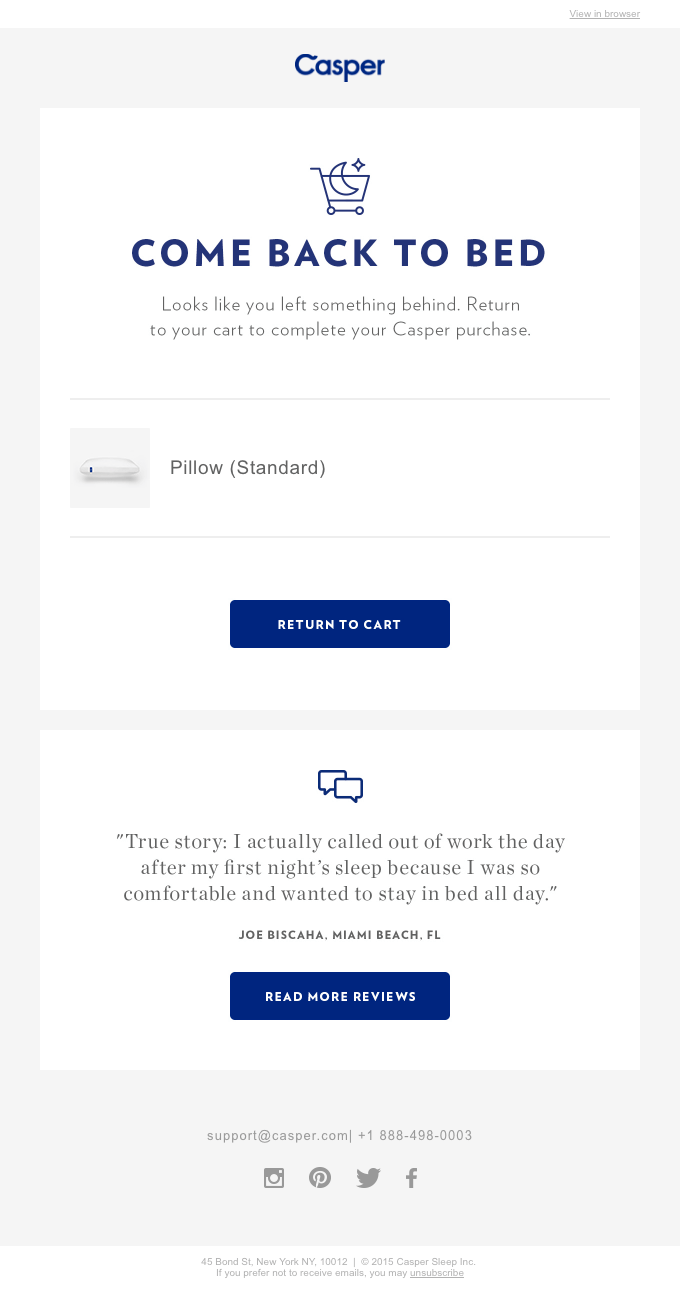 3. Bring them back with an offer they can't refuse
You may have lost the initial skirmish, but it's not all over just yet. Because there's one final tool at your disposal that's also among the most powerful: retargeting. "Retargeted visitors are 70% more likely to convert compared to ones who aren't," according to _CMO.com_. Ryan Deiss of _Digital Marketer_ had an even bolder claim retargeting's importance: _"Soon all display advertising will be retargeted advertising and the pixel will become even more valuable than the click itself. As larger advertisers continue to buy up ad inventory (and create their own retargeting audiences) those that fail to 'pixel' their site visitors won't be able to afford to advertise."_ A perfect example comes from Facebook's custom audiences. You're able to quickly segment audiences based on a number of criteria, from pages they visit on your website to things they've purchased or even products they've added to their site. For example, you can tell customers vs. non-customers by uploading your customer file every week/month to send different targeted offers.
You can also target audiences based on who adds something to their cart (visits the first page in the checkout process) from those who haven't completed the order (have not visited the "thank you" confirmation page).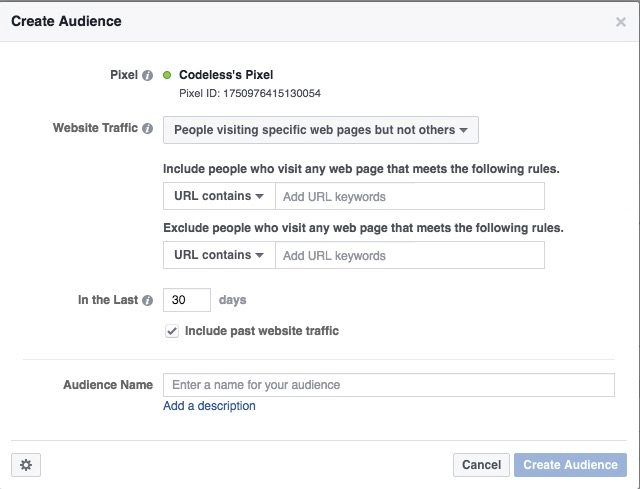 And you can simply setup Facebook's Dynamic Product Ads. Best of all, these work off a product feed similar to the one you can also use in Google Shopping ads (once again ticking off two additional boxes with one effort). Dynamic Ads lets you create a basic ad template with placeholders for the image, headline, and description.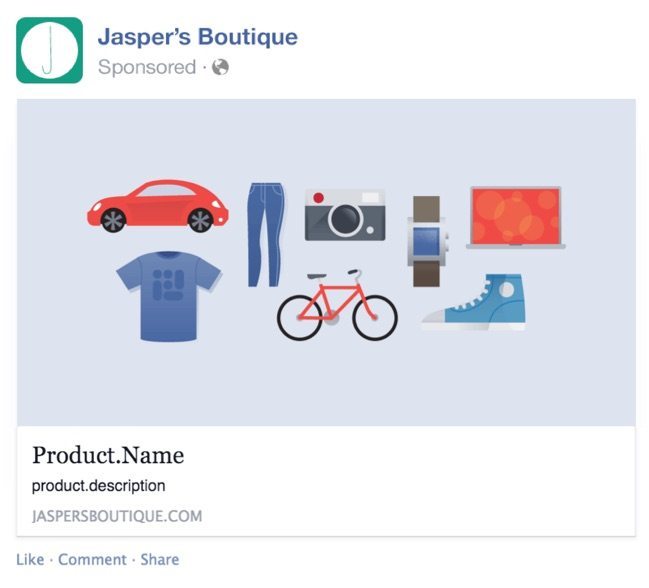 _(_Image source)
And then these templates will dynamically (hence the name) pull in product details for what each visitor just viewed or added to cart on your website.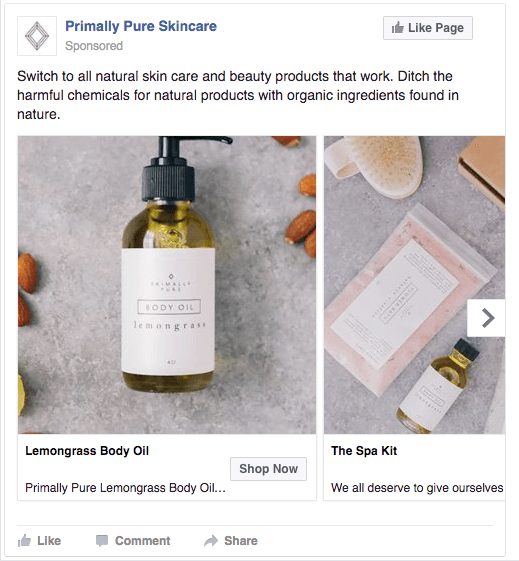 Early results have already begun paying off for notable advertisers like The Honest Company, who have seen a 34% higher click through rates and a 38% drop in cost per conversion (compared to normal, static ads). After sending out these initial ads, you can raise the stakes again with sequential retargeting, that uses different offers to appeal to the widest audience possible. For example, the first ad might be a simple reminder featuring the product someone had in their cart. While the next few ads might then cycle through special discounts to purchase that product, scarcity-inducing messaging that shows the limited quality left before it's out of stock, or even introducing a slimmed down, less expensive option to get them to take some action immediately.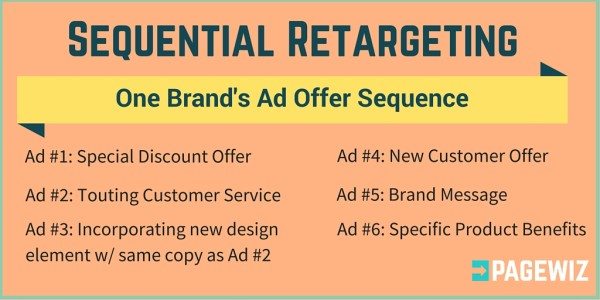 _(Image source)_
Existing customers can also receive well-timed text messages that go out at the same time. These, unlike emails, are almost unignorable. Much lower competition plus our own ingrained mobile behavior means that SMS open rates top out at _99%_ and are responded to within ten minutes.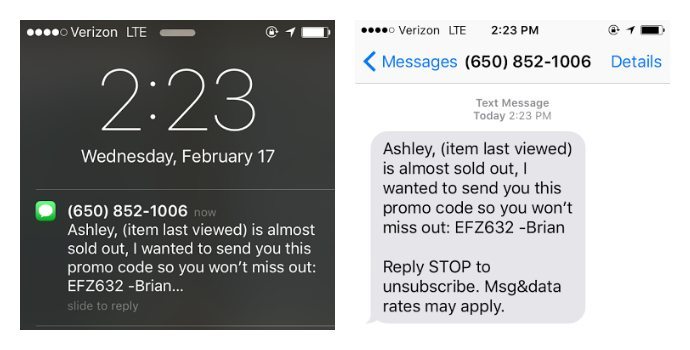 So an SMS sequence can be added as a natural component of the same cart abandonment sequence that's already following up on-site, email, Facebook, and now mobile. Learn SMS marketing best practices.
Conclusion
Reducing shopping cart abandonment doesn't end with email. Overcome possible objections before they even become an issue. Then, set up well timed on-site messages to further prompt site visitors to purchase or to remind them of what they're about to lose access to if they leave your site. After that, choreograph your messaging across your retargeting ads (Google and/or Facebook's networks) and even SMS to make sure that you're mirroring people's natural online behavior. Combine all that together and you'll give yourself the best possible shot at lowering the chart-topping 70%+ shopping cart abandonment rates. It's the multi-channel way. How have you reduced shopping cart abandonment rates? Any tips you'd add to the list? Let us know in the comments.