November 20, 2017
We've all had the experience. You're browsing online for a new pair of shoes and all of a sudden you see ads everywhere for those exact shoes.
Finally you settle on a pair and make the purchase. But the magic of these ads is now lost when you're still seeing ads for the shoes you just bought everywhere. The experience is ruined.
This is both the brilliance and biggest problem marketers face with retargeting. When it works well it can drive the biggest return on investment of any advertising channel by helping you target people likely to buy something from you. But it can also equally frustrate and waste opportunity by showing the wrong ads and call-to-actions at the wrong time. To solve this problem and allow you to create more personal and contextual ads on Facebook, we're announcing Facebook Custom Audiences for Autopilot. We've expanded our Facebook integration with two simple shapes that allow you to create and update Facebook audiences straight from the canvas:
Both shapes are available in every Autopilot account starting today.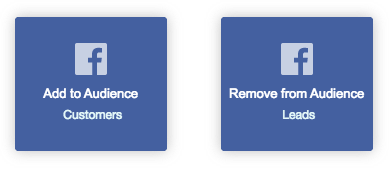 What can you do with the new Facebook Custom Audiences shapes?
You can use the new Facebook Custom Audiences shapes to display targeted ads across the entire customer journey whether you're a SaaS company, e-commerce shop, or a non-profit looking to make an impact in the world.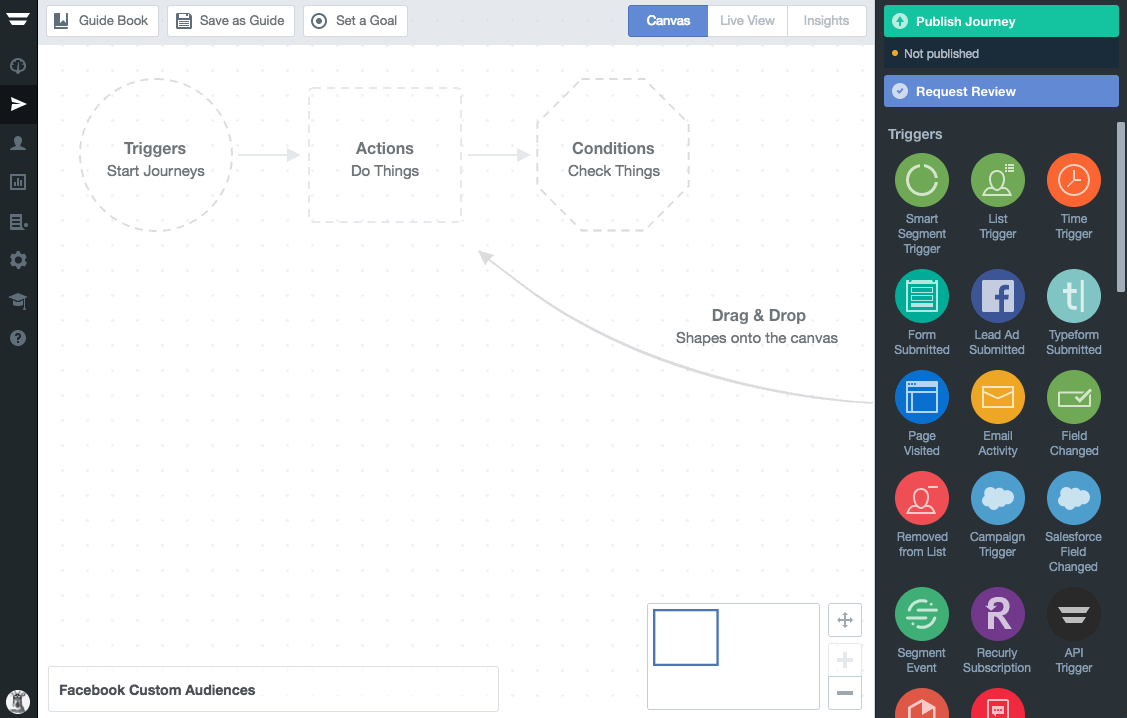 Here are four ways you can use Facebook Custom Audiences + Autopilot right now.
1. Create a Lookalike Audience to attract more high-value leads
Your sales team thrives on calls with people who a) match your target persona, b) are considering buying, and c) want to talk to them. Attracting qualified leads starts with targeting the right people. With the new Facebook Custom Audiences integration, you can push sales qualified leads to Facebook and build a Lookalike Audience off that list to reach more people who are similar to your best leads. Here's what the journey looks like in Autopilot:

How it works
When a person on your sales team changes the lead's status to "working" in Salesforce, then Autopilot adds the person to the "Hot Leads" Facebook Custom Audience.
On the Facebook side, all you have to do is create a Lookalike Audience based off your "Hot Leads" audience to find new people who are nearly identical to your existing leads.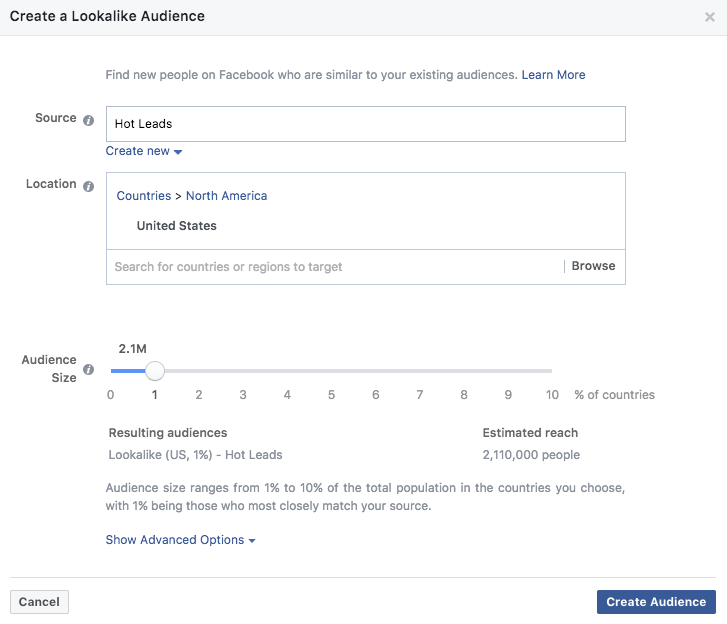 Notice how Facebook offers a 1% to 10% lookalike range? The 1% audience are the people who most closely match your source audience, and is the best place to start when you try lookalike ads. Once created, launch an ad campaign that targets your new "Hot Leads" Lookalike Audience.
After a quick two-shape set up and making a "Hot Leads" Lookalike Audience, you'll be solving the problem of advertising to sales qualified leads on Autopilot. Every time a hot lead comes in, you'll be building your Lookalike Audience in Facebook. No manual uploading to refresh the list required.
2. Match your Facebook ad campaigns to your customer journey stages
Take a look at how a common software company advertises today. Based on a target audience, ads are shown encouraging potential customers to sign up for a free trial of the software.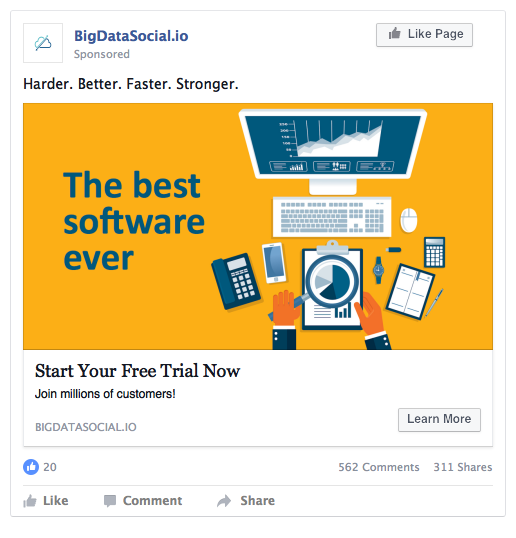 Once someone converts and becomes a free trialist, what typically happens next? All too often the person keeps seeing the same ads to sign up for a trial. The customer experience suffers by continuing to display an ad for something the person already did.
It's also a huge wasted opportunity. After a person signs up for a free trial the next step is to convert them into a paying customer. Instead of showing ads for something the person has already done, we can instead show them advertising that is related to the next step they should take, like enrolling in product training.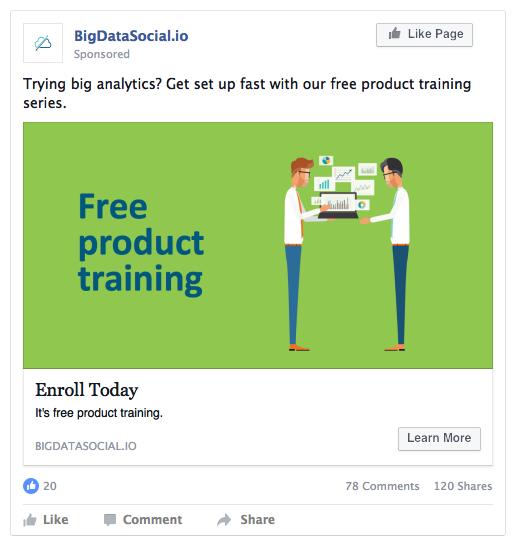 Now see what this looks like using Facebook Custom Audiences in an Autopilot journey.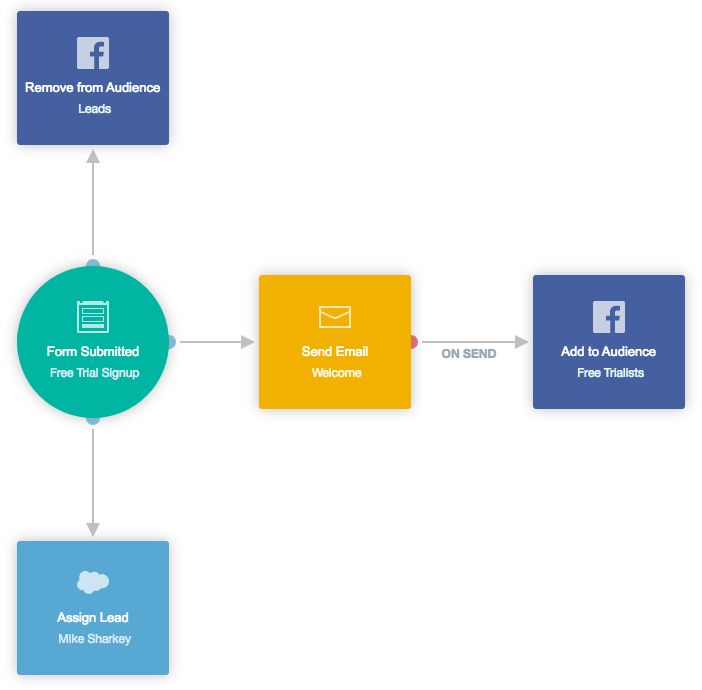 How it works
You can easily control which Facebook audiences are updated directly from Autopilot's canvas. The moment a person submits the free trial form, the contact is instantly removed from the Facebook audience showing ads with the free trial call-to-action. After submitting the form, the free trialist is assigned as a lead in Salesforce, sent a welcome email, and then added to a new "Free Trialists" Facebook Custom Audience.
It's this audience that drives the next call-to-action to help convert the person into a paying customer, in this case enrolling in a free product training series.
As you can see, the new Facebook Custom Audiences integration enables you to align your Facebook ads with your customer journey stage just as easily as sending an email. You now have granular control to communicate the most relevant message across multiple channels as customers progress through your funnel in real-time.
3. Show personalized ads to different customer segments
Let's pretend you run a pet food company and want to target your existing customers with ads for a new premium product line. You already have all of your customers on a "Pet Food Buyers" list and a Custom Audience with the same name in Facebook. All you have to do is add the contacts on your list to your Facebook Custom Audience through Autopilot.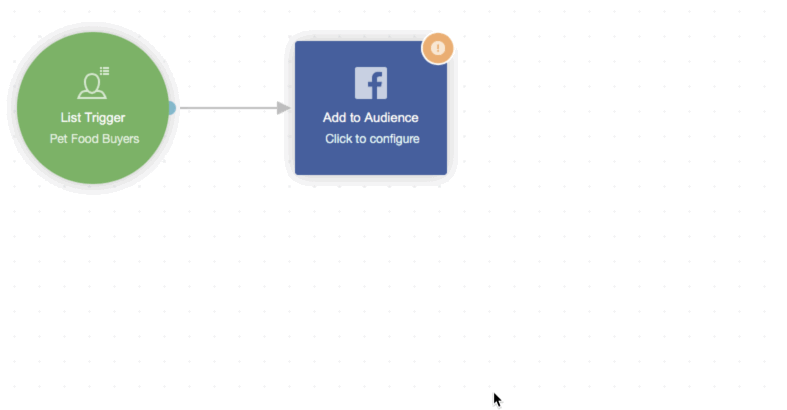 How it works
The journey is triggered by your "Pet Food Buyers" list. Those customers are added to your "Pet Food Buyers" Custom Audience in Facebook. Once the two shapes are connected, your previous customers will instantly start seeing Facebook ads for your new product line. If you want to personalize the experience for customers based on the type of pet they own, you could use conditions to display different ad creative to "Dog Owners" compared to customers who own "Other Animals."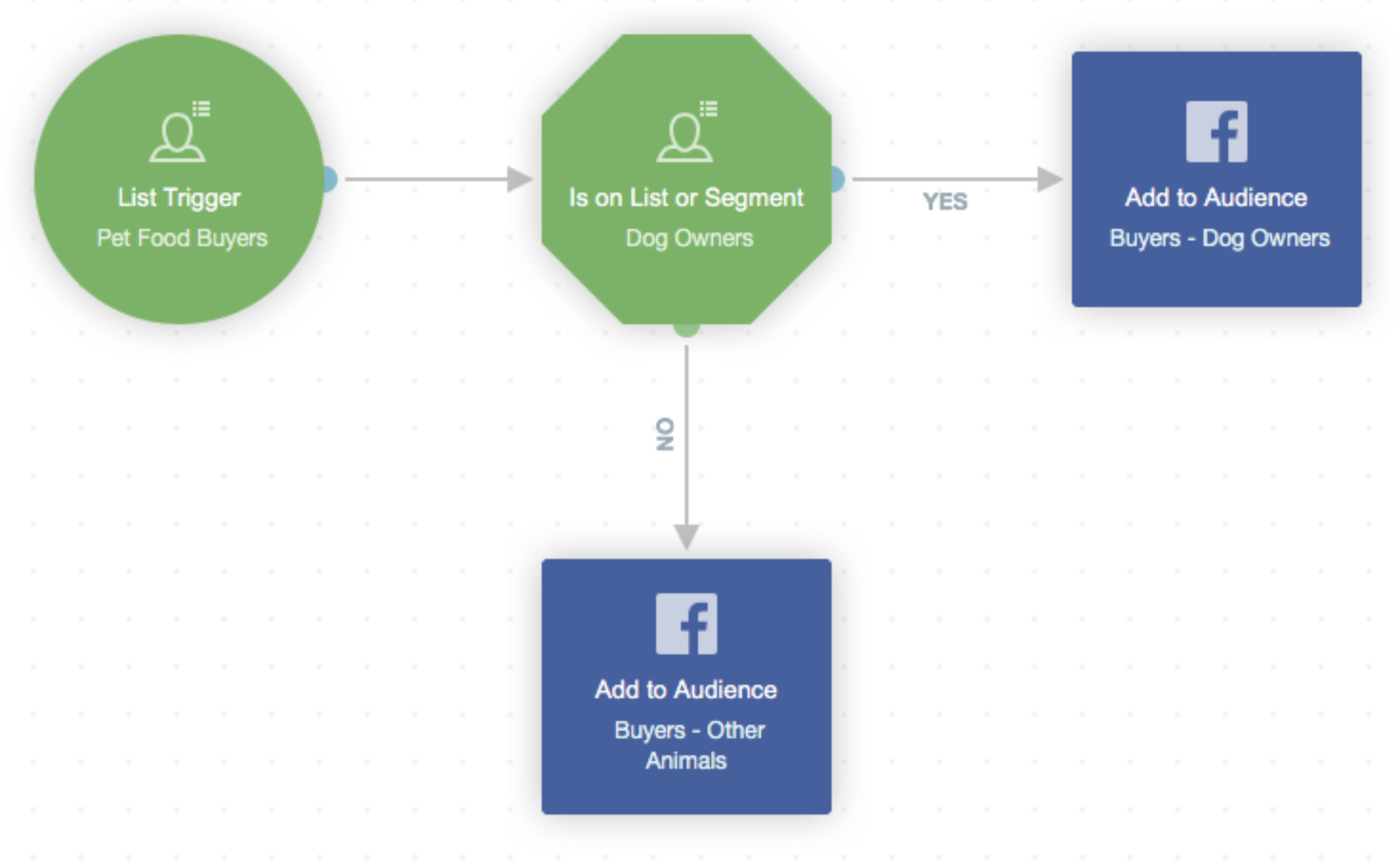 The takeaway here is that you can immediately start, stop, or change the Facebook ads your customers see based off any action they take or data you have available in Autopilot in order to better personalize their experience.
4. Display Facebook ads to people who don't open emails
Say you're an e-commerce shop who partnered with another company's giveaway campaign. As a requirement for entering, people agreed to receive emails from the sponsors. You're one of them.
At the end of the giveaway, you get a list of 200 leads. Sending them an email makes sense since you have their email address. You send the first email, check your analytics a few days later, and see a 0.1% open rate. Ouch.
You don't want your partnership efforts to be for nothing, so you start asking "What's another way I can get in front of these leads? How can I get them to open the emails I sent?" You decide to try Facebook ads to reach these leads on another channel.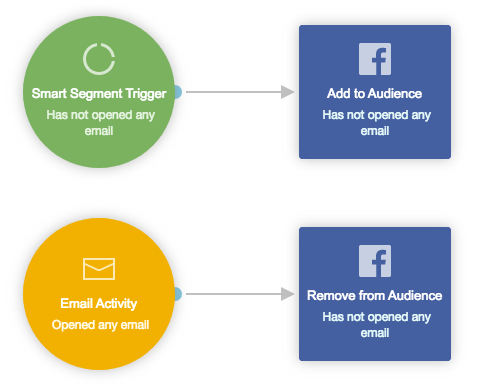 How it works
The journey triggers with a smart segment of people who have not opened any email. This'll cover your list of new giveaway leads.

Be sure to select the the option "Add all contacts in this segment, and any contacts that enter it in the future" to continually populate your list as contacts match the smart segment criteria—like for new giveaway leads that come in later on.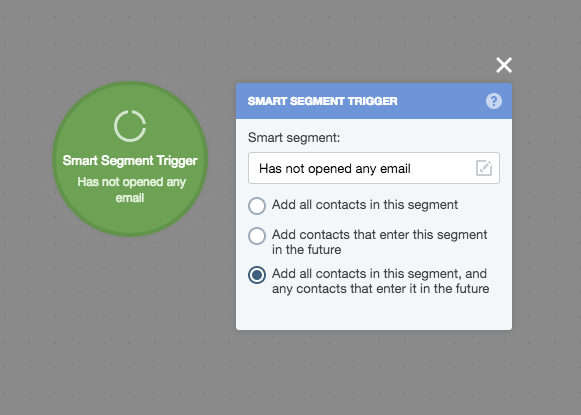 Connect your Smart Segment Trigger to the "Has not opened any email" Facebook Custom Audience shape, which will start displaying the ads you've set up for this audience.
Then, create another journey that removes contacts from the Facebook Custom Audience once the contact opens an email. The ads you set up will stop showing, and you will have accomplished your goal of getting people to open your emails.
5. Remove contacts from your Facebook ads when they unsubscribe from your emails
It's just as important to know when to remove someone from a campaign as it is to add people. Let's say you're hosting a meetup in San Francisco. You have a list of every local customer, and you want to send them an email invitation as well as show them Facebook ads encouraging them to register.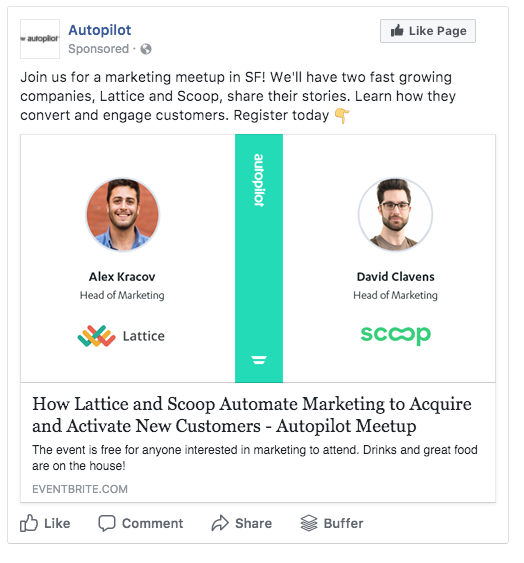 Emails and Facebook ads are common event marketing efforts to get butts in seats. But what happens when a person registers for the event? Or a person unsubscribes from your email invitations? How do you avoid the problem of continuing to show ads that don't matter anymore? You build this journey in Autopilot: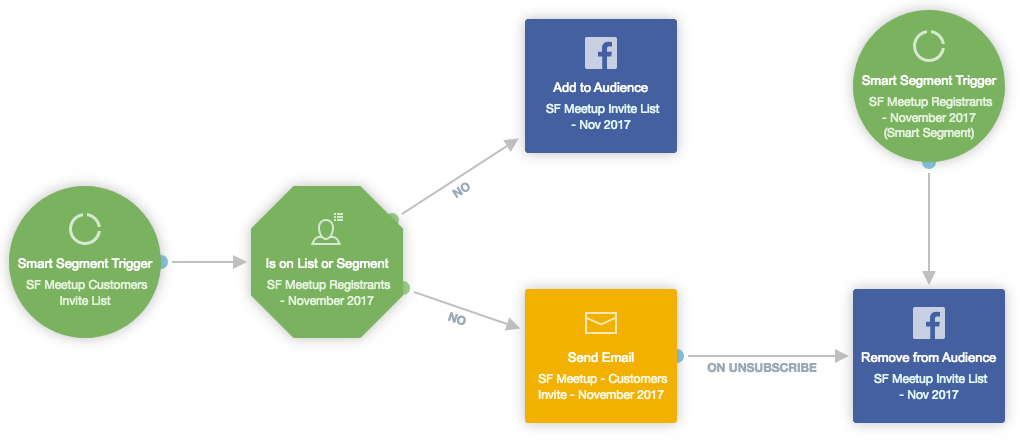 How it works
The journey triggers with a smart segment of all customers who are located in San Francisco, then checks if they're registered for the current meetup. If they're not registered, then the customer is sent an email invitation and added to the "SF Meetup Invite List" Facebook Custom Audience to be shown ads.
This is where most event marketing ends. The next steps are about closing the loop. Notice the smart segment trigger in the bottom right of the journey. That shape triggers if a person registers for the event, then removes them from the "SF Meetup Invite List" Facebook Custom Audience and stops showing them ads. The same happens if a person unsubscribes from your email invitation.
The end result is people don't get frustrated by seeing your ads after unsubscribing, and registrants aren't bothered with ads telling them to do something they've already done. It's a smooth customer experience that saves you money on ad spend.
Marketing automation meets ad technology
Up until now marketers have put ad technology (AdWords, Facebook ads, AdRoll retargeting, etc.) and marketing technology (like Autopilot) into separate buckets. This has led to marketers wasting ad dollars to show ads for things people have already done and a terrible experience for customers.
With the new Facebook Custom Audiences integration, you as the marketer now have more power to create personalized customer experiences across both channels: marketing automation and ads. Not only do you have more granular control, you can more easily visualize and understand how all your channels work together to achieve your marketing goals on Autopilot's drag-and-drop canvas.
This is just the beginning of advertising technology merging with marketing automation, and we can't wait to see what remarkable customer experiences you create.
How do you plan on using Facebook Custom Audiences and Autopilot? Sign up for a free trial to try it today.