October 24, 2017
Today we're excited to announce Facebook lead ads for Autopilot, an entirely new way to follow up with leads from Facebook faster than your competitors.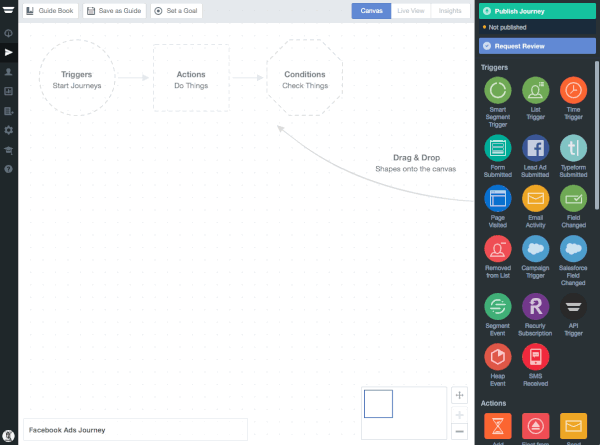 Up until now it's been time consuming to export leads from Facebook lead ads and upload them into your marketing or email software to send a follow up. This process creates a lot of manual and repetitive tasks which adds to the length of time before you're able to respond to the lead. Given that you're 22% more likely to close a sale if you respond to a new lead within the first five minutes, it makes sense to automate the follow up after someone submits a lead ad on Facebook.
With the new Facebook Lead Ads shape we're allowing you to instantly add new leads to your Autopilot journeys where you can then assign leads, set reminders, add them to lists, and follow up with a personalized message.
What are Facebook lead ads?
Facebook ads usually take you to a landing page when you click on them. This requires you to leave Facebook to learn more about the offer, fill out a form to sign up, and then go back to Facebook to continue scrolling where you left off.
Facebook lead ads simplify the process. Unlike other ad types, lead ads make it easy for potential customers to submit their information to you without ever leaving their newsfeed. When a lead ad is clicked, Facebook pre-populates your form with information the lead has already shared with Facebook—like their email, name, and phone number.
So instead of multiple clicks to get to your offer, leads can opt-in to your email list in two clicks from any device. Interested leads save time and you'll benefit from a lower cost per conversion.
Here's a cool example from Teach For America. They used Facebook lead ads to recruit people to teach in low-income communities across the United States. They saw a 2x increase in online leads and a 61% decrease in cost per lead.

Facebook lead ads can be used for many call to actions, such as:
Subscribe to a newsletter

Redeem a special offer

Enter a giveaway

Request a demo, consultation, or quote

Sign up for an event or webinar

Download content

Enroll in a course
Creating a compelling Facebook lead ad is step one. Like responding to any other incoming lead, following up with form submissions on lead ads is all about speed. That's where Autopilot's new Facebook trigger can help. You can now automate a follow up journey immediately after a Facebook lead ad form is submitted.
Here's how it works
Follow the setup documentation to learn how to connect your Facebook Ads account and configure the Facebook Lead Ad submitted shape. It is just a few clicks and a drag and drop! Let's say you run a dog walking service and are promoting a limited time offer for one free walk this month. You decided to launch Facebook leads ads to maximize reach.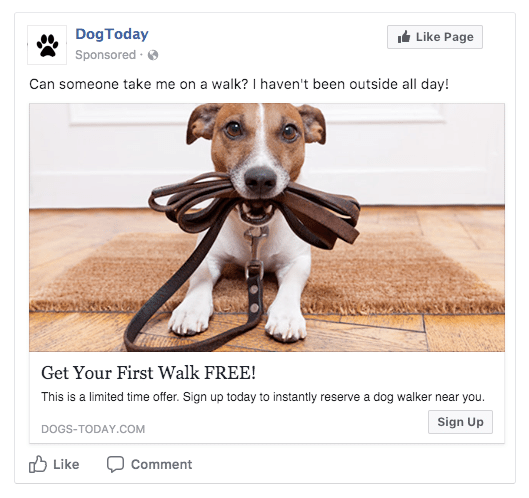 Since the deal is time sensitive, it's important that your team send a confirmation with next steps on scheduling a dog walk right away. Here's what the journey would look like Autopilot: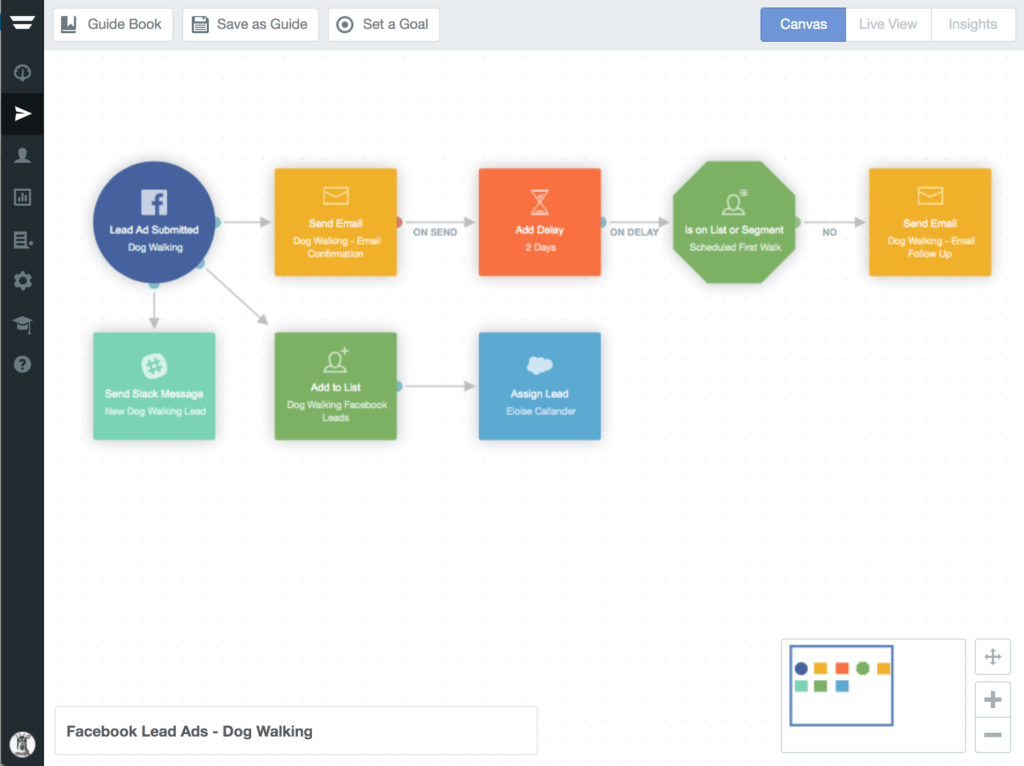 Lead completes your Facebook lead ad form

Facebook Lead Ad Submitted trigger fires the journey

Autopilot sends a personalized email confirmation to the lead

Lead is added to the "Dog Walking Facebook Leads" list and assigned to a salesperson in Salesforce

Autopilot sends a Slack notification to alert your team about the new lead

After two days, Autopilot checks if the lead scheduled their first dog walk. If not, Autopilot sends a follow up email to remind them to take advantage of the limited time offer
How Jobber uses the Facebook Lead Ad Submitted trigger
Jobber knows the importance of engaging quickly with their new leads. That's why they automate follow up journeys using Autopilot. Based in Canada, Jobber is on a mission to help people run a better service business. Their software helps all sorts of businesses do quoting, manage team shift schedules, send invoices, and collect payments.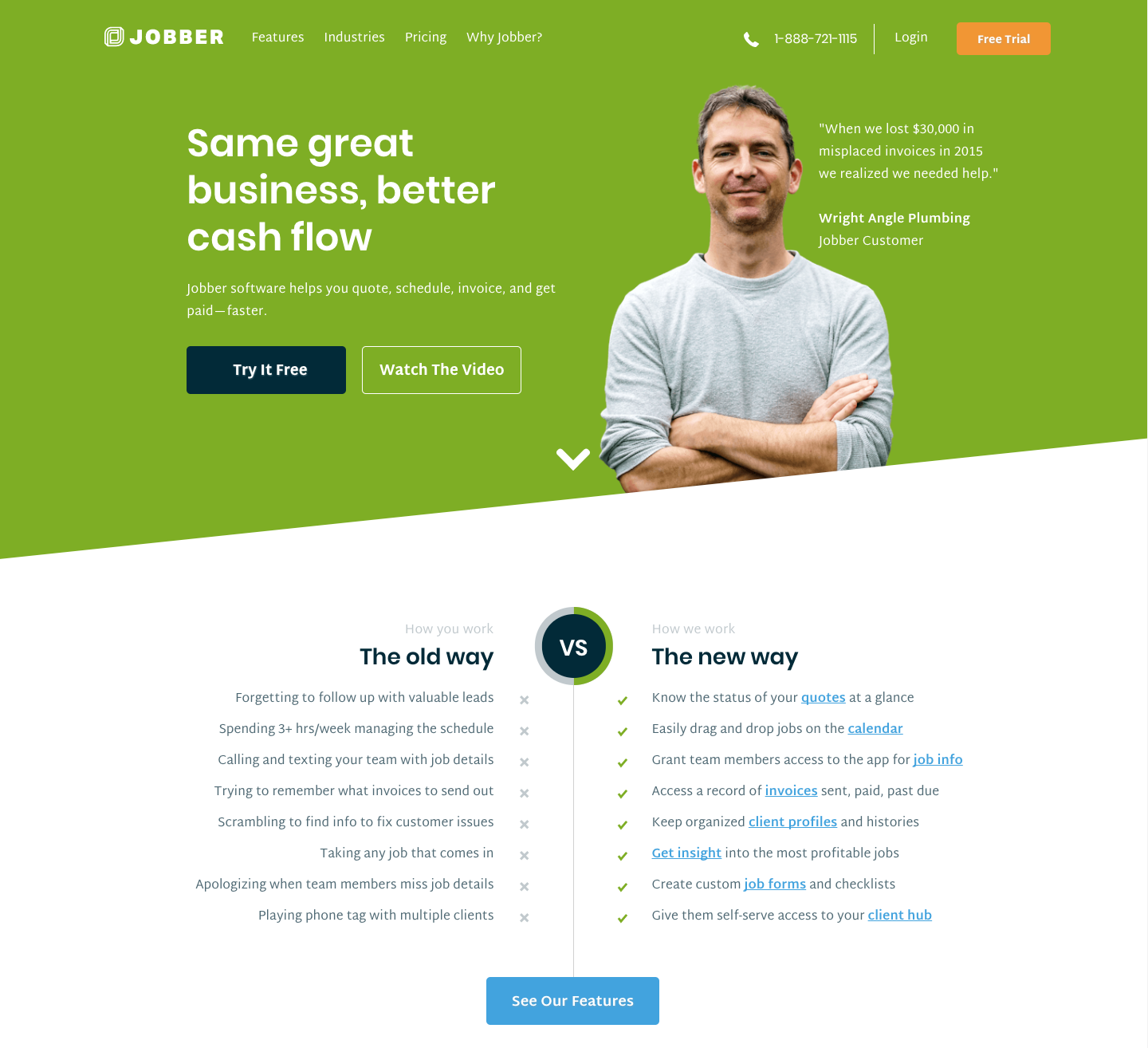 Lawn care and cleaning services are two key industries that use Jobber. To help new businesses get started, Jobber partnered with experts to create how-to guides with advice on things like hiring a staff, day to day operations, pricing models, and branding.
They packaged these guides as downloadable content, then created Facebook lead ads to retarget people who visited related content on their website. For example, people who visit Jobber's dedicated industry page for residential cleaning see this Facebook lead ad: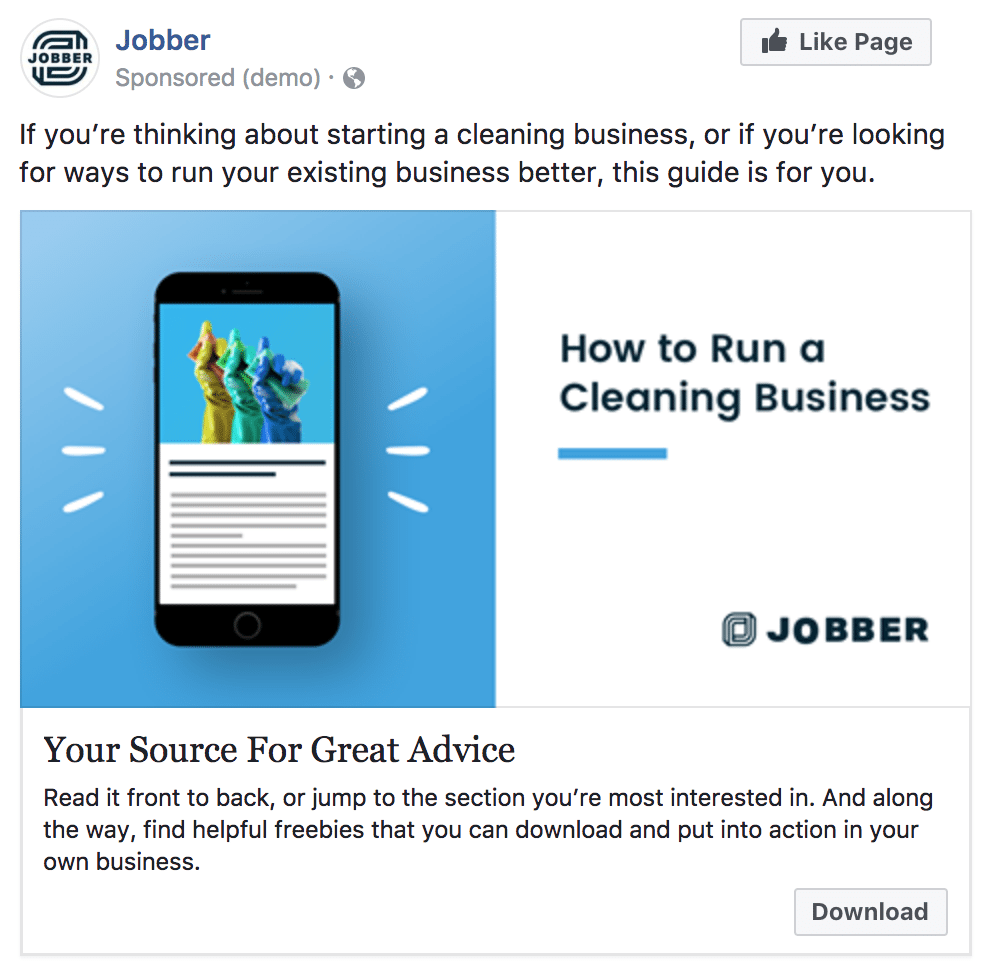 Likewise, people who visit Jobber's dedicated industry page for lawn care see this Facebook lead ad: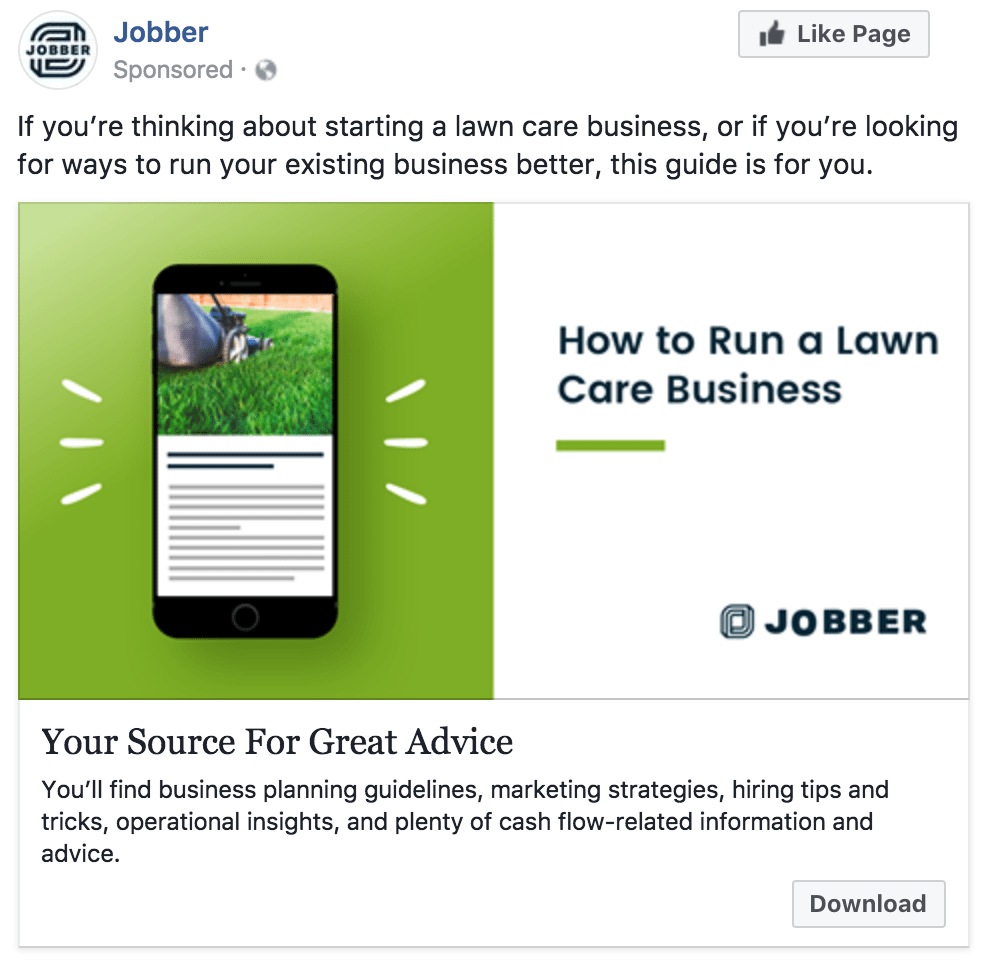 When interested leads click the ad, they see a simple form asking for their email address. It's pre-populated with the email address attached to their Facebook profile, but editable in case they'd like to send the content to a different inbox.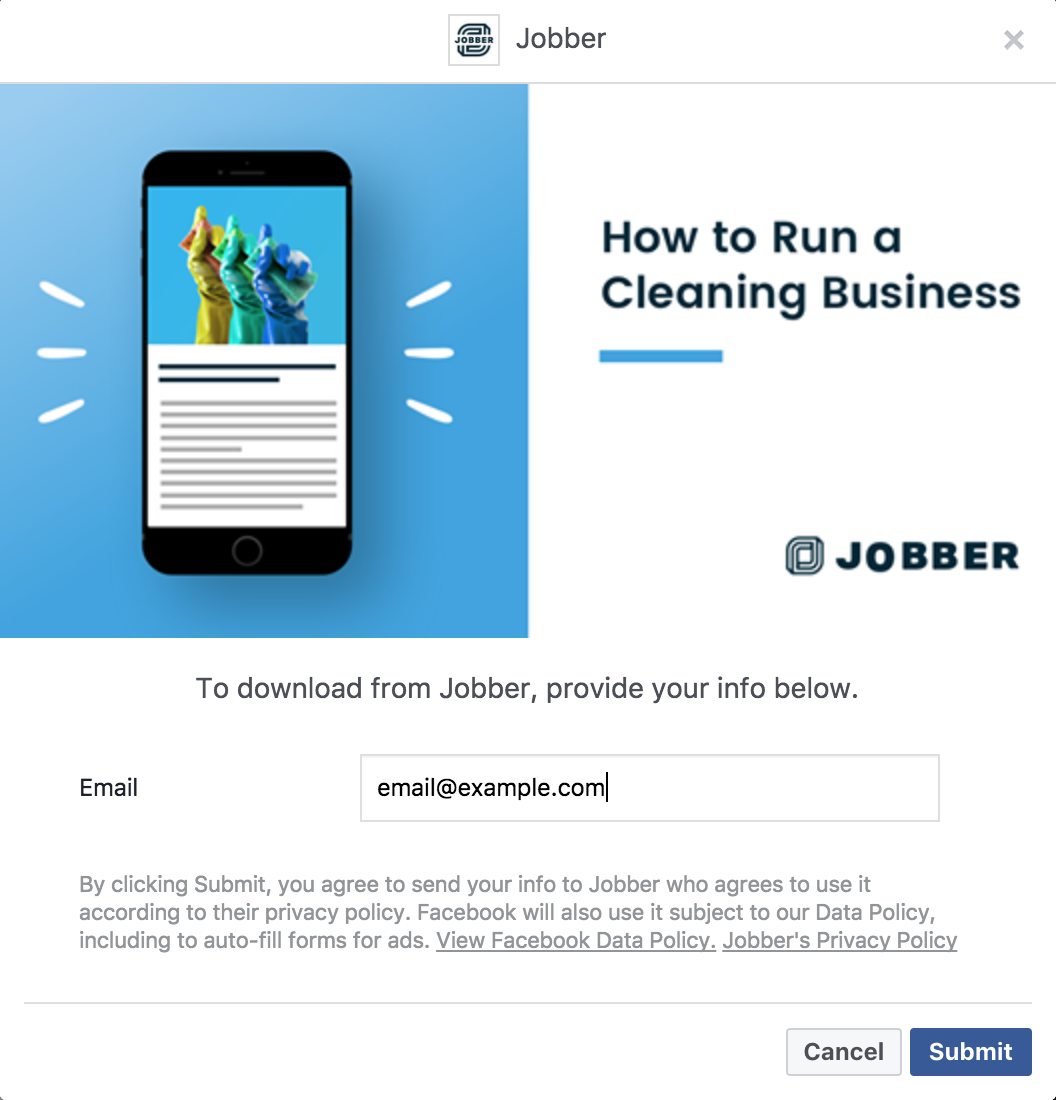 Once submitted, the lead sees a confirmation message: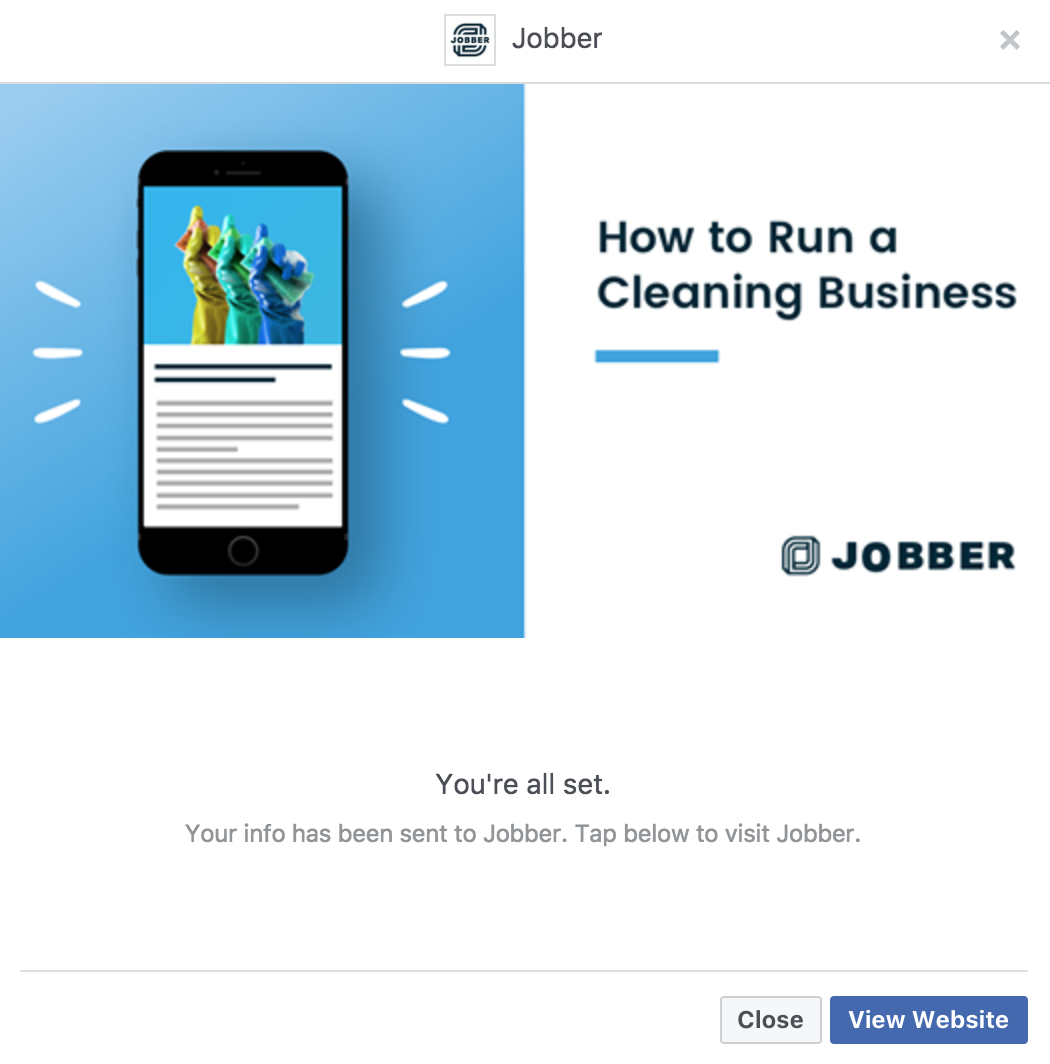 Now here's where Autopilot comes in. Jobber uses a single journey to follow up with people who download any piece of content and route leads to their sales team. The actual journey they use is more complex, but here's a simplified view of what happens when the "How to Run a Cleaning Business" ebook is downloaded via Facebook.Click to view hi-res journey

How it works:
Lead completes Jobber's Facebook lead ad form

Facebook Lead Ad Submitted trigger fires the journey

Autopilot checks if the "Lead Source" field is empty. If yes, the field is updated.

Autopilot sends the lead their ebook via email

Autopilot checks to see if the lead is already enrolled in Jobber Academy. It's a resource Jobber has built for people looking to run smarter, more efficient service businesses. The lead is added if they are not already on the list.

Autopilot checks if the lead has been added to the "Salesforce Contacts" list and if they've signed up for a trial by checking against their success page shown after creating an account.

If no, Autopilot checks if the "Lead Status" filled is empty. If yes, the lead is assigned to a salesperson in Salesforce.
The confirmation email has a clear subject line letting the lead knows what's inside: "Your eBook: How to Run a Cleaning Business". Here's what it looks like: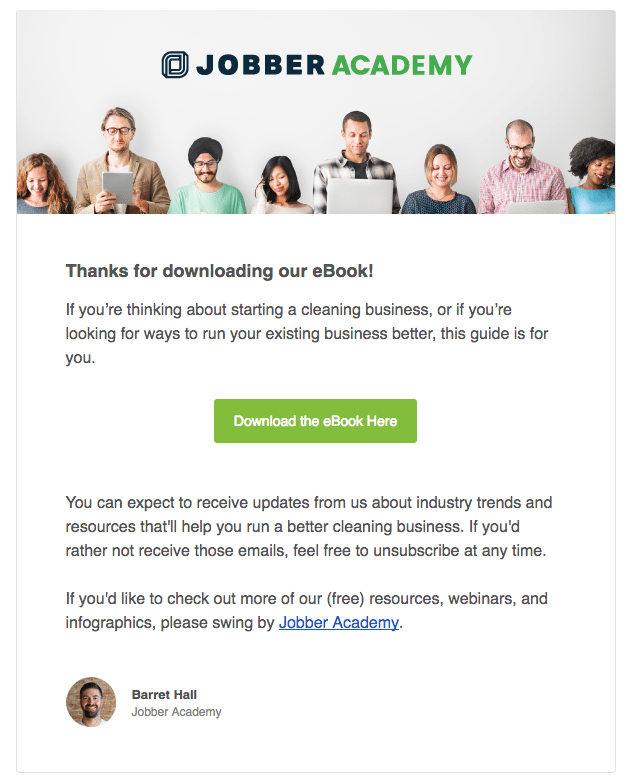 If the lead was added to Jobber Academy, they are triggered into a different nurture journey that begins after a one day delay. Here's the first email that introduces the lead to Jobber's software, welcomes them Jobber Academy, and invites them to start a free trial: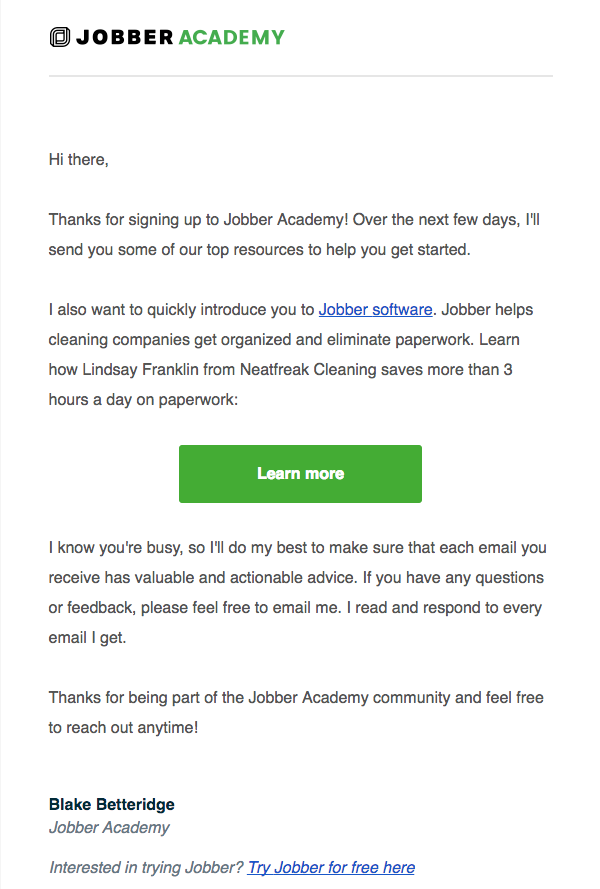 The team at Jobber has built an automated machine that lets them follow up and nurture leads into deals, fast.
How do plan on using Facebook lead ads with Autopilot? Let us know in the comments and sign up for your free trial to get started today!