June 6, 2017
Introducing Insights: Beautiful Goal Tracking for Customer Journey Marketers
Today we're introducing Insights, Autopilot's beautiful new data app that is built right into the canvas, rendering it effortless to track conversion goals, journey trends, and message performance.
Insights enables marketers to visualize the performance of their journeys against a goal, much like using a fitness tracking app. Within 60 seconds, track the winning channels, metrics, and messages needed to convert more revenue and optimize for a better customer experience. Plus it's optimized for mobile - just save the Autopilot login link to your device, and then browse Insights from the palm of your hand. Over 700 Autopilot customers participated in early-testing of Insights, with more than half saying Insights helped them significantly increase journey performance. 71 percent said they now feel more confident in the impact of their marketing.
Why we built Insights
Top marketers are constantly testing and iterating their journeys to find new ways of delighting (and subtly converting) their audience. In industry research last year, we discovered that 81% of "high performers" are using customer data to improve their customers' experience, and list brand awareness and customer satisfaction as top marketing priorities. In doing so, they actually report _better_ lead and customer acquisition, NPS and retention than peers who prioritize customer acquisition over everything else.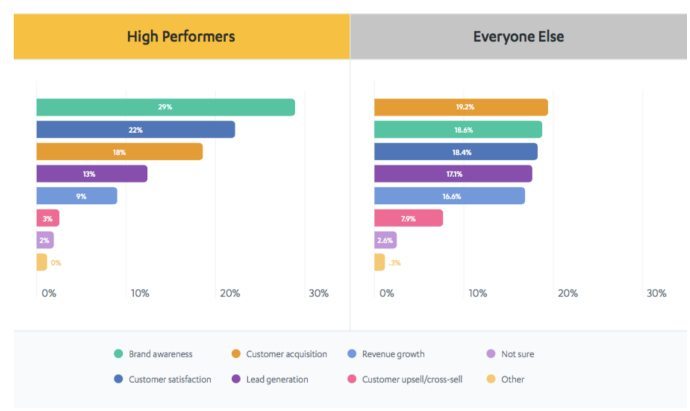 Despite this, 82% of marketers say that better analytics and visibility into program performance would improve their standing in their companies and even benefit their careers. Likewise, better reporting into which journey tracks and messages are winning has long been a _top-requested feature_ of the Autopilot community. With this all in mind, we built Insights so that most executives can look at it and know, "what the #@ is going on" (to quote an unnamed customer). It's simple and focused, rather than being all things to all people. Insights helps the marketer separate signal from noise without feeling swamped by data data everywhere. What is included:
Goal tracking: Insights helps to rally teams around key business goals by allowing users the opportunity to create, achieve, and share their journey conversion goals in a few clicks.

Conversion metrics: Never lose focus on the end goal - conversion. Monitor conversion trends and see who, and how quickly, someone converts across any channel from email to postcard.

Aggregate email performance: See how your emails are performing and trending at a roll up, journey-level. Identify key times and days of the week to send emails by looking at results in various increments, and even get as deep as hourly level performance.

Identify winning messages: Drill into individual, multi-channel message results on a day-by-day basis. Easily compare A/B tests and determine winners.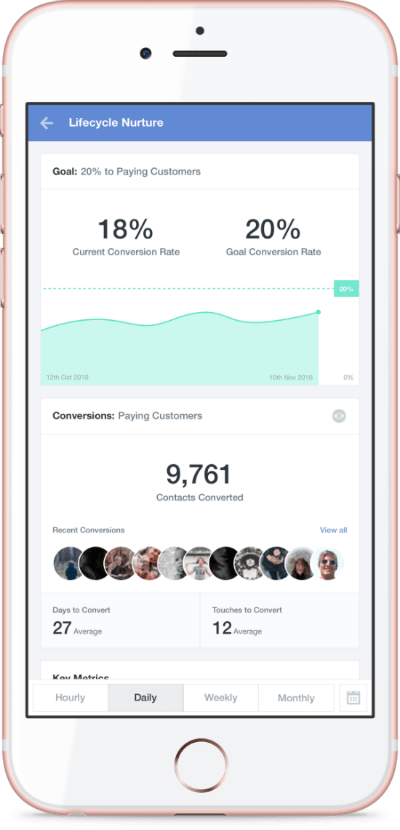 What can you measure with Insights?
Insights is flexible. A goal is defined by any Smart Segment, and scored on a cohort basis when a journey member enters that Segment. For example, Insights makes it easy to track:
the conversion rate of signups that enter into a trial or onboarding funnel and become a paying customer (with conversions attributed back to the signup date)

the reactivation rate by which contacts who are added into a lead nurturing journey bubble up as marketing qualified leads

the percentage of campaign leads that convert into a purchase or promotion
Chanse Arrington, the Global Head of Developer Business Tools at Microsoft, used Insights to set a goal of 50,000 registrants for the company's 2017 BUILD conference. He reported on progress in-real time as his teams launched multi-touch invitation campaigns, and could see how "core KPIs are tracking in real-time, without needing a data translator, right from my phone."
Looking for ideas on what goals to track?
We've compiled _goal examples for every type of customer journey_ - including lead acquisition, nurturing, onboarding, newsletters, events & webinars, shopping carts and six more types of journeys. We also released a new Insights microsite with screenshots and video for your viewing pleasure. The feedback from early users is that Insights has helped them boost journey performance and results. Now we can't wait to see what goals you too will set and exceed!