May 24, 2016
Keyword Research Tools
Keyword research should be a staple in every marketer's diet. Whether you're a growth marketer in a brand new startup or a demand gen manager at an established company, keyword research can help you…
Align product messaging with top keywords
Create findable blog posts
Write paid ads that match search intent
Get a sense of which phrases drive organic traffic
Develop keyword-rich campaigns
Having a reliable set of keyword research tools is essential to getting this job done. To save you some time, we searched the web far and wide for the tools that make keyword research a walk in the park. Let's get to the list.
1. Google Keyword Planner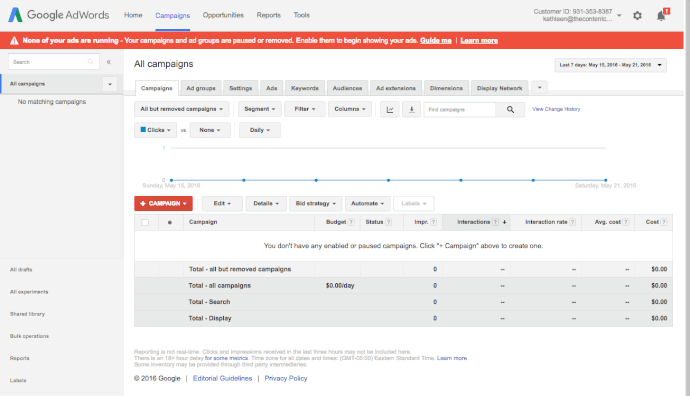 Every marketer should have Google Keyword Planner on speed dial. You can access it by signing up for an AdWords account, where you'll find it under Tools. You'll be able to get data around keyword search volume and whether the competition is low, medium, or high. Keep in mind that this data is based on paid search volume so it's not exact, but it will give you a pretty good idea of what people are searching for and how fiercely competitive those keywords are.
2. Answer The Public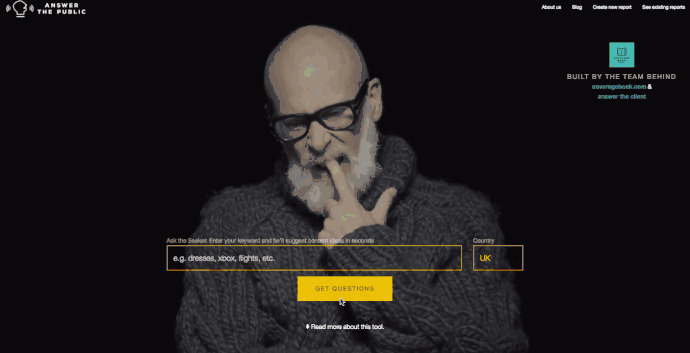 So, the bald guy is a little bit weird, especially when he starts picking his teeth. But this is actually a really great tool for ideation. The reason is because AnswerThePublic allows you to search for keyword ideas and then spits back the results along with useful filters. For example, you can apply a filter to only show keywords that are in the form of questions or prepositions. As a content marketer, I really love that this tool can take raw search data and provide me with turnkey topics. As a bonus, it allows you to export your research as a CSV. What it does lack, however, is data that provides the context for how competitive or frequently searched a given keyword is.
3. Keywordtool.io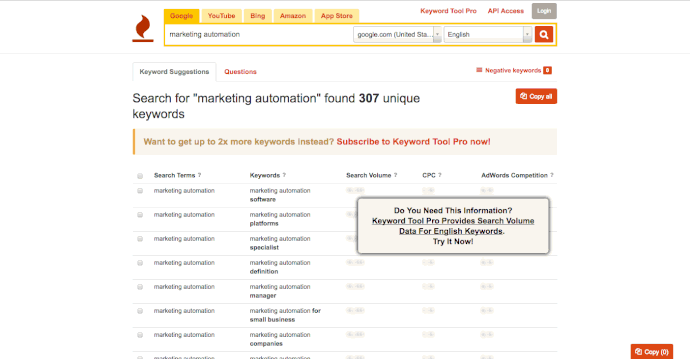 Keywordtool.io is a fan favorite for keyword junkies. It offers a premium version if you're looking for data about competition and frequency in your keywords. Considering that there are rumors that Google hides certain keywords from its own Keyword Planner, it might be a good idea to pony up for the pro version. But, there's also plenty of value to be had in the free version. It allows you to research keywords for YouTube, Bing, Amazon and the App Store. The latter being especially useful for product marketers tasked with writing app store copy for their product.
4. KWFinder.com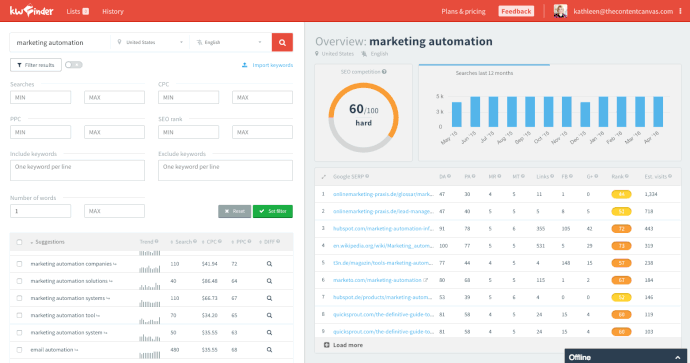 KWFinder is my personal go-to for identifying what I call "moneyball keywords." These are keywords that are undervalued with mid-to-high search volumes and low competition. Moneyball keywords are likely to be very specific so they won't drive as much traffic. However, the traffic they do drive is highly qualified so even though you're casting a narrower net; you're more likely to convert that traffic at a much higher rate if your content satisfies searcher intent.
5. SerpStat's Suggestions Tool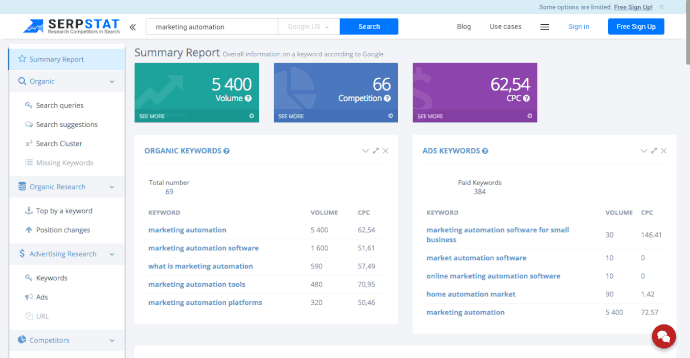 SerpStat's Suggestions Tool makes it easy to get a comprehensive look at the keyword landscape: your competitors, paid vs. organic, trends, and suggestions. It offers limited usage for a free account, and it's incredibly easy to use. This tool is my first stop for competitive research on keywords. Like some of the other tools, it also allows you to isolate questions.
6. WebpageFX's FaqFox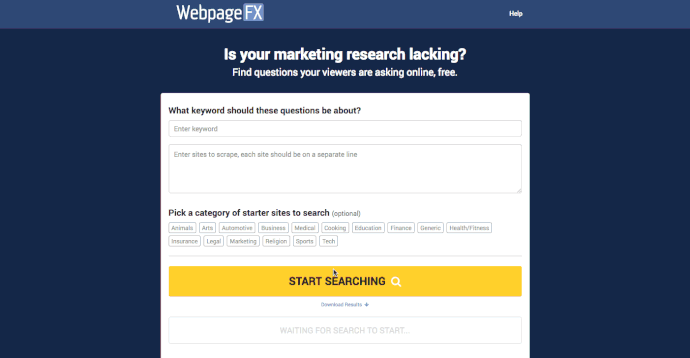 Instead of only using data scraping to generate your ideas, it's important to get creative. FaqFox allows you to input a list of sites that you want to search. They even get you started by providing standard sites you might look at by category, such as specific subreddits. It then returns a list of threads that have questions about your search topic. This is a useful way to spark ideas for your target keywords by going straight to the audiences you want to appeal to.
7. SEOChat.com's Related Keywords Tool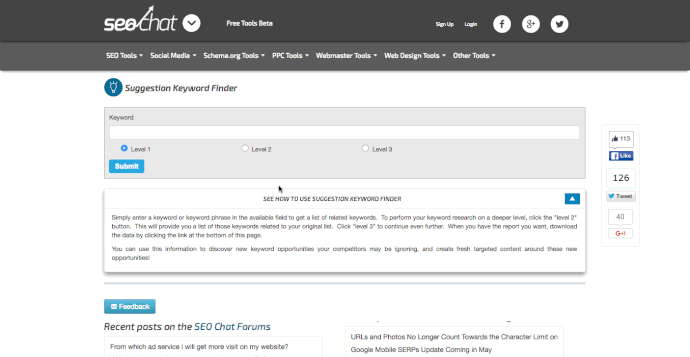 What's really neat about the Related Keywords Tool is that it allows you to start with a short tail keyword, "Level 1", and then add a longer tail with "Level 2" and "Level 3." The way that the tool returns the results is pretty useful too. It allows you to peruse a list of suggestions and then by selecting one, you'll jump to that section of the results, which are grouped by level. The reason why this is so useful for keyword research is that it allows you to find double-dipping opportunities for keywords. For example, by searching for 'marketing automation' and jumping to 'marketing automation for small business', I can also see that 'marketing automation tools for small business' is a level two suggestion. Instead of titling my hypothetical blog post, "How To Get Started With Marketing Automation For Small Business", I could easily double-dip to rank for multiple suggested keywords. So, I would change the title to "What To Know When Evaluating Marketing Automation Tools For Small Business" and be able to target both keywords in tandem.
8. SEOReviewTools.com's SEO Keyword Suggestion Tool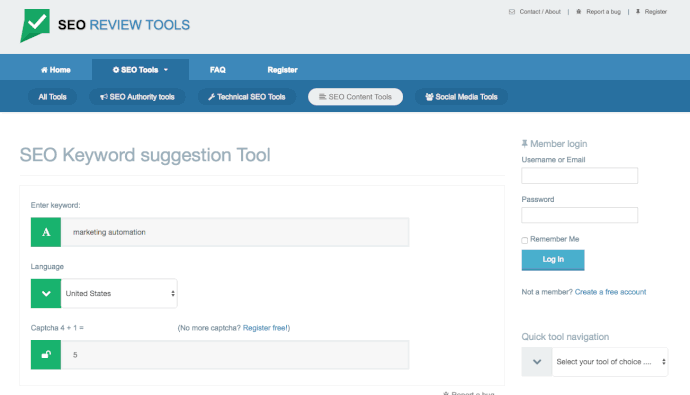 This Keyword Suggestion Tool starts by offering you a short list of 'primary keyword suggestions' based on your inputted keyword and then allows you to branch out from each of the suggestions. Semantically, the suggestions that this tool provides are solid. This one is an excellent choice for coming up with topics and crafting interesting, relevant titles.
9. Quora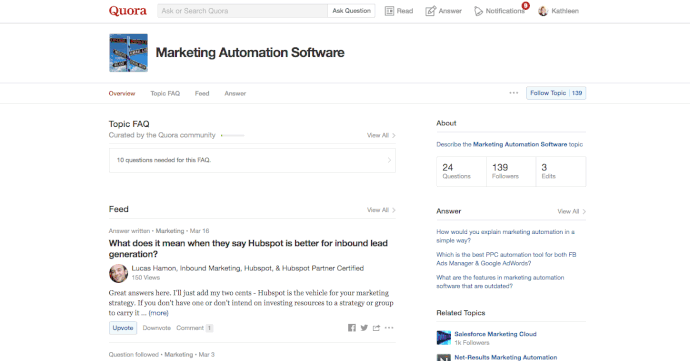 Right, I know that Quora isn't _technically_ a keyword research tool. But, it is an invaluable resource for getting straight to the heart of your audience and what they're interested in. Try running your keyword ideas through Quora's search to come up with topics that you can address in your content. You'll also find a wealth of information about pains, challenges, and knowledge gaps. Using Quora will help you identify language that your audience uses which is specific to those topics — keyword gold. And, as a bonus, you'll immediately uncover experts for your particular field. It's easy to reach out to these folks for interviews or guest posts based on their subject matter expertise. In closing, this set of keyword research tools will provide you with the functionality you need to perform keyword research, no matter what your objective is. You'll benefit most from using a combination of these tools to ideate, analyze, refine and even expand upon your keyword research. Is this collection missing any must-have keyword tools? Do you have any keyword research hacks that you use with these tools? Let us know in the comments.