August 26, 2015
Landing Page Optimization
The internet is full of blog posts, webinars, infographics and slide decks about landing page best practices. Every marketer who knows how important landing pages are for lead generation has their very own bag of landing page tricks to share. Case in point: Google the phrase "landing page best practices" and you'll get about 4,610,000 results in 0.41 seconds.

But, even with this vast array of landing page information out there not all landing pages score high conversion rates. Why? Because most landing page advice is just a rehash of other content sources and leads you nowhere. Today's post is going to change all that. Yes, I'll also describe landing page best practices. However, I won't just discuss what you need to do on your landing pages. I'll show you real-life examples of landing page successes you can learn from and apply to your own marketing efforts.
Nail all landing page pre-requisites before you get started
High converting landing pages aren't created on a whim. The landing page optimization wheel starts long before you write down the first variation of your headline. So, before you start creating your page make sure that you:
Define your landing page goal: Before you begin creating your page you need to define the goal you want to accomplish. Are you looking to collect more email addresses or more sign-ups, want more attendees for your webinar, or more downloads for your ebook?
Model your page to suit your customer's needs: Your landing page should always be about your customers. Remember to identify your customers' pain points in the headline and then proceed to solve their problem with the rest of the landing page copy.
Always direct your pay-per-click (PPC) traffic to a landing page, not your homepage: Never send valuable paid traffic to a busy homepage because that's the fastest way to lose a customer. All your traffic needs to be taken to a targeted, optimized landing page. No exceptions!
Remember optimization: Optimization is the key to creating a high converting landing page. A landing page is made up of 5 basic elements: Headline, image, copy, call-to-action button, and sign-up form. Optimize all of these elements to achieve the maximum number of conversions while incurring minimum cost.
Landing page best practice #1: Make your headlines stand out
David Ogilvy, the father of advertising, said this about landing page headlines:
"On average, five times as many people read the headline as read the body copy. When you have written your headline, you have spent eighty cents out of your dollar."
Making the right impression with your headline is extremely important because if you fail to impress your visitors with your headline you may not get a second chance. Your landing page headline needs to be worthy of someone's attention. Find the right balance between clarity and creativity when writing your headline. You should let your visitors know from the start what they can expect from the rest of your page by reading your headline. Demian Farnworth's Problem-Agitate-Solve (PAS) formula works wonders for your headline. Your headline needs to quickly identify the problem your visitor is facing, remind them how bad that problem is, and then explain to them why your product is the best solution for resolving it. Instapage's PPC landing page identifies the user's problem i.e. not being able to create landing pages on their own, and gives them the solution in the copy.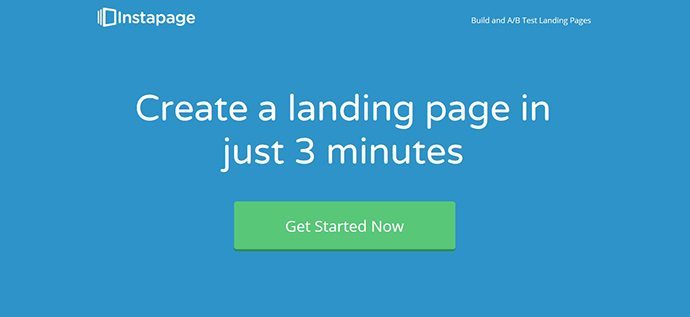 The Designed To Move landing page headline also does this. It identifies the problem of children having a shorter life expectancy. It tells us how horrible that is, and then goes on to say, "Let's change that." Once you press play, the video explains everything else.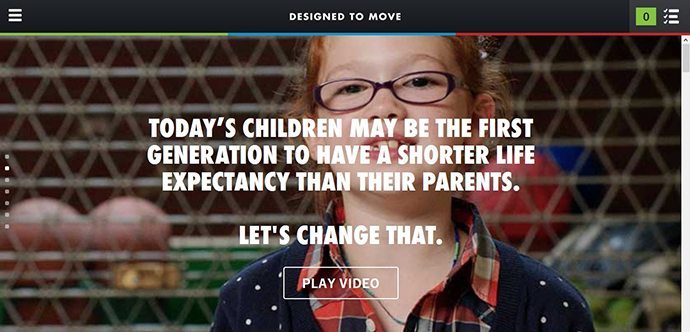 Landing page best practice #2: Personalize your call-to-action (CTA) button copy
Your CTA button should be the most noticeable thing on your landing page. Design your CTA in a contrasting color and point visual cues to it where necessary. In addition to being noticeable, your CTA should include personalized copy to get visitors excited for the click. Instead of putting generic copy on your CTA button like "Submit", "Download" or "Sign Up", why not put something personal on your button like Visual Website Optimizer does with their button: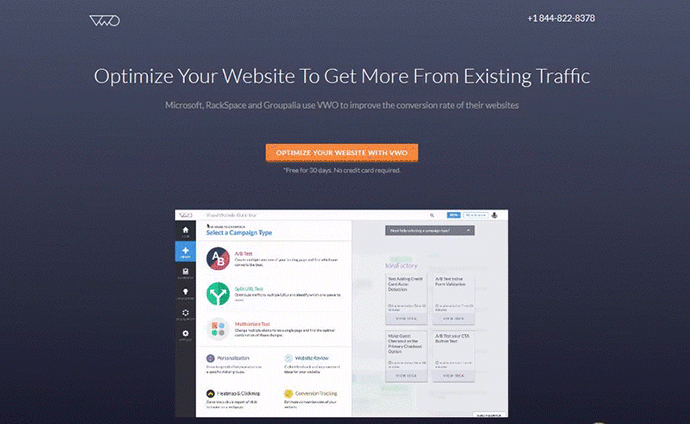 The words and copy you use on your landing pages and call to action buttons can have a significant impact on click through rates and conversions. Here are two examples from 31 call to action case studies; a betting website changed the button copy and increased their signups by 41% and an A/B test of a gym website changed their CTA copy to make it more personal resulted in an astounding 213.16% increase in clickthrough rate.
Landing page best practice #3: Use an image/video that invokes an emotional response in your visitors
When your visitor is emotionally invested in your page, the chances of them clicking your call-to-action increases. Showcasing contextual imagery on your landing page also increases conversions because it helps your visitor visualize what it's like to use your product. If you're offering them a SaaS product, why not use an image or a gif of your product dashboard to show them your product's ease of use? We do this with the Instapage landing page: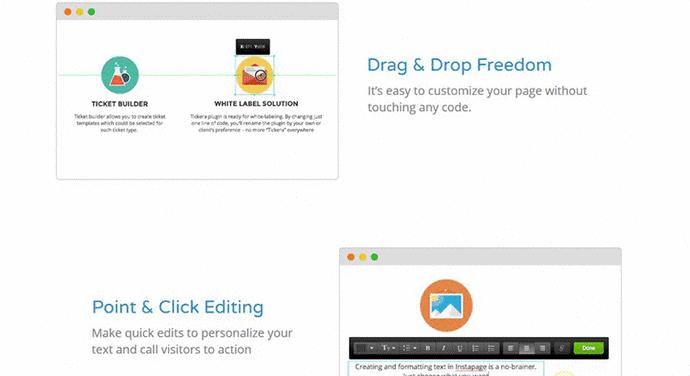 Landing page best practice #4: Include social proof to build trust
Just adding popular social media widgets on your landing pages is not enough. For your pages to appear credible and trustworthy, you must showcase customer badges and testimonials. Third-party seals serve as trust indicators on your landing page. You can also establish trust on the page by including a link to your privacy policy, your phone number, and third-party reviews. Showcasing logos of notable companies on your landing page can also increase the credibility of your offer. When a visitor sees someone significant in your field who thinks you are worth the investment, they are more likely to think so, too. Recurly demonstrates this very well with their page:
Your customer testimonials need to be authentic and detailed, and tell your potential customer how your existing customers were able to solve a particular problem by using your service. Use variety with testimonials as well. For example, showcase quotes that highlight different aspects of your business like low price, customer service, ease of use, reliability, etc. Another way to do this is to use embedded tweets, like the Instapage landing page shows: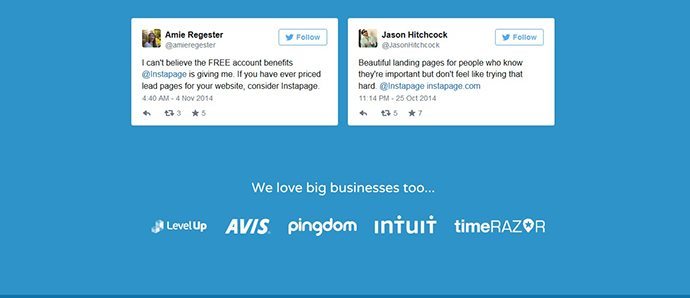 Landing page best practice #5: Don't set and forget your pages, test them
Your landing pages require constant attention. You can't just set them and forget them. The pages need to evolve and change with market demands. This is where landing page testing comes in. A/B testing allows you to compare two different versions or variations of your page to see which one performs better. You can A/B test variations of all of your landing page elements, from your headline to your customer testimonials. Simply reducing the headline length could lead to a 24.31% increase in conversions. That's the power A/B testing yields. Want your landing pages to be included in the list of high converting landing pages? Experiment with these five best practices and let us know the rewards you reap.