November 3, 2016
Lead Nurturing Strategy
Instapage was about to purge 55,000 stale database contacts, but our team believed there was still revenue left to unlock. So, we made a little wager: Launch a lead nurturing journey and you'll make the money back you'd save from downgrading plans. If you don't, we'll give you a refund. The results? The nurture journey drove $30,000 in annual recurring revenue in less than two months, and the leads converted 6x faster than the company's typical conversion rate. Here's exactly what Instapage did—journey structure, triggers, emails, condition checks, Headsup messages, and notifications—along with the thinking behind the initiative.
How is the journey structured?
The company designed a lead nurturing journey that looks complicated but follows a repeatable pattern. Here's what it looks like:

Again, it's not as scary as it looks. The journey has a 3-tier structure that's repeated six times. Here's what one of the six "batches" looks like: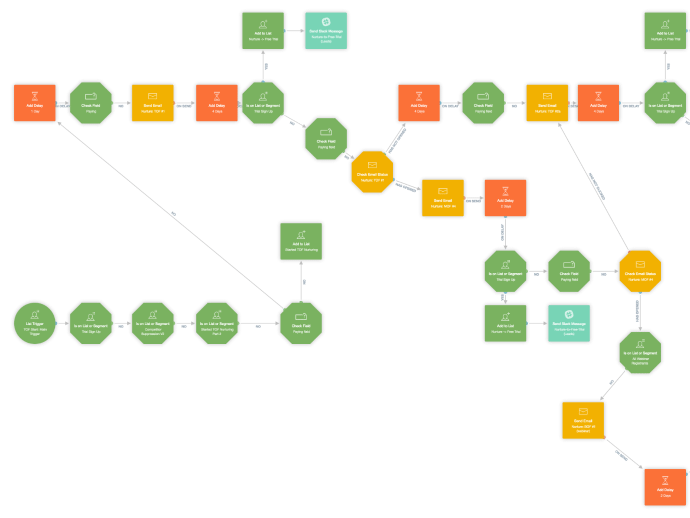 Each batch contains these messages (the yellow squares):
A top of funnel email with helpful best practices content (e.g. _What is a Landing Page? _and What Happens When You Analyze 100 Landing Page Examples)
A middle of funnel email that goes deeper into the top of funnel content, with testimonials and case studies (e.g. _How We Sold 10,000 Copies of Our Ebook Using an Instapage Landing Page_).
A bottom of funnel email with an invitation to a getting started webinar, a free trial, or a discount offer.
The company also throws in an on-website Headsup message for a few of the batches to supplement the emails. It looks like this…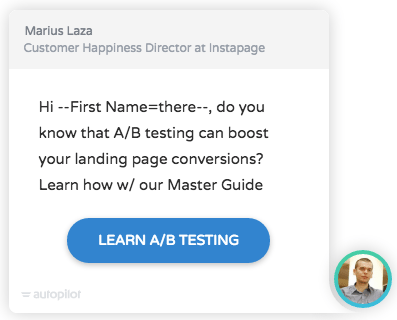 The journey uses condition checks before each send (the green stop sign shapes), so free trial sign ups and paying customers do not receive nurture emails. The new eject action streamlines this process, but this journey was made before that feature was released. :) To keep the team updated, Instapage sends a Slack message anytime a contact signs up for a free trial from the nurture journey. Check it out:

Lastly, free trial signups are added to a list (it's called "Nurture -> Free Trial") for both reporting and future campaigns.
What do the emails look like?
There's a total of 18 emails in Instapage's nurture journey. Three tiers, repeated six times. These are not outbound "I'd love to chat this next week" emails repeated over and over again (I hate those). They are value-adding, well-written, thoughtfully put together content-driven emails. Here's the first of the six batches, focused on landing pages:
Top of funnel email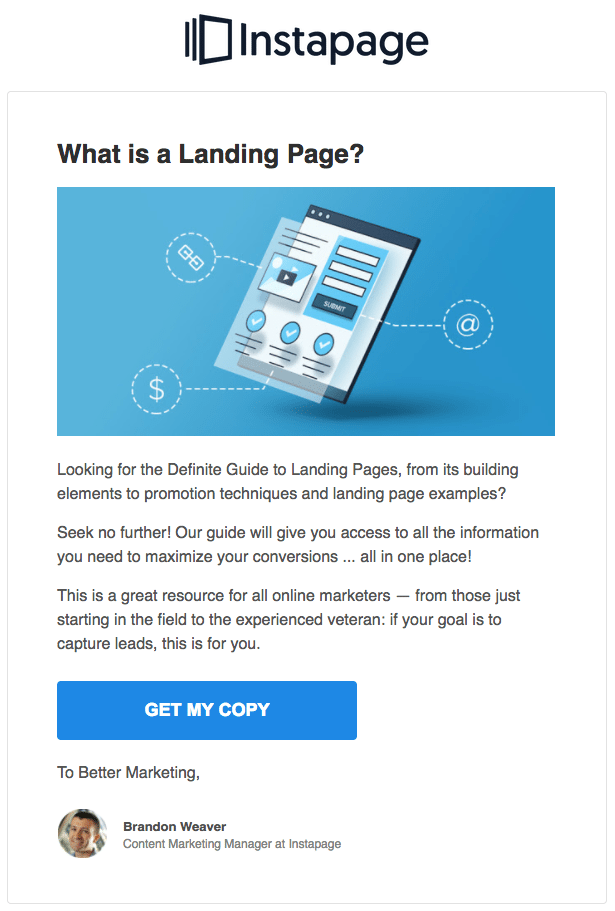 The cold contacts received this email first. Notice how there's zero selling going on here—Instapage provides their Definitive Guide to Landing Pages with no strings attached. This strategy builds rapport with their audience, and warms them up to learning more about the topic and the product. Recipients who click on this top of funnel email are sent the middle of the funnel email. Those who don't are sent another top of the funnel email. (More on that later.)
Middle of funnel email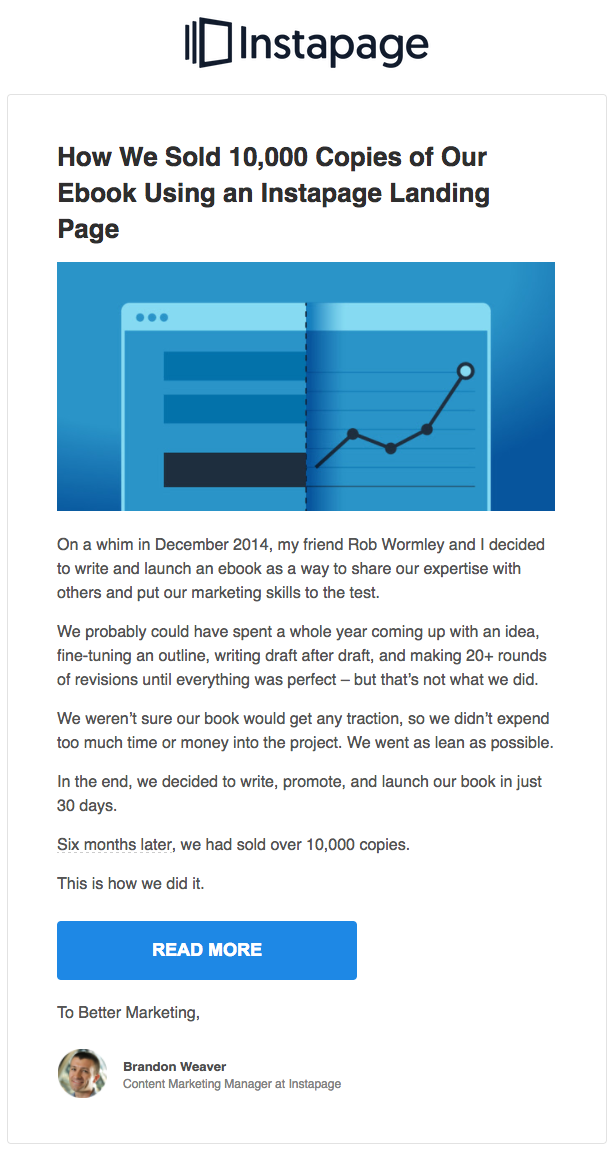 The first send was about landing pages, and this second send goes deeper into the topic by showing landing pages in action. Look at "Using an Instapage Landing Page" in the title. It's subtle and shows that people use the product, but it doesn't make a direct pitch. Recipients who click on the middle of funnel email are sent the bottom of the funnel email. Those who don't are moved back to the first tier to receive another top of funnel email.
Bottom of funnel email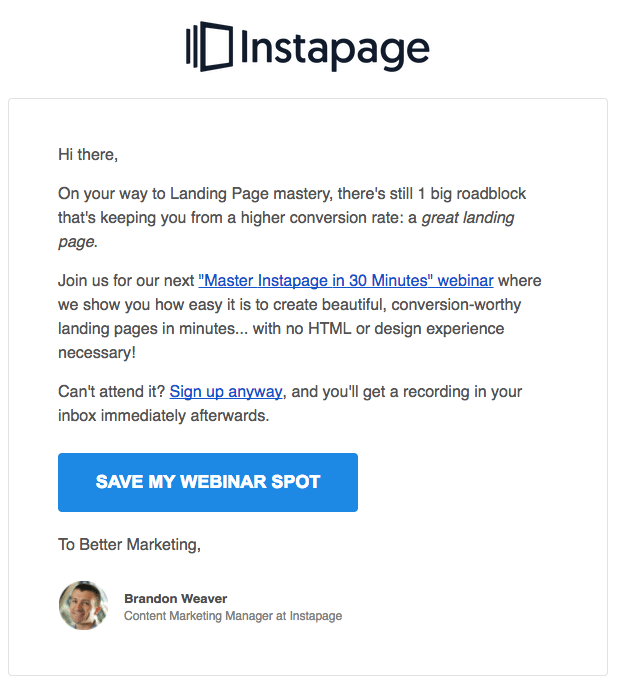 People who see this message have already clicked on the previous two emails. This is a sign they're open to an offer. In this email, Instapage directs people to their "Master Instapage in 30 Minutes" webinar to see the product in action. Imagine if this email was sent before the previous two. Asking cold leads to attend a webinar is a big ask, but seems like a natural next step for people who've engaged with content. Recipients who click on the bottom of funnel email hopefully sign up for a trial or become a paying customer. If they don't convert, the leads are moved back to the second tier. Check out another batch of Instapage's nurture emails:
Top of funnel email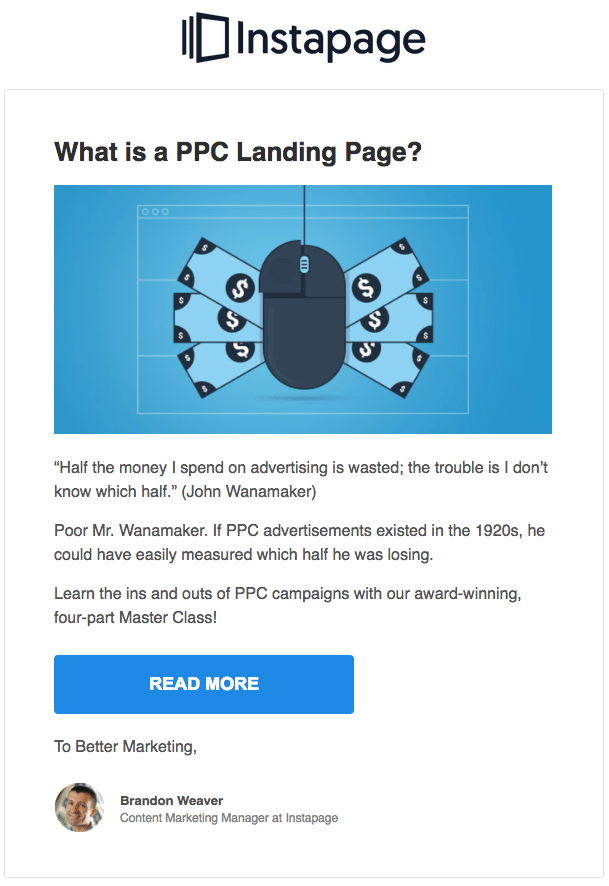 Middle of funnel email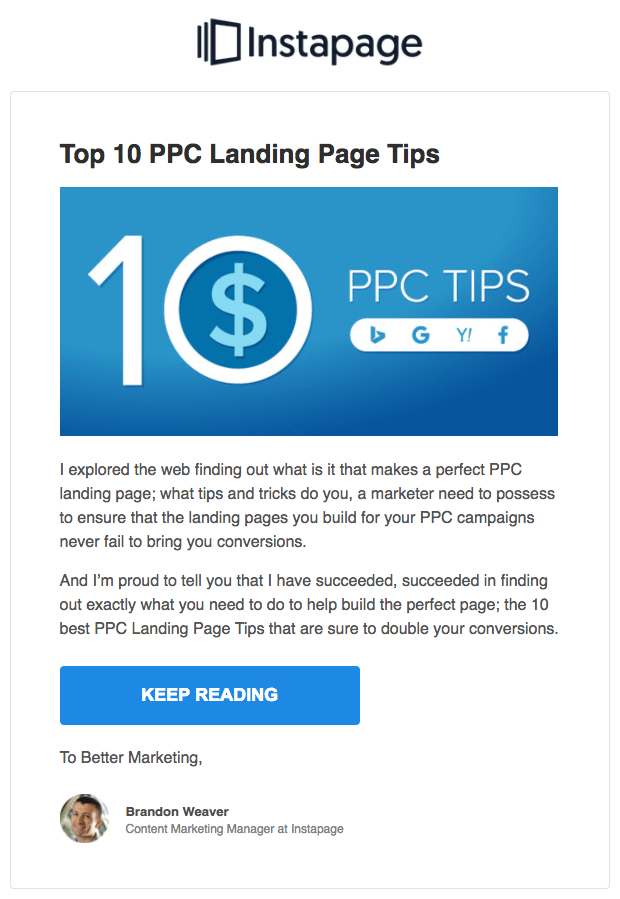 Bottom of funnel email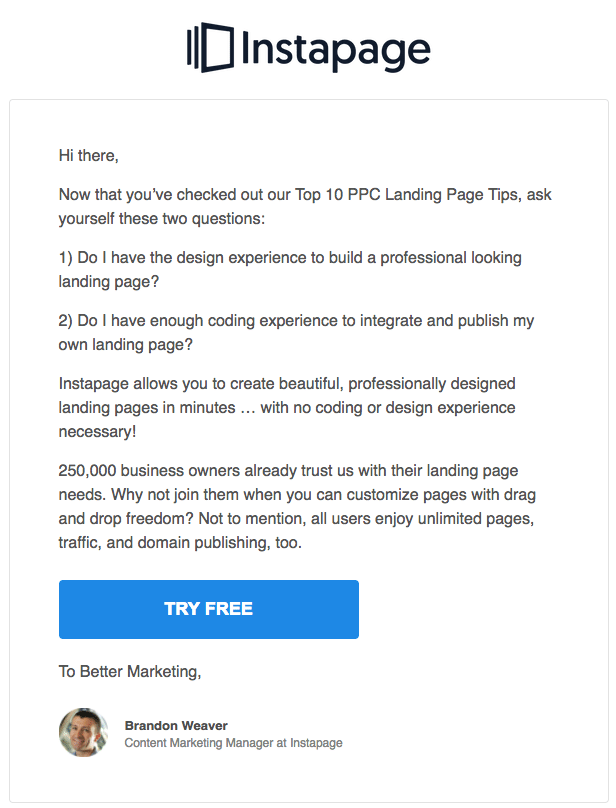 The same pattern repeats; helpful email, deeper email, call-to-action.
Who receives what? How does engagement factor in?
The journey kicks off with a smart segment trigger, "Re-activation Start," made up of contacts who have not signed up for a free trial and (for this specific re-activation campaign), have not opened the company's past ten product update emails.

Competitors are suppressed, paying customers are excluded, and contacts who've already started another nurturing journey are left out. Here's how reader engagement factors in:
Subscribers who click on an email are sent to the next tier of the funnel
Subscribers who do not click on a first-tier email stay on the first tier
Subscribers who do not click on the second-tier email are sent back to the first tier
Subscribers who do not click on the third-tier email are sent back to the second tier, and back to the first tier if they do not click on the next second tier-email
The goal is to send contacts messages aligned with their current interest level.
The top of funnel contacts care about industry topics, but less about product-focused topics
The middle of funnel contacts engaged with the industry topic, so they want to learn more
The bottom of funnel contacts are highly engaged, saw the topic in action, and are most warmed up to engaging with your product
How can you replicate the results?
We can't guarantee you'll make $30,000 in ARR in less than two months. But, you can try launching a lead nurturing journey based on Instapage's approach and see what happens. :) Here's the content framework to use (we call it the lead nurturing content funnel):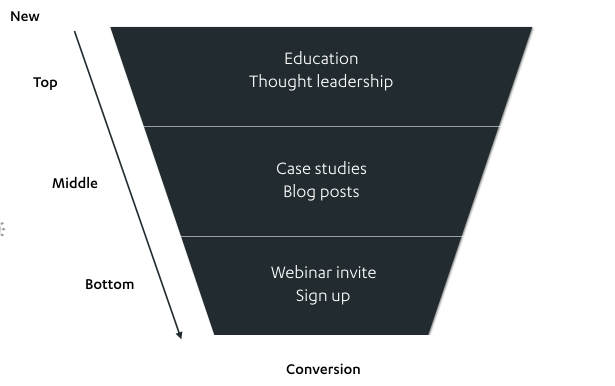 We've also set up a pre-made template of this journey in Autopilot. Access the "Nurture leads into paying customers" pre-made journey by signing up for a free trial. It's founded on best practices based on years of experimenting with what works. I'm sure it's obvious at this point, but this is the furthest thing from a "growth hack." It's a thoughtful approach where the goal is adding value and building trust until a lead is ready to buy. You'll have to structure the journey, set up smart segments, repurpose your existing content, and write great email copy. It's not a quick win, but it can lead to a big win. Just ask Instapage.