June 29, 2016
Marketing Personalization
What do Amazon, LinkedIn, and Netflix have in common? They know how to engage customers personally, at just the right time, in a data-driven manner. In doing so, they have tweaked and optimized their messaging to drive higher engagement, create more meaningful customer experiences, and market in a way that doesn't feel like marketing. Since generic messaging has been found to turn off 72% of consumers, it's important for any growth marketer, not just those in Amazon, LinkedIn, or Netflex, to personalize their email, web, and in-app content to speak to your customers' interests and behavior. Doing so starts with having a data-driven personalization framework.
The Data-Driven Personalization Framework
Personalization can sound pie-in-the-sky, but breaks down to the ability to use data to segment, target, and engage your audience with dynamically relevant content in a triggered (automated) fashion. By piping customer data into a centralized marketing automation tool, you can use any combination of customer profile data, like all paying customers in Nashville or any lead who visited your pricing page but has not signed up for a trial, to personalize messaging and entire customer journeys. The framework below expresses personalization as a function of the quality and quantity of customer data available. The more complete your data record, the more relevant you can be in how you engage your customer.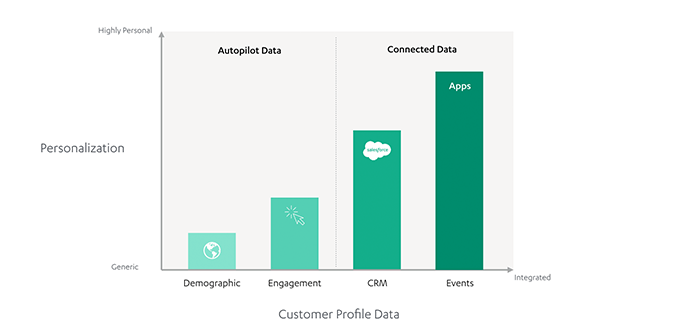 Along the x-axis, we've classified data sources into four categories – demographic, engagement,** CRM**, and events – the combination of which creates a rich, integrated customer profile. The X-axis also indicates the level of integration required to get the data – from data imported or gathered natively in Autopilot (demographic and engagement) to data synced in from external sources, including CRM and or third party apps events. In this post we'll walk through the four data classes – demographic, engagement, CRM, and events – to show what's possible with marketing personalization. Let's start with demographic data.
1. Start personalizing using key demographic data
Demographic data tells you who the person is, including things like:
Industry - Are they B2C? B2B?
Job title - Marketing manager? CMO?
Location - San Francisco? Boise?
Company name - WineTime? Lucy's Flowers?
Company size - 1-9? 10-49? 50-249?
When you import data into your marketing automation database, these fields are typically included by default. Services like FullContact and InsideView can help you fill in the gaps if you don't currently have access to your contact's demographic info. One trick to flesh out your demographic data is by adding strategic questions to your forms across your website and landing pages. Think through the core information you need to obtain in order to send customers on the journeys you want to take them on later. For example, on Autopilot's free trial sign up form, we ask "How many contacts will you be marketing to?" Answers to this question are a strong indicator of potential deal size along with how much support the the client might need in the future. This approach also helps us segment trialists into what we call "swimming lanes" or clearly defined sales channels owned by distinct sales or success teams.
The possibilities
You can couple demographic data with dynamically inserted fields to send personalized messages. For example, instead of saying "Hi there" and "your company" you can say "Hi Brian" and "Acme Inc." But that's just the start. You can also…
Send newsletters targeted at specific industries
Offer promotions to certain locations
Follow up after a webinar with different call to actions based on company size
Demographic personalization is where people typically get their feet wet. The next level is taking engagement data into account.
2. Increase relevancy based on how users engage your content
Engagement data tells you what a person is clicking, visiting, and submitting, including things like:
Emails clicked - Did they click on that last lead nurturing email?
URLs visited - Have they checked out the pricing page?
Forms submitted - How much love is that "contact sales" form getting?
You can track engagement data by adding the Autopilot tracking code to your website.
The possibilities
Adding engagement data onto demographic data helps you factor in whether or not that B2C user from New York clicked on the offer in your last email send. With that info, you could follow up with an even more targeted offer than before. You could also…
Send a drip campaign to warm leads who fill out a contact sales request
Offer a sales call to email subscribers who've opened your last three emails
Kick off an onboarding journey after new users submit a free trial form
Demographic and engagement data is a powerful duo. CRM data is up next.
3. Add CRM data to map to your sales workflow and inject ground-truthed insights
CRM data brings sales interactions into the personalization equation. Components like:
Lead status - Is their status nurture, open, or opportunity?
Owner - Which salesperson is responsible for this lead?
Territory - Does this contact fall into a certain region assigned to someone?
This data could come from Salesforce, Pipedrive, or even Shopify for e-commerce use cases.
The possibilities
You can begin to factor sales interactions, ownership of accounts, and lead status into your messaging and targeting. Here are some examples:
Bob from Tennessee signs up for a free trial of your B2B software, and is sent an email from Daniel thanking him for giving the app a test run. The email comes from Daniel because Tennessee is Daniel country (his territory)
Kayla's lead status changes from "open" to "opportunity" and that removes him from the nurture journey the marketing team set up
Tony backs out from purchasing last minute, and his lead status is changed to "nurture" in Salesforce which kicks off a 90-day email cycle in Autopilot
These are just a few examples to get you started. Events, the ultimate level of personalization, is next.
4. Achieve maximum personalization using event or app-integrated data
Event data is when you map in usage and behavioral data from your own product and third-party integrated apps, like…
**Products purchased **- Have they bought plan A but not plan C?
Net Promoter Score - Are they a detractor or promoter? What score did they give you in AskNicely?
Revenue - Do they spend above or below $1,000/yr on your products?
**In-app events **- What have they completed and not completed in your app?
By passing all of these events into your automation platform, you can send highly targeted messaging that's as close as you can get to creating a one-to-one journey for every customer.
The possibilities
Here are a few examples incorporating event data to spark your imagination:
Behavior-based onboarding - If a trial user hasn't installed your code snippet on their website, you can trigger an email send with the exact instructions of how to do it, like Hint Health did.
Proactive support - Say a person visits your help center and leaves. Did their question get answered? Find out by sending them a proactive "Did you find your answer?" email.
**Product-specific nurturing **- So Tom bought your book but not your course, your system recognizes his recent purchase but puts him on a nurture track that shows the value of your video course over the next month.
Product recommendations - Like Amazon and Netflix, recommend specific products based on a customer's previous purchases. It'll be like you're reading their mind.
More personal (and more profitable) marketing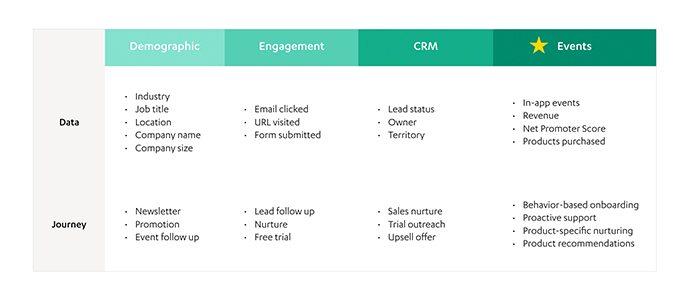 The reason marketers are beginning to feel the rumblings that "personalization is the single most important capability for future marketing efforts" is that it leads to better email engagement, more sales, and higher customer satisfaction.   In fact, 59% of consumers are more inclined to purchase from a company if it offers a personalized experience. Personalization lands these kind of results because it's not about tricks or shady tactics - it's about getting back to the basics by being timely, valuable, and most of all…personal. How do you use personalization in your marketing? Which personalized journeys have brought you the best results? Let us know in the comments.