August 4, 2016
Proactive Headsup: A New Way to Convert Anonymous Website Visitors Into Leads
Last year Autopilot announced Headsup - a new in-app and onsite channel for marketers to tailor communications to segmented audiences in a highly personal manner. Almost immediately people started asking whether Headsup could be used to capture names from anonymous web traffic. Today, we're pleased to introduce exactly that functionality with Proactive Headsup. Proactive Headsup is designed for marketers to engage unknown visitors in real time with personalized calls to action and feedback requests. It's a low-friction channel that anyone can set up in less than 10 minutes. 
What our customers are saying
About 500 customers took part in the Proactive Headsup beta, including Freshdesk, Crunchbase and Blooms the Chemist. We surveyed our beta-testers, and of 46 respondees, two-thirds said they saw it as an effective new lead generation channel. 46% reported seeing leads increase by more than 10%.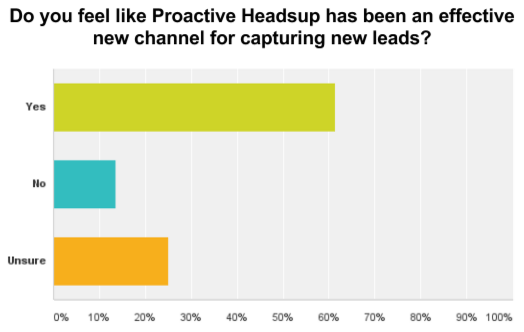 There are three types of Proactive Headsup messages:
Subscribe

Call to Action

Reply Back
Subscribe
Subscribe was the most popular type of Proactive Headsup among early users according to the survey, with many adding it to their blog, encouraging newsletter sign ups, or using it as an opt-in to speak to a sales rep.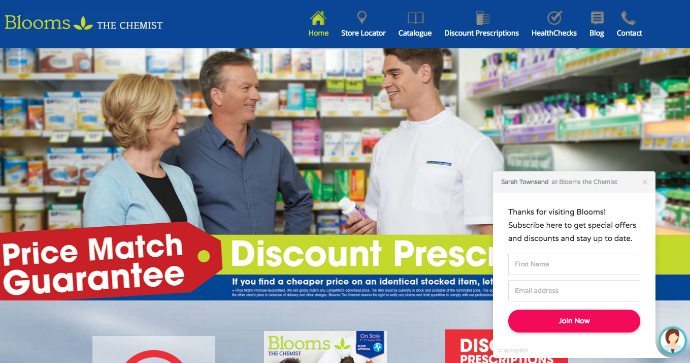 See Proactive Subscribe in action.
Blooms the Chemist, one of Australia's leading traditional retail chemists, has been successful in growing their online loyalty program membership using Proactive Headsup.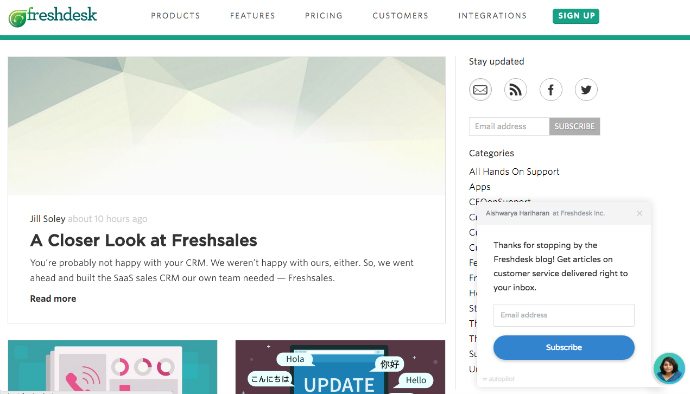 And Freshdesk, the popular customer service platform, has found that Proactive Headsup has been working well as a new way to capture subscribers on their blog.  
The Reply Back message is a simple way to immediately get feedback from a new visitor and start a conversation by asking a single question. Use it to learn more about why they came to your site, what they're interested in, and to collect feedback. Notify your teams when responses are received via email or Slack messages.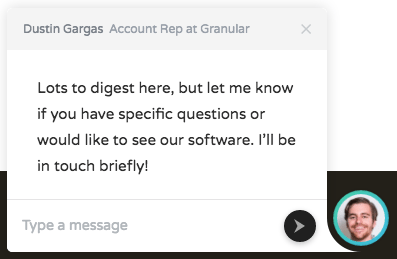 See Proactive Reply Back in action.
You also don't need to worry about managing a real-time support queue. As our user from the SprayCan Group wrote, "When you have a small and busy team, Reply Back Headsup is a brilliant alternative to live chat. It captures leads effectively, and since nobody has to man a chat channel, your team can stay focused on other marketing operations."  
Call to Action
The Call to Action (CTA) type of Proactive Headsup allows you to guide an unknown visitor's website experience. Add a unique CTA on specific pages to invite users to an upcoming webinar, promote your newest eBook, or link them to a post or page you think they'd find valuable.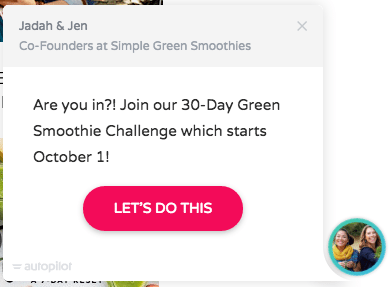 See Proactive Call to Action, in action.
The Autopilot admin at ethiXbase says, "Proactive Headsup makes it easy to view responses and results in real time, and is a great opportunity to start the lead nurturing process. [We promote] transparency so it's brilliant that we are able to greet our visitors with photos of our team members to welcome them to the site and to direct them to the content that we like to introduce to them."
Try it yourself
The best part is that setting up a Proactive Headsup takes a matter of minutes - no additional code snippets or dev support required. Just choose the URLs you wish to engage on (note: the Autopilot tracking code must be present), select the Proactive Headsup type, craft your message, and deploy live! You can view insights into how each Proactive Headsup message is performing as well. Track contacts acquired and monitor conversion rates (defined as conversion of tracked sessions to known users) to test and optimize.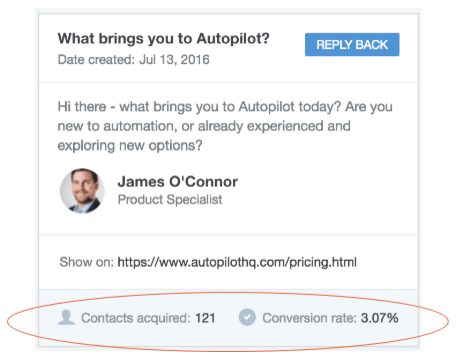 For some great customer examples and specifics on how to set up Proactive Headsup yourself, visit the article in Autopilot's Help Center. Let us know what you think! Give Proactive Headsup a try today.