April 29, 2016
Repurposing Content
Content creation is hard work. Anyone who tells you otherwise is either lying, or hasn't done it before. Researching, drafting, editing, designing, and publishing is a process. Great content doesn't fall from the sky, after all. But the hardest part, especially for content marketers, is when you release your blog post, ebook, slide deck or whatever, and then it gets lost in the internet's noise a week later, with zero traffic from that day forward. We need our content to live longer. A lot longer. This is where repurposing content comes in. It's a smart, efficient way to…
Get in front of new and different audiences
Connect with people using their preferred learning style
Extend the life of your content, especially when paired with automation set up to trigger content when it's most relevant for a person to receive it
You can take the work you've already done and transform it into different mediums to accomplish your original goals of traffic, leads, and sales. Let's take a look at a few repurposed content examples to see what this looks like in practice from companies who are already doing it.
1. Turn blog posts into email newsletters
Email newsletters are typically the first email companies start sending out. This makes sense, because newsletters are an easy, scheduled way to stay in touch with your contacts on a regular basis. To execute a newsletter well, you need…
An audience
Content to send
Well-designed template
Internal process to populate it
Marketing automation or an email tool like Autopilot
You can expect a bump in traffic to all the articles you include, and an extra bump by sending the newsletter to non-openers 48 hours later, also known as the secret to doubling newsletter open rates. InVision sends out a weekly newsletter with all their latest posts. Here's a screenshot of an article they recently included: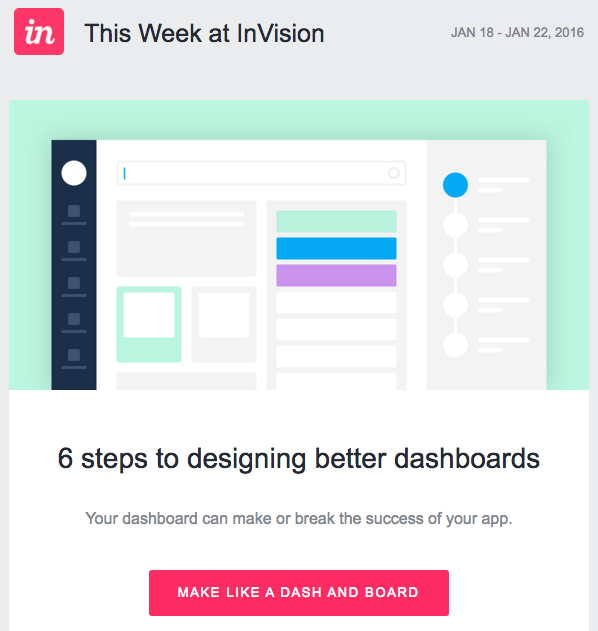 The headline is the same as the post, the image is a little different, and the call-to-action "make like a dash and board" is clever and clickable. Repurposing a blog post into a newsletter section is something that takes no longer than 15 minutes to prep, but gives a resurgence of traffic and shares to content that would have otherwise gone stale.
2. Turn your top-performing content into lead nurturing emails
Lead nurturing emails are an untapped secret many marketers haven't dipped into yet. Basically, you transform your best stuff (blog posts, infographics, videos) into email form and send them automatically to stay in touch with leads that aren't ready to buy yet. According to an Autopilot study, sending customer communications every 2-4 weeks generates 2x the leads. Contrast that with companies who only communicate when they're sending sales meeting invites and promotion after promotion to cold leads. Lead nurturing wins out every time. The best part? You send helpful and relevant content you've already created. Zapier shines at this. I regularly get interesting emails in my inbox from them like this: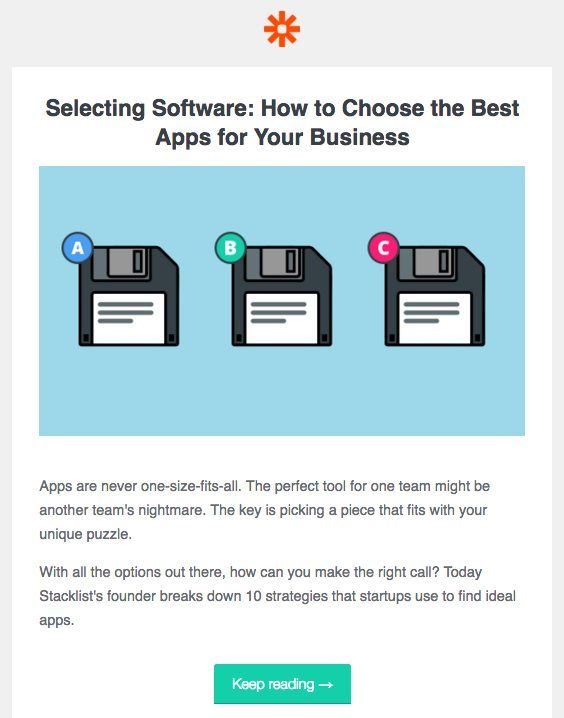 The company repurposed content from a blog article, including imagery and the blurb, and transformed it into a lead nurturing email. Sending this exact same email manually would be a tedious nightmare, and would lead to emails not being sent or being sent to the wrong person at the wrong time. The only way to scale lead nurturing emails is with automation. Some upfront work is required. You have to segment your audience, craft the emails, and create the automated journey, but once it's setup it runs forever. You'll see a continual stream of traffic to your content piece without lifting a finger. In our first month of going live with our lead nurturing journey, we saw a 7% increase in leads from nurturing the existing contacts in our database. You could experience the same by putting these lead nurturing secrets into action. Again, this strategy is just repurposed content.
3. Turn Quora answers into blog posts or vice versa
Quora answers are essentially blog posts, it's just that they're on Quora. All it takes is a little repurposing to fit them to each medium. I ran across this example written by Sarah Kathleen Peck, the VP of Product at One Month.

All of her stuff is really good, so good that I'm signing up for her content marketing course. In this example of repurposed content, the Quora questioner asked "How do I attract the first 1000 subscribers for a content website?" And she wrote a solid list of 26 different ways. Very impressive. She then expanded the answer into a blog post, 26 Ways to Attract and Grow Your First 1000 Subscribers. The Quora answer has 44,400 views and the blog post is driving traffic to the One Month blog. It's a win-win across the board.
4. Turn an ebook into a billion things
As a blog editor, I usually think of ways I can repurpose blog posts, but repurposing ebooks is even better. They're usually longer, packed with more research, and include tons of quotable snippets. Imagine all the ways you could repurpose a ten chapter ebook:
Write ten different blog posts based on each individual chapter
Write fifty tweets using quotable nuggets from the text
Send it as a downloadable in a lead nurturing flow
Offer it as a lead magnet on your blog
Create a checklist of the essential to-do's from the book
I'm sure there's more, but the above list will get you started. John Jantsch over at Duct Tape Marketing regularly talks about compiling blog posts to turn into ebooks, instead of writing the ebook first then the posts. This strategy works too. The point is to repurpose content, not follow a particular method. Check out Duct Tape's ebook library, and just picture the myriad of ways they can repurpose all this content: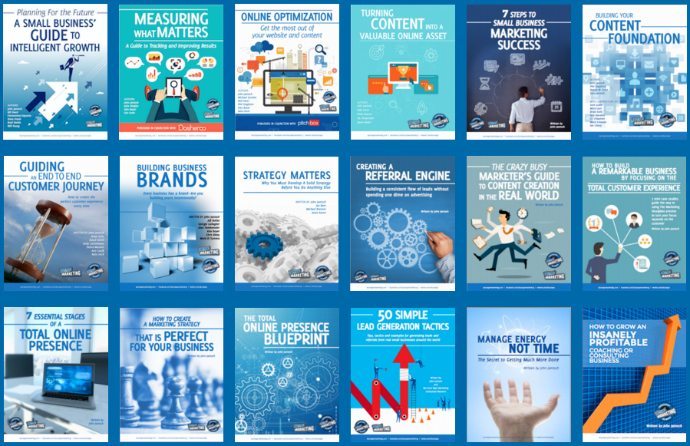 By the way, John and his team have coined the total content system, which I'm still noodling over on how to implement, but I believe is the next big thing in content marketing.
5. Turn a webinar into a blog post, slide deck, and video
Running a kick ass webinar from beginning to end is no easy task. Thankfully, there are numerous ways to repurpose your webinar content. Take your deck for example. You can publish your slides on SlideShare, and get in front of the Quiet Giant's audience of millions. One deck we posted almost a year ago has gotten 2,494 views…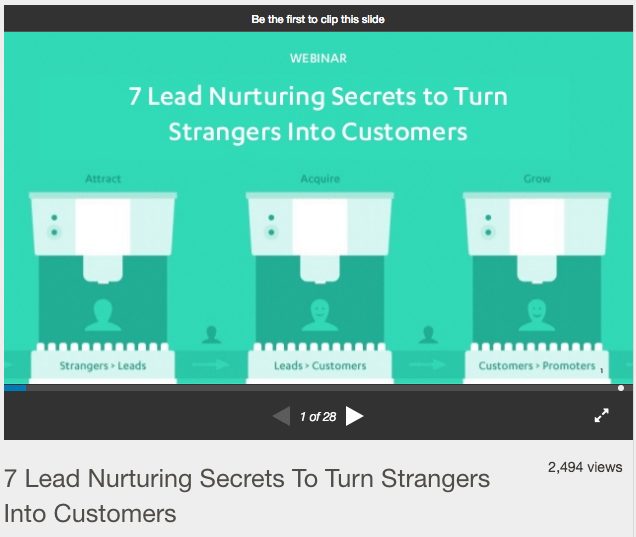 This is 2,494 views more than we would've gotten if we didn't publish this on SlideShare. Same goes for the video recording of the webinar. The YouTube video has 458 views more than the zero we would've gotten for not posting it.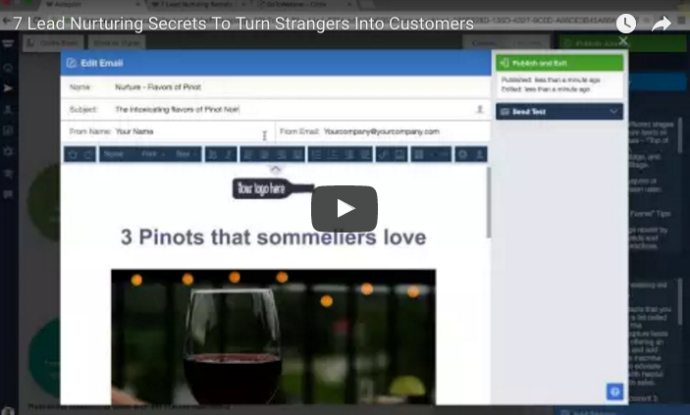 We just had to record it, publish it, and forget about it.
Repurpose in every possible way
How you repurpose content isn't limited to the examples I shared in this post. More than anything, it's a frame of thinking. Always be asking… "How can I repurpose this?" You'll extend the life of the content you worked so hard to create, more people will see it, and additional traffic, leads, and sales will head your way. Now onto you. What other ways do you recommend repurposing content? Do you have a process in place at your company for making this happen? Let us know in the comments.